THIS IS ALL OLD STUFF...please go to www.npsaweb.com for 2005 NPSA info
a note regarding this website:
This website has changed to another address...click the link above
nbayracing.com will continue to exist, but not as the NPSA sister site. The reason for this is that I (the current webmaster) am going to stop racing at NPSA on Wednesday nites. I'm going north to race J/24's one design and basically just can't do two nights of racing a week. Nor would I be able to effectively service the needs for NPSA's website.
I will continue being a member of NPSA and will certainly continue to promote the club (and the good name of NPSA) as much as I have done in the past! I've really enjoyed doing the website this past year. Special kudos to Kenny Rotan for getting the results to me every Thursday...Ken, I'll miss our weekly Thursday chats!
I've wanted to switch from racing PHRF to a One Design fleet for some time now, and finally have the opportunity to do so in a way that will fit in well with the other factors in my life, namely a family and 2 jobs, etc. etc. It is a very difficult decision for me to leave the place I've called home for the last ten or so years, and I will miss all of the great folks at NPSA immensely. (hey, if you're short on crew some Wednesday night, definitely email me!).
I leave racing every Wednesday at NPSA with mixed emotions, very sad about not seeing everyone at the yard and at the starting line every week, but also extremely stoked about joining a fleet that has one of the best sailors in the country out there each Thursday evening...we'll be getting a proper butt-kicking for quite a while I guess!
Happy New Year and a great season of sailing in 2005 to everyone at NPSA!
--the Webwolf (webwolf@nbayracing.com)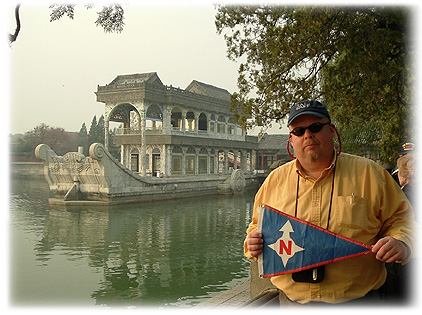 In a never-ending crusade to spread the gospel of NPSA, our man Willie finds himself in China. Will took a few hours off his "busy schedule" to investigate a candidate for NEW NPSA RC BOAT, anticipating that sad day (hopefully, a long way off) when Myth will be retired. Willie says, "This yacht (pictured at left) has potential. Spotting OCS boats should be a lot easier, what with the flying bridge on this puppy. However, it may be a little hard for the crew to keep her on-station in anything over 35 knots. She's a bit dicey in a beam sea, too."
NPSA holds a huge debt to Willie for the effort he's making to bring NPSA to the far corners of the globe and his talents at scoping out a potential vessel for our Wednesday night needs. Good on ya, Willie!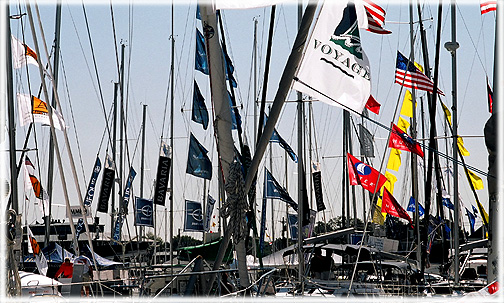 nbayracing.com's 2004 Annapolis Sailboat Show Awards...the good, the bad, and the really, really ugly.
NPSA Sailors score big at Harbor Cup!
NPSA dominted PHRF C/D this year. (Saturday October 23..results)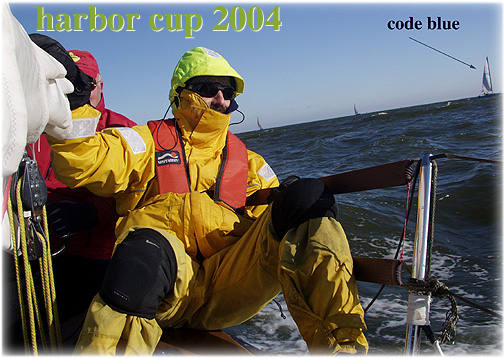 Ahhh...the Harbor Cup. What's not to love? 8 layers of clothes. Wall-sided seas. Not being able to feel your feet. Getting to wear your Volvo Ocean Race gear...
You gotta love the HC.
Three of the first 4 boats in the PHRF C/D Fleet were from NPSA. Steve and Teri Culfogienis's COOKIE took the bullet, closely followed by Harry Alfriend's CODE BLUE in second and Ted Diehl scored just out of the money, taking fourth place on WINDEMERE! Congrats to these boats and their crews!
In PHRF B, Kyle Stump took third on DARK CRYSTAL. Big congrats to Kyle! Other NPSA boats competing in this year's Harbor Cup were: Bob Sopka's INFRARED, Scot Reynold's SCOT-FREE and M.L. Gunther and Rick Franz's THIN FLOAT.
The race started in 15-18kn from the north, with an exceptionally steep and nasty 2-4 foot chop. As the fleets entered the river, just offshore from our traditional race grounds, the breeze fell off drastically and the RC moved the finish down from the usual Inner Harbor area to a spot just below the Key Bridge, where the breeze was light and very flukey.
Naturally, the Harbor Cup party was noisy & crankin' and the freebie "overflow" keg was hugely appreciated by a throng of thirsty (and relatively frostbite-free sailors. This year's race was mercifully warm, comparatively speaking)!
We are still waiting here, at nbayracing.com, for the results of the Tolchester Race. Your patience is appreciated. If you won, you probably already know it.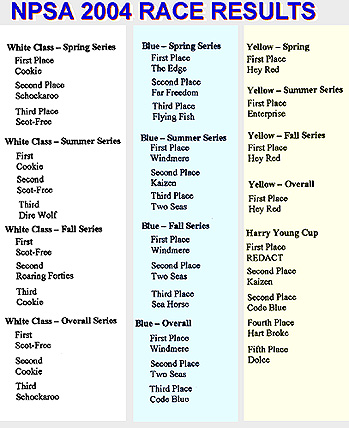 RACE RESULTS FROM RACE 8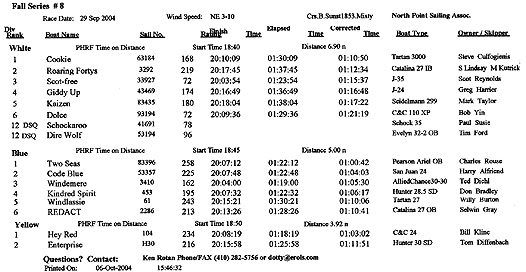 In the protest between Schockaroo & Dire Wolf, both boats were disqualified (DSQ).
THESE are days to remember...if you aren't sailing in the next 3 or 4 weeks, you are truly missing it. Some scenes from last Wednesday, Sept. 22, 2004.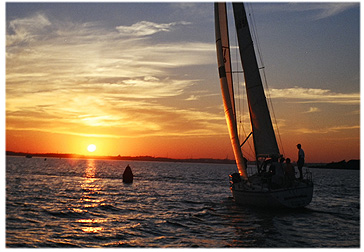 Schocking sunsets...
Sailboat Racing 101:The Start .........Lesson 1: Cookie shuts the door on Kaizen (below)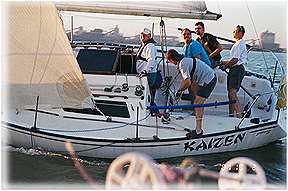 "and...why aren't we hiking, again, Skipper?"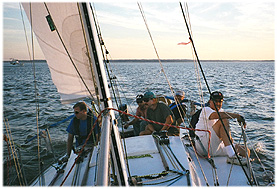 wolf hunts, prestart...and gets rolled by the Commodore a little later.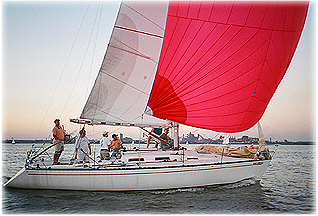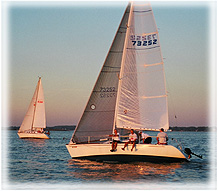 Soverel and Tartan looking good in the golden light.
Don't forget to sign up for the Tolchester Race/Cruise!!! It's the time of year to GO SAILING!
Welcome to NPSA's homepage for 2004! JOIN NPSA (click for info)
your source for NPSA's racing results, social calendar and important information for members, guests, and anyone interested in one
of the region's most user-friendly sailing organizations.
HEY, there may be another Evelyn 32-2 for sale locally (Ignore the story below). Will keep you posted but this is great opportunity to pick up one of these light-air demons. Where can you find another 30+ foot boat that PHRFs under 100 for less than 20 LARGE??? the answer is: NO WHERE. Buy this Evelyn and race boat for boat against Dire Wolf and put a pounding on their rear-ends! It would serve them right! contact the webwolf for more info (webwolf@nbayracing.com)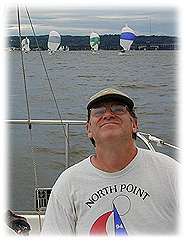 SELL THAT PHRF BUCKET!
NPSA invades HdG...click for story
MORE FROM OUR MAN IN KAZAHKSTAN: "THAR BE SAILING HERE!"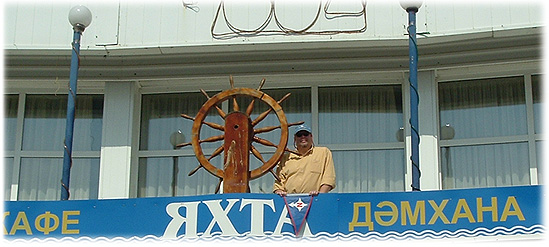 "We saw sails on the river last Sunday and of course discovered some new Americans sailing Optomist's and a Force 5. I am in negotiations now with "The Kazakhstani Yak Club" for reciprocating rights with N.P.S.A. They are shrewed and savy, but plied with more vodka, I feel that all North Pt. members will be welcome here whether tieing up for the night or enjoying a cocktail at the bar. Something should break in the talks before the spring. The club is pictured in the back of one of the shots.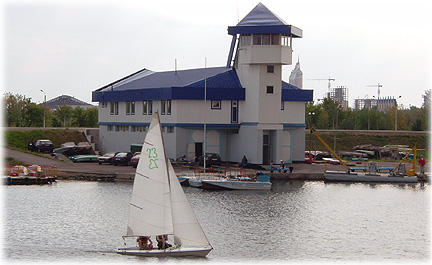 (left) The Kazahkistani Yak Club..email Willie in Kazahkstan at: william.w@null.kz...he would love to hear from NPSA folks, or anyone else, for that matter.

RESULTS FROM September 22nd...
Also: please note this message from the RC: "GENERAL APPEAL TO WED. NIGHT RACERS :

please, PLEASE, assign one of your "Rail Meat" crew to keep a focused ear tuned to VHF channel 68 at ALL times during racing activities. Last night much time was lost by a couple boats because they missed info that was transmitted from the RC Boat. This could cost valuable placement in the Series.

As the result of a RC discussion and input from a few racing crews, the RC will set up the FINISH line at Old Road Bay Lighted Spar "2" (Sunken Island) if at all practical for Races 7 & 8. "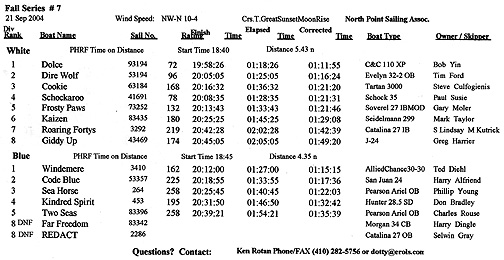 Nice job, Bob and Ted!
(not to mention Carol and Alice)
What's with these east winds? Looking at all 20 of our races this season, only 4 do not have the letter E somewhere in the wind-direction information slot. Reminds me of when the 1998 Whitbread boats visited the Chesapeake. The advance gaurd of most of the teams met with some smart, local-knowledge types about what to expect with the breeze as they came up the Bay. The local smart-guys told them what to do in winds from the south,west and north. The Whitbread routers asked, "Well, what do we do if the wind is from the east?"
Our local guys said, "Don't worry, it never blows from the east." And the Whitbread guys said, "Yeah, well, suppose it does, though." And our local guys said, "Don't worry, it NEVER blows from the east." Of course, the wind blew from the east and the chute run up the Patapsco was witnessed by many of us down here at the 'Point! Sure...it never blows from the east....riiiiighttt.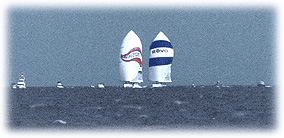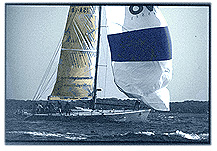 Whitbread racers, including Chessie (right), ride a building easterly up the river in '98.
REDBOAT WINS HarryYoungCup...despite powerboat chop and lite air.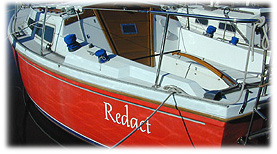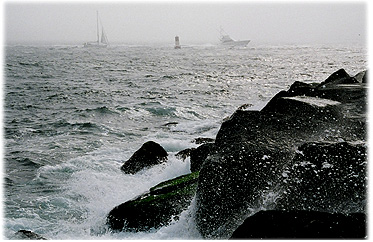 confused seas and a dying easterly made things tough...it did't look at all like the photo (left)...I just put this picture up for the heck of it.
HARRY YOUNG CUP RESULTS: Congrats to Selwin, Mark and Harry!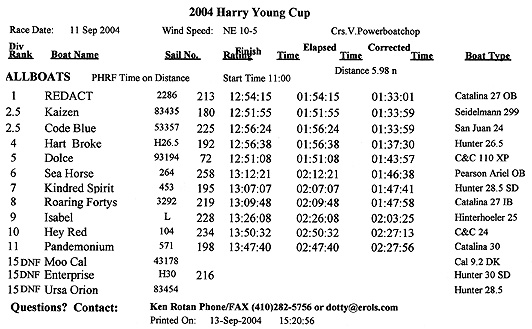 From the RC: Overall, it was a pretty good day. With Steve and Teri aboard Myth we roamed around Old Road Bay scouting for a starting spot for wind from NE-E and a relatively long course (3 hr. time limit). We settled on start at PW3 and
course "V" sailed twice around. Unfortunately, sailing conditions were not so good, due to ferocious power boat
wake from many directions at once, current, wind shifts,
etc.. We shortened the course to once around. Those who attended the party enjoyed the camaraderie and the magnificent view of the river.


P.S. Note the tied corrected time for second-and-a-half-place. !!!
click for older and corrected results
Selwin Gray sent us THIS (click)....looks like a fun event! (and a chance to do a little OD racing) The West Marine Fun Regatta at the Balto. County Sailing Center.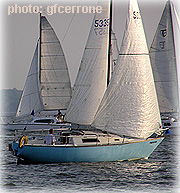 CODE BLUE TAKES THIRD IN GOV'S CUP...congrats to Harry Alfriend! (results) By all reports it was a spectacular 2004 Governor's Cup, north winds all night long and enough air at the end to get up the river!
TPLM2 friday evening
600 pm 17 20 N
700 pm 16 19 N
800 pm 19 21 N
------------then, later-------------
600 am 10 11 NW
700 am 8 10 NW
SIMON RISING!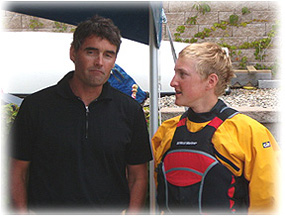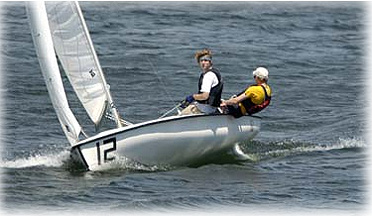 ABOVE LEFT: Bosun's Mate Simon Gray discussing racing tactics with three time America's Cup skipper, Russell Coutts at the Sea Scout Cup. ABOVE RIGHT:Skipper Simon Gray with crew Paul Parzynski racing a C 420 at the Massachusetts Maritime Academy

NPSA junior, Boatswain's Mate Simon Gray placed 3rd in the BoatUS Seascout Cup in a closely contested regatta held in June at the Massachusetts Maritime Academy. Sea Scouts from all over the world raced in the five day regatta.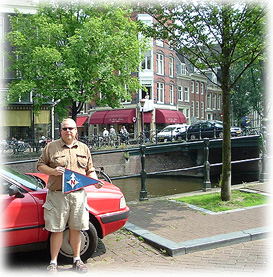 Our roving (or is it 'raving') ambassador takes the warmth of NPSA to far corners of the globe, bringing good cheer and tall tales (of North Point sailing exploits) to the uninformed masses of the world.
Follow the ramblings of Our Man in Kazakhstan, former NPSA membership czar, Willie White, as he delivers the gospel of NPSA to exotic sailing capitols on the Caspian and Aral Seas, not to mention that world-renowned yachting mecca, the fabulous Lake Balqash!......more to come.
Left: Will sullys an otherwise pristine Dutch canal on his way to the Big K.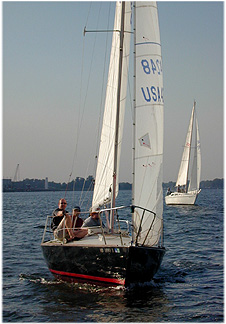 FOOD FOR THOUGHT....(click)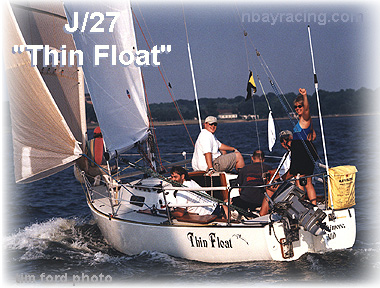 SAIL FOR SIGHT IS OVER and NPSA/BCYA boat "Thin Float," skippered by ML Gunther, took second in the fiercely competitive "PHRF B" fleet and second in fundraising.
In their effort, they corrected over: Both AO boats, 8 of 13 A1 boats, 4 of 6 A2 boats, 15 of 17 B boats and all 10 C/D boats. Great job, ML & crew!

Jack's Cruising Schedule updated...see CRUISING page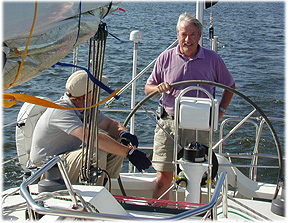 Speaking of cruising, click image at left to get to NPSA's Bob Sopka's log of his cruise to Prince Edward Island.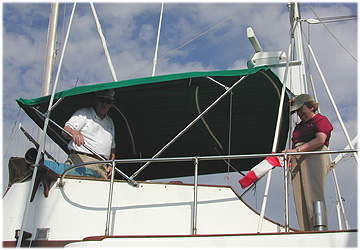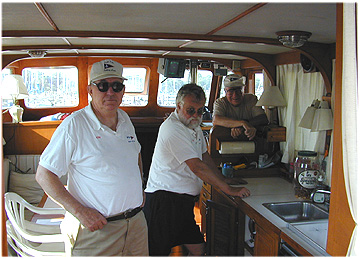 HAVE YOU THANKED YOUR RC LATELY? NPSA is enormously glad and appreciative to see "Myth" on station these Wednesday nights and we can not thank Mr. Dudley and his crew, Charlie Hampton, Dottie and Ken Rotan enough. It's not a bad idea to stop by "Myth" and say "hello and thanks" in person, once in awhile, also.
THANKS TO THE FOLKS ON "MYTH" FROM ALL OF US WHO RACE AT NPSA!!!!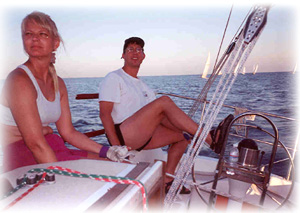 (Steve, at left, with...uh...someone who's not Teri)
BERMUDA: SHORT REPORT
NPSA RACE CHAIR Steve Culfogienis raced to Bermuda this June. Here's his account:
Great race, screamed down the Bay, out in 20 1/2 hours. (Remember I was on a 30 ft boat that rated PHRF 204) Outside the bay were 3-4 ft swells. Hit the gulf stream the following morning 8 ft swells during the worst of it. Some of the waves were like a roller coaster ride when you go to the top and just drop. Only became a submarine once (I was steering). Finally set up the wind vane on the other side of the stream (I highly recommend these things for long distance racing/cruising. They are a life saver. Anything over 5 knots they steer better than I could and they don't tire out.)
Hit an eddy 40 miles South of the rhumb line. Did not breakout of it for over 24 hours and carried us North of the rhumb line. Was friendly with two pods of dolphins, a sea turtle, tons of birds, more Portuguese Men of War than I can count, and one salt cured dried flying fish on deck. Finished inside the Bermuda reef Friday night at 9:35 pm EDT (7 1/2 days later). Hooked a mega yacht anchor with our hook. Security detail checked us out; side arms included. Drank until 2:30 Friday night/Saturday morning. Drank more Saturday. Drank more Sunday. Quickly explored the island in 2 days. Did not buy enough gifts for very compassionate wife (everything is closed on the Island on Sunday). In the end we placed 2nd in class and 2nd overall.
Who in our club is doing it in 2 years? Now is the time to decide. : - )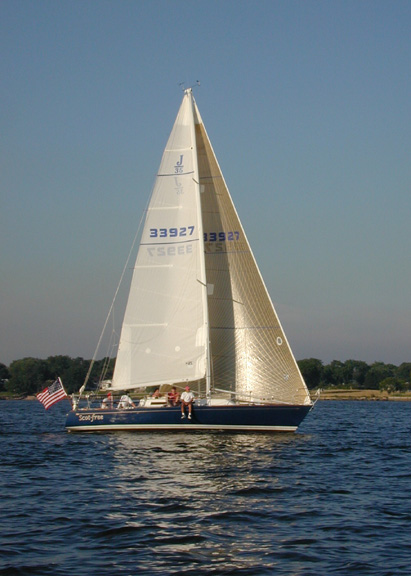 (J/35 "Scot-free" at left)
NPSA BLUE AT PSA
NPSA boats made a notable appearance at this year's PSA Overnight Race, on Saturday June 19th.
North Point boats at the start at this year's event were: Paul Susie's
"Schockaroo," Scot Reynold's "Scot-free," Steve Marks' and Harry Alfriend's San Juan 24 "Code Blue." Harry chalked up an impressive second place in the PHRF C/D fleet!

For those unfamiliar with the event, it's an annual race that begins in late afternoon at Baltimore Light (off the mouth of the Magothy) and usually takes the fleet up to Pooles Island and back. If winds are light, it may mean a wee-hours-of-the -morning finish, but if winds are up, like this year's event, it's possible to finish with some remaining twilight showing the way to the RC boat.
That's what Scot Reynolds accomplished this year, as his J/35 "Scot-free" was the first boat to finish, taking Race Honors and PHRF A Honors by finishing the 38 nm course in slightly over 5 hours. Taking tacks into account, that's an average speed of approximately 8 knots! (CLICK HERE TO CONTINUE NPSA AT PSA)

SAIL FOR SIGHT IS JULY 10th! (click here...link to BCYA Sail for Sight page) NPSA BOATS ARE ENCOURAGED TO ENTER THIS ANNUAL RACE FOR A GREAT CAUSE!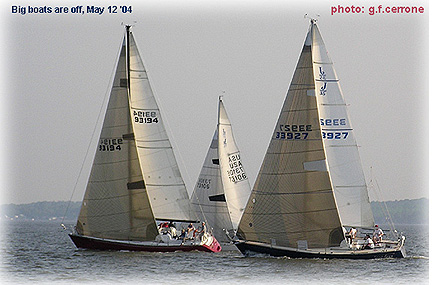 get out your calculators because....
SERIES ONE OVERALL RESULTS ARE HERE.
NOTE: your overall position is in column "O, finish" (this is an Excel file)

important change to NPSA RACING AREA chart on page 14 of the "RACING INSTRUCTIONS"

NPSA's CRUISE SCHEDULE IS NOW UP (click)
(apologies for the delay...it was NOT the Cruise Chair's fault!)
VIEW VIDEO OF J/22 WORLDS in Annapolis on Tucker Thompson's site...low bandwidth is free or subscribe!

PIX FROM RACING ON MAY 12th....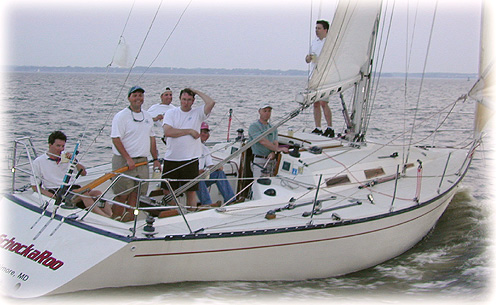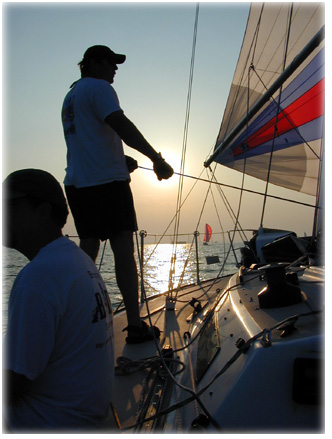 It was truly a gorgeous night on the water!!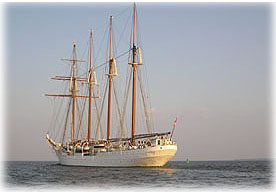 LEFT: 370' Spanish training ship, "Juan Sebastian de Elcano" headed out the Brewerton as the NPSA fleet worked downwind (photo: Garry F. Cerrone)
Had a bad race? visit this wipeout site and hey, FEEL BETTER !
Like waterskiing but not powerboats? click here: aussie 18 pulls a bloke (PG-13 for language/fast connection and Windows Media Player advisable)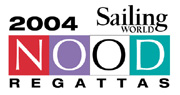 is OVER! (for the Annapolis area, anyway)
Imagine almost 300 boats competing just south of the Bridge and getting three straight days of winds in the high teens/low twenties (puffs to 28). Now, imagine the breeze is warm and rock steady from the south, not those devilish "one minute you've got 12, five seconds later you have 25" icey blasts from the NW! Unheard of in these parts! Imagine being able to get three races in each day (only needed one on Sunday, but COULD'VE done three).
Truth is stranger than fiction and the above pretty much describes an incredibly successful Annapolis NOOD regatta in which many NPSA sailors competed last weekend. The sailing conditions were phenomenal, the fleets were large (sometimes huge; witness the 80-something boat J/22 fleet) and the whole event points to an ever growing component of sailboat owners who are tired of PHRF and excited about racing against their sisterships.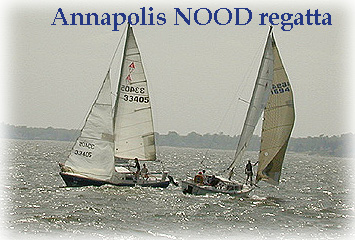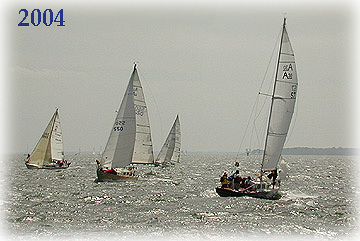 NOT JUST FOR SPORTBOATS...Catalina27s and Alberg 30s romp in big air, on Saturday, day 2 of the Annapolis NOOD regatta.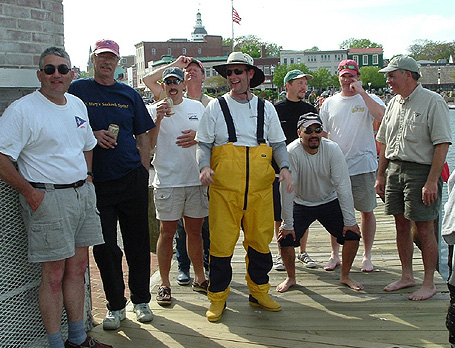 Scot "One T" Reynolds and his crew on J/35 "Scot Free" celebrate the NOOD regatta in Annap Town this past weekend.
NPSA boats competing in the event included Scot's J/35 and ML Gunther & Rick Franz'es J/27 "Thin Float." Other NPSA skippers competing on O.P.B's (Other People's Boats) included Charlie Rouse ("Two Seas") and Tim Ford ("Dire Wolf"). NPSA sailors were wildly in evidence at the post-race parties and are not mentioned by name to protect their anonymity...believe me, they need it.
click for Annapolis NOOD FINAL results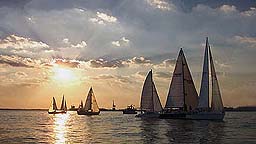 2004 Racing instructions now available HERE (pdf file)
Our Race Committee Chair has done a phenomenal job of revising our principle racing document. Please take a few minutes to download the PDF file, read it and print it out. Bound copies are also available!
photo nancy bradley
A FOLLOW UP FROM THE RACE COMMITTEE ON THE DISCUSSION OF WHISKER POLE LENGTHS (CLICK)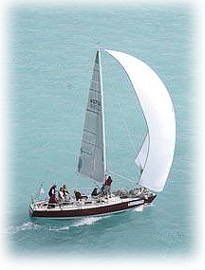 NEW...a Boats for Sale page
A word about the March 13th Rules Seminar and BIG THANKS to UK Sails and Bill Ward for hosting us! also: NPSA DEBATES A NEW SCORING SYSTEM (see 10 Minute Gun)


click for West's on-line store
West has generously agreed to sponsor an NPSA race series for 2004! Many thanks to West Marine!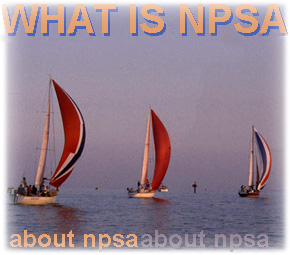 click for general information on NPSA

click for a list of NPSA PHRF ratings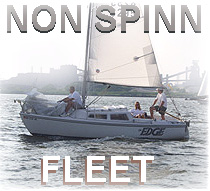 click to get to NPSA Fleet pages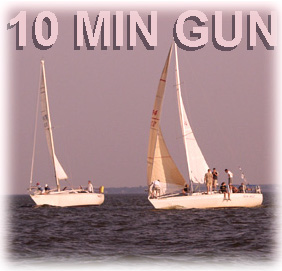 click for NEW MARCH RULES SEMINAR INFO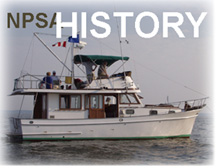 click for NPSA history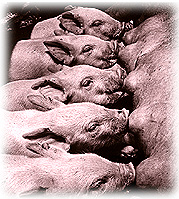 click for NPSA Officers and contact info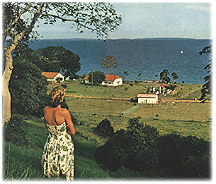 WHERE we race
comments? feedback? contact: webwolf@nbayracing.com