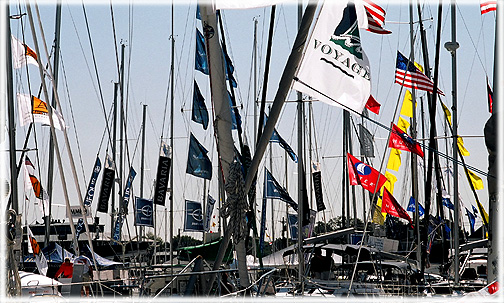 THE (somewhat obnoxious)
2004 NBAYRACING
ANNAPOLIS

SAILBOAT

SHOW

AWaRds....
Okay...awards seem to be the big thing when it comes to the boating press. Sailing World has its "Boat of the Year" Awards, blah blah, etc. etc.
Frankily, I'm always skeptical of these things as there always seems to be some kind of mirky quid pro quo involved. Or is it just a coincidence that the winners always have a lot of adverts in the same issues of the same pubs that make the awards. Well rest assured, NO ONE "got" to NBAYRACING.COM! These awards are given strictly on merit, not payola. So here goes....
THE 2004 Annapolis Boat Show seemed to be chock-full of Over-the-Top daysailors. I know a lot of sailors, but none who have a spare half million to dump on a frivolous ride for Sunday afternoons in July. Maybe that's just a reflection on me and the people I hang around with, 'cause obviously there's a market for these things.
I guess.
OUR PANEL OF JUDGES: nbayracing put together a crack team of top sailing advisers from one of the most knowledgable owner's groups on the internet. These folks know many strange things about a lot of odd boats and are often found hard aground.
So there.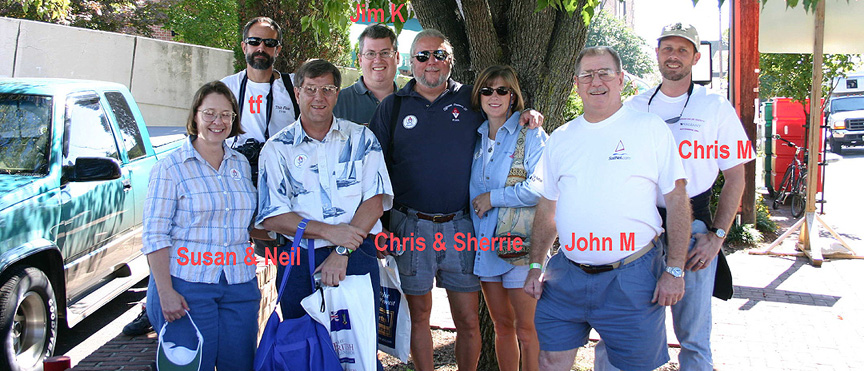 Photo: J. Kettering
THE 2004 MOST OVER-THE-TOP DAYSAILER: THE HINCKLEY...uh...whatever it is. It's horrifically expensive, that's for sure. There are some people, somewhere, who can afford one. I can just imagine the phone call: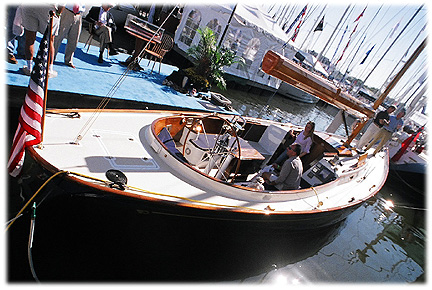 "Oh, Emily, let's DO pack a picnic and take the Hinckley out to the island??"
"Oh, Chas, I'd simply LOVE to!!!"
"Right, then. I'll ring up the lads and have her put ready..shall we say three-ish?"
"Oh, that would be LOVELY, Chas. Simply GRAND."
"Right, then."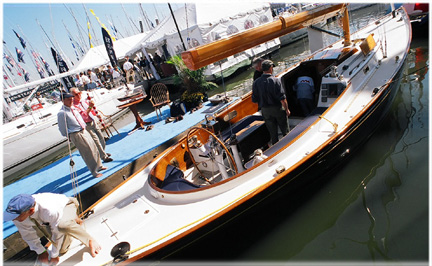 The boom furler is carbon. So, why does it look like wood? Is that, like, contact paper?
Worst use of the Pella Window Catalog on a Sailing Vessel: The Saga 409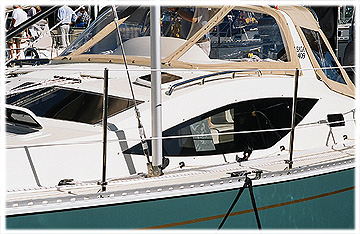 I think someone did a LITT-TILLL too much acid in the 70's. This thing is flat out butt ugly. Then there's this beauty, below, the Saga 48. Might be a toss-up. Both are enough to gag a normal human being.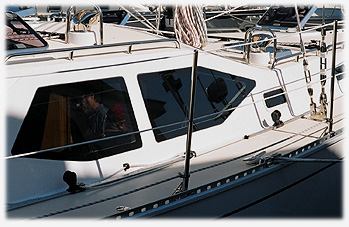 As an illustration of a gorgeous way to do a coach roof and portlights, I offer the Friendship 40's (below). In fact, the Friendship 40 gets the NBAYRACING 2004 AWARD for ALL AROUND TASTEFULNESS. I mean, how could they not?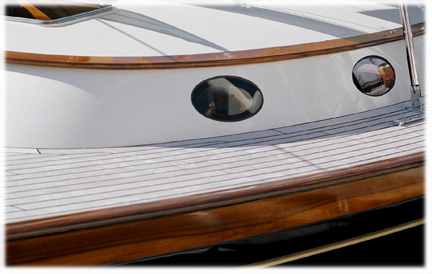 Looks like something out of Chris Van Alsberg.
Stern treatment (below)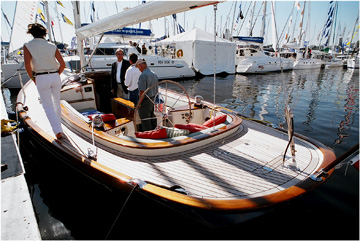 Nonetheless, it IS another Over-the-Top daysailer...just less pretentious than the Hinck. But only slightly.
Nasty piece of work: the CatalinaMorgan 440 gets the NBAYRACING 2004 UGLIEST BOAT OF THE SHOW AWARD. check out this pig (below).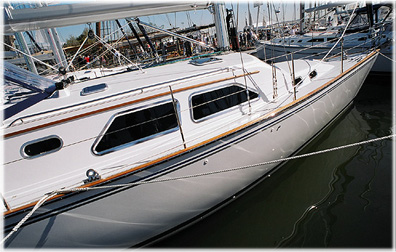 "Hey! I have a great idea! Let's loft up the lines of a 1965 Coronado 25, pig it out for cruising and call it a new launch!"
"Sounds great...let's do it!"
The 2004 NBAYRACING Let's Crank Max Beam out to LWL AWARD: The Raidersport 16. Not attractive, but looks like fun to sail.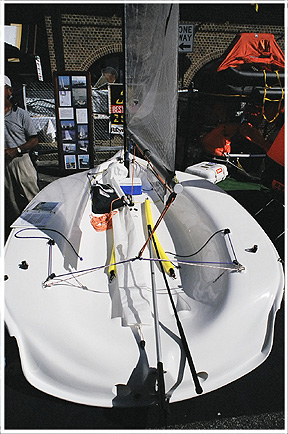 THE 2004 NBAYRACING COOLEST DESIGNER AWARD. Robert Perry. Hands down. Check out Bob Perry's designs thru the years, look at his Perry 45, and then ask him questions about boats and his designs. One of the industry's class acts. Here is Bob (right) with his Perry 45 (below).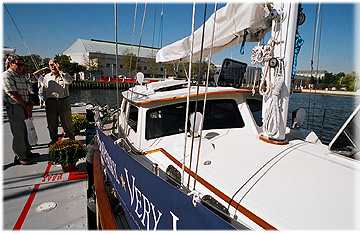 Robert Perry shows his Perry 45. I asked him about the overhang on the coach roof: "I have a question, Mr. Perry, about the leading edge of that cabin trunk...and the
potential damage from shipping seas over
the bow....does that overhang present
a danger from strong lifting forces? "

He wrote back:
"That house top overhang is a standard design detail on just about every NW fishing boat ever built. I can assure you that most of these working boats from time to time will ship water over the bow. If that detail was a problem it would have been droped 50 years ago.I copied that detail from the NW workboats as did Bill Garden. It just has never proven a problem. I appreciate your pic and thanks for at least paying attention." (correspondence thanks to SailingAnarchy)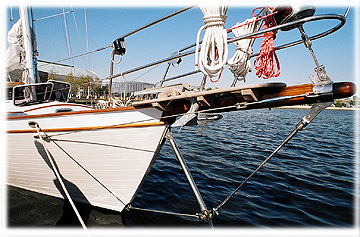 Check out the sprit on this puppy. Bob Perry says,"That sprit is about 5' long and very stout and more in keeping with the aesthetics of the design ( a highly modified Baba 40 and NOT the new Lyman Morse 45) than the section required for the compressive load. The dolphin striker works well to help maintain headstay tension with the taller rig." (again, courtesy of SailingAnarchy)

Speaking of sprits, here's the 2004 NBAYRACING AWARD FOR "MOST LIKELY TO GET THE HEART RATE UP." The Reynolds 33.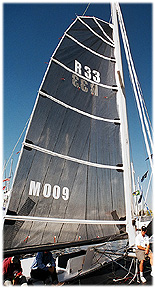 Check out the roach on that main. You depower in a blow by roller furling the main. This looks like a blast in 5-18, abject misery in 25+. Yet, people sail them in coastal races on the Other Coast, I am told. Here's the sprit (below). Positively dainty compared to the Perry45.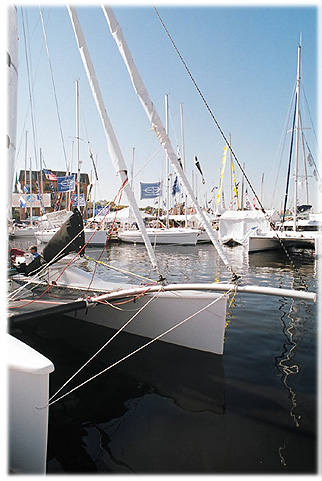 I dont know about that sprit. I can't imagine it not oscillating all over the place with a load from the A-sail on it. No one has informed me otherwise, though.
BTW, we saw a Reynolds33 under way after we'd finished the Harbor Cup a few days ago. The breeze had all but disappeared. Just about everyone was motoring in. A few cruisers were still struggling to sail.The R33 just trucked on by, doing maybe 7 in something like 2-4 kn of wind. Wild.
I went below to get my camera and by the time I was back up...adios, hombre.

going...going ...gone
MOST ABUSED NEW ENTRY AWARD:
The Columbia 30 got the most abuse on SailingAnarchy Forum. For some reason the
high freeboard didnt bother me. I sort of like the idea of being able to stand up below to put on the bibs.
I guess it's an antiquated concept.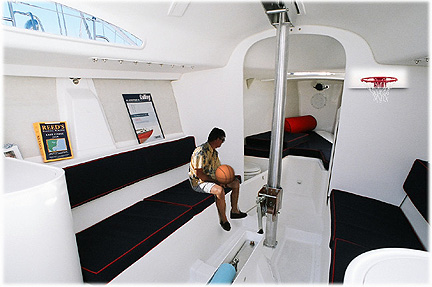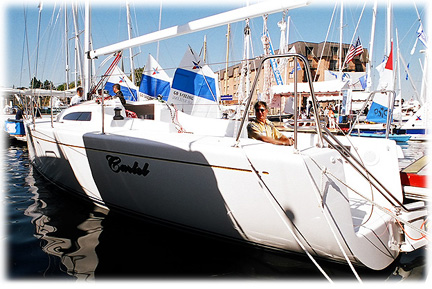 Flat-out Most tempting daysailer: J100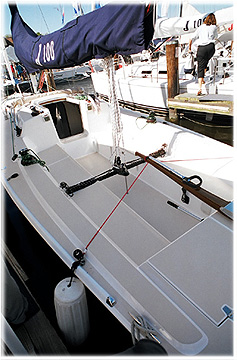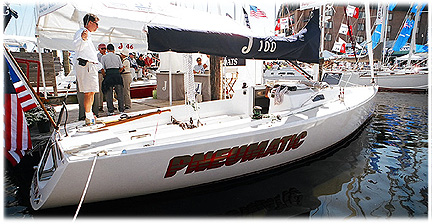 This looks like fun, to me. Although I still cant figure why NO SPRIT. The dude on board said they wanted to "simplify" the boat. o...kay.
Best Charter Company at the Show Award: the perennial favorite, SUNSAIL! great folks.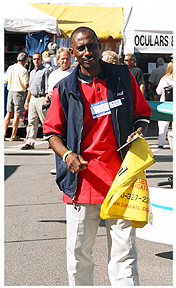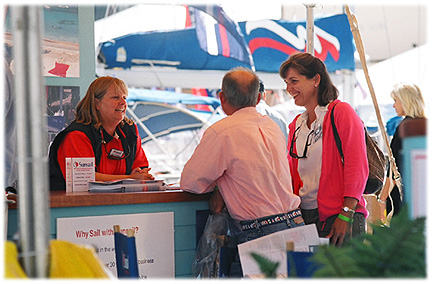 The "CRIPES I'M GLAD I LET MY SUBSCRIPTION LAPSE 5 YEARS AGO!" AWARD: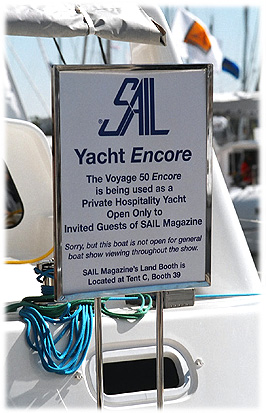 The worst rap sailing gets is that it's a snobby sport. Thanks for reinforcing that concept, SAIL! Why not just get a booth and not alienate a few thousand folks over a four day weekend. huh?
Most Creative Spars Award: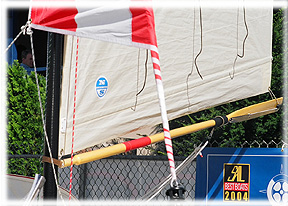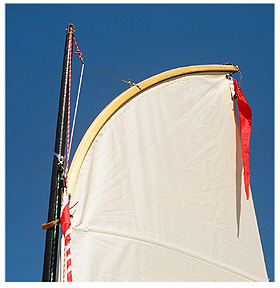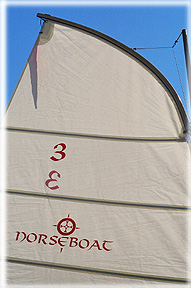 The Norseboat. These people think the way I do. Which is scary.
The 2004 "JURY'S STILL OUT" AWARD.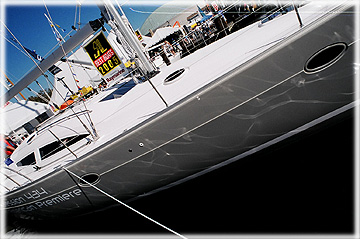 The Impression 434, a cruiser/racer with eurostyling portlights and coach roof. I dunno...for one thing, I stand opposed to any boat who's hull and deck colors are the same as an angry sea. Imagine a rescue helo trying to find this baby off Diamond Shoals at dusk.
Then there's the styling, too.
There's more stuff to award and I will at some point....later
.