2010 nbayracing.com .....stuff from 2010
------------------------
10/25/10....Well-behaved Harbor/Leukemia Cup

This year's Harbor Cup was a far cry from the last 2. That was fine with me. For all the bluster about heavy air and a "bring it' attitude, I was actually quite happy to race in a pleasant 8-12. We came in 2nd in PHRF "B." That was a bit of a disappointment, but so be it. It was pretty light and we like a bit more breeze, but how can you complain on a gorgeous fall day?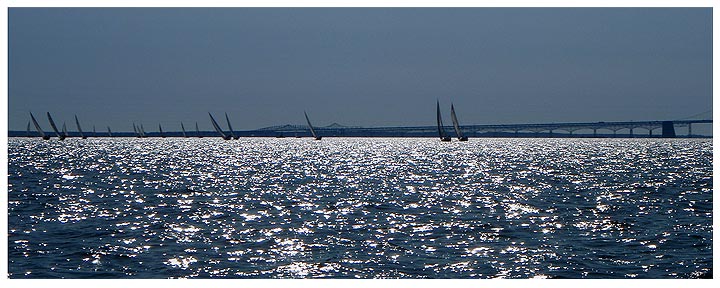 Pix from the start. We had the Flyers and the 9.2's in our fleet. One of the Flyers beat us on corrected time, though we took line honors. Below, the S2 9.2 "Torch" and the Pearson Flyer "Flying Circus." Props to "Circus," who took the top banana in the "B" fleet. (results)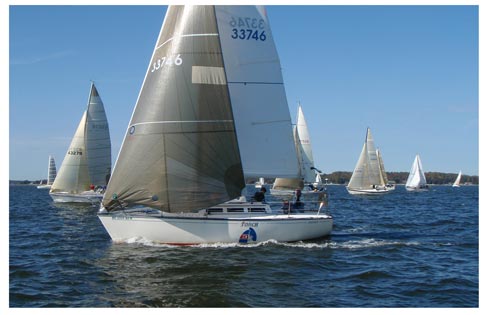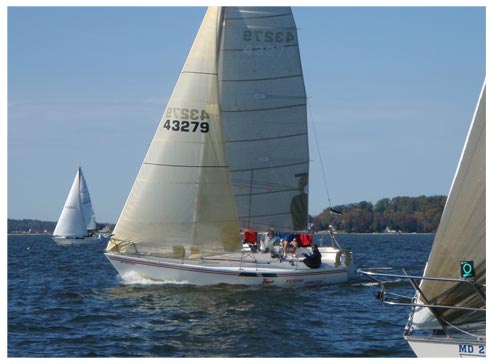 You know the boat is in serious racing confirmation when there are pork rinds and holstein do-rags on board.
And finishing up in the harbor is always a hoot. Really glad they moved the line inside of Ft. Mac some years ago.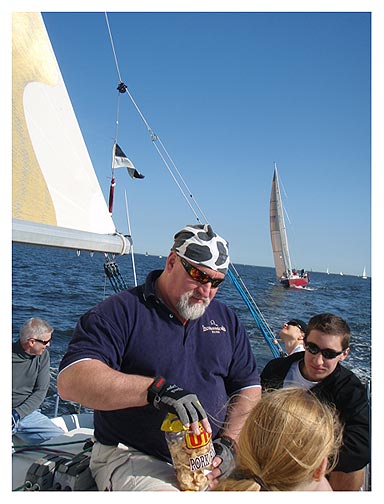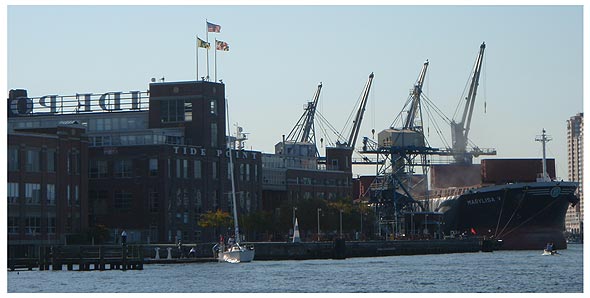 The course took on a Havre de Grace feel for a few moments on the ride up to the bridge (first windward mark) when this contraption showed up on the rhumb line. Fortunately it trucked on through and, to my knowledge, no one was affected.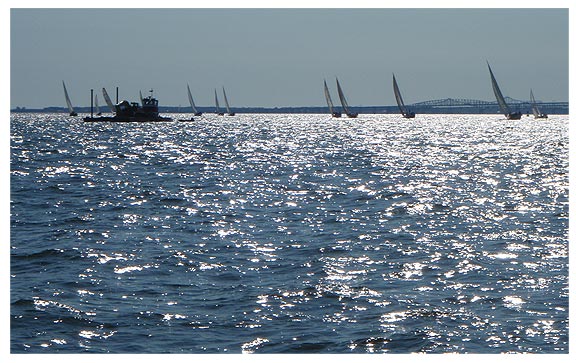 So, no rigs down, no turtled multis, no one arrested and no pain and personal suffering. Are we sure this was a Harbor Cup and not the Queenstown Race?
___________________________
10/14/10.....Track It Don't Lack It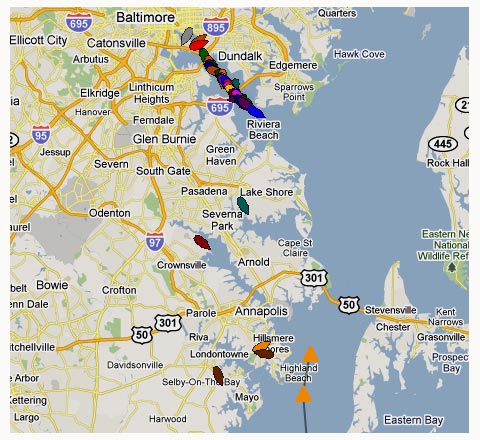 Here it is, about 10 a.m. on a rainy Thursday morning and you can see the schooner's leaving B'more for the 1 pm start of the Annual Schooner Race. Looks like some are going to be a little late for the gun (off Annapolis in the Tolly Pt. area, I haven't read the SIs).
Well, you can't exactly see them, but you can imagine them by using the Kattack Tracker all the boats are carrying on board.
I got this info from Terry Boram's story in the Examiner. She has all the links and stuff, so check it out.
Right now (10 a.m.) it's blowing 13-14 ESE at Key Bridge, it's raining and it's 58 degrees.
The breeze is supposed to back around and build like crazy after midnight, hitting 20-25 by 2 a.m., so this could be a real screamer to the finish line at Hampton Roads.
Even if you don't know any of these boats, it should be a hoot to check the tracker from time to time to see what their boatspeed is, especially if you have insomnia at 3 a.m. tomorrow morning.
Here's a link to the fleet....some boats have websites. There are some interesting boats in the race and we sorta feel bad for not paying more attention to this event in the past.
__________________
10.13.10.....Fall Fiasco
Harbor Cup. Leukemia Cup. Horror Cup.
Call it what you may, it's the sworn favorite CBYRA Distance Race among most of the people I know and talk to about racing. In 2008 we had consistent breeze into the 30's. Last year was "light air"...18-25 kn with maybe a few puffs up around 30. We did it once back in the late 90's and some of the old-timers said it was the roughest race they'd ever done in 40-50 years of competing on the Bay (giant puffs from the NNE, with 15 miles of fetch, piling up on Bodkin Shoals....we were shedding boat parts).
SO SIGN UP! You will not have this much fun with all your clothes on (and then some) for another year. Plus the fundraising proceeds go to a great cause.
Below, Glenn Harvey's "Kristany," in 2008, left; the parade to the finish line in 2009, right.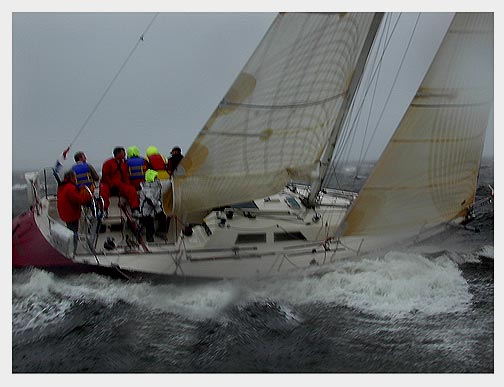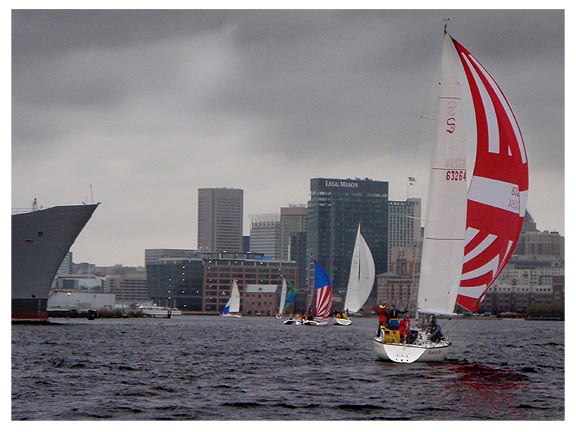 We don't need to talk about this shot I took of the Harb Cup start (postponement and eventual cancelation) back in '91 or '92....it never happened (below).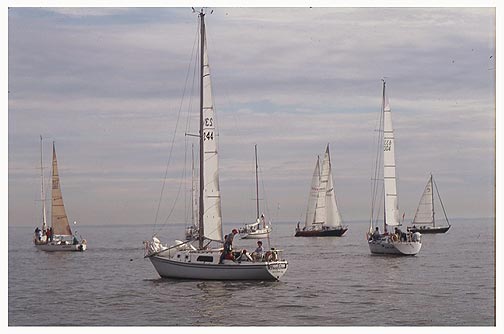 9.30.10......Happy Ending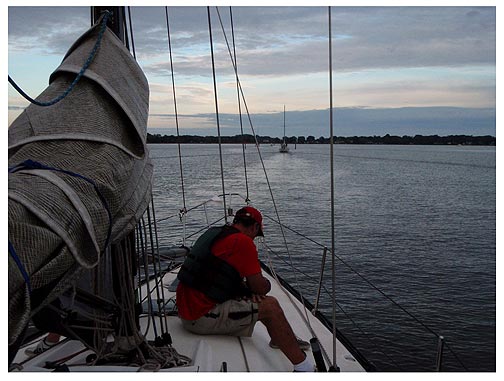 MRSA was over, but I was psyched when I got an email from NPSA's Commodore that their last weeknight race of the season was still a couple days off. So I emailed some peeps I knew down there, begging for a ride and Bob Yin was nice enough to take me out on his handsome, big red C&C, "Dolce."
Starting a 'round the buoys race after sunset always feels weird to me, but it was a lovely evening, especially as most of the day it had been drizzly and gray.
We had six boats in the spinn fleet and with the winds out of the east, I was sorta hoping for the Race out to The Light and Back course, but with the breeze being on the light side, we had a 4 nm reach-around, parade route, instead...the only tactical leg being the second leg, which really, if you stuck close to the lift off Ft. Howard, was actually a fetch.
Nonetheless, it was a pleasant, laid-back way to end the season and frankly, I wasn't in any dire need of a 20 to 25 kn, 8 nm slugfest. I don't think anyone was, in all honesty. NPSA was hosting a Champagne Socks Back On Party after the race, and most likely no one was that enthused about bolting down a few glasses of the bubbly starting at 10 pm and driving home with a wine buzz only to wake up 5 hours later for a full work day.
So we had a short race on a dark night in benign conditions and sometimes that's all you need. For a lot of us, that's all we'll get in the next 6 months.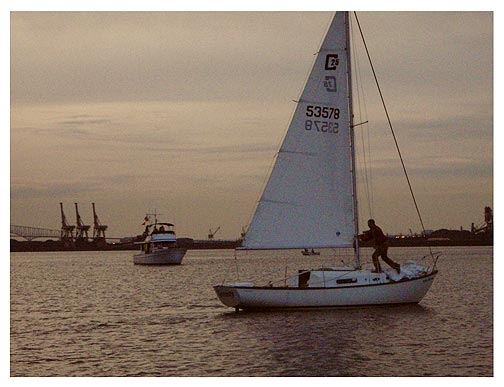 I've forgotten who this is, but nbayracing likes this singlehander, keeping busy on his CD25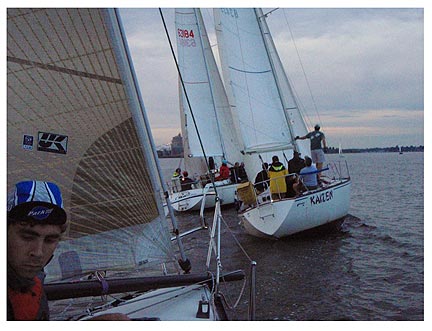 "Cookie" and "Kaizen" got their noses out ahead of us at the start, but that did not last long, oh, not at all (below, right)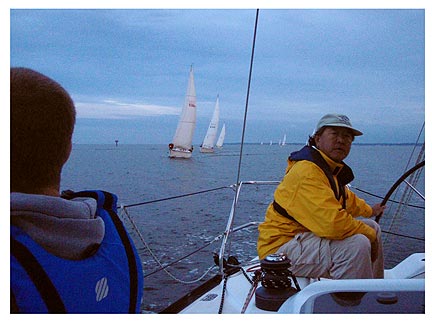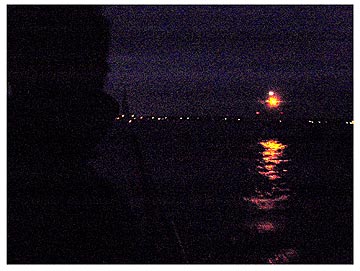 NPSA did a smart thing, a few years back, for their races that finish in darkness.
They got a big flashing yellow light and they mount that sucka up on the bridge for boats that are finishing. It is pretty easy to find the RC boat on your way to the line. Finding race marks on the course is a whole 'nuther story.
Big shout out of THANKS to Bob and the crew of "Dolce" for the ride!
And we are really sorry to see all Weeknight Racing go by the wayside for the rest of 2010 and well into 2011.
What are we gonna do now, Lieutenant?
_________________________
9.27.10.....Northern Exposure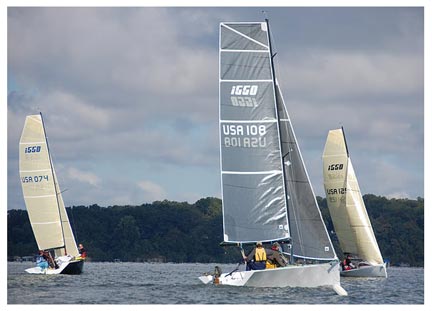 And so it begins.
It was inevitable that a few i550s would find each other. With over 120 plan sets sold in the U.S.A., and dozens of building projects going on domestically, it was bound to happen that there would be a boat race, somewhere, somehow.
The lads (and their families) pulled it off last weekend by having the very first i550 North American Championship ever. They convinced 75% of the boats now sailing in N.A. to show up! Okay, this only means 3 out of 4, but that's a decent percentage for starters. It didn't hurt that most of these guys live sort of close to one another, at least by western standards where people sometimes drive 3 hours one way to see a movie. Major props to the "Lunatic Fringe" guys who toodled on down to Wisconsin from Montana! It most have been worth it because they won the first ever Epoxy Cup trophy.
(photos from Kevin McDaniel's gallery here)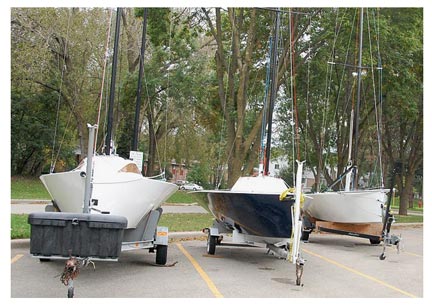 By coincidence, or perhaps not, on the other side of the globe, three Australian i550's will be going head to head at the St. Helena i550 Crate Cup.
So, are we seeing a tendancy toward getting a critical mass of these little buggers out? Time will tell, but with the number of licensed hulls now at 311, it appears to be more than just a passing trend to plunk down some cash for a hull license and plan set.
As my own building project lurches forward, then back, then forward again, we are looking toward the 2011 NAC as a goal. We still have a lot of work to do on hull #87, but there is light at the end of the tunnel especially as we get ready to apply all the deck surface and close the boat up.
Work goes on, until the snow falls, with #87, hoping to be able to make the scene somewhere in the Heartlands next summer at the i550 2011 North American Championship. If you have any desire to build one of these, you should dig in, especially if you have a youngster who likes to get involved with boats and building things. Building has been a lot of fun, not without a little frustration, but all-in-all, a very rewarding endeavor and looking at the pix from this past weekend at Lake Mendota, just northwest of Madison, WI., a great way to bring the sailing "smile factor" up to very high levels.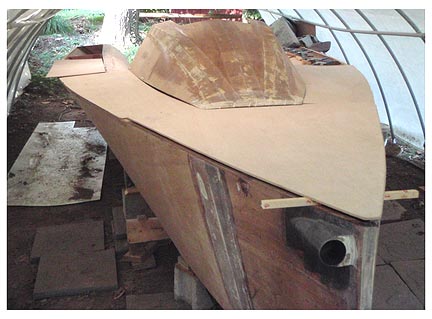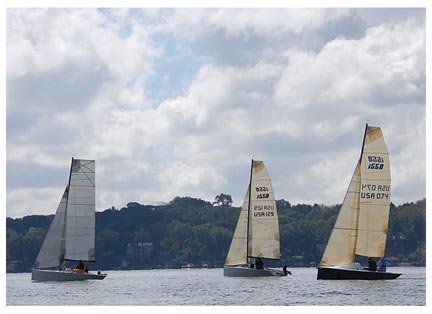 _______________
9.23.10....Covered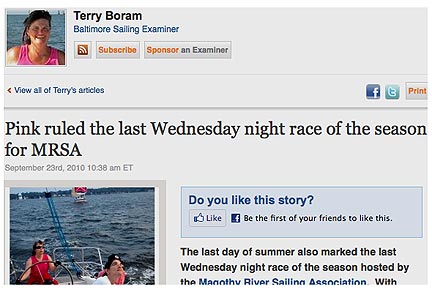 There are tons of reasons to loathe the Sunpapers, their cult-like devotion to the worst politicians in Maryland, their rigid grip on excess baggage from the sixties, their steadfast refusal to do much in the way of ferreting out the graft, corruption and cronyism running rampant in our municipal and state offices.
Along with that, they really don't give a rat's red butt about sailboat racing. I actually emailed the sports editor with a heads-up that the U.S.A. had won back the America's Cup after there was no story the next day! I got a terse reply that they were working on a story....yeah, check's in the mail, too. (They eventually ran some wire copy they'd picked up from AP or somebody. BFD)
So, screw them. Turn instead to the Baltimore Examiner. They have a great reporter, Terry Boram, who actually sails! And they cover our local scene. It's great!
Be sure to hit the "subscribe" button just underneath Terry's byline. You'll get electronic heads-ups on all future stories.
This is a real boon to we who race around Baltimore and it can't help but spread the awareness that there is some fun, exciting sailing going on close-by.
As we who have doing this for awhile, get grayer and slower and more senile every day, it's cool that there is electronic media covering our sport, locally, and hopefully showing the younger generation what's up and getting them psyched to hop on a yacht for a weeknight or weekend race.
Our sport needs a little youth infusion and Terry's column might just help with that. It sure can't hurt!
______________________
9.23.10.....Another Take on the Ladies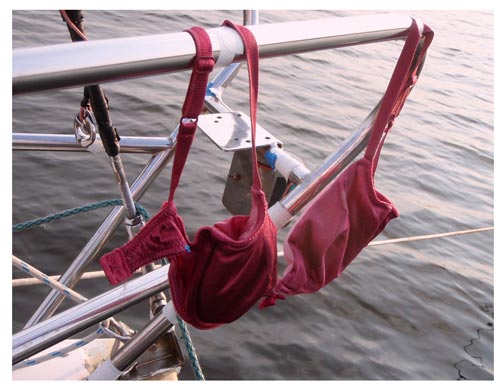 (Not to detract from Terry Boram's article, above, in the Examiner, but here's another take on our last weeknight race of the 2010 season)
If there is underwear hanging from the pulpit, it must be MRSA's Women Skipper series.
Or more accurately, their Women Driver Series.
You must have a women of the female gender driving the yacht for this particular 3-race series. That is the rule. (not all MRSA yatchetts participate in this, however. Boats have the option of sailing "normally," that is, having a testosterone-poisoned, male chauvanist pig at the helm, for the last series, or joining the Women Driver Fleet)
The always politically-correct Omega 36 "Incommunicado," usually chooses to "do the right thing" and opts for the Women Driver Fleet. There is never a shortage of athletic, female sailors on "Inc.," complete with mad skills at the helm, so what the heck right?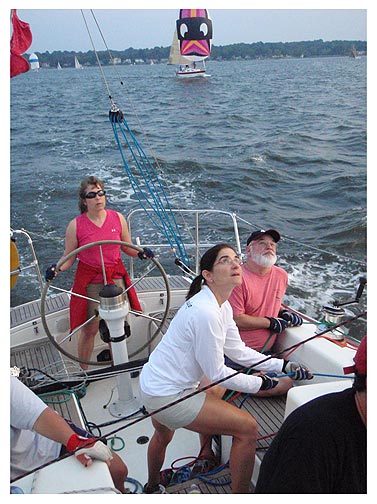 This is Christine doing a great job of concentrating. What the picture does not show is the pesky Tartan 10 "Wabbit" off our port bow. They ended up beating us on corrected time.
Nice job, "Wabbit."
They got a great start and ate our lunch on the first leg. They got a great start, some of us on the boat believe, because of a sudden, unexpected deviation from "The Plan."
"The Plan" was to head back on port with 1:30 left on the clock.
For some reason, the Snacktitian decided, based on some sort of inexplicable whim, to head back at 2:10. This put us in the middle of the Boat End Sh*t-storm, instead of at the relatively unencumbered, and slightly favored, Pin End of the line. "Wabbit" did a nice job of hooking us and forcing us up, and while we killed speed to avoid being OCS, they footed off, hit the line with speed, and left us in their dust.
Or such dust that exists on a Wednesday night in the middle of a river.
Christine and Co. did a masterful job of clawing back a lead, and we took line honors by a hair, but that was not enough separation to make up for the 9 second PHRF rating difference and they got us by 17 seconds on a tiny course that took only a little more than 20 minutes to complete.
That's it, game over man. Until April.
I remember when NPSA used to send us on epic long races for the final race, evenings that turned into nights and nights that were as black as Gulf crude on a cormorant's belly. Nights that seemed endless and the committee boat and finish line a mythical area located somewhere off Old Road Bay.
And as likely as not you'd miss it and rack up a DNF.
That's how black the nights were. And the racers loved it! And they'd say things to each other at the Awards Dinner....things like, "Remember how dark it was out there? We could barely see our hands in front of our faces and we had to navigate by compass and SMELL our way in!" (not a bad strategy in ORB, actually...in fact, a fairly common one)
Alas, these were sailing men (and women), not like the GPS-addicted hoardes of today, who race for 20 minutes or so until it gets dark and then head for The Melting Pot for fondue and Mimosas.
But I digress.....
Anyway, congrats to the women-folk on "Inc." for a job well done and for winning the Female Trouble Series. And props, too, for MRSA for injecting a little fun into the routine. For anyone who is interested, MRSA does a great job of holding races on Wednesday nights. I can't recommend the venue enough for its overall quality of racing, including the perks of a flat-water venue and the sportsmanship of its competitors.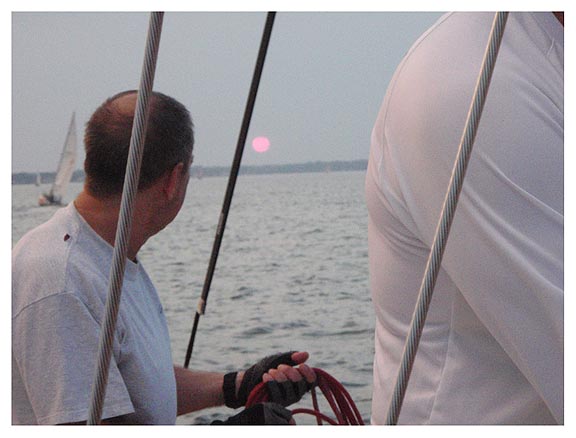 Even the sun decided to get into the flavor of things by flashing a little pink before leaving the scene.
______________________
9.20.10....Steal This Boat
One thing that indicates sailboat racing on the bay isn't quite ready to have a fork stuck in it yet, is the multihull presence in CBYRA events over the past few years.
Racing multi owners and their crews have been doing a great job of talking up events and being mutually supportive in terms of sharing crew (and sometimes parts) to get sailors of their "ilk" (brothers and sisters who have gone over to The Dark Side) to come out for a lot of the distance events on the calendar.
We here at nbayracing think that's pretty stellar.
Now here's a chance to get in on the multi fun, an R33 that is going for a song. There are a few glitches with this hull (or pair of hulls) but nothing that cannot be put to rest by sprinkling a little coin around. You'd still get an optimally performing multi at a discount monohull price.
Check out the ad here (third row of pix, left)
_______________________________
9.5.10.....How I Got Back Into Racing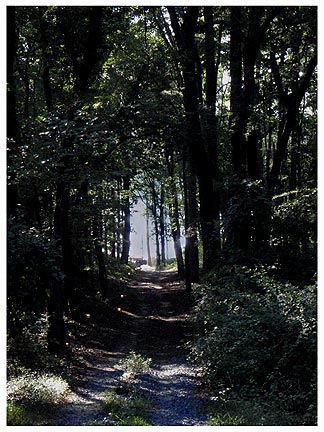 (Left, light at the end of the tunnel, in this case the walk down to the dock on the Magothy)
Six weeks off of sailing in the summer. I don't think I've had that length of time away from boats, during the season, in the past 25 - 30 years. Maybe even longer. So it was with a huge amount of relief and excitement to leave for the boat (a few hours early) and head down to the Magothy to race on Inc. for a Weds. Night MRSA race.
As of 5 pm , Wed. Sept. 1, I was a mere 20 hrs. away from exactly 4 weeks after surgery, the date at which the Good Doctors said I could lift more than ten pounds. They didn't say how much more than ten pounds though. And, being not too sure of what I could expect to be able to handle, and not wanting to push it, the Skipper decided that it would be best if I drove. As in helmed the race.
So, I hadn't been sailing since July 27, and I hadn't driven a race since I handed over the helm to Roger VIl on Direwolf, during the 2003 or 2004 season (I can't really remember). Anyway, it had been a solid 5 years, at least. Not to mention the vast majority of my driving races has been on tiller boats. Like probably 99.5% of it. But, what the hell, huh?
We got a late start from the dock and the engine conked about halfway to the RC boat, so we got to our start about a minute and forty-five seconds late. One nice thing about giving the fleet a minute and forty-five second head-start is that it makes the starting line relatively uncluttered. In fact, we only had to wave off a PHRF B boat to hit the line at warp-speed and begin to reel in some of those lucky enough to have actually shown up on time at the starting line. Except, well, we're the slowest rated boat in PHRF A. Oh well, conditions were absolutely perfect, hot but not hellish, with a nice 10-14 southerly building. Those are my absolute favorite sailing conditions on the bay, when it's warm with a rock solid southerly building from 10 into the high teens or low 20's into the twilight hours. (unless I'm doing the Gov's Cup in which case forget it).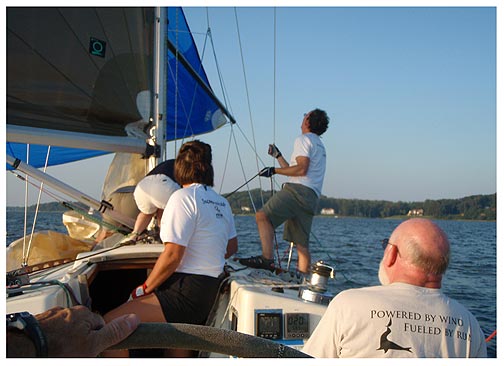 So we steadily ground down the J29 and I think we just got them boat on boat at the "finish" line by maybe a second or two. But it didn't matter because when we started we picked up the PHRF B course (2 times around) instead of ours (3 times around) and got scored a DNF when we thought we were done and quit racing after 2 laps.
No biggie, we were not in very good shape for this particular series, anyway. And I think as a crew, we just wanted to go sailing.
It was a stellar evening and I cannot thank the owner and crew enough with the hospitality and welcome back sentiments they bestowed on this crippled fool.
And especially the wheel! It was a kick to drive a 36 footer around the bouys after a long, long time away from driving a race.
So, I figure the racing season is back on for me. No stitches got busted, no body parts fell off, and I felt fairly decent the next day.
But man, this weather has got to let up a bit. I like hot weather, but this is getting a little nuts. It was something like 103 in the parking lot of West Marine when I stopped there pre-race. On the way home I took this shot of my dash....9:34 pm and the temp just a few clicks south of 90 degress.
That ain't right.
8.22.10.....Slim Season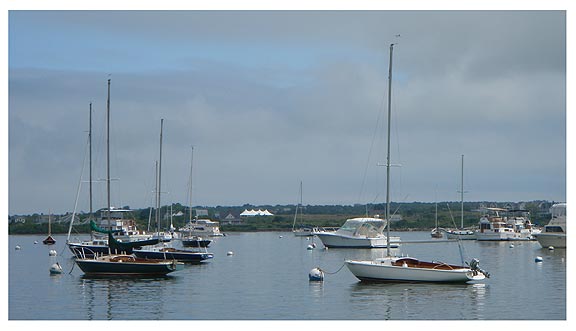 Left, a few Pearson Ensigns on moorings up at Great Salt Pond, Block Island.
This has been, by far, the weirdest summer I've had in a long while. I think I've done maybe 4 weeknight races....I usually do 30+. Okay, chalk it up to a crappy health situation that has, hopefully, been rectified. But still, 4 crummy weeknight races. If not for Star Wars and Screwpile, I think this season would have been pretty much of a wipe-out. So, there hasn't been much to write about or photograph.
But not sailng gives you some time to ponder sailing, and time to take a look around (usually on the internet) and find things that are intriguing and maybe also good for the sport. Such as this little item on Sailing Anarchy that probably went unnoticed by the majority of bombastic know-it-alls that largely comprise the SA Forum's participants: The 2010 Ensign Nationals in Les Cheneaux Islands, in the Upper Peninsula of Michigan, USA.
Why do we care about a dorky little Carl Alberg slow-as-all-hell design from the early 60's? Because some pretty smart people have figured out how to put a bunch of relatively affordable sailboats in a dedicated spot to build what has to be one of the largest keelboat One Design local fleets in the country. If not the largest. An incredible 66 boat fleet. The Les Cheneaux Islands have an approximate population of 1,662. They lie in Clark Township, total population 2,200.
So, how did a One Design fleet of heavy, old, modified full keel daysailers ever grow to such monsterous proportions in a area almost devoid of human habitation (at least from our East Coast persepctives)? We don't know but we sure as hell are going to write some people to try and find out. Stay tuned.
BTW, from the pics and the write-ups, the Nationals looked like an absolute blast.
__________________________
7.27.10....Thirty Five's a Crowd

I had time to use a long lens (300 mm glass which converts to 450 on my DSLR) when we did RC duty a couple weeks ago at HdG, for their Thursday night races.
HdG really isn't that much more crowded than most of the other Wednesday night racing venues in the area, but the long lens might make it seem that way. Certainly there are a few things on the course that make it an interesting challenge, between the moored boats, the tour boats, including a skipjack and an ersatz paddle-wheeler, the gravel barges and the white whale liner.
Throw 35 racing boats into that environment and you have some navigational nightmares, but amazingly, collisions are relatively rare. Except for maybe the J24 fleet...but hey, that's J24 racing.
Thirteen J24's manuevering, P-flag up, in a starting area with a little more room than usual, e.g., not directly off the seawall. Good times.
Below, the PHRF fleets keeping well off the paddle-wheeler and the skipjack. In all honesty, the tour boats are very courteous and do their best to keep from screwing up the race boats, at least from what I've been able to discern over the past 5 years.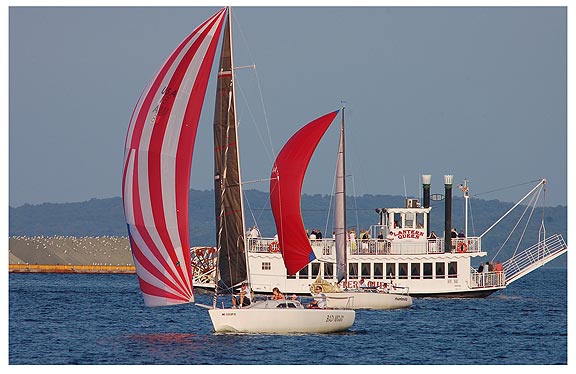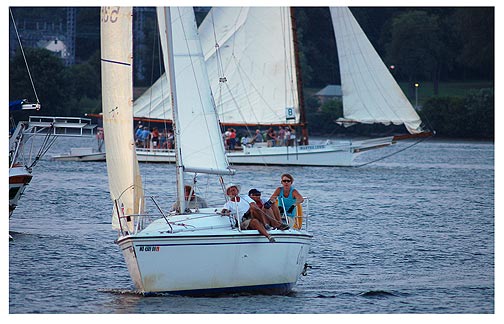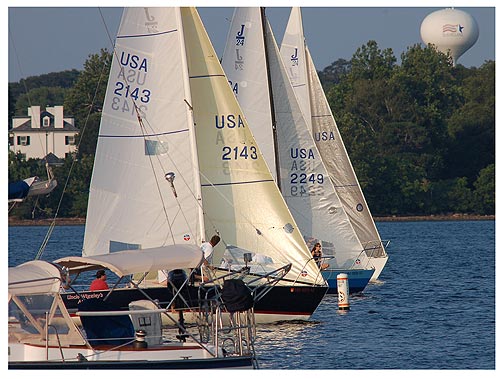 Looks like a 3 boat start, but it's tight J24 racing, a trio of boats on their 5th leg. Not sure why two boats have people forward of the mast, headed upwind, though....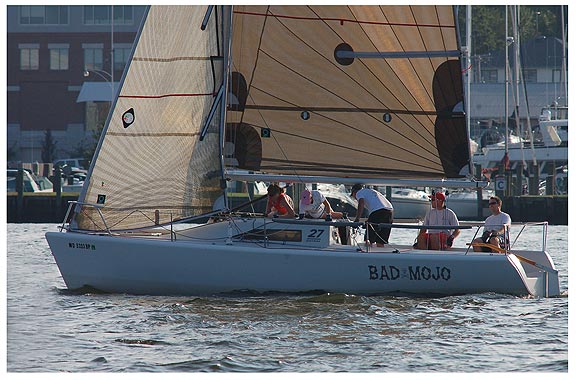 Scratch boat at HdGYC, the Antrim 27, "Bad Mojo" prepares to tack out after finding some clear air on the right, where interesting things happen to the breeze, depending on direction. The right can be a place to grab some major gains, or die a slow, painful death.
It's not unusual to experience both in the same evening.
__________________
7.22.10......SPLC 2010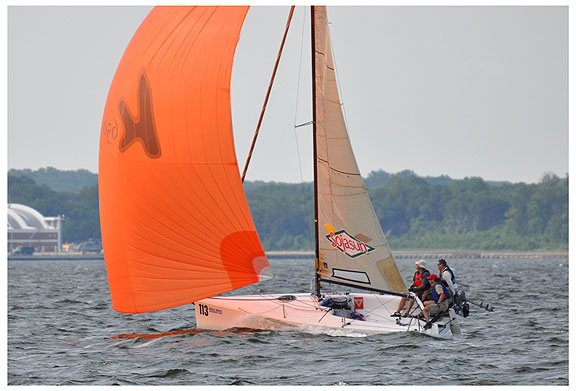 Left, the guys from APY brought down a little sizzle this year with the Juan K 650. Here's a link to Lori Pierelli's video of the boat headed out to race on Day 2. Can you spell rocketship?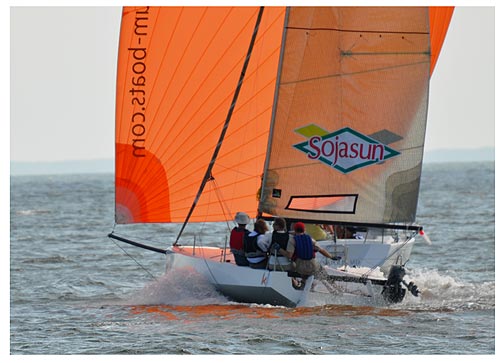 Both K650 photos thanks to Bobby Marinelli.
118 boats were registered this year, which is a bit of a drop in overall participation, but let's face it, very few big regattas are racking up the kinds of numbers they once did as little as a few years ago. The economy sure doesn't help.
Nonetheless, one bright spot, as far as I am concerned, is the number of boats that sailed in PHRF C/D. Fleets of the older, slower boat fleets have been taking a huge hit overall, on the bay. Chalk it up to the move toward single-purpose (read: racing) boats and five-footitis, I guess.
I raced in PHRF C/D this year, the 2nd year in a row on "Audrey,"one of the Merit 25's. Our sole goal this year was to improve on last year's dismal performance (in which we finished one place up from DFL).
So, after Day 1, when we were sitting in 2nd, we felt pretty good. We didn't do quite as well on the heavier air Day 2, mainly due to an OCS, but also most likely a result of our competition getting slightly more dialed in…some very good boats seemingly failed to show up on Day 1 and we benefited greatly from that.
By Day 3 there was very tight racing across the first half of the fleet and we were able to hang on to 5th overall. It was gratifying to beat a bunch of boats that creamed us last year! All results can be found here.
What I love about this year's Screwpile is something that goes against my major gripe with PHRF. Check out the finishes in all 7 races and you'll see an enormous amount of inversion, with the exception of "Big Time," who was completely untouchable (they took it easy on Day 3).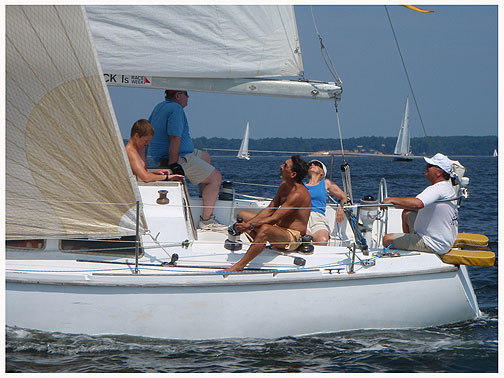 Left, Michael Rajacich's "Big Time," just off the start, with us on her port hip in a light westerly. Suffice it to say, we could not live there.
Every boat that finished as far down as 9th in the 15 boat fleet had at least one score in the top 3. That is close racing. We basically buried ourselves with the OCS and having to spin circles in race 7 after fouling the Kirby 25 "Fine." With no throw-outs, Screwpile puts a premium on consistency.
Also: notice…in the paragraph, above, I said "race 7." Yep, we got seven races in on a 2-3-2 schedule over the 3 days. Screwpile, in my opinion, has an undeserved reputation as being consistently too light to race, yet if you take the last 7 years, for example, there were only 4 days out of 21 that went without a race. That's an 81% chance of getting a race in on any given day over the course of the last seven years!
I'll take those odds over sitting in an office any day.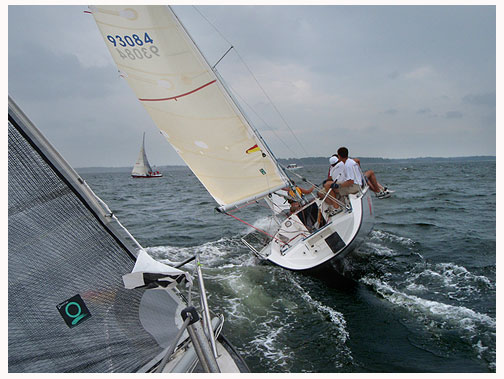 Left, the Colgate 26, "Easy Button," just ahead of us, coming out of a leeward transition.
"Easy" is the former "Bob," with which Mike Ironmonger won an enormous amount of hardware. The boat did not disgrace the memory of "Bob," easily taking 2nd place in PHRF C/D.
Third went to a Hunter 265, an unlikely candidate for a top three finish. Hats off to a very well sailed "The Hunter!"
Another bonus, this year, was having Anarchists "Slickette" & "Moe Alfa" join us for all three days of racing. These two were a blast with whom to race and tolerated our not infrequent brain-lapses and tactical absurdities. If nothing else, they got a free shirt out of the deal.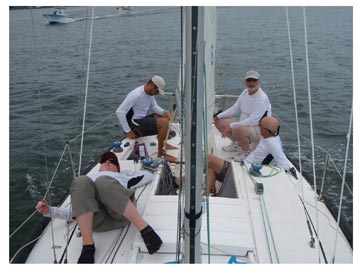 Left, an intensive "debriefing" after a rewarding day on the course. It's these moments of analysis and reflection that lift the so-so programs into the winner's circle.
Special thanks to the owners of the Lagoon 410 "Electra Glide," which served as our Mothership, support boat and air-conditioned dockside condo for three of the hottest days in recorded human history.

__________________
7.9.10....Rhumb Liner
HdG is somewhat famous for having a few minor obstructions on the course during Thursday Night races (see below, 6.18.10) but this whopper showed up last week and we thought it was pretty funny. In all actually, it did not present much of an issue....the race committee did a stellar job of inventing a course that had sufficient tactical options to minimize the effects of this large, white wall. A big shout-out of "Thanks!" to the liner's tender operator, who waited patiently while underway with a boatload of tourons as the J24 fleet trucked on by. The tourists looked pretty interested, too....maybe the J24 fleet has enough NASCAR in it to attract a viewing audience?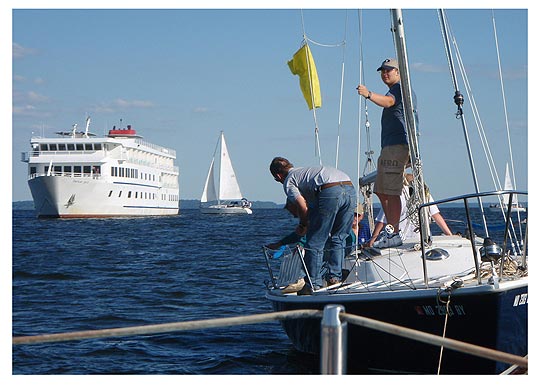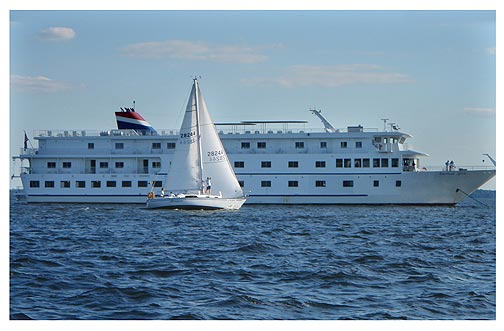 __________________________________
7.8.10....How to Avoid That SInking Feeling: 101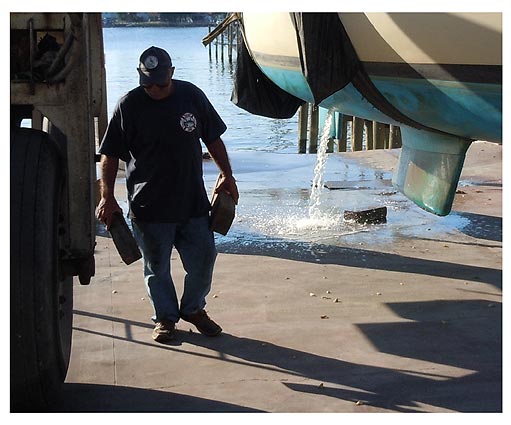 Upon noticing water above the floorboards, it is a good idea to check all the thru-hulls. Or the stuffing box. Or that nasty little tube where the speedo goes.
You should have some of these handy-dandy plugs in an easy to find spot, below, too.
This could save you the cost of an expensive emergency haul-out....or the cost of losing your boat.
Or worse.
(photo by GFCerrone at a recent occurance near the mouth of the Patspsco)
____________________________
6.27.10.....You Guys Need to Talk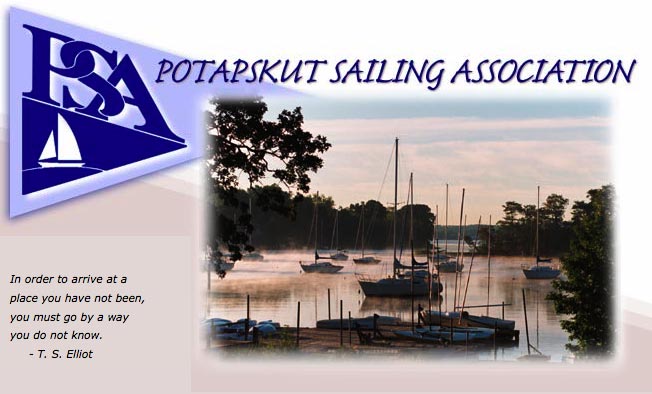 Okay. Glenmar Sailing? Meet Potapskut. Potapskut? Meet Glenmar.
Both of you have long and storied histories of providing excellent recreational activities to your respective memberships, whether it be big-boat racing, junior sailing or just plain old community and fellowship. Good stuff and you are to be congratulated for your service.
Now, why don't you guys get together with the yacht racing OA on the Chesapeake, that would be CBYRA, and figure out how to schedule Northern Bay Race Week and PSA Overnight ON SEPARATE WEEKENDS?
We all know the CBYRA calendar is a nightmare when it comes to trying to fit your event into the stacked up conga-line that runs from April to November. No question about that.
But see, the thing is, the northern bay offers a relatively light schedule of racing events, compared to say, Region II. So, it really should not be THAT difficult to pull this off.
We know that Glenmar is trying to resuscitate NBRW. We know that PSA members work hard to make PSA Overnight a highlight on the early summer racing calendar. It really is, btw. But what sucks is having to make the choice between the 2 events.
We had a paltry 9 or 10 boats in the entire PSA Overnight fleet this year.
So, schedule a meeting in the off-season. You guys can meet halfway. Downtown Baltimore. Mid-Town Yacht Club. I'll buy drinks. Just get it together and work this out. Please.
Oh, and one more thing: today is Wednesday. Isn't it about time you got some results up? Thank you for listening.

What's wrong with this picture? A magnificent summer night, but a panorama devoid of racing sailboats (that's a bulk carrier off in the distance).
______________________
6.18.10....Duck or Tack
A gorgeous night on the river last night, complete with the tactical challenge of Gravel Barge Island, just off the rhumbline. Good times!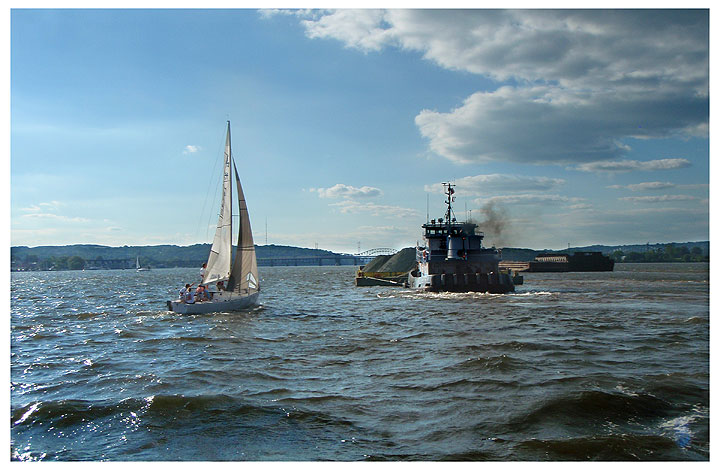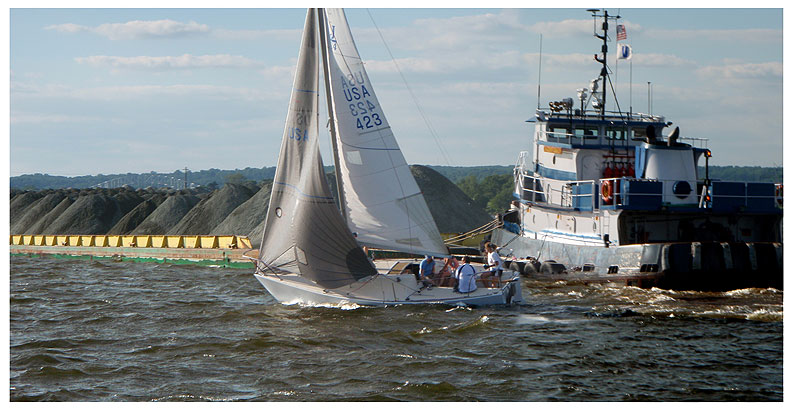 6.10.10....Just: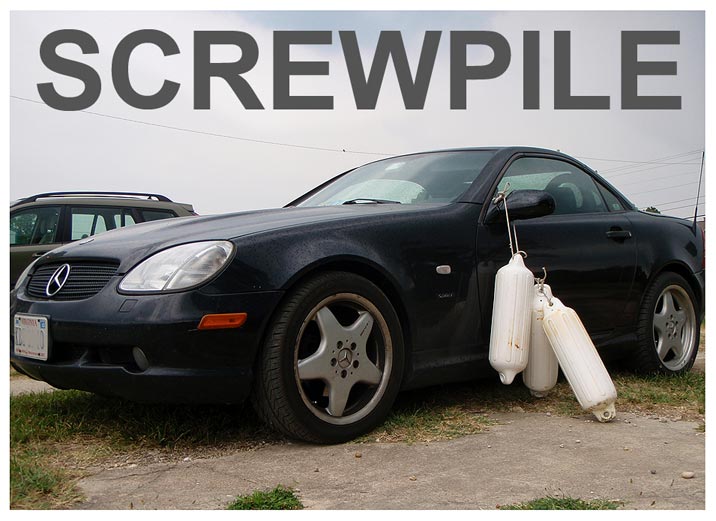 DO IT.
Okay people. Stop reading this. Go here and register.
Where else are going to go, in mid-July, to have anywhere near as much fun? Caution though: do not watch the movie "The Hangover" (based loosely on SPLC 2004) with the spousal-unit before you sign up. You may end up going to Colonial Effin Williamsburg with the wife and kids instead.
NTTAWWT.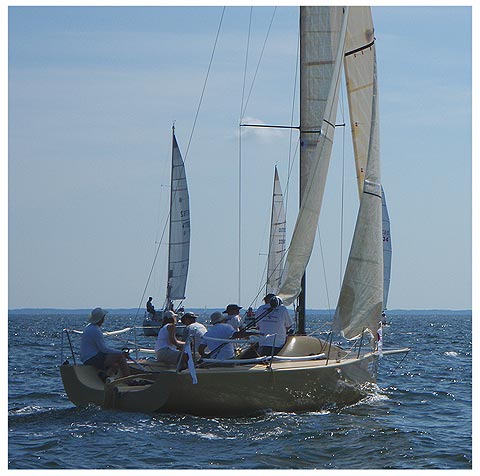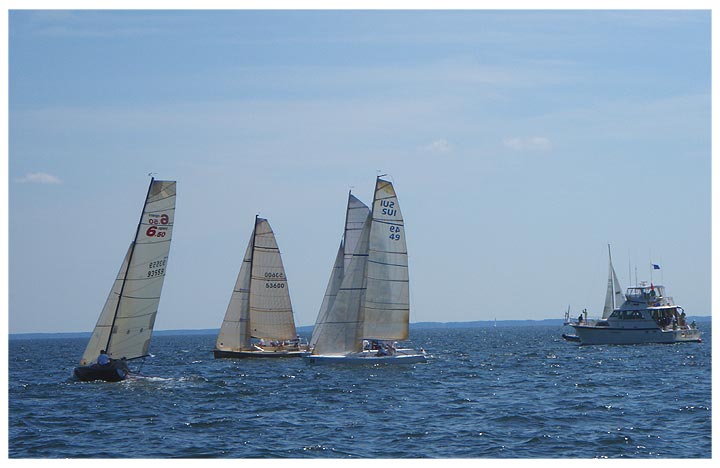 Scenes from 2009: Brian Jones' sportyatchett "Problem Child," and the first ever SPLC Sport Yacht start. Oh, and breeze. There was breeze.
ALSO: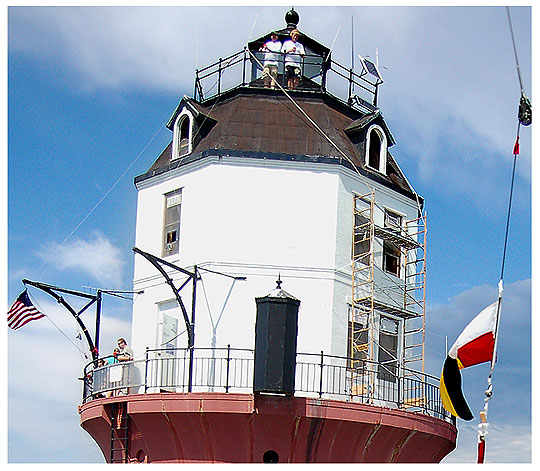 Don't forget that PSA Overnight is on June 26th.
PSA Overnight is our favorite bay race, no question, yet I'm always surprised how many people I meet who have never done it!
Since it goes off around 4 p.m., there's usually a breeze, likely to be a building southerly to get you around the Swan Creek mark, Craighill Light and up to Pooles Island.
Then, if things go according to plan, the breeze clocks around enough to give you a reach back down to Balto. Light.
We were at Block last year but did the race back in 2008 and it was a classic with an absolutely sick squall around 9:30 that blasted everyone down to the finish. This was captured and posted on YouTube by the Baltimore Light people (see photo, right)
Good times at the PSA clubhouse after the race with lots and lots of breakfast meat. SO CLICK HERE for the NOR and then SIGN UP! get off the couch and do it do it do it do it.
--------------------------------------------------------
6.05.10....Good/Bad and the Fugly
Wednesday night at MRSA. June 2nd.
What's GOOD is that it was one of those perfect nights, rock-steady southerly at 10-13, temps very comfortable, humidity in the tolerable range.
In short, one of those perfect June evenings.
C&C 110 "Boondoggle" looked pretty GOOD on a crossing wih us early on. Until things turned FUGLY for them on a botched spin set.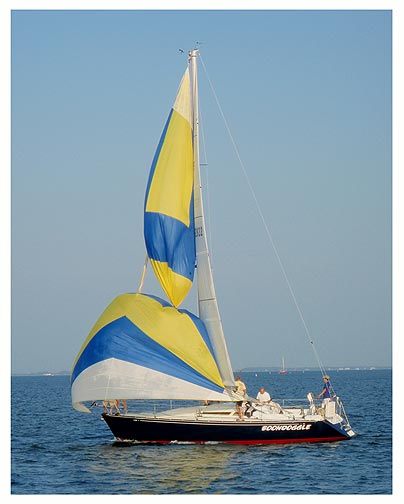 But, whatever.
What's also GOOD are the sporties and multis turning out in Magothy for weeknight races.
Nbay loves seeing these guys out and hopes the presence of multihulls and sportboats grows.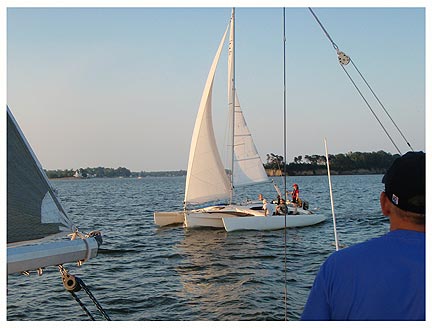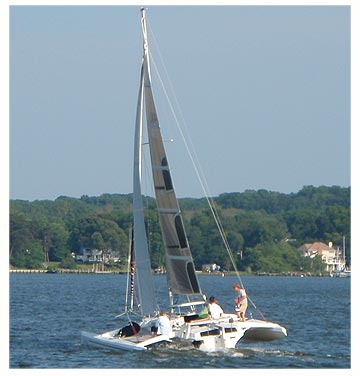 Above, "Rubicon" and "Lola 3" show up on a great night to go Lead-Free.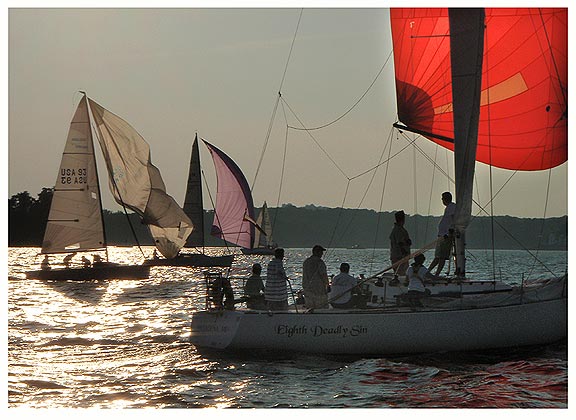 Left. Melges 24 "Material Girl" and Antrim 27 "Ultra Violet" truck-on past "Eighth Deadly Sin" on the run up into Sillery Bay.
GOOD times for the crew! And, despite our BAD sail-handling, we were able to eek out a 2nd for the evening. A little mishap on a douse left the bowman with a seriously FUGLY knee injury, though. Looks like my season is going to be particularly weird this season, with at least two-three weeks off while the knee heals itself (I hope).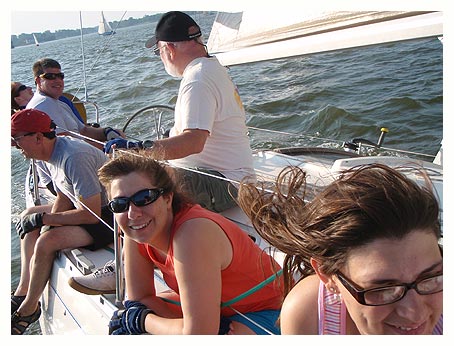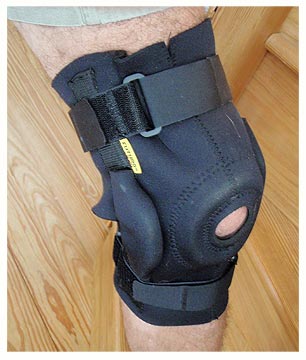 But that's GOOD because it'll afford me more time to work on the BAD-ass little blunt-wonder. It's like a win-win situation, or something.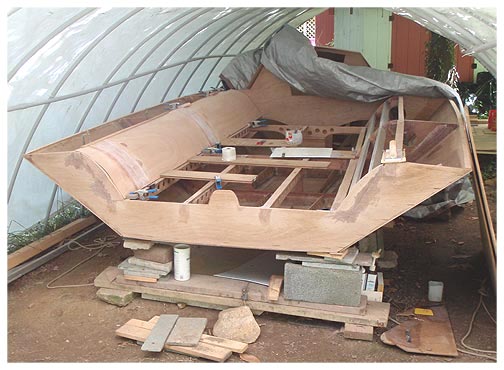 -----------------------------
5.28.10.....No Go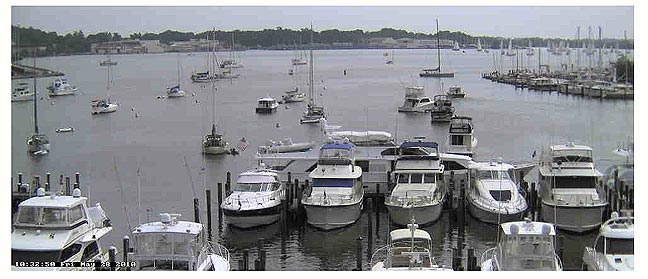 Left, a screen grab from AYC's webcam. Upper right is the Down The Bay Race start.
This is as close as I got to being there.
Thanks to AYC's webcam for the view.
This has been the weirdest season so far. It will be the month of June in 4 days and I've done exactly one weeknight race.
One.
A punishing work schedule, no shortages of other drama and a bunch of doctor's visits have had me missing most of the racing season so far in 2010. Having a remotely-controlled robot rip out my prostate, later this summer, will mean I'll miss a lot more.
So, with all that going on, I was pretty stoked about doing the Down The Bay Race that just went off a few hours ago (see photo, above). Unfortunately, there were some issues with the boat and the owners decided, rightfully, that it wasn't a good idea to make 240 mile round-trip. Issues with the prop…not good in a sea lane at night in a scant breeze with commercial shipping lumbering down the channel.
Got two other offers, but by then I'd pretty much lost a lot of enthusiasm and then there were the docs I decided to meet with. Since I suddenly had Friday open, I decided to take advantage of the day off and get some of the unpleasant stuff out of the way.
So, I watched the start on the AYC camera as a small consulation.
Like I said, a weird season. Hopefully PSA Overnight will happen in a few weeks. It's one of my favorite Bay races and seems particularly fitting since it was my PSA number from a blood test in April found the aliens growing in my nether regions.
I got a rare chance to escape work before 5 pm, on a Wednesday this week, and headed down to race at MRSA. But there was no breeze so we bobbed around for a while until the RC mercifully brought out the pump gun and put us out of our misery.
What the hell, right?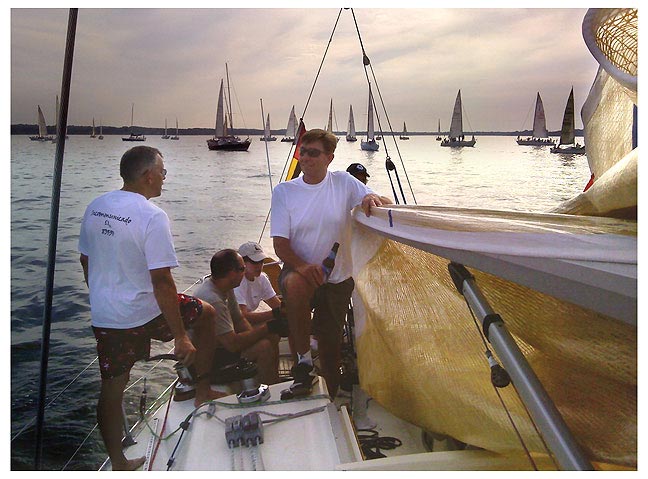 Nothin' happening.
_________________________________
5.02.10....Schooled by The Swell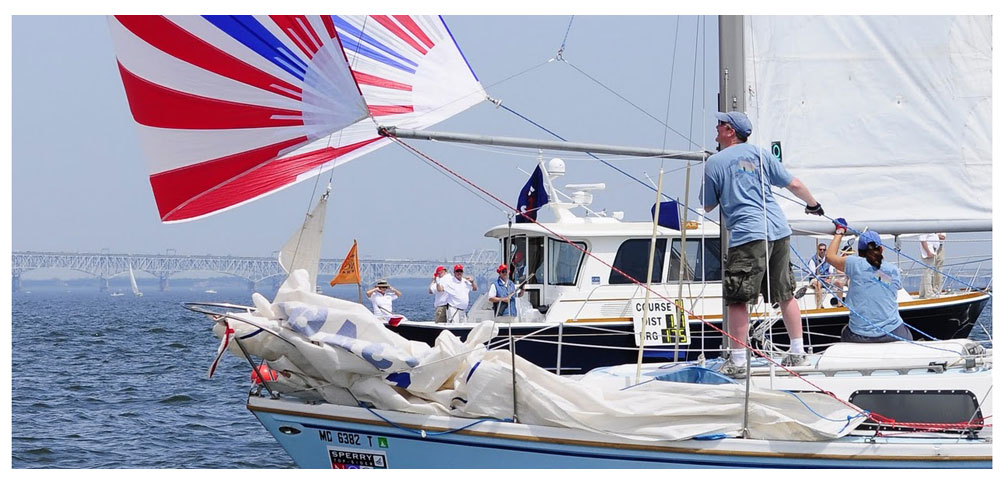 Photos by Carl G. Schaefer, Jr.

It's been quite a few years since I raced on a Catalina 27, but that doesn't seem to have dimmed my fondness for the boat and the local One Design crazies, "Fleet 8" out of Annapolis.
Did I say "local" One Design Fleet? How about "the only" One Design Fleet in the nation.
OK, over 6,600 of these were built and there is only one stinking OD fleet in the entire country? How can that be?
Well, the truth is, Catalina didn't do much to maintain any sort of fleet consistency and there are so many different configurations to the model that the moniker "one design" is a bit of a stretch, although for many years the Fleet 8 measurer(s) have done a very, very good job of keeping it real, at least in terms of boat speed.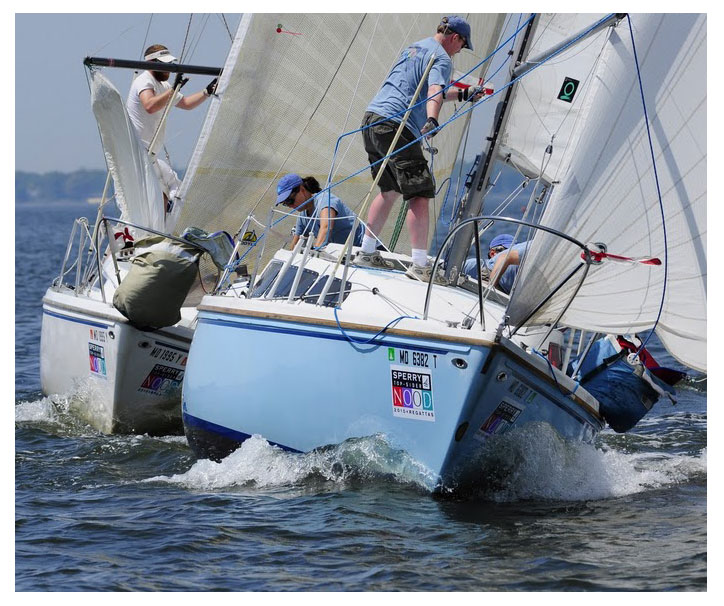 Having raced a bunch with the Fleet 8'ers I was always fairly amazed at how evenly the boats were matched.
I remember once someone on the C27 Internet Forum asked one of the company reps at Catalina Yachts something about the various permutations of the model, and the guy responded, "Hey, we just wanted to build a nice little cruising yacht…you guys are the ones who are crazy enough to race them!"
Anyway, getting back to the local scene, we had fun for a few seasons on "the Red boat" racing against "Roaring 40's" and the guys from across the river, Frank Courtright's "Desperado" and John Anderson's "Swell."
My last glimpse of "Swell" was while racing down to Solomons on Julian Richards' "Jolly Mon." The sun came up down off Cove Point and there we were, neck and neck with "Swell," both of us with kites up.
We rounded the mid-channel mark for the beat up into the Pax and that's when the true meaning of 'higher and faster' came to light, "Swell" just ate our lunch.
So, it really doesn't come as any huge surprise to see that John and crew racked up an impressive 1-1-4-1-1-1-3-1 Annapolis NOOD victory, beating Tom Walsh's (newly renamed) "Slam Duck" by 6 points.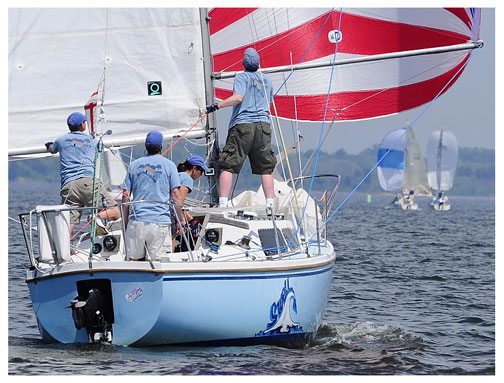 One slight disappointment was the number of C27's competing in this year's event: 6.

This is, unfortunately, consistent with their participation over the past few years, which is a far cry from 2004, when there were 13 competitors in the NOOD and 12-16 for most CBYRA races.
For that matter, the Annapolis NOOD has been suffering from a significant decline in numbers, like a lot of regattas around the country. One has to wonder if it's just the recession, or is this part of a long term trend. Few regattas have seen an increase in participants this year, with CRW being one of the exceptions. Still, 200+ boats signed up for this year's Annapolis NOOD and I think the organizers are considering that as some measure of success.
It's a tough economy.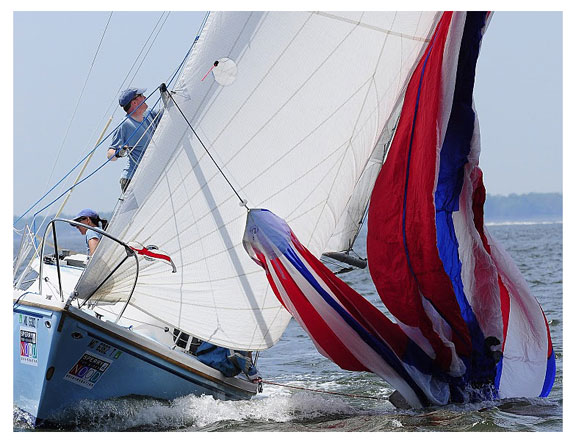 Congrats to John Anderson and his crew on "Swell." Six bullets out of 8 races is not too shabby.
But, as Carl Schaefer's vigilant camerawork shows, hey, nobody's perfect.
Annapolis NOOD 2010 results here.
4.20.10.....Schooled by The Wulff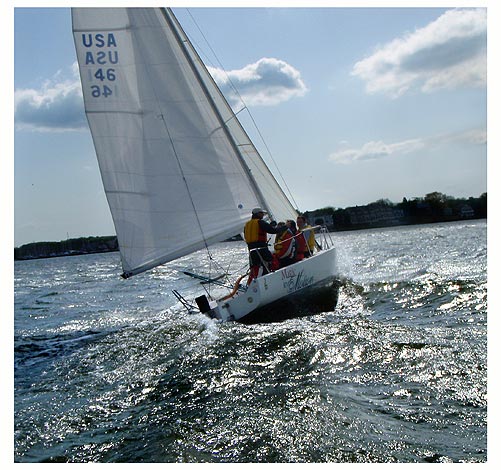 Being a bit of an outlier to the Regular Annapolis Racing Scene (RARS), I haven't ever met Ray Wulff, but I remember some murmuring about his being on such-and-such boat in some One Design regatta some years back and the consensus was: That's going to be the boat to beat, because of his presence on said yacht.
And then that boat went on to win.
So, it didn't really come as a huge surprise when Ray and his crew went on to stack up a run of bullets in CBYRA's "Star Wars," a few days ago, in the Severn between the NA's seawall and the ELF towers on Greenbury Pt.
For those of us who need reminders, "Star Wars" pits the bay's High Point Winners against each other in split fleets of 4 (or 5) of borrowed J80's.
Each team sailed 3 qualifier races, then the top four were allowed to sail in 2 more championship races to determine the overall winner. I'm not sure Ray Wulff, et al., actually needed to sail the last race, but by then it was honkin' 28-32 straight down the throat of the Severn so it would have been crazy not to sail in such thrilling and boisterous conditions (did I mention the boats were borrowed) and as far as I could tell, all 4 boats did.
(LEFT: Ray Wulff and company begin another horizon job in a solid 25+ in the Championship Round)

EYC, who did a masterful job of hosting the event and managing all the boat-swaps in conditions that were, to say the least, "challenging," dropped the ball just very, very slightly by doing their predictable, ponderous job of posting (or not posting) results, to date, but hey, come on, they were generous and efficient in the extreme and the highest compliments go out to what is, by far, my favorite YC this side of Deltaville. So no whining about the lack of results. You know where you finished, right?
(edit: on Thursday 4/22, results were posted here)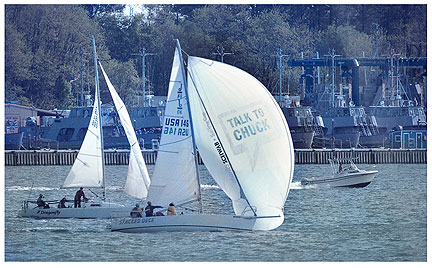 The kite on "Stacked Deck" has "Talk to Chuck" emblazened on it, which is ironic, because, actually, I was talking to Chuck (our massively talented trimmer on "Team Incommunicado") and I think I, or someone else was saying, "I hope these guys with the kite up don't wipe out and force the RC to raise the Whiskey flag."
Sure enough, a few seconds later, good old "Talk to Chuck" was spooning up seafood off the YP yard and up went the "W" flag on the RC boat....this was in a few minutes of practice sailing before the first start. So the rest of the day we went non-spinn. Basically, in borrowed boats with a few crews not used to A-sails, this was a bit of a no-brainer, even if it was somewhat of a disappointment for a lot of us.
When the breeze built to 25-30, it was an act of sheer kindness.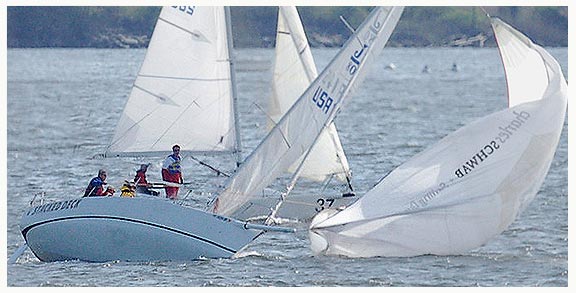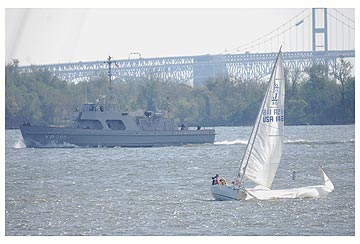 (Just to reiterate, although the boat is "Stacked Deck," this is not Ramzi Bannura and crew driving the 80 in the shots, above)
(SORRY....the McAfee Episode interrupted this story being published....we regret the delay)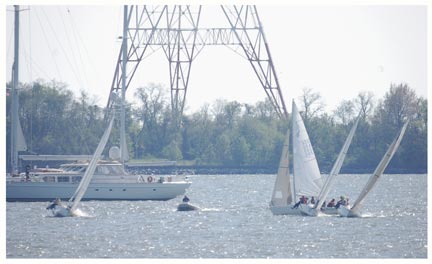 I think there were more than a few returning sailors from last year's event, which was abandoned due to too much breeze, so it was with no small level of relief when Race 1 was started and it looked like the PRO was going to make a day of it. Hot cha!
Definitely challenging conditions as the breeze built and a lot of these "borrowed" 80's had the crap flogged out of their mains. Some were obviously practice mains, but a couple boats had some pretty nice sails. I hope they weren't their regatta sails, as when the breeze got to 25+, it was awfully noisy going upwind.
Always nice to have a curragh chugging by when you start a race. Note the proximity of the ump boats in some of these shots. The level of on-course officiating was superb and really helped downsize the number of "chump" moves by everyone involved.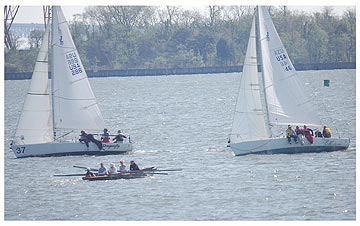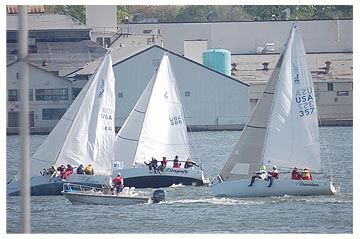 Racing a J80 downhill, wing & wing with that dinky little class jib, probably wasn't everyone's favorite part of the day, but as the breeze built it really didn't seem so bad, afterall.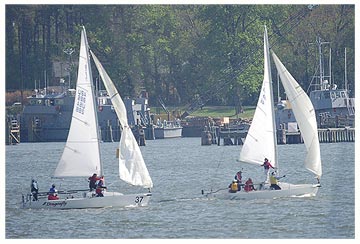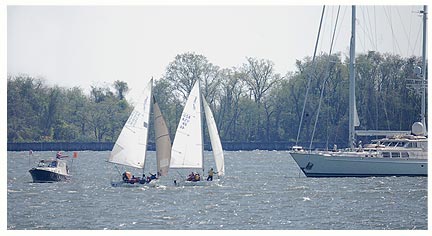 There was a downright excellent view of the entire course from the EYC balcony and also some pretty close racing, considering the disparate fleets these crews came from and the sheer amount of rust from which a few of us were suffering (my own self, especially)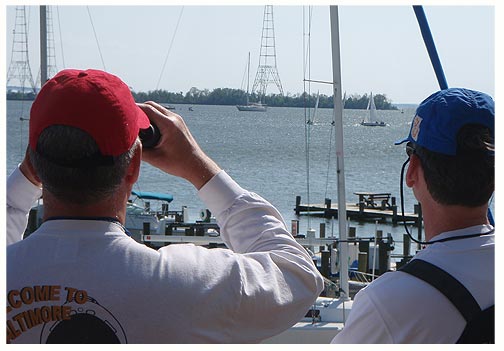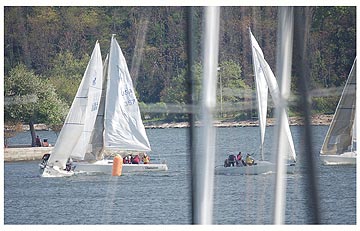 They kept these Opti kids out for a long, long time. Especially as the breeze started rippin' around mid-afternoon. I could imagine a few 9 year-olds doing face-plants into their spaghetti bowls later that evening, at the family dinner.
Still, gotta admire the kids as they were still sailing hard into a snotty headwind last time we looked, around 3:45 pm.
Like I said, a long day.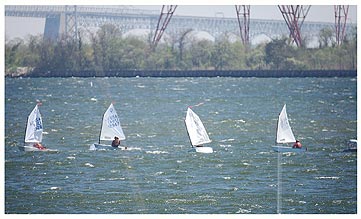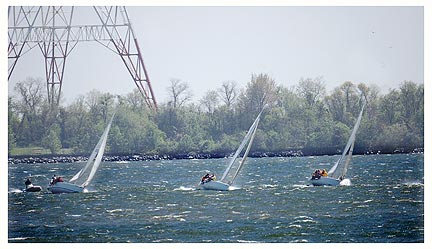 Speaking of long days, the guys who were handling the boat-swaps for the 'round-robin format did a bang-up job. Oops, bad word choice. I mean they did an excellent job and were about as patient and friendly as any human could be, once again, considering the conditions and apparent boat-handling rust of some of the participants (not us, of course).
The monster with the RIB tied alongside is the 123 foor Palmer Johnson built "Galileo." You can charter it for a mere $38 grand per week, marked down slightly from what it says here. I guess there is a bright side to this recession. The "Galileo" was literally on our port hip for each start, which, while it did sort of limit manuevering room at the boat end, made for a somewhat glamourous scene.
If only they had served cocktails between starts....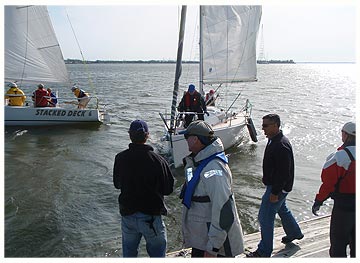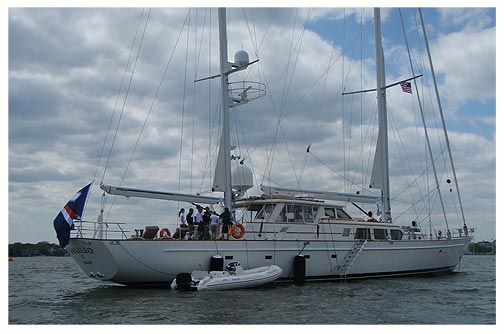 So, after all was said and done, five races for us in a little less than 6 hours, we got bumped out of 3rd on a tie-breaker. Not too shabby for a bunch of interlopers from North of the Bridge. But a fabulous start to the season for a lot of us and should you ever be in a position where you've won High Point and get the invitation from CBYRA, definitely make it a point to do this event.
Huge thanks to EYC for their hospitality and professionalism on the course.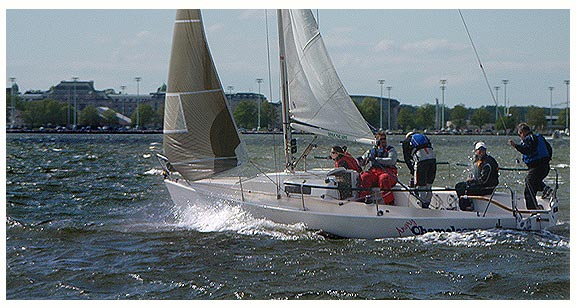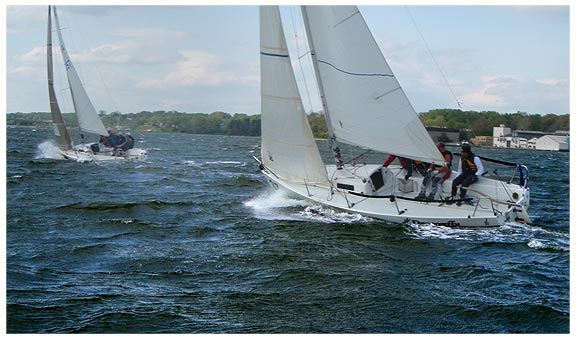 ____________________________
4.15.10....And so, it begins...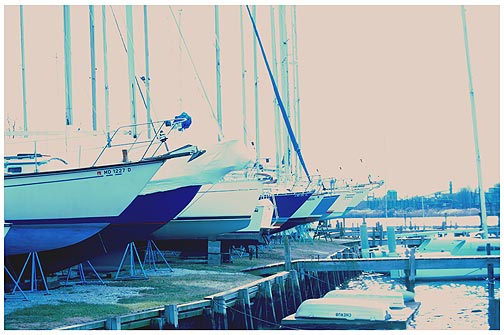 ...the season, that is.
You might want to get yourself down to Young's Boatyard this weekend to pick up some gear at the Nautical Flea Market that Young's and NPSA is sponsoring.
There are also some 12 or something boats for sale, in case you need another Hole in the Water.
I wish I could get down there, too, to pick up some bobs and bits for the midget sportboat.
But CBYRA STAR WARS is this weekend and we are going to be racing with Ed Tracey and some of his "Incommunicado" crew, representing the High Point WInner for PHRF A Region 2.
We'll be racing against other immediate area notables such as Tom Price and Glenn Harvey (but no Steve Culfogienis this year, darn it).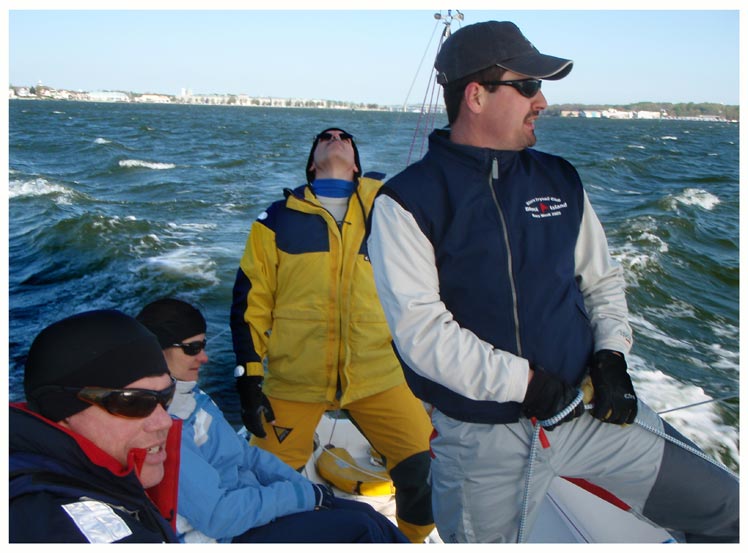 We took a brief spin on one of JPort's J80's last Saturday morning to reacquiant ourselves with the little beasts, A-sails and retractable prods notwithstanding.
In a puffy and chilly westerly we started with a bit of rust but redeemed ourselves by cranking on some boatspeed with nary a wipeout in the very typical Spring gusts trucking on down the river.
Okay, maybe one minor wipeout. Small one at that.
It was a lot like NOOD weather, only colder.
Last year the regatta did not happen. It was nukin' that day out of the west, and the formula for 25 to 35 kn in early April reads like this: Big Breeze + Borrowed Boats = Mayhem and Damage, so the PRO at EYC wisely decided to abandon racing.
The "On the Bay" forecast on Sopka Weather is calling for 15-20 with puffs to 30...so it looks a bit more like Groundhog's Day than Opening Day.
Such is life.....
_________________________________________
3.30.10....Turn Sarcasm switch on to HIGH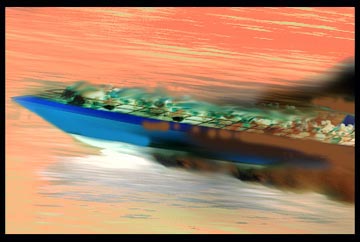 The good news is you'll soon be able to spend a lot more on sails because you'll be paying so much less in taxes and for health care, you'll have tons more discretionary funds at your disposal.
The bad news is that these f*kkers won't be roaring up the Patapsco at 32 knots until a few weeks later than expected. Darn. What fun it will be to have these guys out near the race course onTuesdays and Wednesday nights. Gosh, it will be thrilling. Can't wait.
3.12.10.........More Sports On-line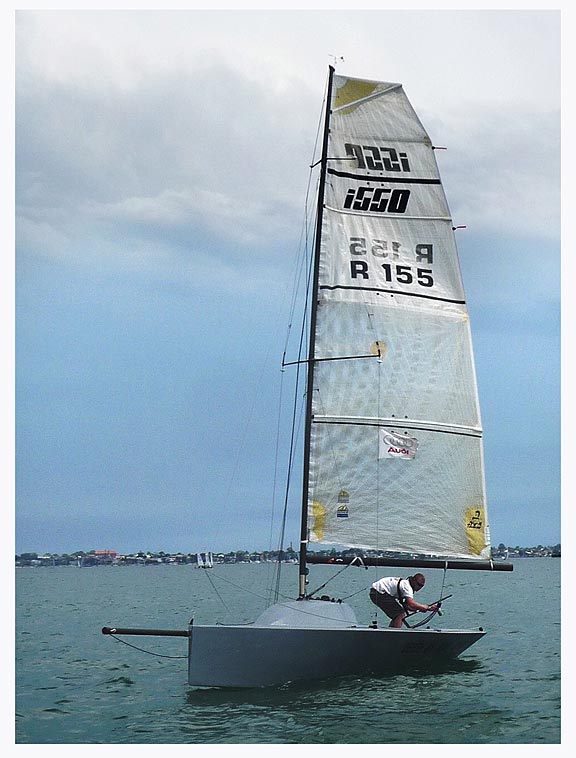 No, not ESPN360, more sportboats on the starting line.
At left is yet another i550 to hit the water, "Death by Snoo Snoo," Tom Klestadt's i550 hull number 211, in Victoria, Australia.
That's the 4th or 5th i550 now racing in Oz. (difficult to tell because of the sheer number of "sleath" builds going on around the world)
Closer to home, take a look at the scratch sheet for Charleston Race Week. The Vipers and Melges 20's and 24's account for almost 40 percent of the 166 boats registered so far (btw, go CRW!)
Call the J80's a sportboat, and throw in the Melges 32's and the "PHRF B Sport" class, and you've got more than half the CRW fleet comprised of sportboats.
We've been beating this drum for awhile, we know, but small fast boats are the new E-ticket to the fun zone.
Typical example here, an 8-metre Thompson (T8) in some breeze.
There are now eight licensed hulls for the i550 within an hour or two of the Chesapeake.
If you've got way too much time on your hands and a hankering to get your fingers sticky, get ahold of Tim Reiter at Watershed Sailboats and drink the Kool-aid.
(photo: Chris Furey/SPORTSCAR)
__________________
3.07.10......ISSUES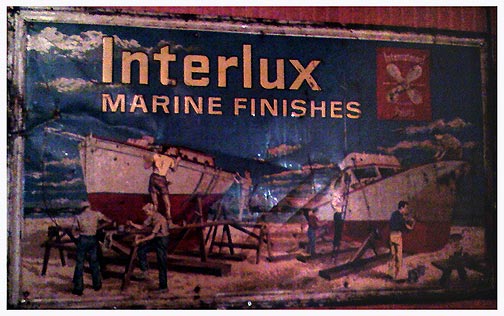 We've been dealing with some sort of glitch with the host server that prevented nbayracing.com from being able to post any new content for the past 2 weeks. Big thanks to Jim B. from "Pterobyte" in getting the issues sorted out!
We are in the process of restoring a lot of content on the i550Build page.
In the meantime, check out this ancient metal sign we spotted in a bar in South Baltimore (Grumpies Pour House, on Cross Street, if we remember correctly).
We figure this is a good time to bring up Interlux, as the stuff is probably flying off the shelves these late winter days.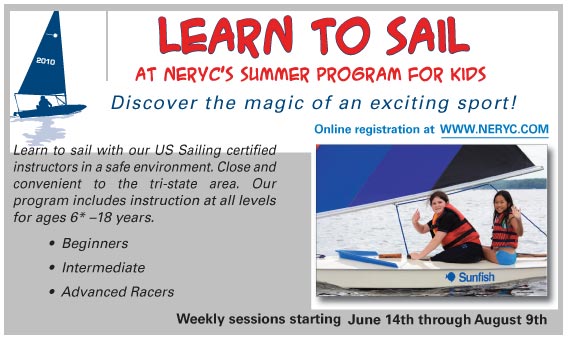 And while we're thinking about next season, here's something for the kids to do. Good on NERYC for sponsoring a successful junior program!
____________________________________________________________
2.19.10....Get Sharp. Get Smart....................Get out of the house.

OK, let's face it you're hitting the wall. You've shoveled the snow volume equivalent of the Suez Canal and you need a break.
The nice folks at NERYC sent us a blurb about this North U. seminar and, if we weren't already blogged down with three other things that day, we'd go.
But you should go. It'll make you better. And also get you out of the house.
------------------------ ATTENTION SAILORS----------------------
North East River Yacht Club is pleased to bring another exciting and
affordable sail/race training opportunity to the Northern Bay area.
NORTH U. TACTICS AND TRIM RACE TRAINING SEMINAR - MARCH 13th 2010.
Don't miss this incredible opportunity to build your knowledge and also network with other sailors. NERYC has a strong race program and our skippers are always looking for additional crew.

Go to www.neryc.com for more information.
Avoid disappointment and register online today!
____________________________________________
2.15.10....Don't you miss it! Don't you miss it! Some of You People Just About Missed it.
If you did, just register with ESPN360. It's fast & easy and comes with a minimal amount of spam. You can see both races and use the slide bar on the time line to jump to the exciting parts. ESPN360 did a bang-up job covering this. They devoted a LOT of resources, in a foreign venue with wildly varying start times, to a sport that, let's face it, doesn't exactly return a huge spectator count to the sponsors. ESPN360 has become my our new best friend, b/c they also stream the Terps games that MASN doesn't pick up.
Cheggittout. Or, just miss it.
_________________________________________________________
2.15.10....Our Billionaire is Better Than Your Billionaire Dept.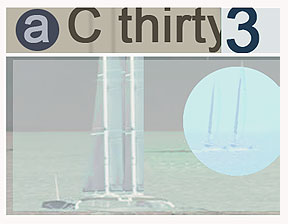 (excuse the hokey graphic...with these litigious bastids, we wanted to avoid anything that could remotely be viewed as copyright infringement)
A Very Few Words about the 33rd America's Cup (we are fully aware there's been way too much said, already, but in lieu of that:)
1. We're psyched the Cup is returning to the U.S.A.
2. The multi's were absolute beasts and great fun to watch.
3. We hope the Cup gets back to sailing, not which billionaire can hire the most talented design team.
Nuff said.
____________________________
2.08.10....Winter Hates Boats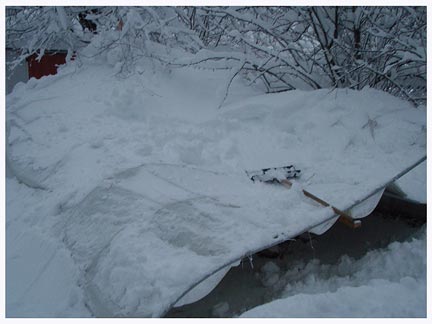 Anyone who has visited the i550 build log (link above) has already seen this shot of my build shed, crushed under the Feb. 6th storm. Here are a couple of Merit 25's down in Virginia that got impacted.
The outside one (Trevor's, the one I did Screwpile on last year ) narrowly missed a gut-check to the topsides. The other one, "Shadowfax." we hope didn't get damaged too badly, but the owner really wasn't able to assess the totality of the damage due to the still potentially-unstable structure.
We sure as heck hope everything turns out OK for anyone with a boat on the hard (or afloat) especially if you've built some sort of rigid shelter around it. The worse part of all this is for the folks who cannot get down to check on things, due to impassable roads or impossible work schedules.
I've been saying it work years: winter creates a vacuum in its mouth and inhales.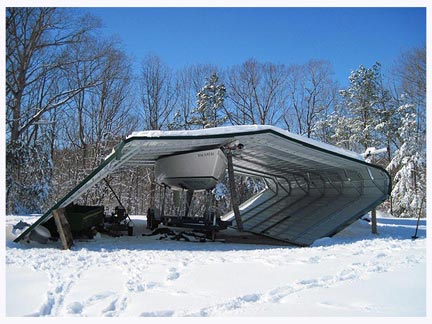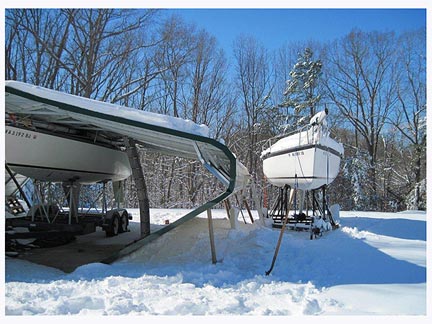 (photos: courtesy Denis Bessette)
___________________________________
2.01.10....Put this on your Calendar

You, yer crew and 123 nm of ChesBay, down to HYC. The race where you DON'T make a hard right after Pt. Lookout Light.
Friday May 28th.....be there.
_________________________
1.31.10.....10 yr. Census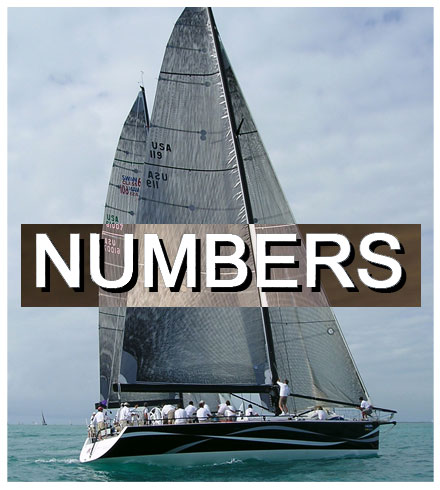 No, not Dan Meyers' Judel-Vrolijk 66, "Numbers," which tore up the racing circuit in 2008, but the kind of numbers that people crunch to see how our sport is doing, locally.
The winter 2009 issue of PHRF of the Chesapeake's newletter, "Mainsheet" has the number of PHRF certs issued from 2000 - 2009, in table form, on page 9 and the data is surprisingly good!
The number of PHRF certs issued in 2009 was 1078...that's actually up about 5% from the number in 2000. However, it is down slightly from the highest number issued this past decade, 1177, in 2003.
Nonetheless, and considering the economy, it's far better than we would have expected. Throw in the growth of One Design keelboat racing (a significant quantity of which are not counted in this data) and the numbers seem even better.
(photo: Terry Reese)
One area experiencing a significant decrease, is Region 2 (from Tolchester to Sandy Point, which is basically MRSA, the Baltimore area clubs, and the Eastern Shore including Rock Hall and the Chester River). This Region lost almost 25% of it's PHRF racing fleet in the past 10 years. We are not sure why, but it's possible that some of these racers bailed to race in Annapolis, which has PHRF participation up approx. 7% since 2000.
Overall, considering all the gripes and complaints we constantly hear about handicap racing in general, and PHRF in particular, the numbers are not indicating widespread disatisfaction with the quality of racing that our local clubs and CBYRA sponsor under the mantle of PHRF scoring.
(data from "Mainsheet," PHRF of the Chesapeake)
The numbers seem to indicate that the weeknight club PHRF race, e.g., the "gateway drug" to wider racing participation, is still a popular form of entertainment and we are glad that PHRF of the Chesapeake is working hard to keep the quality of racing at a level that engages and encourages performance sailors.
Maybe tonight would be a good time to send in a check for renewal?
_______________________________________
1.24.09....New Class Formed on the Bay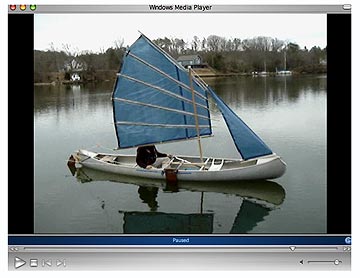 We at nbayracing received word, recently, that a new racing class has formed on the bay, the emerging Heavy Metal Boat Class, involving the NCCA (Northern Chesapeake Canookie Association, and their arch-rivals, the SCCA (the Southern Chesapeake Canookie Association).
Our contact person, R.H., has confirmed that sail testing is well under way (water temps 35.3 degrees, breeze 0.353 knots) and that a rigorous set of class rules have been approved (by R.H.) edit: I can't figure out why the vid is not playing...more epic IT failure.
Alinghi, BMW/Oracle and the whole AC crapfest can only stand in envy.
Canookie Racing Class Rules:
NCCA = Northern Chesapeake Canookie Association
District 1 - St. Michaels, Maryland ('designer' sails strongly advised - Laura Ashley tablecloths may be substituted for polytarp)
SCCA = Southern Chesapeake Canookie Association
District 2 - Kinsale, Virginia ('camo' polytarp is available through local Buy-Rite)
Class rules:
Grumman 17' Canoe or equivalent.
Mast height - not to exceed 8' (peak of sail may exceed 8')
Sail area - not to exceed 60 sq. ft.
Sail "cloth" - polytarp, tablecloths (see District 1 notes) or plastic dropcloths. (Blue polytarp is considered "classic" for purposes of classic Canookie competitions)
Steering - advisable
Leeboard - ditto
Water ballast - allowed, but only if shipped aboard after the official start ofracing.
Class Race Schedule:
District 1 Championships - October 2 - 3, 2010
District 2 Championships - November 6 - 7, 2010
North American Championships - December 4 - 5, 2010 (entertainment after the
races provided by "The Canookie Kabuki Players")
- nbayracing wil be there....film at 11-
_________________________________________________________
1.20.10.....Key West Race Weakened (heh heh, not 2008, thanks MD!)
Overall fleet size is down, significantly this year, as expected. It's the stupid economy.
But at least some of the OD fleets are doing O.K. I mean, who wants to spend $12K to race handicap for a week? Actually, I would. And, apparently, some Bay boats do. I mean, how bad can a week racing in sunny 70 degree temps be? Checkout PHRF 2 results, where there is a significant presence of Bay boats. As of today, the top four boats in this fleet have Bay connections. It'll be interesting to see how Charleston Race Week compares KWRW this year. With 72 boats entered thus far, it should easily surpass the number of boats participating. Okay, probably fewer "rock stars" in attendance, but definitely as much bang for the buck with the Vipers and Baby Melgi showing up in numbers while putting a much smaller hole in the owners' pockets.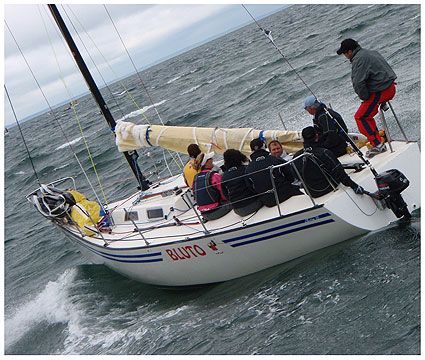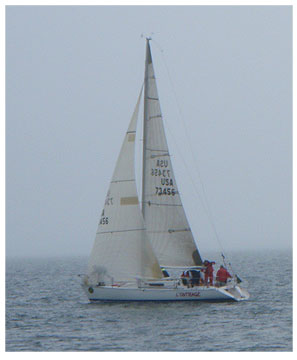 At it again, two boats that have seen a lot of each other through the years, "Bluto" vs "L'Outrage." (photos, here, from Block Is).
Also present at KWRW, in the PHRF2 fleet, are the Cape Fear 38 "Tangent" and the J109 "Rush."
Check out the J80 fleet which has 5 Bay boats competing, albeit slightly less successfully, at this point (Day 2).
The JV52 "Anema & Core" is competing in the IRC Big Boat fleet, "Ramrod" is in the M32 slugfest and the Farr 30 "Rhumb Punch" is doing nicely in PHRF1.
We hope the Bay boats represent! Wish we were there? Ah, yeah, slightly. And we hope KWRW rebounds when (and if) the economic situation recovers....but for now, CRW looks like the E-ticket in early season racing.
_____________________________________________
1.18.10...World Domination

Well, sort of. Here's a google map of all the i550 licenses, world-wide. Pretty impressive. Click on the map to get and zoom in on some areas.
Red arrows are boats being actively built, green are sailing!
2009 had the first batch of boats after TokyoTrashBaby to get splashed or get to the point where splashing is imminent. (weather got nasty in the midwest early) Pictured below are some of the boats that are already sailing or at the point where they are just waiting for the weather to be decent enough to think about sailing. Note the slight variations in each build. It'll be neat to see what's fast and what isn't when a few of these little beasts line up against one another.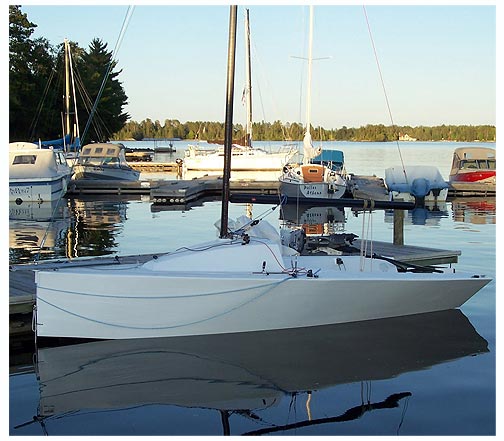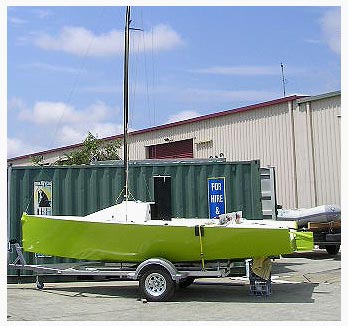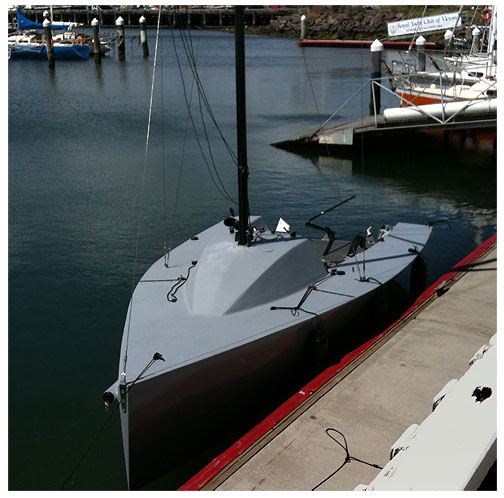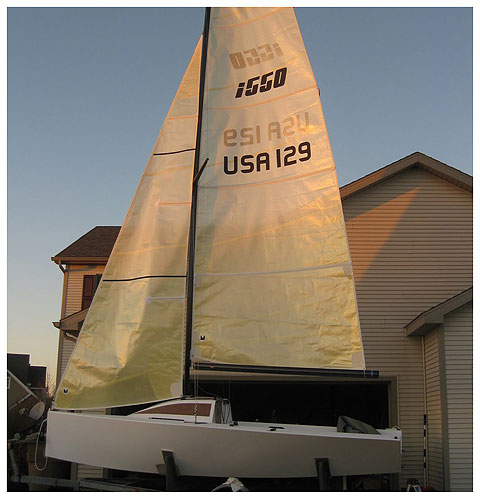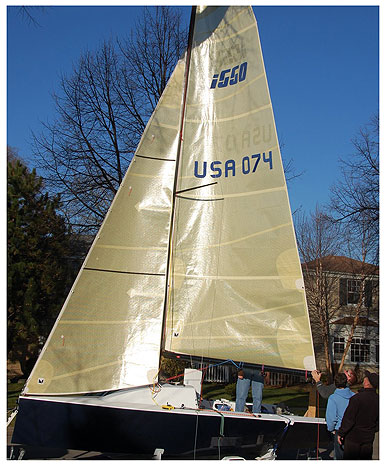 _______________________________________________________________________
1.11.10....SORC Resurrected?

At 1:00 pm, the day after tomorrow (Jan.13), the Ft. Lauderdale to Key West Race gun goes off.
We think it's neat that this year, when KWRW numbers are significantly down, there are more entries in this 160 nm overnight race than there have been in the last 15 years, according to race organizers. That's amazing in this rotten economy and we sort of wonder, why the uptick in registration? Maybe it's because the event is usually a downhill run, in warm waters, to a destination that racers covet in mid-January. And maybe it's because a lot of big boat owners are getting sick of W/L handicap racing, because handicap racing just doesn't work well on W/L courses.
But it's not all "big boats." We are psyched that a bunch of boats that have Chesapeake Bay connections are entered, including a couple of relative lightweights. The two that immediately come to mind are "Jammin'" and "Bluto." These two met awhile back at Screwpile, in 2004 (when Terry Reese owned "Jammin'" and I owned "Direwolf," which became "Bluto" two summers ago when Ben Hall and Bill Berges bought her. Unfortunately, they'll be racing in different classes, "Bluto" in IRC because of the mods Ben and Bill had done on the boat. "Jammin'" will be scored in PHRF. Nonetheless, we like the fact that the two old Evelyns are doing this ocean (okay, coastal) race. (below, "Bluto" when she was Chuck Coyer's "Accomplice" prior to becoming "Direwolf," and on the right, "Jammin'" after race day one at SPLC many moons ago...btw, Terry beat us by 8 points that year)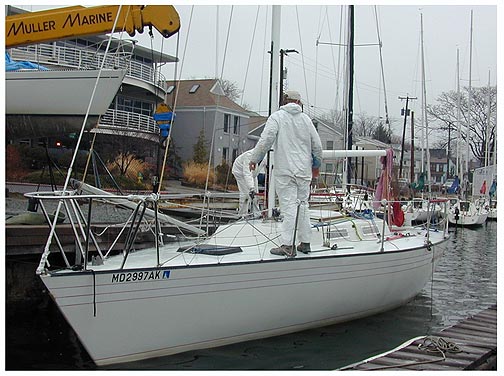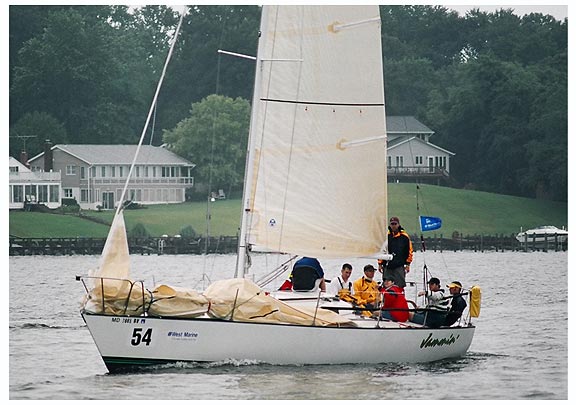 Also in the race this year are Rock Creeks' John Gehrig in his J46 "Fulll Deck," and Gerald Taylor in his Cape Fear 38 "Tangent." Bruce Gardner is taking "L'Outrage" out for the run to KW, and also, from the southern bay, and a boat we see up this way occassionally, Sledd Shelhorse's Farr 36 "Meridian 2." Accompanying "Meridian 2" from HYC, is Christian Schaumloffel's Hobie 33, "Mirage."
There is a nifty race tracker here: so jump on and root for your favorite bay boat to find the breeze and finish fast.
SailingAnarchy has a thread devoted exclusively to the race here:
Forecast calls for daytime highs in the mid-60's and north winds....sounds like a vacation, to me. (I really wish we were there!)
-------------------------------------------------------
12.18.09...Living Life, Largely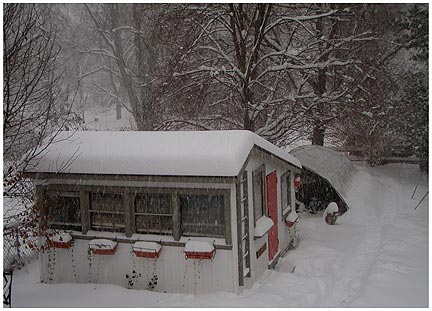 If you're going stir-crazy being cooped up indoors as the east coast gets slammed by a massive snow dump, check out what the scene is in Oz here:
SOLAS BIG BOAT VIDEO LINK (edit: SORRY BUT THE FOLKS AT 18footers.com.au HAD SO MANY HITS FOR THE VIDEO, IT CRASHED THEIR SITE. THEY ARE TRYING TO RESUSCITATE THEIR SITE AND THE VIDEO LINK!)
I usually pass on a lot of racing video but I saw this link on SailingAnarchy ("First Blood") and had a few minutes to kill so I checked it out. If you are suffering from sailing withdrawal, squirrel away 20-30 minutes and hit the link above to see a couple of the major players, "Alfa Romeo" & "Wildoats" going at it on a short-course circuit. It doesn't get much closer than this (literally). Two one hundred footers, inches away from each other, in a drag race to the top mark.

(series of frame-captures, above and below, from www.18footers.com.au)
The vid does an excellent job, initially, of laying out just what exactly is going on between the 2 major players, and in my opinion, the
commentary and camera work are both outstanding. Some of the comments between the 2 antipodeans calling the action are just priceless.
This is some terrific vid and if you haven't seen it you should. Shows to go you that even the high end players get it wrong once in awhile
and what IS it with Sydney spectator boats? Seems like every year, at the start of the Hobart, there's a race-ending clusterfark between a competitor and some numbskull spectator, before the boats get to the headlands and the big right turn south.

In this video (series of videos, really), at one point in the action, a bunch of spectator boats are strewn across the rhumbline to an
upwind mark, parked adjacent, and to starboard, of a DW mark. You can see "Alfa" thread the needle in the strip of frame-captures above. Needless to say, the video is a lot more compelling.
Great job by the "Australian 18 Footers League" the oldest skiffie org. in Oz, and major props for showing how it's done on the water with decent camera work and camera-boat placement and hilarious commentary.
(edit-I hope their site comes back up soon! I want to watch it again.)