8.22.13....Whirled in the Back
I got to go racing on my birthday. I think that's a first. We'd been on vacation together and in a car so much in the past 2 weeks that I think the family was glad to be rid of me. Not that I blame them, not at all! Au contraire. "Sure, you want to go racing on your birthday? No problemo!"
Thanks very much to Charlie Rouse who let me go with them. After a 9 hour car ride the day before, I was waaaay too burned out to go out and single-hand. It wa fun being scratch boat in NS, too...and indeed, we did get the gun but finished third on corrected. BTW, note the PHRF spread in the picture below. Not all the boats are shown, but the scoring differential is more than 2 minutes a mile. NPSA is certainly not alone in this kind of "challenge." As racing drops off in terms of participation, PHRF fleets find themselves accomodating fewer boats with larger rating swings. Back in the day, NPSA had both an A and a B spin fleet. BTW, Annapolis Race Week had a mere 1 boat in PHRF AO and just 3 boats in PHRF A1, the last time I checked the scratch sheet (a few minutes ago).
Life is hard!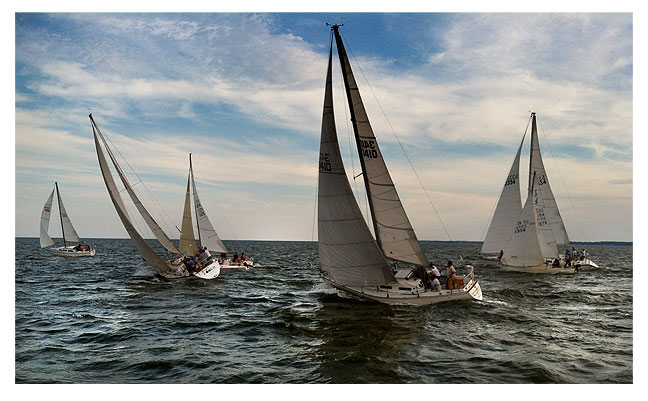 8.6.13....Back in The World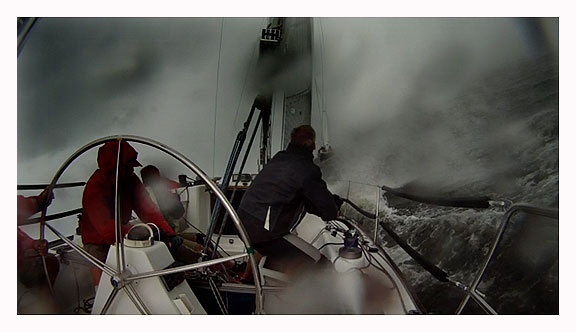 (left: a frame from Trevor Harney's GoPro video from Annap Race Week 2012)


During a lull at a recent Chesapeake Bay event, we had a conversation about coming back to work after a weekend of racing.
I first heard the expression "Back in The World" in 1969 from a guy I knew who had come back from combat duty in Viet Nam. To him, being "back in The World" meant returning to a place where people took showers, ate breakfast and trundled their kids off to school, went to their jobs and had a normal life. Not being in "The World" was a surreal experience where mortal danger lurked around every corner and shit happened that no one in their right mind would believe or begin to understand.
I'm not going to put sailboat racing in quite that category, unless it's an offshore event like Syd-Hobart or a Fastnet or something, but it does get dangerous out there on the water from time to time, we all know that.
I've been shot at in anger (from a great distance with ridiculously poor efficacy) and I understand the difference between competing in a sport, voluntarily, and with absolutely zero strategic or global importance versus having fiercely nationalistic people who are very pissed off at you launching explosive projectiles your way. I get that.
Yet, coming back into the office, or the living room for that matter, after a particularly gnarly race is a challenge. How do you describe it? Do you even bother? If you do, don't most people in your audience either yawn or shake their heads and ask, "and this is FUN for you?"
But the point is: you now know something about yourself that you didn't know before the event.
You know you can hack it and you know that you know something a lot, if not most, of the folks back in The World will never know.
Like how it felt to take down the kite in 40 kn of breeze with lightning spitting all over the place in near proximity. Like how it felt to cross a finish line after a punishing 5 hour beat into a 30-35 kns. Like how it felt to be puking for twelve hours, offshore in ugly lumps of a seaway until you dry-heaved your way into feeling semi-normal. Like how it felt to get flipped out of the boat into 45 degree water in a vicious wipeout and get reeled in by your crew because you held on to that spinsheet you were trimming.
This stuff happens and then you go sit in a meeting. In a warm, well-lit conference room. On Monday morning.
Welcome back to The World.

8.6.13....Pix from \/
BTW, most of us noticed the little yellow float plane out above us for both Screwpile and Gov Cup. Their website is here and a lot of their shots are terrific! So go order one. Note to crew: a framed shot is a great way to say thanks to your skipper!
8.5.13....40th Gov Cup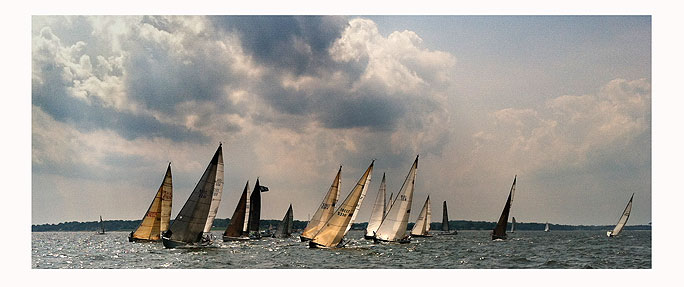 (left: the B Fleet takes off in breeze at 1515 hrs., a great time to start a distance race in a building southerly)
I've never been accused of having a really good handle on human-nature, but for the life of me I cannot figure out why some people who sail, and lots of people who race, talk so disparagingly about St. Mary's College of Maryland's Governor's Cup.
Aside from the Down The Bay Race, which goes off a bit early in the season and is on the longer side of what people can accommodate into their family and work obligations in early June, it's the only race on the bay that can be considered "an adventure."
Barring some sort of extreme weather in some of our shorter, destination races, it can be argued that the Gov Cup, raced mostly at night, with its list of hazards like crab pots, fish traps, obstructions (the targets!), thunderstorms, commercial shipping and sleep deprived crew and competitors, is really the only summer race that presents challenges approaching those one might lump into the "slightly riskier" category.
The Gov Cup. You race hard. You may get a nap during the long night, if you're lucky. You most likely finish in a zephyr, trying to ooch over a hard-fought finish line in a dying breeze against a foul current.
But you finish. And then you get That Feeling.
That Feeling that you've arrived somewhere very cool and really quiet and pretty and folks are happy and maybe a little bit blasted and you know what? It's FREAKIN GREAT TO BE HERE! YAAAHHH!
Well, anyway, that's why I love the race.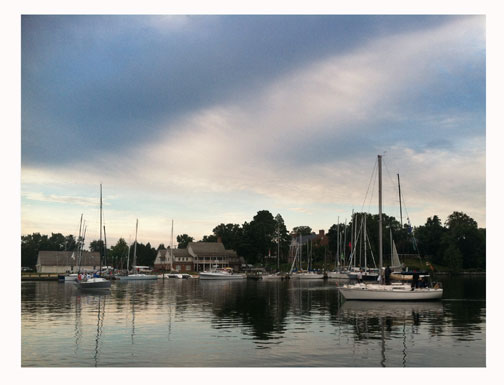 (Ieft: finishing at sunrise, with just a few boats in and a celebratory beverage is a good thing. It was a little bit painful watching one of the larger Jboats run aground for awhile, just yards short of the finish line...we felt for those guys)
t doesn't hurt to do well, either. In our case it was a repeat of a bullet in 2012. Only, this year we got to St. Mary's even earlier and had decent breeze all the way up to the finish line at the Dove. Drinking a couple of celebratory Dark & Stormies before sun-up on 15 minutes of sleep will definitely impact a good portion of the rest of your Saturday, too.
The whole experience is one way to cure insomnia, no doubt about that. Sleep comes mighty easily at some point on Saturday.
---
An idea that has come to be appreciated by 9/10ths of the racers I got a chance to talk to is: starting the slower boats first. It's fun to see the PHRF A boats in the river with you, not disappearing over the horizon before you've even gotten to Thomas Point Light.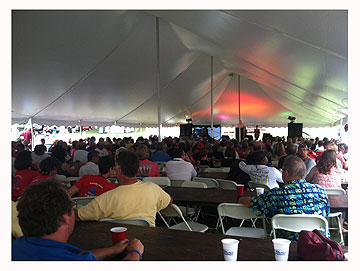 (left: a packed house and a spillover crowd outrside the tent stuck around late to hear the results...SPLC may want to take notice)
Another great idea is the to not post the results until just before the Awards Ceremony, as it kept people around the tent and gave the ceremony a lot more energy and enthusiasm. I love the campus and it was a little weird to repeatedly take the path past my younger kid's dorm room from just a few months ago, to get to the townhouse we had rented. BTW, I highly recommend doing this. If you split the cost of a townhouse 4-ways, it will be the best $40 you ever spent to get a nap and a shower and then another nap. Or two.
I hope the race gives parents with kids, who are approaching college-age, a heads-up that this little college in the middle of nowhere is worth a look and should be added to the college tour schedule!
I also hope things have turned around as far as the college's fiscal issues with this race, as it was just a couple of years ago that they were considering bailing from hosting the event. It would be a colossal shame if this race disappeared from the August racing schedule. I hope people who competed this year (and in years prior) get inspired to talk other boats into coming out in 2014.
This year, for the 40th anniversary of the race, at approx. 130 boats (counting both the Potomac and Annapolis fleets), the numbers weren't bad, but they weren't stellar either.
2012 saw 150 boats. 2011 numbered 155. So the trend has been downward, but that's the trend with pretty much every bay race this year.
Maybe interest in this race will renew once again, and the number of registered boat will climb back, to some extent, nearer to where they were in the race's heyday. I've already made a commitment to racing on a boat that's never done the Gov Cup for the 2014 event.
Cannot WAIT!
7.25.13.....SCREWPILE 2013 Rant/Rave

(part of Screwpile is seeing some interesting new [and old] boats...here, the Farr B/One gets towed out on Day 3)
You read on some of the more negative sailing forums how Screwpile is always the same: hot, calm and frustrating.
For anyone who actually subscribes to that nonsense, OK, fine. Do us all a favor and don't go. Because Screwpile is always a blast and we the people who love it, and look forward to next year's beginning something like an hour after it's over, really don't want you and your stupid negative vibes there.
Stay home. Cut the lawn, whatever.
But if you are the kind of person who really loves the sport, I mean really loves and respects it, you'll probably be there next year come hell or high water. Because, let's face it, short of anything like Nap to Newport or Nap to Bermuda, you will not find the level of racing, on a consistent basis, anywhere else on our bay like you'll find at Screwpile.
Nor will you find as friendly a town, as happy a racing community and as easy a place to simply exist and function as a racer for 3-4 glorious days of sailing competition.
BTW, with regard to the competition: I've done a lot of Screwpiles. My first exposure to the event was delivering a boat to Audi Race Week before it was even called Screwpile. I've raced at Screwpile in PHRF A, PRHF B, and PHRF C . I've raced One-Design at Screwpile. Hell, I've even raced NS at Screwpile. And in each fleet I have found alarmingly good competition. High-Point is one thing, but if you really want to feel exceptionally good about your racing program, you need to grab a place on the podium for overall results at SPLC.
And if your program isn't that good? Come anyway! Nowhere else on the bay will you have an opportunity like Screwpile to see how the big boys and girls do it. The "learning opportunities" exist in droves.
Numbers are down on the bay for both PHRF and CBYRA membership, but still, there are many, many hundreds of boats racing on the bay this season. Why greater than 90% don't bother to show up in Solomons, in late July, is a complete mystery to me.
OK, enough. Rant over (but for that > 90%,?....you missed it!)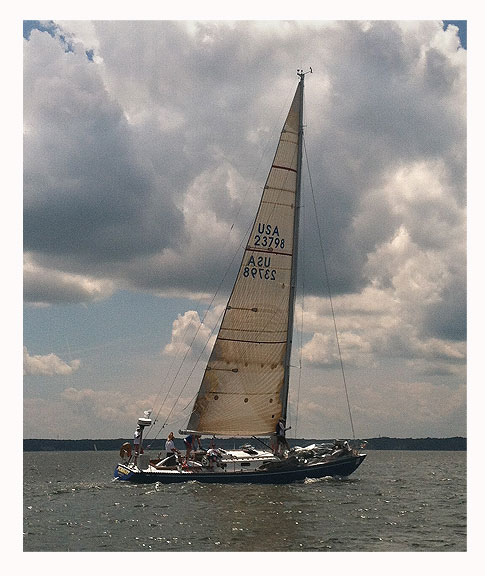 (left) one boat that didn't miss it is Norman Dawley's Custom 48 "Pursuit."
"Pursuit" is just as likely to be found ocean racing [see the boat blog here] so it was most excellent that the boat took 2nd overall in the insanely competitive PHRF A1.
As for our effort? We got off to a rather inauspicious start. Saturday evening we went out to practice and tune against David McCullough's Cal 34-III, "Gitana." Long story short, we were getting ready to head in, after working through a lot of snafus, and were in the beginning stage of our last douse, when some big breeze rolled in and "gosh, the kite won't come down!" It won't budge. Boat speed went up over 12 kn, which would have been fun except we were running out of water. We blasted through the fairway and hit bottom inside of R"2", just west of Lake Vista.
Once we got the sails sorted, we had to figure out a way to get the boat off the bricks. The lightweight anchor we had on board was useless to use as a kedge in the remaining 12-18 knot breeze, with higher gusts, and the prop would not stay buried long enough to move the boat in the small, 2-second period chop.
That's when it's good to have some skills on board. Out trimmer, Spencer, is a Navy rescue-swimmer, so who better to swim out 200 feet of line to our pals on "Gitana?"
So, Spencer lit out toward the channel with a line, while I jumped in and tried to ease the boat out to deeper water by pushing it, which was a Sisyphean venture at best.
Some time was spent tying various lines together and hooking up with the Cal 34, and voila!, "Gitana" had us off the beach and back out into Oh-Beer-Thirty. Nothing broken, just our self-esteem and a few nasty sea-nettle tracklines on various body parts. No biggie.
It was good to get that stuff out of our systems, because for the most part, we were solidly in contention for a top-three finish in every race. We pulled off a 4 – 3 on the last day and should have actually scored better, but got buried at the leeward finish in a huge hole and were denied our only bullet for the event. We still pulled off a 4th overall, which is not too shabby for one of the smallest boats in the C Fleet and which was also a huge improvement over our past years' performances.
One last word about the fleet: we ended up hanging out a lot with "Gitana's" owner and crew and it would be hard to find a better bunch with whom to spend three days racing, partying and sharing harbor postponements. And, we were always bumping into crew from other PHRF C boats at the restaurants and bars and the same thing goes.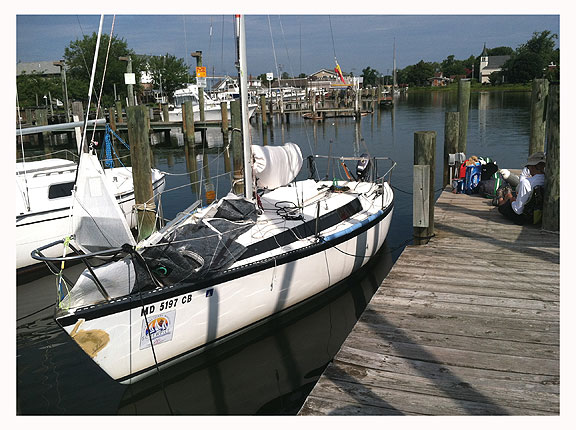 (left) SPLC did a good thing by letting us rot at the dock instead of taking us out to bob & sweat. At least there's shade at the dock. We didn't have to wait long and we got in three nice races that day. "Gitana" is just out of frame on the right, but is providing some decent sun blockage at this wee hour of the day, at least a bit more than the mere Merit 25 can provide.
PHRF C on the bay has become a very cool scene, a lot of excellent racing and comradery without the testosterone-driven posturing of the faster fleets. It's good to see there's still a place on the bay for the traditional 4KSB.
6.30.13.....Dept. of Miscellaneous Stuff -- And remember: it's OK to race.

Coming up is BCYA's Annual Race to Baltimore. Details here. What could be more fun than racing up into Baltimore on a July afternoon? OK, we won't ask that you answer that, but you should probably do the race. You'd be surprised at what you might see in Baltimore. BTW, the Orioles have a home game against the pesky Blue Jays that afternoon, but you probably won't make the first pitch.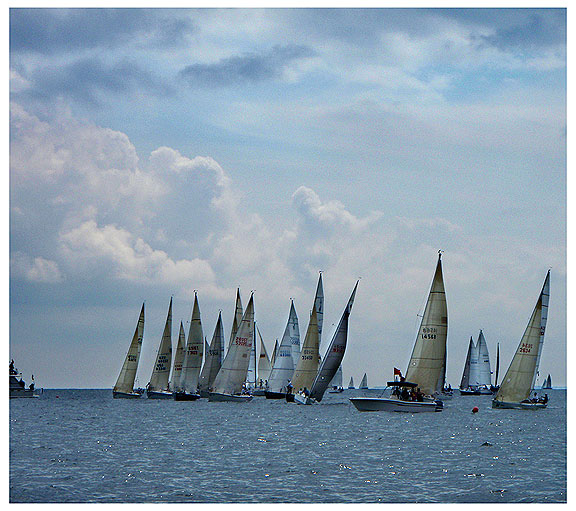 Look, Screwpile is a mere 3 weeks away. You know you want to go. So sign up. Just do it. Leave this site, go here and sign up.
OK, glad we got that straightened out.
(left) the scene from three or four years ago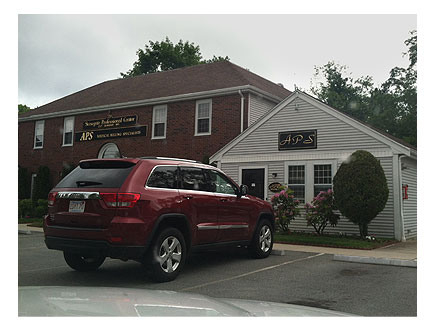 and in the parallel universe scheme of things, we lost our way, temporarily, getting from Providence RI airport to Parker's Boatyard, on the other side of the Sagamore Bridge in Massachusetts. So we pulled into the nearest parking lot to check the GPS, and Lo & Behold, an APS!
Who knew?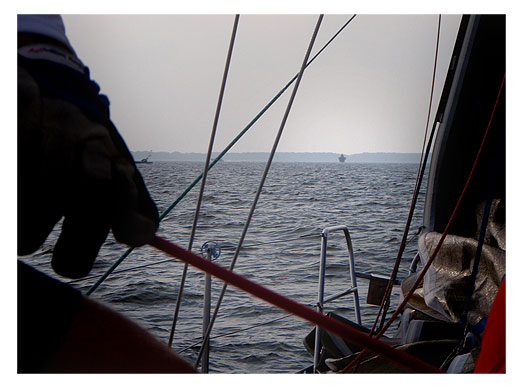 (left) A mere 18 boats competed in this year's PSA Overnight Race. That's up 8 boats from 2009, 2010 and 2011, but down 6 boats from the 2012 tally. Too bad. This is one of the easiest and most accessible distance races north of Annapolis and it utterly baffles me why more boats don't come out.
6.21.13 MARION TO BERMUDA RACE ("Take my Hinckley....please." 630 nm on starboard tack)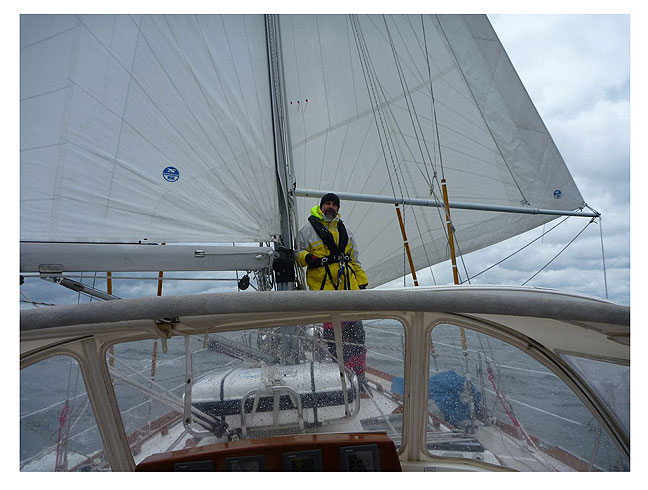 (left) does this 60 pounds of offshore gear make my butt look fat? [photo: e. wassermann]
We found out a couple days before the start that Rob, the owner, was definitely NOT going to be on the boat for the race to Bermuda.
OK, we can deal with that.
We got a fantastic replacement to keep the crew at five (Bill Bowers, see below), Rick was a long, longtime friend of Rob's and Bob, as a Beverly Yacht Club member, stepped up to be Skipper-of-Record. That left me and Eric jumping on as first-time ocean racers, no biggie.
Except, a 42''er with a LOT of systems, (let's see here: refridge, radar, hot water, diesel, AIS, GPS the NMEA interface, the chartplotter, the Sat phone, the SSB radio, not to mention the various VHF transmitting devices scattered around the boat, and the in-mast furling system, electric winches, detachable staysail shroud...well, you get the picture) is going to require a significant learning curve and to be honest, some of that was achieved in the slip once we berthed in Bermuda at the Royal Hamilton Amateur Dinghy Club (R.H.A.D.C.). No worries, right?
Well, actually, there were very few worries. The ones we did have were more to do with VMG and SOG, the key players in the mystery that constitutes crossing the Gulf Stream and picking out the currents (warm and cold eddies) that most favorably propel you toward Bermuda.
I took a hands-off approach to this mystery. I didn't presume to know anything other than the basic "theory" behind this routing puzzle, even after attending two separate briefings devoted strictly to this subject in the days just prior to the start. My main jobs on the trip fell into two basic functions: 1) stand all of your watches no matter what and 2) when on watch, try to make the boat go as fast as possible.
Number 1 I figured would be easy. And, it was until the wind died off Nomans Land Island, which is about 3nm southwest of Marthas Vineyard. With the leftover swell from the departed low, and the richochet from adjacent land masses, an ungodly mess of a sea-state was created and, compounded by having very little way on....let's just say some food was passed over the rail on my part. That made me feel better and I slept soundly until my next watch...where I once again fed the fishes, so to speak, shortly after coming back on deck. Still, I stood the watches and the next morning I chowed down on an egg-muffin thingie that our terrific skipper (and Head Chef) whipped up, and from then on out I felt fine.
Number 2 was a bit more vexing. I've been racing boats for two or three decades, but I realized I know nothing about how to make a 13-ton cruising boat with in-mast furling, electric winches and a heavily built number 3 RF jib sail fast. Luckily, Bill Bowers stood most of my watches with me and he is a solid ocean racer who is ALWAYS thinking of ways to make boats go faster and has the energy to impliment his strategies. I stand in awe of this man. In fact, I stand in awe of everyone on the boat, and especially Bob and Rick who frequently did double-duty, toiling below, plotting our COG and cooking in conditions that would have had me hurling for most of the trip. And not to leave out Eric, who also manned all of his watches, even though he too, briefly, had a down-for-the-count interaction with the sea-state. Eric cunningly used his iPhone for navigational input that proved useful, if not corrective, over some of the data the boat was giving us. Who do you trust?
Speaking of conditions:
We lucked out. We got flushed out of Buzzards Bay in a very strong breeze on our stern. Oh yeah, we found some holes, but all-in-all we had outstanding wind, usually more than 15 and often 20+. I think the anno on the boat was unusually pessimistic. At one point, when exiting the Stream, according to Beaufort, we had Force 6 gusting 7 and the anno was saying 18-19....we said "that is definitely bogus" and had an exhilarating charge through the 8-10 foot waves with an occasional larger set showing up. Pretty fun stuff. In fact, Bill and I were on watch and he was driving. I looked at him and said, "This is fantastic" and he looked up at me, he was hunched over the wheel like he was driving a Ferrari at LeMans, and shouted, "I'm the luckiest guy in the world!" Fun times!
We finally finished up at the Crack of Dawn Wednesday morning. It was an outstanding race and the Hinckley trucks on like a Metroliner. There were times when I came on deck to find it was blowing 15-18 with a decent sea running and I honestly thought it was dead air when I was below, putting on my harness and stuff.
That's the kind of ride I want through the Gulf Stream!

(below) some of the bigger sets we saw exiting the stream...not too gnarly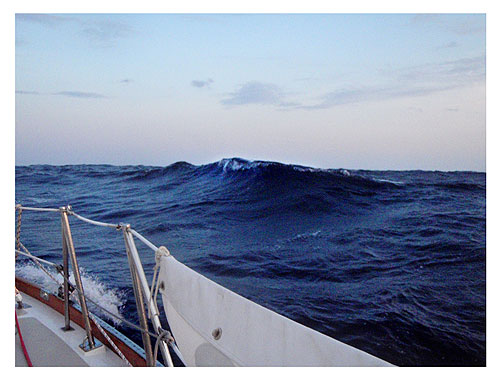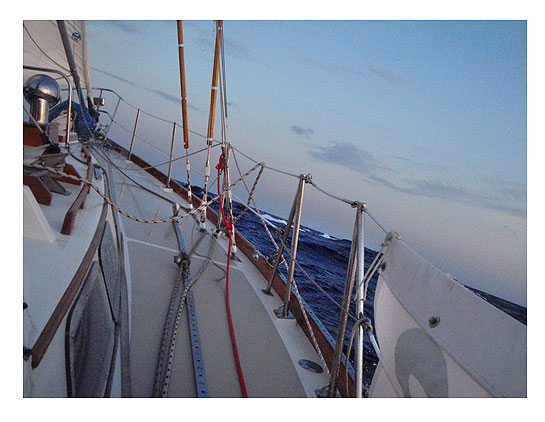 (below) this is the Mason 43, "Shearwater." After 52 hours of racing, we converged with them on the open ocean and they had to duck our stern. Small world.






(below) this squal looked really menacing, and we took precautions by reefing the main and the jib (easily done on the Hinck) but to our huge surprise, this weather system hit us with an astounding 8 knots of breeze, which was an enormous disappointment as we had 16-18 on before it hit. Go fig!

(below) here is the finish in Bermuda as the sun came up....we had Dark n Stormies in cans from Gosling. Not sure I can recomend them though....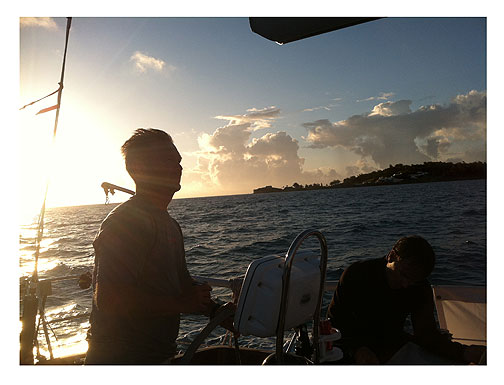 6.14.13 M2B2013 A Good Place to Start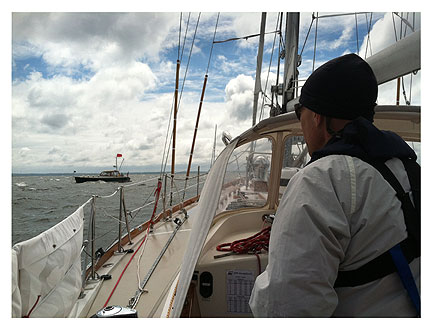 Turns out we were the scratch boat in our fleet (ORR rating). So that meant there was a certain amount of pressure to, at the very least, start well. There were wives on spectator boats and other reasons to look good, or at least look like we knew what we were doing. I think we were the first boat in our class to cross the start line, but with a downwind start in 30, gusting 35, the priority was more on the order of not hitting anyone than being first. But I think we accomplished both.
(left) Eric sizes up the line while the skies show a brief flash of blue


The forecast was for gale warnings, but the low that was producing all the weather sped up a bit, and was well east of Buzzards Bay by the time we started. Fortunately the breeze died down a little, but I think it was still firmly on the 25-30 range when our gun went off.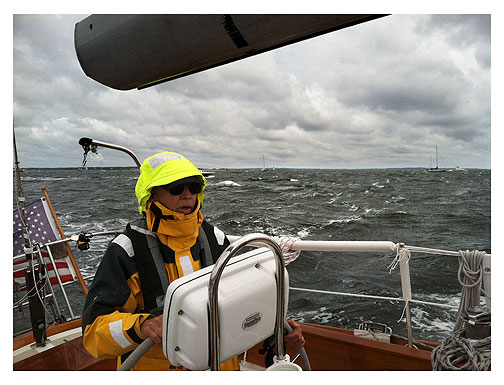 (left) this is Bill "Blackie" Bowers. He is an awesome guy and a phenomenal sailor who has raced on some lengendary yachts with some lengendary skippers. ("Windward Passage" and Turner, by way of example).

The leftover breeze from the departing low was a northerly and it shot the fleet out of the Bay like a cannon. Good times!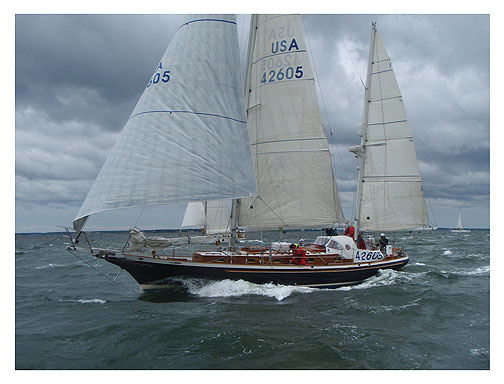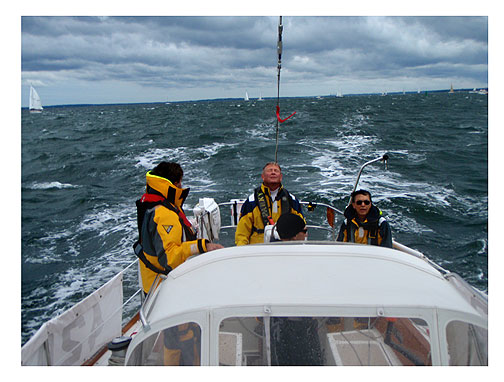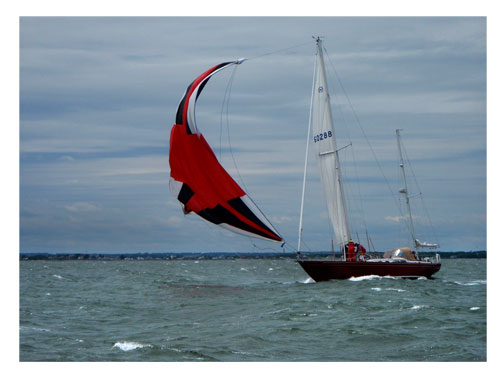 (left) The Hinckley SW50, "Lyra" struggles with a snuffer douse in some decent breeze well after the start
6.13.13....M2B2013 Nice to Know Ya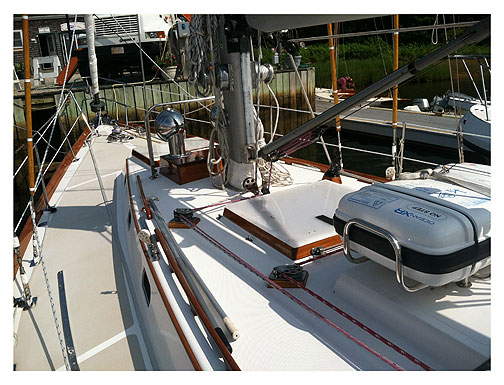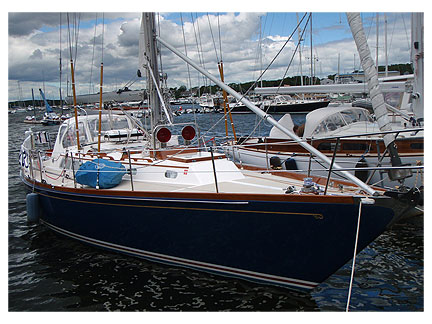 Getting to know the boat that you will be spending the next 6-7 days on, exclusively, is best done slowly and patiently, assuming you have the luxury of a few days prior to the starting signal in which to do so.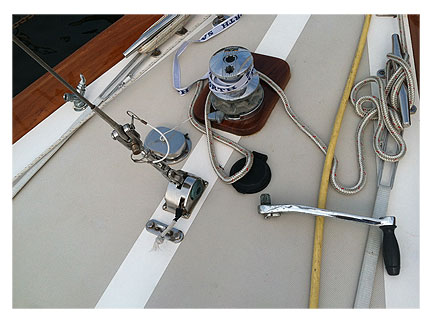 (left) little things, like the how-to drill for belaying the staysail shroud, were addressed
So, we spent some time on Day 1 and Day 2 getting to know "Sparky." Day 1 was just a few hours in the late afternoon after the flight up. This was just a basic run-through of systems. Day 2 was the real deal, though. A shake-down sail from Parker's, across Buzzards Bay to the mooring that would be our home off Beverly Yacht Club until Friday's start. The great thing about the shake-down sail was: it was conducted in conditions similar to what we'd see at the start of racing on Friday, although perhaps just a few knots less of wind speed.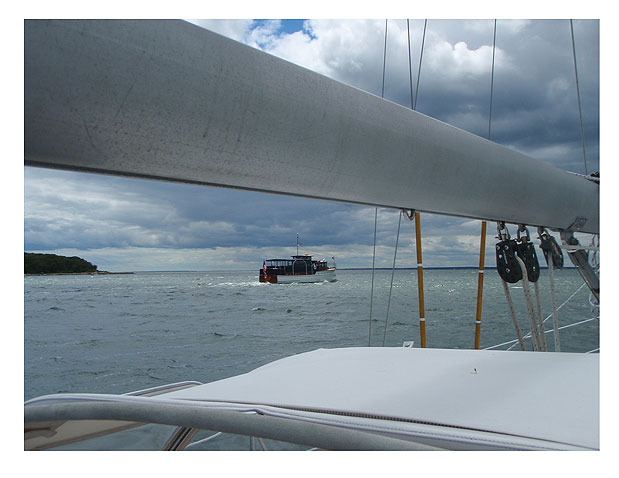 (left) while on our way over to the west side of Buzzards Bay, we ran into the 77' motor vessel "Belle." She was built in 1929 and is offered for charter by Carol Kent Yacht Charters
We also got a chance to conduct our Man-Over-Board drills and let's just say that having done so achieved two purposes: 1) qualified us for the start and 2) convinced us that staying aboard, no matter what, was a very, very good idea!
6.12.13 M2B2013 Heaven, Heaven is a Place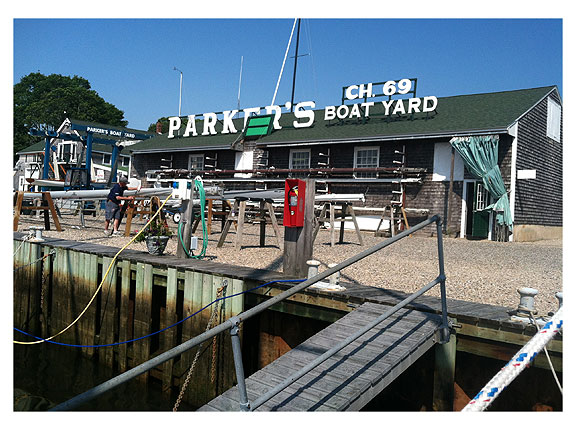 Heaven is a place where all the boats are beautiful and the prettiest stay that way forever.
This seems to be the guiding principle behind "PARKERS BOATYARD."
It's basically impossible to spot an ugly boat on premises and the level of fit and finish on the classics being tended to there is unbelievable.
Name of the bar, the bar is called "PARKERS."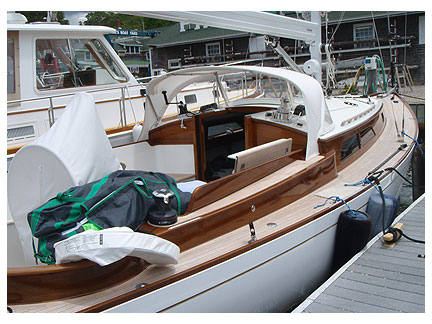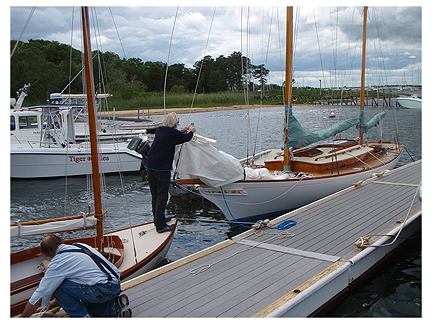 5.30.13.....Early Retirement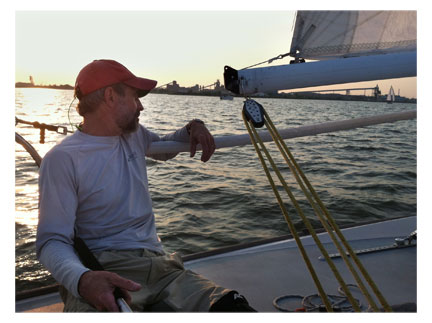 (left, relax dude...you're done. photo: e. ford)
There's a kind of groove, just a good feeling, about pulling into Young's on a Wednesday afternoon. I get a different feeling from different marinas, whether it be Jabin's or Oak Harbor or Ferry Point or Tidewater (HdG) or anywhere else. Each place has its own vibe. None of the others feel like Youngs and none of the others feel quite as good. Not sure why that is, but it's true. At least as far as I'm concerned.
On the other hand, I've never seen a creek that promotes barnacle growth as robust as Jones Creek. Simply astounding. I missed an opportunity to dive on the boat earlier this season and in 5 weeks, despite using an expensive ablative paint, the little bastids are everywhere. The plan was to use a large sponge to wipe off the slime…within 30 seconds I knew a sponge wasn't going to cut it.
With that on my mind, and with only The Kid as crew, we set off to race. Even though she is often on the docks at that public honors sailing camp/college in S. Md, she has only raced once, so the night was going to be more about instruction than competition. Yet, we got a nice start in a huge, boat-end hole and were doing nicely upwind, even with just the two of us and the genoa hanked on up front. OK, the boat was on her ear a lot, but nicely powered up in 6-10, with puffs to 13 or so. Fun! Plus, The KId was picking up things on a fierce learning-curve. Bonus!
We banged the left* and cut the layline a little short, compared to the first three boats in front of us on the same board, but made it easily, and were in OK shape at the weather mark, mid-fleet, which exceeded my expectations by a lot! Then, after a short two-sail close-reach, we rounded a mark and fell off almost dead-down to the next obligation.
It was clear that a kite needed launching, and of course, it was a port-pole set. Anyone who has ever raced a J24 knows that they are pretty much always set up for a starboard pole (bear-away) set. I said to the kid, this is going to be a long-shot, but let's give it a try…there was no way I was going to rerun the gear for a port-pole launch, so we just went kite up and pole later. And, miracle of miracles, the headstay did not wrap, the kite sorted itself out and we had a chute! …for about 90 seconds, until the long-anticipated lefty finally made it's way up the river and gave us an unantipated gybe.
I know a huge CF when I see one (having created quite a few in my day) and I said, "that's it, kite down." And after a clean-up and a short discussion, we both agreed: let's retire.
I didn't care, she didn't care, it was a gorgeous, warm late spring evening, so we just notified the RC and went sailing.
I don't like a DNF, but once in awhile, it's just fine.