STUFF FROM 2011
--------------------------------
10.15.11 .... A Few Observations from SMSA's Hooper/Pt. No Pt. Race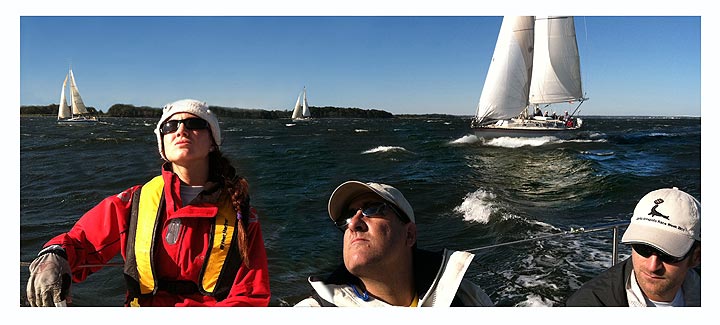 (photo, left: a few minutes after the start at the mouth of the Pax, when I finally had a minute to fish my phone out for a few quick snaps. The downhill start was a thing of beauty...we got off the line ahead of most of the big boats. They quickly got up to speed and rumbled by, basically just water-lining us...we couldn't surf until we got out into more breeze, not to mention the sea-state was insane. Finally, under a single reef and the number 3 we saw 12+ on the speedo with Trevor driving.)
In spite of all the forecast models you can monitor for conditions 3 - 5 days out (and closer to the day of the event), even if they are in close agreement, a healthy layer of skepticism is a good thing to wear for a fall distance race. Actual conditions can easily vary 5 or 10 knots for any given location and if the forecast calls for 15-20, that could maybe turn out to be 10-15 or 25-30.
Our forecast for the Hooper lt/Pt. No Point Race was for 10-15, puffs to 25 early on in the week according to both NOAA and Sailflow, but by Saturday morning (Oct. 15) by 10:30 a.m. it had built to a solid 20-25 with puffs into the low-mid 30's.
Well, I guess the forecast wasn't really that far off....20 - 25 isn't a huge departure from 15-20, but it sure felt like it was. Suffice it to say, when we finally got back from rounding Hooper Island Light and then Point No Pt. Light, the beat back up the river was sheer punishment.
It was just plain nukin' in the river.
The Pax data buoy is tucked in behind Solomon's Island and I think the readings from that station on that day are ridiculously low...anyway, that's what whistling in the rig signifies to me (not to mention the healthy wave heights over on the eastern shore).Around the time we were finishing there were gusts into the low 30's at the Solomon's data buoy, so out in the river I am saying mid to high 30's maybe 40.
Bottom line is: a middle distance race in mid-October is pure enjoyment, despite the lickin' one takes racing a 25 footer upwind in 20 - 30 knots. Tons of good breeze and the water temps are still high enough so that hypothermia is not a concern. Throw in some bright blue sky and plenty of sunshine, a beer or two upon finishing and a bunch of laughs with a great crew, cripes, isn't this the reason we love this sport so much?
Much thanks to Trevor, Nikki and Rich for having me along. SMSA's "Middle Distance Series" seems like one of the better ideas to come along on the Bay...I don't know the history of the Series, but it is something other clubs might want to try to emulate. Four distance races spread over the length of the season, a terrific departure from the same old same old W/L sausages that get served up all too often these days.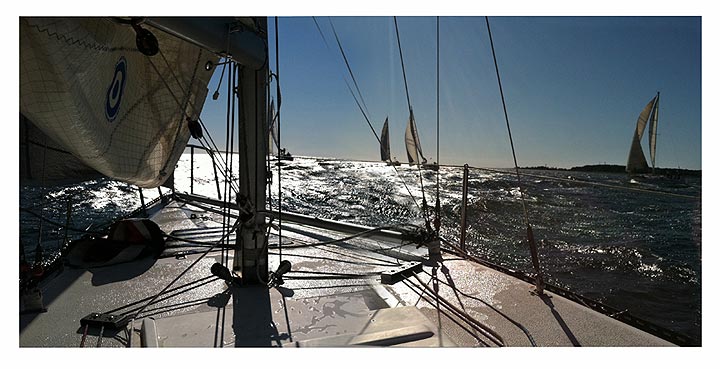 And also: who knew? Truckin down I-97 to get to Annapolis in October on an early fall morning? Near Benfield Blvd on the west side of the highway is a "Natural Environment Area." I reckon that's where the fool deer that slammed into my car while I was doing 65 mph was headed. I was extremely lucky it did not come through the windshield, but it put a serious hurt on my vehicle.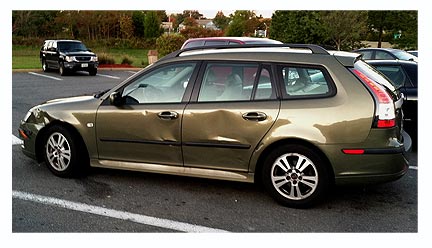 So keep a serious lookout.
9.29.11....It's the End of the Season As We Know It...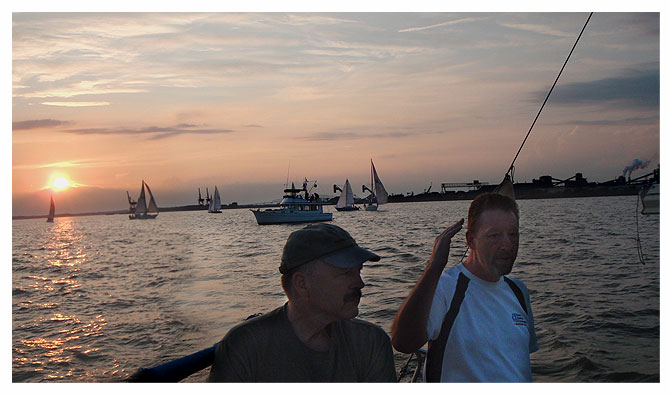 ...and I feel crappy.
No more weeknight racing for, let's see, SEVEN MONTHS?
And I was just getting used to it, having done almost none for the first two months of this season.
So it was with some level of sadness when we hit the dock after racing Mark Taylor's "Kaizen" around the NPSA buoys (still no results up, 5 days later).
As the sun sinks slowly in the west (and Scot "One-T" Reynolds goes over tactics-- nice touch with the sailing karate) we say goodbye to thinking up new excuses to leave work early, skipping that mandatory 4 pm meeting, battling insane traffic to get to the dock on time, dealing with uncooperative diesel engines & outboard motors, puzzling over bizarre committee boat courses, cursing unfortunate wind shifts and holes, waiting weeks for PHRF results and schlepping into work on Thursday mornings slightly hungover and still bewildered by your tactician's decision to go left last night when you knew the right would pay dividends.
Until next April, see ya...and it was all a blast!
___________________________
9.25.11....Racing up in the Sticks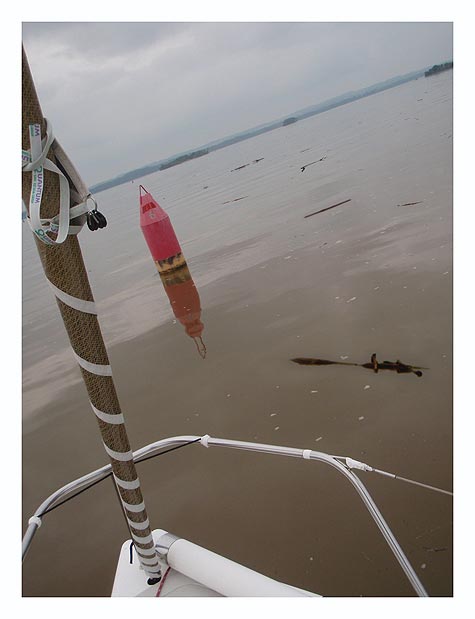 Thursday night racing in Havre de Grace has been cancelled since the flooding associated with tropical storm Lee, so I never got a chance to see what things were like up there...until yesterday.
I was invited to race on the Leach'es Antrim 27 for the CBYRA event known as "Bayjam," hosted by Georgetown Racing Fleet.
We didn't do much racing, there was about 10 minutes worth of breeze and the AP never came down. The PRO did a smart thing and dismissed us instead of waiting all afternoon...there was nothing happening in any of the area reporting stations, just a laundry list of "0 kn" reports, so it wasn't like there was any breeze working its way toward us.
Aside from about a billion sticks and logs, there were also a gadzillion large grass mats, and they would have made racing a real chore. I think it would've had to have been renamed the Back-Down Regatta.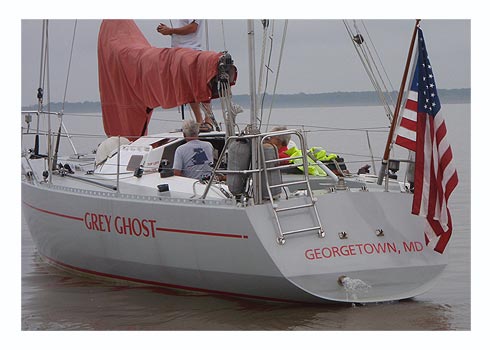 One thing cool about racing in a different venue with a bunch of seldom seen YC's is getting a look at some boats that are unique or otherwise interesting.
This is definitely the case with Phil Parrish's Zaal 38 custom, "Grey Ghost." You can read more about the boat in this article, here.
Mike and Scrap's live version of Grey Ghost here. Studio version here.
A word on the Antrim. Not racing it was a let-down, but we did get a chance to put on a small show for the rest of the assembled masses.
In the 4-6 kns that showed up for a brief cameo, we sailed up wind, tacked once, popped the A-sail and came back down to the prestart area with a gybe executed in little to nothing of what was left of the breeze. It was down to zero by the time we doused. Nonetheless, it was neat to be able to put on a short exhibition of what a more modern, light air machine can do while the heavier leadmines sat there drifting. Not that the A27 is exactly "modern." It was introduced in 1996, which means it is celebrating its 15th anniversary this year. I can't find the final tally, but I do not believe more than 30 of these were ever built, which, like the Tripp 26, remains one of the all-time mysteries of performance sailing in the 90's.
9.21.11.....Dereliction of Duty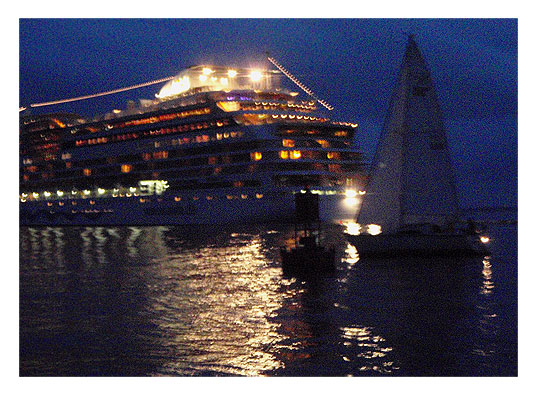 I was asked to do RC duty at NPSA last night, which is kind of weird because I haven't had a boat to race at NPSA since 2005, but I still think the world of the people who race there, and of the Club in general, so I figured, what the hell, why not?
But, as it turned out, they had plenty of bodies on board the RC boat, so I was granted absolution and given free reign to jump ship and find a ride.
Turns out, Willy Burton was going out single-handed, so I asked him and he said, "Uh...ok...fine."
I guess he reckoned I wouldn't be too much of a hindrance. Plus, I had beer.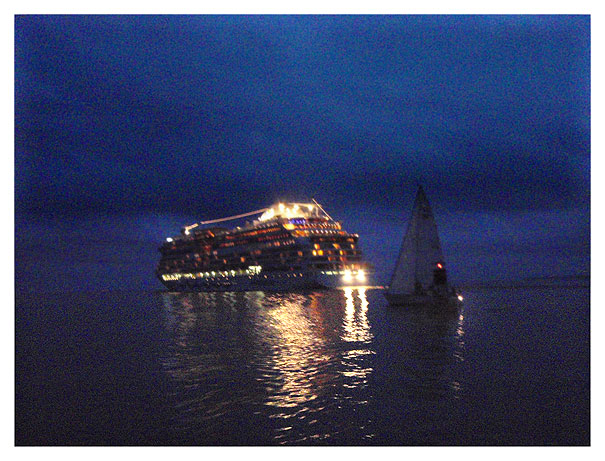 This was perfect because it gave me a chance to do my favorite kind of round-the-buoys racing: double-handed.
Trouble was, there was not a whole lot of breeze. Plus, the entire venue looked like a giant mud puddle and there were still a lot of sticks and stuff left over from the flood(s).
As soon as there was even the slightest semblance of a breeze, the RC punched the prestart clock. None of this dilly-dallying around b.s. like you'd see at, say...uh....AYC maybe?
No, the RC said "there's a scant breeze and it's coming from a new direction but screw it, we'll start a race and you guys can deal with it." Downwind start? No problem! 0-2, gusting to 3? No problem, shut up and race.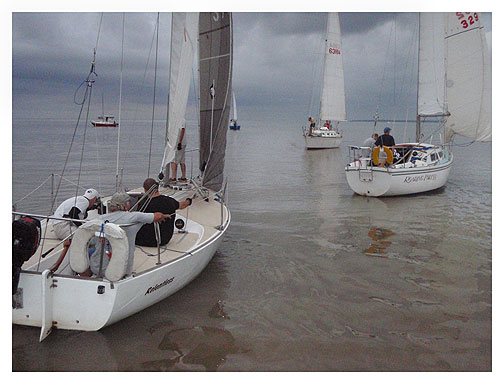 God, I love NPSA!!!
The good news is, they shortened the course and the breeze built to about 8 kn. The highlight (no pun intended) of the evening was a mark rounding simultaneous with the most garishly lit liner I've ever seen, passing by a few dozen yards away and disappearing into the gloom.
This thing was lit up like Rio at Carnival but oddy silent...I figured it would be pumping out loud disco, the decks filled with waving tourons, but the thing ghosted by like some sort of neon mausoleum. Maybe dinner was being served, below. I don't know.
I think we finished third or something out of 5 boats. The point of NPSA is to have a few laughs and share some time on the water with friends. While it's always nice to win one, it's not always the main priority at NPSA.
Works for me.
(hear Red Stream Liner here , great song)
________________________
9.18.11....Down to Hammond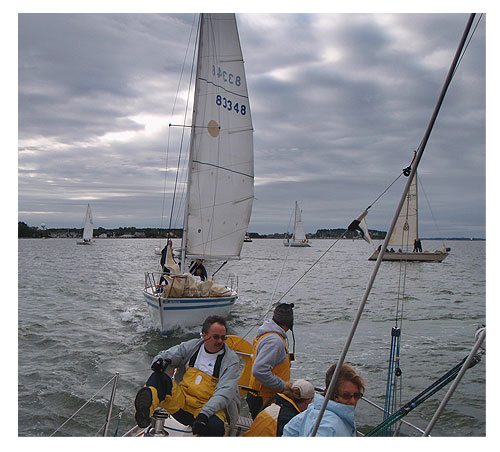 I have a hard time doing the Ted Hammond Memorial Race without having that strangely annoying, yet oddly beautiful, Roches song going through my head the whole time. Maybe that would be a good excuse for being part of the cascade-event that might have caused us to be first loser, instead of first placer.
I had been on boats that won this race (in our class) the two times prior and I wanted the hat trick. But it was not meant to be. We had an issue.
We went to gybe in moderately heavy air. I think it was mostly 14-16, with a few puffs over 20 meandering down the Tred Avon. The gybe got botched and it must've looked pretty ugly. We came close to flying a pennant from the country between Germany and Russia (now Belarus). Burnt the crap out of my hands on some smokin' spectra, trying to tame a loose kite.
(left, prestart, a few minutes prior to the big gybing CF)
I think the cascade went something like this.
You should try it sometime:
Helm starts to head down. Pole is rotated back, prepared to jibe. Pole goes a little too far aft, windward luff of kite projects out from being blanketed by the main, kite is very loaded. Foreguy is not eased, now fully-loaded kite has foreguy bar-tight. "Trip" is called, pole will not trip due to extreme load from foreguy on mast ring. Bowdude is wailing on pole like there is no tomorrow as the main is sent over, pulling down, trying to get the jaw off the mast ring. Foreguy is finally blown and bowdude, suddenly wailing on something completely unloaded, is sent flying toward lifelines with pole in one hand, new guy in the other. Bowdude, lying near lifelines, sets new guy in the jaw, but is in no position to push pole end forward, or release the old guy from the other jaw. Kite, loaded up, with both clews set to both guys that are still in the pole jaws, blows off to leeward and blasts the pole through (inside) the foretriangle. Meanwhile, Mast is trying to untangle and release the old guy. Someone blows the new guy and suddenly the kite is 2 boatlengths to leeward, still attached at 3 points. Pole is flailing around like some some of manic battering ram, and eventually gets disconnected from both guys. The epic man/woman vs. nature struggle starts with the foredeck crew trying to haul in a big-ass, loaded-up spinnaker. Hands are scorched through, and in spite of, gloves. The spinnaker reels off a few yards to leeward, the crew hand-over-hands it back in...a big puff hits, and the kite is off, streaming line through our gloves like a crazed Bluefin Tuna. We finally wrestled it in when other crewmembers lend a hand. Nice work on the halyard drop keeps it from ever shrimping, a small victory in this case, but a victory nonetheless.
Phssseeeew.
Oddly enough, we hadn't lost that much ground on the one boat ahead of us, the T-10 "Artemis." But, more importantly, we hadn't passed and increased the gap between us and "Artemis"....we owed them nine seconds a mile. We played the accordian with them for the next 10 miles or so, but they still got the gun and beat us by 4 minutes, corrected.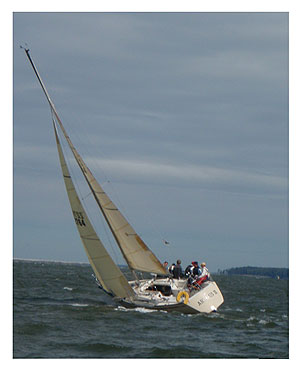 They sailed a great race, their crew was hiked out HARD the whole upwind leg and that T-10 goes to weather like a machine. To say they had the boat dialed-in for the conditions would be a huge understatement.
I was really really really pissed at myself. A good bowman would have recognized the loaded up foreguy, called for the release, and then calmly detached the jaws from the ring and proceeded with the jibe...or I should've tripped the pole way before it got squared back completely, therefore eliminating the way-too-loaded-up foreguy issue. I think in a bit of breeze, when the kite's mid-seam hits the forestay-centerline, it's time to trip.
Whatever.
(left, PHRF B winner "Artemis," cranking uphill)
______________________
9.15.11....Steal This Boat
One good thing about the severe economic mess, there are some amazing deals out there on used yatchetts. Here's an Evelyn 32 that has been recently refitted (from 2 separate E 32-2's). It's for sale in southeast Mass. for a song....$7900. Shoot me a note (contact address, above) and I will put you in contact with the owner. That's a lot of bang for the buck for a fast, A2 boat.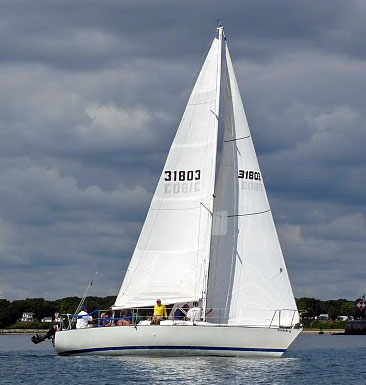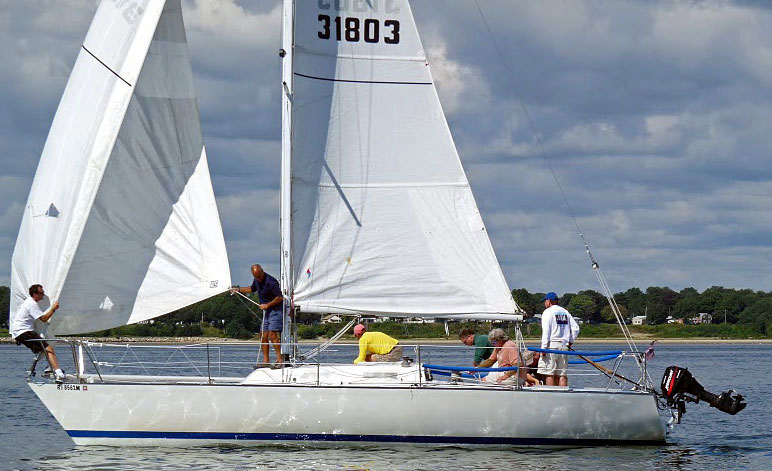 9.14.11.....From the Inbox
Once in a while we get mail.
One letter pointed out that the oil slick pictured below (8.3.11 "Oops") did decidedly NOT come from an AYC boat. We are glad to set the record straight on that, even though we actually never said it WAS from an AYC boat, one could have inferred it from our comments. Turns out someone elsewhere pumped their bilge w/o knowing there was a fuel leak. They got the leak fixed promptly. End of story.
Another letter took exception to our comments on 7.19.11 about the paucity of sportboats at Screwpile. The writer points out that, actually, there were enough sporties at SPLC to get a separate start, although admittedly, two signed up after the "late" entry date, but well prior to the "final" entry date.
For reasons unknown, L.G. and company decided not to reassign them to an all-sportboat fleet. The writer (who campaigns a very successful sportie) went on to say, "So, there were enough sport boats... what is pathetic is that sport boats are being treated like red-headed stepchildren and organizers are doing little to nothing to make the class happen."
nbayracing definitely has a sense of this (above) and in discussion with other i550 builders around the country, there sure seems to be a certain bias against letting sportboats race in mixed handicap fleets. That's fine and we can understand it to a certain extent, some people take handicap and club racing very seriously. But if owners of sporties and owners of leadmines and the OA's all dislike the idea of sporties going head-to-head with leadmines, then why didn't SPLC quickly reconfigure the four PHRF A fleets to allow the sportboats to split off and race one another? An Elliott 770 racing against a Morgan 36 makes very little sense.
So, we know there has been further correspondence with the folks who organize Screwpile, and let's hope next year they get things sorted out, in terms of a little bit better structure toward "like-boat racing." SPLC is a terrific event and it would be shame to see it get tossed aside by people with dual-purpose boats because of their distaste for racing against sportboats.
Or vice versa!
_______________________
9.12.11.....Cancelageddon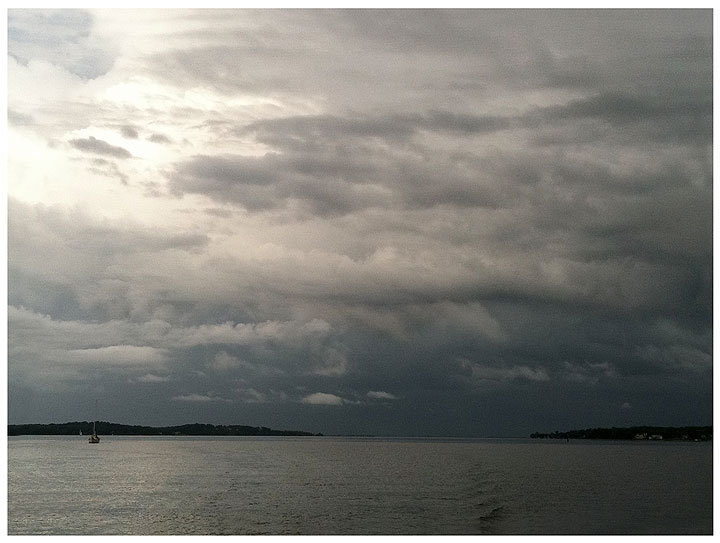 First, my ride for Annapo Race Week had to bail, then, a few days later, MRSA was cancelled on Wednesday nite.
I was scheduled (and looking forward) to going out on Kevin Duffy's F24...it has been a while since I was last on a multihull other than to spend the night in air-conditioned comfort at SPLC.
But the remnants of trop storm Lee were going by to the west and wicking up record amounts of moisture from the warm Atlantic. The resultant storms made most of the RC's in the area throw in the towel, plus there was an insane amount of floating crap that came down the Susky, quite capable of puncturing a hull or, in our case, three of them. We went out to try to find a few race boats and an RC with a P flag up, but soon after we rounded Stony Point, an MRSA boat came by with the news, "no racing tonight." (Big thanks to "Bella Donna"). By then the sky was looking pretty funky and in all honesty I was ready to head back in.

The next night HdG was cancelled and it is again this week. I am hoping the Race to Oxford is still on. I mean why wouldn't it be? Ah, maybe because the Bay still looks like a toilet, the morning after a full course TexMex binge, and 12 shots of tequilla?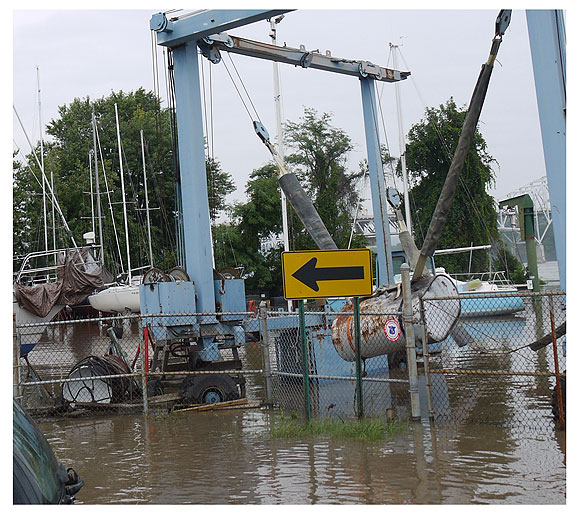 One of our crew on my (intermittent, this year) Thursday Night ride, swung by Havre de Grace Marina to take a shot of the J24 (yellow arrow points to it) and it appears to have been let off easy. The water looks like it's only about a third of the way up the keel.
The blue boat to the right? Probably did not get off as easily...it's in the parking lot and the water is usually off in the distance on the other side of the hoist (green pole far right).
So racing is cancelled and that's all there is to say about that.
(photo: Doug Thomas)
__________________
8.25.11.....Eye Ream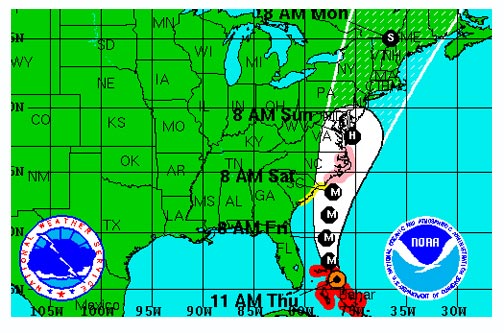 If you haven't considered spending time between now and Sunday morning doing storm prep on your boat, you should probably re-assess.
The new model puts the eye farther west than what was being predicted yesterday (Wednesday) and the implications are certainly more dire.
Anyone who remembers Isabel will probably not be taking this too lightly, although at this point the huge push of water up the Bay looks unlikely.
Nonetheless...
8.20.11....Better, Later than Ever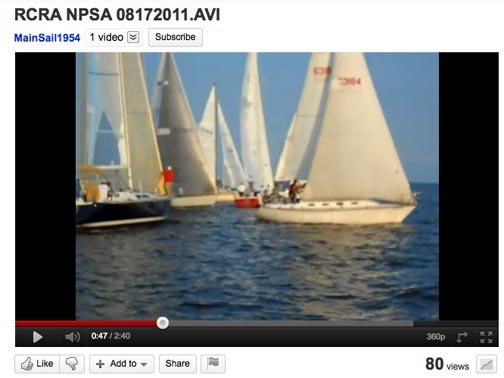 Excellent sailor, and all around great guy, John Anderson posted a link to a YouTuber vid on FB the other day, so if you haven't seen it, here's the link
Close your eyes at 1:38...that's when we show up.
8.5.11....Compression Fracture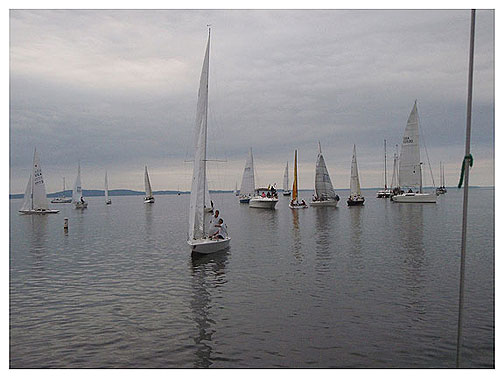 (pre-race Thursday nite and it's not lookin' real good)
Few things in sailboat racing are more painful than carving out a nice lead in a competitive fleet and then watching it all collapse, in slow motion, when the wind dies.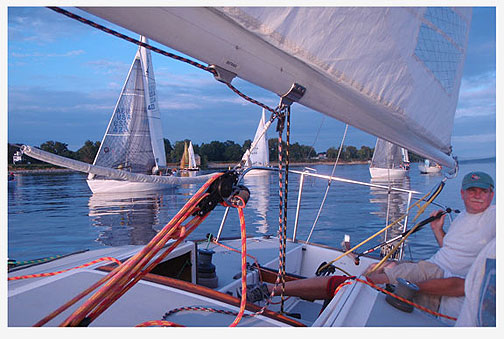 The J24 "Just Right" had their string of bullets fractured the other night under just those conditions....a breeze barely sufficient to start a race became a non-raceable zephyr and then a new breeze that, of course, filled in from behind. Skipper Tom Schwartz & crew still managed a very credible 2nd in very demanding conditions.
The HdGYC J24 fleet manages to gather 8 to 10, and sometimes more, boats on the line on Thursday nights, and as many as 25-35 boats when you throw in the daysailers and PHRF boats.
And, despite pictures to the contrary, they usually get some kind of breeze up there when others don't.
8.5.11.....Little Big Deal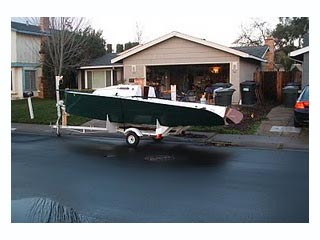 Let's say you've been wanting a sportboat for a few years. But you don't have 40 grand to plunk down on what's, let's face it, a toy for weekend warriors. Well, how does a quarter of that price sound?
Ben Doolittle has his (unique) i550 for sale in Sacramento for a mere $9500. It's unique because it is set up to meet PHRF requirements AND easily adapted to i550 class racing. Explain that!
So, a little road trip to CA and back and there you are, with a cool boat and 30 grand to spend on a Mini Cooper convertible or a Hyundai and include a family trip to Ibiza.
See Ben's blog and his ad in the Sailing Anarchy Classifieds
8.3.11.....Oooops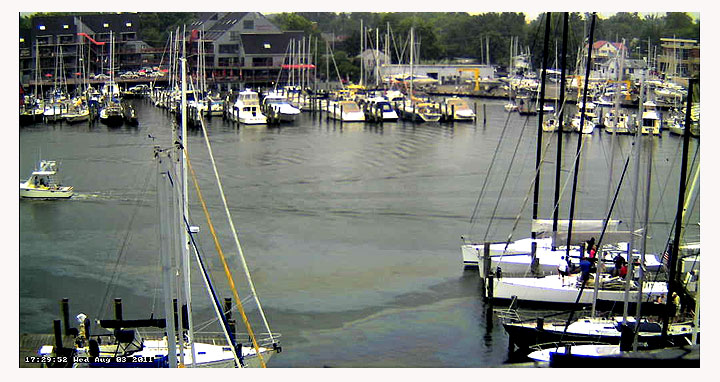 Stuck in an office on Wednesday evenings, an increasingly more frequent event, I like to tune in to the AYC webcams to watch the comings and goings on Spa Creek during the AYC Wednesday Night Races. I almost gagged when I switched to the Eastport view and saw this abomination after one of the AYC RC boats left the dock.
I have no idea which boat blurted out this skanky puddle, but it looks like the Exxon Valdez has a slip at AYC.
7.24.11.....Even Odder
Regarding the story below, here's more on the subject from Katie Burn's blog, with which we are in total agreement (aside ftom the part were she chides herself for complaining; we think her complaint is spot-on): http://dudewheresmyboat.blogspot.com/
7.21.11.....Don't Be Odd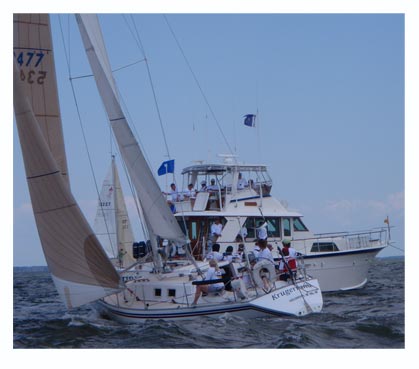 We usually have nothing but great things to say about the race management at Screwpile, but we heard, recently, about an episode that gives us pause to wonder: what were they thinking?
Apparently the RC on one of the courses last week (not the one pictured at left) finshed a PHRF fleet on an odd number of legs (five).
Finshing a race with and odd number of legs is fine for One Design, where boatspeeds are pretty much consistent, relative to one another, whether heading uphill or downhill.
But in mixed-fleet racing, the boats that even out over a typical W/L course are going to see a completely different story when the race finishes upwind, benefiting designs that go to weather well, and completely hosing the boats that fly DW but cannot compete upwind.
The thinking was probably, well, the boats that have finished are going to have to cut through the DW boats on their way home, so if they are racing they'll be paying more attention to the rules and, therefore, be less likely to foul someone. Only, we aren't buying it. There is plenty of room on all three courses at Screwpile for boats that are returning to harbor to stay out of the racers' way. Five legs work fine for the Etchells fleets, but put a planing sporty and a displacement racer/cruiser in the same fleet and the racer/cruiser is going to have a huge advantage in the race that finishes UW.
This is just conjecture, we have no idea what the thinking was, but Screwpile PRO's should have this stuff down.
7.19.11.....No Surprises

One thing you can count on at Screwpile: competition.
There are no gifts at Screwpile. There will be no one there to grant you a pass and help you limp to a podium finish.
This is something that I can safely say from having raced in PHRF A, PHRF B, PHRF C/D, Non-spinn and the J105 OD class over the last 10 years of Screwpile.
Heck, even the Non-spinn class was "take no prisoners."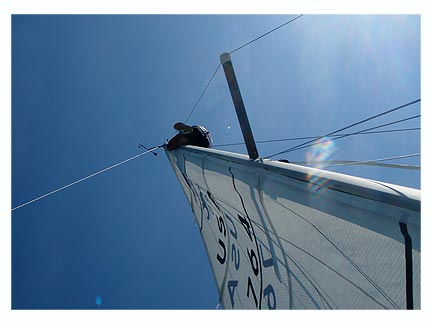 So, it should come as no surprise that racking up a 15 in Race 1 was a bit of a harsh opening statement.
We lost our headstay, about 40 seconds before our starting signal, and had to retire to do a sudden (and urgent) fix.
Big props to our bowman, Evan, who went up and messed with a truculent ring-ding while trying to afix the stay to the mast with one hand while being slammed against the rig in a lumpy sea and building breeze.
Yes, once again we can use the word "breeze" in a story about Screwpile, as in "there was some."
Except for when there wasn't.
And in each case where there wasn't, we found our boat in the hole where there wasn't and watched on one occasion when the breeze filled in nicely where we weren't.
That gave us a lovely 12 in Race 3. Throw in one more race where the wind died with us about 20 yards from finishing and then taking another half hour to get across the line, that factors in another double-digit score (an 11) and those three add up to 38 which sorta makes our 3 and our 5 and our 7 irrevelent.
Like I said, tough crowd.
The fleet was down a bit this year, less than 100 boats signed up, but PHRF C/D has an interesting way of holding steady in the 14-15 boat range, which is nice and it allows for some significant inversions in scoring...only the phenomenally well-sailed "Easy Buttn" scored consistently less than fifth in our fleet.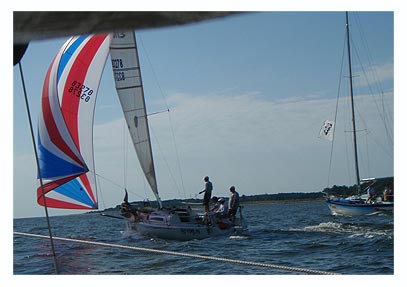 On a sad note, the short-lived "Sportboat" class at SPLC met its demise this year because not enough boats signed up. Part of that was the loss of some of the area's Antrim 27 participation, with "Little Latitudes'" departure to New Mexico (New Mexico?) and the Esse's and Open's bailing (for the most part...the Esse 850 "X-Esse" did race in PHRF A2-1).
At least the Cutter's showed up with their Elliot 770, "Gremlin." But in this writer's opinion, it is pathetic that the bay cannot muster enough sporties to get a class start.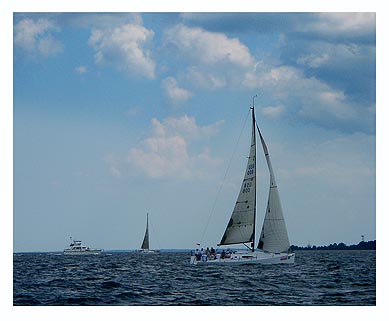 On the other hand, it's cool to see new boats on the scene, like Wayne Jackson's new J111, "Velocity" out of AYC. They finished 4th behind two well-sailed Farr 30s (Mumm 30s) and the perenial podium bound Thompson 30 "Wairere."
"Wairere" snared an 7 in Race 1 (we heard the story, but we hear it will be on the frontpage of SA soon so we'll leave it at that) and it pretty much sealed the deal for them to get booted from their usual first place overall, especially after they finished 8th in Race 6 (another story).
Congrats go out to BCYA's Nate Tower for taking 1st Place in the fiercely competitive A1 fleet.
One thing I really, really hate is being beaten, boat for boat, by a Catalina 30.
But when the people are as nice as the Sher Maxians, it takes a lot of sting out of the loss. Major props to the crew of "Sher Max," who beat us 4 out of 7 races.
7.15.11.......Mooned by the Kriz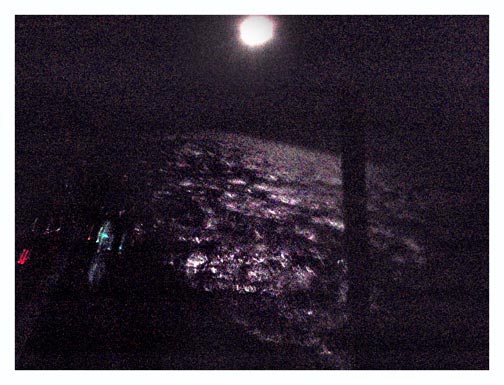 EYC's race to Solomons cotinues to be one of the most successful distance races on the bay, at least in terms of the size of the fleet.
This year close to 120 boats went off on Friday afternoon. A full moon (left) and the light, but steady, breeze made it an outstanding ride.
We went off in the Merit 25 with a pretty decent start, thanks to Kapt Kriz, owner of "Akoni," (one of our principle rivals for the next 5 days) who gave us the benefit of the doubt with our questionable tack on to starboard very, very close to the barge mark off the RC boat.
No red flag, thanks "Akoni," and we were off, down the bay.
We had the breeze on our nose a lot, which isn't really the M25's sweet spot when racing against boats with more LWL, but we hung to the eastern shore and fought it out with "Akoni" all night long. At one point I figured we had them when, after 6 or 7 hours of battling back and forth, it looked as if we were finally putting some distance between our stern and their bow. So, imagine our alarm when the sun rose, as we neared the finish line, and there they were, slightly ahead of us. We owed them about four and a half minutes over the 44 nm course, so we knew we were doomed, at least as far as "Akoni" was concerned (we finished 4th overall in a fleet of 8).
Later, having talked to some other racers on other boats, the consensus was: the ebb never showed up on the eastern side. We were playing the deep water on the left and I don't think we ever saw a bump down the bay. This seems to happen often with steady wind from one direction over a considerable length of time on the bay. It's my theory (and I'm sticking to it) that in the shallow Ches Bay, consistent breeze from one direction moves a lot more water than the moon's gravitational pull.
So, no ebb for you.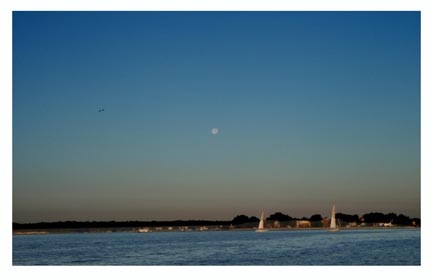 It is good to race in moonlight and it's also nice to finish before the moon sets.
Check your calendars for 2012 to see what the lunar phase will be, and don't miss this feeder race for Screwpile.
It had been way too long since I'd last done this event and I don't plan on having that happen anytime soon!
6.30.11....Dehler Duty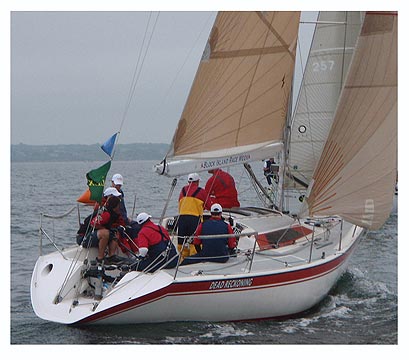 After having just spent a week racing against this Dehler DB2 (left) in Rhode Island, it only seems fitting that the first race I did after getting home was on Roger V.'s Dehler Optima 101.
The two boats, the DB2 and the Optima, are strikingly similar and I have no idea why Dehler produced both models pretty much around the same time (early and mid-80's). Maybe someone who's an authority on 3/4 tonners can chime in. The Optima is about 6 inches longer and 400 pounds heavier than the DB2.
Anyway, Rog is getting further along on his extensive refitting of the boat that used to make the scene around the upper bay as "Rong Bay." We went out, strictly just for grins (without doing a quick-haul & power-wash), not expecting to race competitively as this was the first time across a start line for the boat in a long, long time. We took some pictures and that's about it. We were DFL by a long shot and that's fine.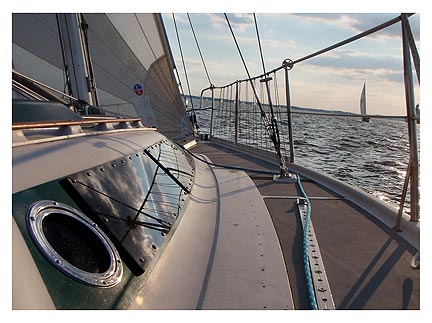 Nice touch with the round portlight Roger used to accent the coach roof. The Optima has very wide sheeting angles and a funky double-spreader rig with jumpers above the hounds, runners, and discontinuous wire for the D2's. It's not a rig you want to tweak between races!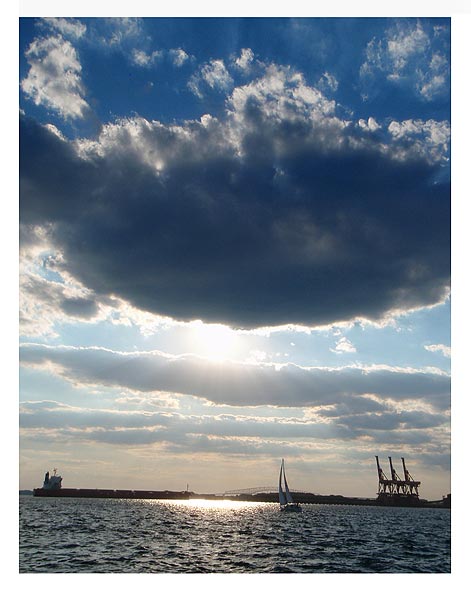 Incredibly glorious night on the river, breeze 8-14 NW, typical, early summer, cold air mass bringing puffs with wide oscillations.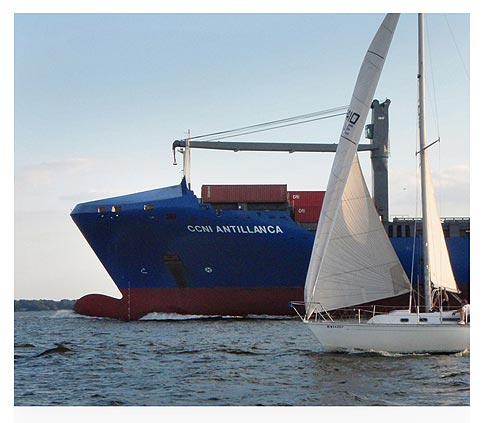 On the DW leg, the breeze went left big-time and a lot of kites came down in a hurry. Up unitl that point it was just a brilliant run down the north side of the Brewerton Channel.
There was, as is typical on Wednesday nights, a lot of commercial traffic on the river last night. I'm not sure the "Antillanca" dug all three fleets converging on "R14" and "R12" as they chugged on by, but it was no biggie as boats stayed pretty much out of the channel. We were not monitoring 13, but I think it's safe to assume no one got too haired-off at the racing fleet.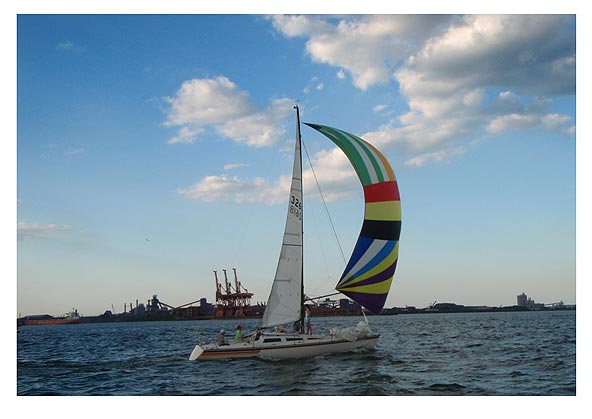 It's neat having the RCRA fleet over for this series because we see some different boats, like the Hobie 33 "Cecile Rose," with one of the most high hobie, totally-retro, chutes to ever grace a Wednesday night race.
Hobie Alter would be proud.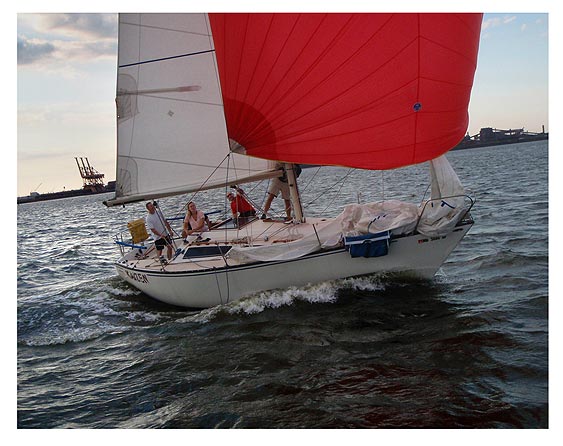 Mark Taylor's "Kaizen" romping in a puff, prior to the breeze clocking 25 degrees.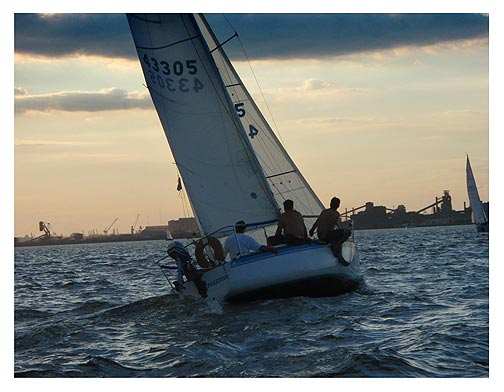 Ryan Reitz's Merit 25 "Phaedrus" on the reach to the finish line. It's night's like this when you maybe want to go around twice?
Results here later
6.26.11.....Mental Block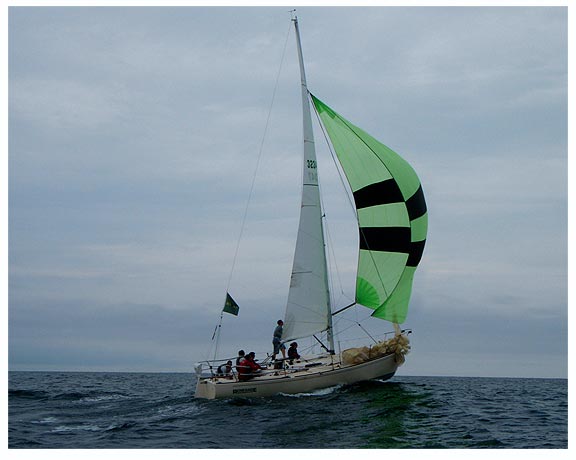 (Left: the frac-rigged J29, "Renegade," a rival in our class, PHRF 3, rises to the swell off the Atlantic beaches in the Round The Island Race.)
Block Island Race Week is a little more of a big deal than any of our Bay events (Annapolis Race "Week," or Screwpile).
There are some big boat programs you see at Block that, frankly, are a lot more serious than anything you'd ever see at the average PHRF event here, at least in terms of the resources and cash committed to the program.
Block is not a cheap place to hang: two twelve-packs of Diet Coke = $25 bucks (I know: why would anyone buy Diet Coke?)
So, given the above, it's neat that a bunch of Chesapeake bay boats go up there and compete.
This year (the Storm Trysail Club sponsors the event on odd number years) there were 14 boats from the greater Annapo-DC area that made the trip to Great Salt Pond. There were not that many podium finishes, for the "Overall Results," except in the Farr OD class (30's and 40's raced against one another with handicap ratings) and the J109 class, where "Rush" continued taking no prisoners.
We (on Ed Tracey and Tim Polk's Omega 36 "Incommunicado") were in the running all the way up to the 4th day of racing, Thursday morning , being one point out of first place. But then we hit some light spots and a string of 6th place finishes yanked our chain back to 5th place overall.
Oh well.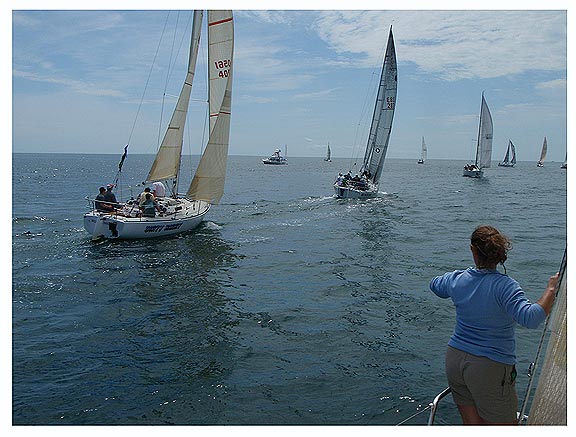 (Left, bow gal extraordinaire, Julie, at the start of Race One. We liked to throw challenges at Julie, like the whole boat knowing we were doing a Mexican but not letting Julie know until well after the halyard was smoked...bow people enjoy this kind of challenge, I'm told)
We sort of hit the skids on Day 4 with the Round The Island Race. We took the uncontested left end of the starting line and got pinned over there in light air. The light air turned into a persistant hole and we sat and watched the 1st and 3rd place boats do a horizon job on us.
Race over, man.
Even our poor performance in the RTI race did not dampen our hopes for a podium finish. But Day 5 has historically been a lackluster one for us at Block and we rattled off another couple of mid-fleet finishes.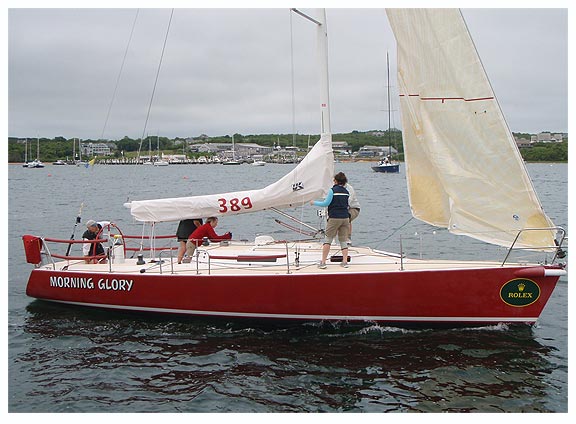 (Left, former HdG J24 guru and J22 Worlds champ [with Alec Cutler and Max Skelley and Tim Hodgkiss] Chris Crockett at the helm of the 105 "Morning Glory." These guys motored to a 4th in the 13 boat class)
Block is an interesting venue in that there are some vicious rips on the course where contrasting currents collide. Playing these tide lines is essential and personally, I don't think I ever quite grasped what was going on, exactly, at each tide line. They are hard to miss at Block, with deep color changes and a lot of white water, but the effect on boatspeeed is not always obvious.
At least, it wasn't for me.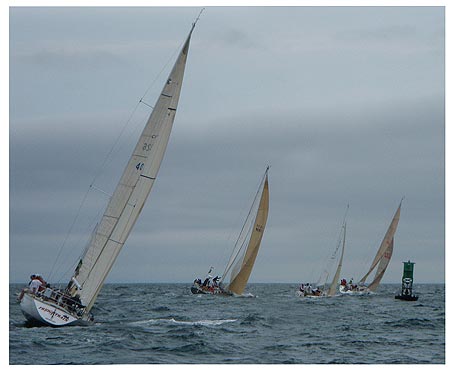 (Left, the turning mark at the north end of the island. The USNA boat is third from the mark, the Dehler DB2 is on the far right. We caught and passed the Dehler, but the 44 we were never quite able to reel in)
All-in-all, this was a totally different BIRW from what we experienced in 2009. For one thing, the sun shown for 5 days out of eight, and the temps averaged probably 20-25 degrees warmer. That was huge.
The racing was a lot closer, too...our fleet was mainly J29s and a Taylor 38 that was very well-sailed. The PHRF spread in our class was a mere 12 points, so while it wasn't exactly like-boat racing, at least the handicaps were similar.
Until a small bit of an injury interceded, I was able to see a lot more of the island and it is a very cool spot.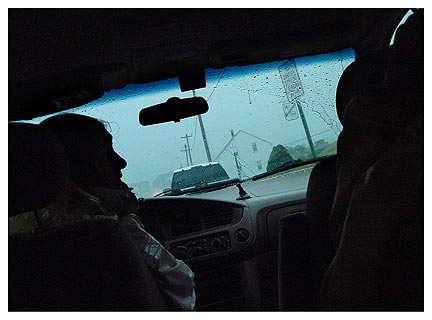 But: it is an island sitting 13 miles out in the Atlantic. The climate falls into the "Oceanic" category, and weather like the stuff pictured at left are to be expected.
Nonetheless, I'd go back in 2013 in a heartbeat.
6.11.11.....Bullet to Bullet
As reported below (5.16.11), Trevor Harney took first place in PHRF C in the Coastie Cup on his Merit 25, "Audrey."
Then, a couple weeks later, he went back out and won the Down The Bay Race, too. That's back to back wins and a pretty stunning bit of sheer endurance. They also beat all three "B" boats over the finish line.
We think it's pretty cool when small boats do events like DTB. The DTB PRHF C fleet also included a J24 and a Precision 23, but neither of them finished. This is a 123 nm race. That's a lot of miles on a 25 (or less) footer.
Here are some pix Trevor sent us and some remarks on the race. The pix, including the one above, were taken by crewmember Ridge Turner. Keep in mind these guys did the race only three-up, so I imagine there were not a lot of dull moments.
On the photo, above, (under "Bullet to Bullet")
"that was coming in towards the 1YR (York river turning mark) breeze was building w/ a full main and #3, in control but it got bad right after that. At that moment, a rain line (fookin' white out conditions) was ahead of us to starboard, just where we were heading...that was the really bad part, the only time I thought about bailing. After looking around and deciding that we couldn't see shore in any direction, might as well keep aiming for the mark, if we go down, it'll make the search easier.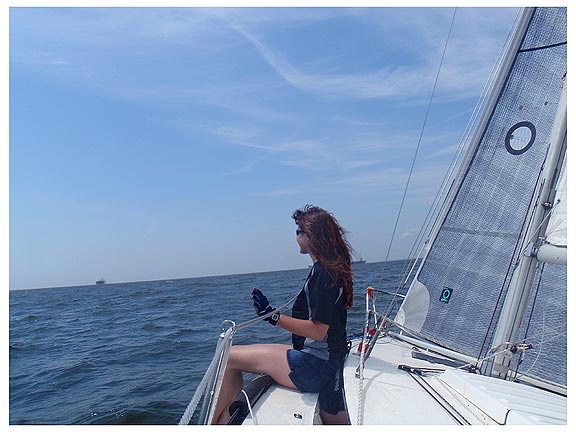 Left:
"Nikki on the rail, this was at the start, Ridge must've been taking the photo. About 11-12 kts true at that point, I'm wishing for 2 more people on the rail. Spirits were high, and we were keeping pace with the Cal 31"
Left:
"That was after the really nasty stuff (25-30 on the nose), maybe 1/2 mile from our turning mark 1YR (York river). They snagged a quick shot on the rail before changing back to the #1, seas were lumpy and the wind was dying. The rainbow was nice, I had forgotten all about that. Strange what one remembers..."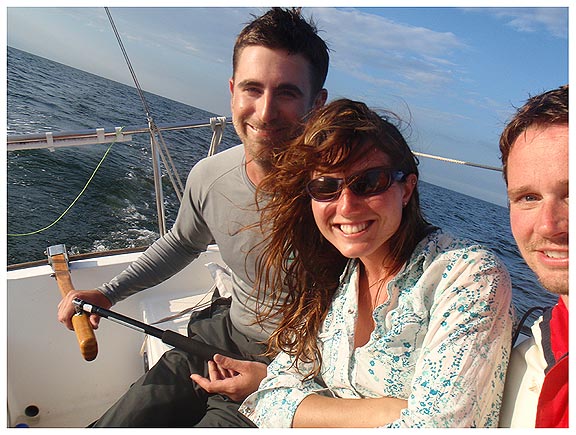 Left:
"After the squall, the wind shut down, we changed gears, headed for 1YR mark and we're fetching the finish line on a very close reach. But we weren't beating into 4-5 footers, so it was all smiles. The wind was 12-14, but speed was about 7kts and we could see land."
In tems of what worked, it's interesting because I was following a thread Trevor had started on Sailing Anarchy about the wisdom of having a Jib Top reacher made for this season. Most people said it would be a waste of money on a small boat. So, of course, Trevor bought one anyway! Wise move, here's what he answered when I asked him about the sail:
"Short answer, it depends on how many distance races you're doing. On my schedule, exactly 2/3rds of my racing was/is distance racing. The blast reacher measures in as a 150% LP and is extremely light material. Rounder cut, higher clew, and trimmed with a spin sheet, no twinger needed, Clarke McKinney was the sailmaker (Q solomons). In the light air close reaching we saw off the Power plant and fuel docks, it literally was a game changer. Would we have still won? Don't know. But we sure would not have crossed before the B boats without it. It can literally keep the boat moving very well in almost no breeze,without the fuss of trying to keep the slot open, and breeze attached like you do achute. I'm very happy. Too many people told me to get a 'new' #1 and that would've been a waste. Those guys race 1 mile at a time and beat the sails to snot. I think I'm going to like this sail even more, the more I use it. Not a huge difference, but in it's conditions it's at least 1-1.5 kts faster than the #1. And over 50+ miles, that's huge. I do wish the clew was higher, move more sail area up, but the sheeting angle would suffer. If a small boat asks me if they need one, they need to do the math. How many distance races are they actually going to do this year. And how competitive do they want to be. If they have a reaching spin, they might not need one, until the wind is light and just off the nose. It's a specific tool for a specific job, but it does that job well."
I also asked Trevor if he'd do the race a third time, after doing it 2 years in a row:
"Now that I've won, (and beat the B boats over the line) I feel like I should defend the title and my goal of making the party at HYC hasn't been met yet. So I might do it again next year, but it sure ain't the easiest race on the calendar. Both years have been hard, but we gotta get one NE'er blow for one year, and I plan on being signed up for that one."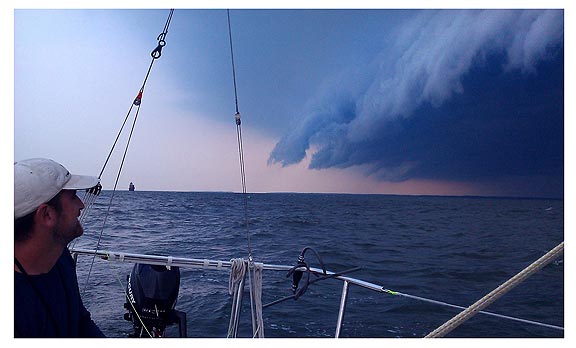 Left: of course, as luck would have it, they also got hammered on the delivery back to St. George Island! (Photo: Nate Owens)
____________________
6.10.11......Fuelish Rant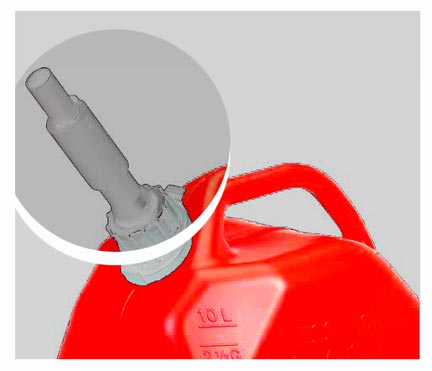 Last night, while we were getting ready to leave the dock, to do RC Duty, I got soaked in gasoline from one of these effin' things.
There's never a good time to get soaked in gasoline, but this was at a particularly inconvenient time. Let's just agree that when you are doing RC, as part of a rotating system in a club where you do it only once or twice a year, there are fewer things more hectic than getting set-up to get a race started on time. Having issues with the O/B, simultaneously, contributes enormously to the crazy, hectic vibe at the dock and the gasoline episode only added fuel to the fire, so to speak.
•
This, above, is one of the compliant "spill-proof fueling system" gas cans that environmental legislation mandates in a number of states, including Maryland. It's the very make and model of the one on board last night.
Let me say straight off, that I (and nbayracing.com) take full responsibility for any and all of our screw-ups. We do not like to blame others for our mishaps and anyone who has ever raced with me knows that I am the first to pipe up when I goof. (In fact, we were going to do another column about that very subject in the near-future)
So, the gasoline spill was ultimately my fault and my fault alone, but in a word: these no-spill fuel cans SUCK.
Here is a blurb from the company marketing these pieces of shirt:
"A new generation of jerry jugs, these special fuel containers feature a spill-proof fueling system that meets new, tough ARB regulations in CA, NY, MD, DE and PA. Those environmental regulations prohibit the sale of open, vented fuel cans within the state. Containers are made from HDPE and DuPontÂ's Selar RB Barrier resin to meet strict permeation requirements. The ECO Spout is easy to use and helps to prevent spills. Fuel flow will automatically stop when the container is full. Spout closes automatically. All ECO Fuel Can products shown have been UL-tested and approved. " (bold type added by nbayracing)
What happened was, I went below to stow 3 submarine sandwichs in the cooler. While down there, I must've bumped the P.O.S. fuel can with my backside. Doesn't matter how I bumped the fuel can, it was slight, but it was apparently enough to tip the stupid pour-spout downward. This fuel spout that "closes automatically" then poured approximately one pint of gasoline onto the settee upon which I was sitting, thereby completely soaking my shorts, underwear, butt and crotch and upper thighs in a matter of seconds.
30 seconds later, after clearing the saloon of all bags and gear that were potentially in danger of getting soaked in petrol, I stripped off my shorts and noticed that my crotch and butt were beginning to burn like the morning after a full-on habanero eating contest.
I lowered myself into the pristine waters of the marina (sarcasm intened) and had a go at rinsing the petrol off my highly irritated body parts, to the best of my ability in mixed-company and in full view of the J24 and starboat crews that were in the process of launching boats. (It was about 100 degrees at the marina, so I reckon most people just thought I had a lower than normal tolerance for hot weather)
The rest is not really neccessary to rehash, but suffice it to say:
- in a world where the average new gizmo now comes with an owner's manual the size of the Philadelphia phone book, do we really need a freaking gas can that has video seminar on how to use it?
- also: the device is hardly non-spill...while trying to fill the internal tank on a 3.5 HP O/B, the thing leaked gasoline all around the top of the tank, which then of course, dripped into the water, until someone mentioned that you have to plunk the entire spout down into the tank, which stopped the leak, but then dripped an equal amount of petrol into the lovely Susquehanna when it was withdrawn.
The bottom line is, sometimes "progress" and innovation are not particularly wonderful. I'll stick to the old-style, vented, flexxy spout cans and do a whole helluva lot less polluting, until the Nature Police swarm with one of their SWAT Teams and phalanx of gas-guzzling support vehicles to lock my sorry ass up.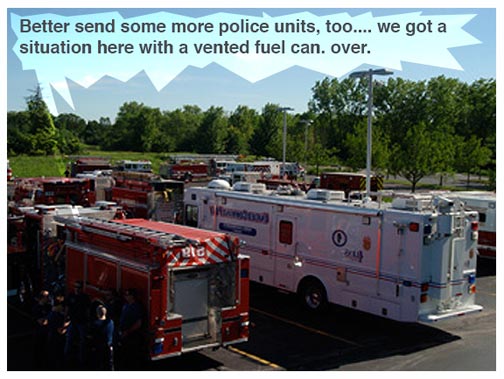 __________________
6.2.11..... Rusty Gater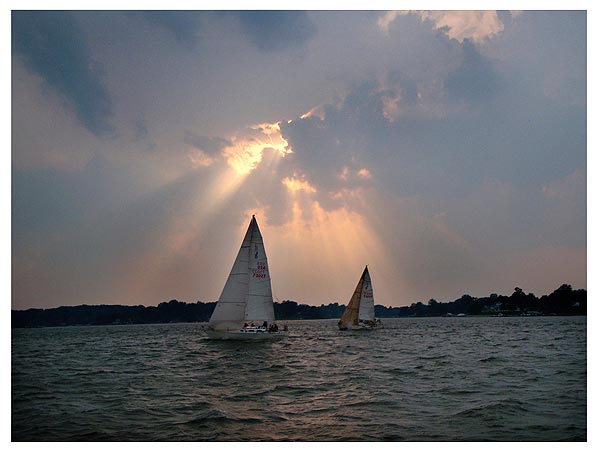 This has been a really weird season.

June 1st came and I had done a grand total of two races in 2011. In a normal year, it would be more like 20-30 races. But so it goes.

June 2nd I got a rare chance to get out of the office by 5pm and make it to Pasadena by dock time. I was psyched for Race 3 and the powerful T-storms in the area looked like they were going to slide by without affecting the Magothy too severely.

We went off in 6-8 SE and finished in approx. 12-20, SSW. The convective systems to our south gave us some nice, building outflow on the first downwind leg and I reckon it was gusting close to 25 in spots on our 2nd upwind leg. Fun!

Anyone who has ever done much racing with me knows I can be counted on for prolonged periods of mediocre performance, punctuated by brief episodes of absolute brain-deadness.

Last night I had two of the latter.

One: the bowman was tied up doing something else and I went forward to skirt. Only for some, completely inexplicable reason, I tried to get the entire skirt outside the lifelines, not inside. How many times have I skirted? Maybe a couple thousand? Maybe 4 thousand? Probably more?

Debriefing by myself, on the way home, I tried to put myself back in the mindset I was in when I this particular gaffe happened. The weird thing was: I couldn't. I had no memory of the lead-up to this episode. My only conclusion is that when called upon to "SKIRT!," I was distracted by some personal conflict that had nothing to do with the race, maybe work or family or health issues, and I was just NOT ON THE BOAT MENTALLY.
I could see the skirt was hung up on the stantions, but I could not summon up the concentration to figure out what to do about it, then dyslexia/A.D.D. kicked in and I got it backward.

Or? maybe it was all just part of the Rust.

Two: this one is a bit easier to figure. Trimming the kite, I stepped into the cockpit on centerline to get ready for the jibe, old sheet in my left hand, new sheet in my right. We jibed, I let go of the old sheet (I thought) and started trimming the new one. Only: it was still the old sheet. So, when I went to trim in after the pole was made, I was still trimming the old sheet! What's a little scary is my not having recognized the disconnect (seeing the pole strapped to the new tack and the guy hanging loose).

I went through the same solitary debriefing about this fustercluck, too, but figured this one was just rust and lack of practice and lack of crew coordination.
I hope.
But the dyslexia and A.D.D. stuff is a little frightening. I'm hoping that, when work and a host of other obligations ease up and I get more time on the water, all this will work itself out.

If not, there's always badminton.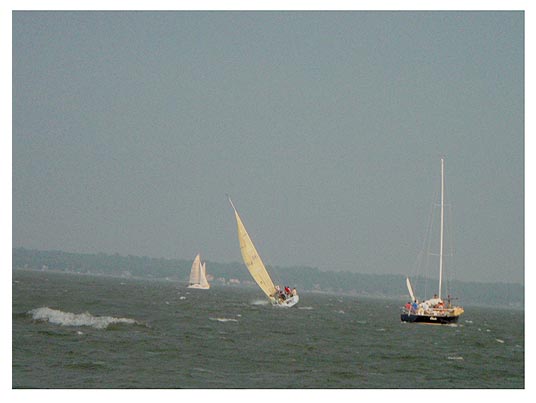 Photo, left, "Charlie" retires while a well-reefed "Chaos" takes a blast in the windy lane south of Dobbins Island.
__________________________
5.16.11...Coastie Cup Capable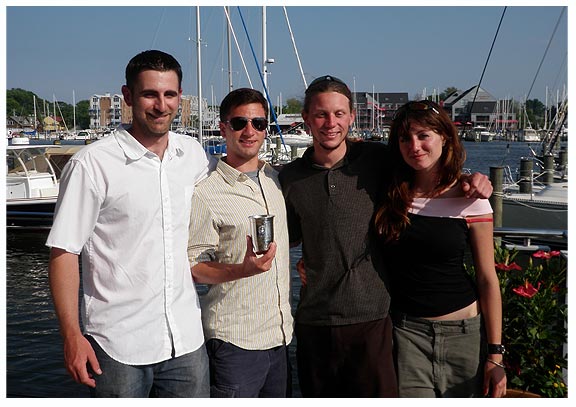 Coastie Cup (real name, "The Coast Guard FoundationThe Cup) is a new event on the CBYRA calendar, and accordingly, the inaugural event kicked off this past weekend for an overnight race to...well, someplace south somewhere, depending on what fleet you were racing in.
I had talked about doing this race a few months ago, like in February or something, but then had to bail due to work and stuff, not, as common conjecture had it, because I wimped out.
(Well, I kind of did. I had another regatta scheduled but that did not work out)
So, be that as it may, the ride I had "planned on" going with ended up winning in PHRF C/D. That would be Trevor Harney's (far left in photo) Merit 25 "Audrey."
(photo: Lori Pierelli)
--------
Trevor is making a name for himself by taking a 25 foot boat on all kinds of distance races, like Down the Bay (this year will be his second in a row) and the Coastie Cup and this year's Gov Cup. Doing the Annapolis to Bermuda Race was brought up, sorta semi-jokingly, and Trevor answered, "If A2B allowed little boats, you bet I'd planning for it." I think he means it...remember: a Merit 25 did the Transpac a number of years ago (Paul Kamen's "Twilight Zone" in 1986).
We are still planning on being aboard "Audrey" for Screwpile and Gov Cup (right Trevor?) and seriously applaud people who do audacious things in smal boats, so GO THE AUDREY!
_________________________________________________
5.16.11.......Carbon Fingerprints
While folks were out racing and enjoying themselves, the northern bay i550 got a couple of patches of carbon fiber. Any illusions I had of this stuff being easy to apply, at least in terms of cosmetics, has been shattered, crumpled up into a bitter little ball of pissed-offedness and tossed into the waste bin of amateur building blues.
On the other hand, it's only cosmetic, right?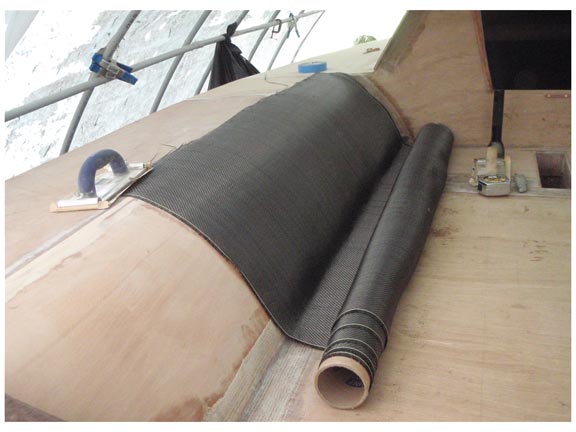 Probably shouldn't complain. I mean, it's nothing compared to what this owner is facing: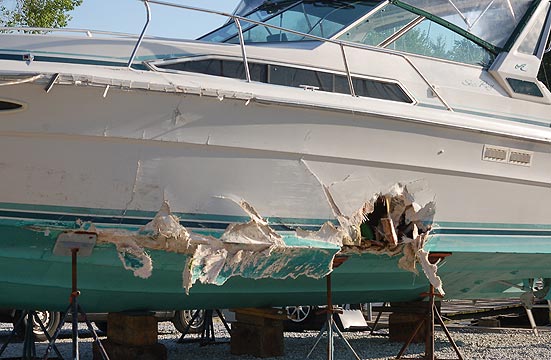 _________________________________

5.15.11.....Force Two From the Northeast

We've never had the pleasure of heading up to the NERYC, but we like what they do, a lot. They have a tremendously successful junior sailing program that took over 190 kids sailing last year. That's impressive and it's the kind of effort the sport desparately needs. Here's a blurb on their summer sailing offerings and a link to their junior-sailing program.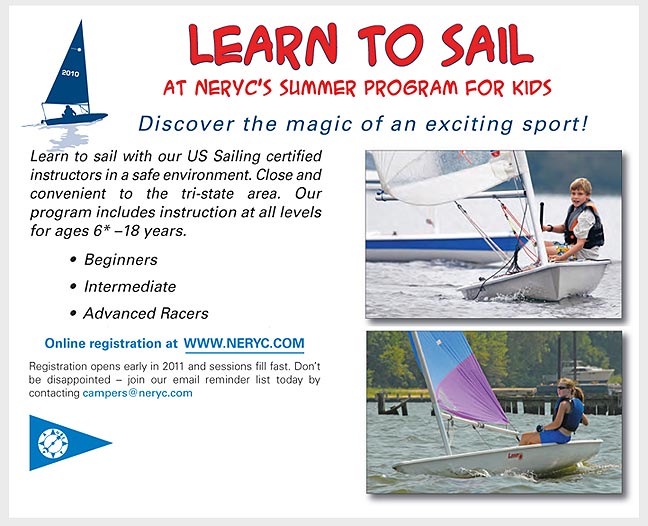 Also from NERYC: info about their Invitational Regatta on June 11: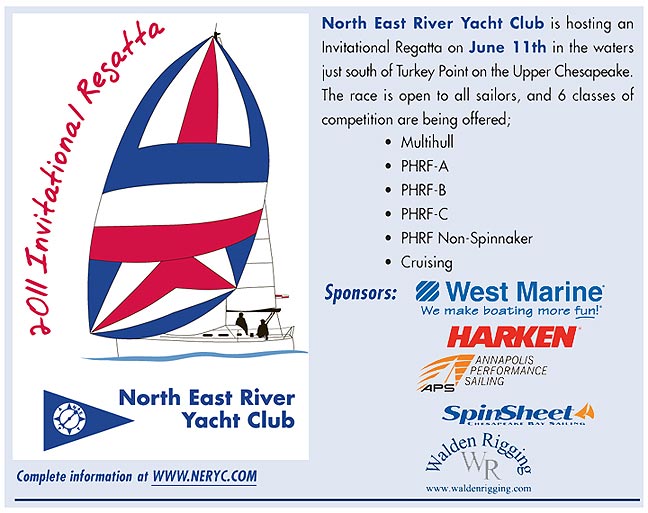 4.28.11...Shut Ins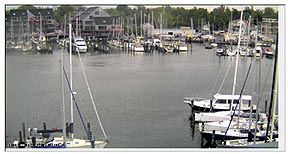 The Annapolis NOOD regatta starts tomorrow a.m.. Use the AYC webcams to check out some of the boats heading out and coming back in....if you're desk bound.
Hey, it's better than nothing.
4.28.11....Happens Every Spring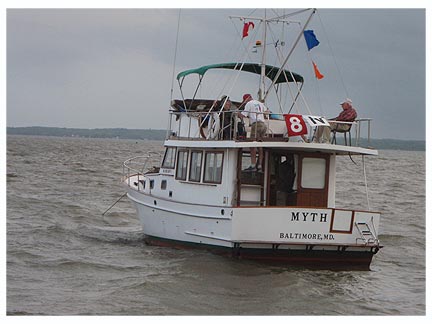 Tuesday, I got an impromptu invitation to race at NPSA on the Tartan 3000, "Cookie."
Since my MRSA wednesday night ride was running late getting back in the drink, I said, "Hell yes!"
"Cookie" was our nemesis back in the old "Direwolf" days, and I had never raced on her, so I wanted to see what makes a Tartan 3000 so fast. They had beaten us so many times back in the early 2000's it was pathetic.
The worst was when Steve & Co. trucked by us during a light air finish at the mouth of the St. Mary's River in a Gov. Cup a decade ago. We owed them an hour or so and it was downright embarassing as they rumbled by us in a dying NW'erly and finished way before we did (I think we actually bailed a little while later, started the engine and cracked beers).
So, this was going to be a hoot...only, as it turned out, Steve and Teri were not going to be aboard that night....and neither were most of the usual crew.
In fact, when we slipped the lines to head out to race, only three of us were on board. With Scot "One-T" Reynolds at the helm and Holly Bennett doing most of the trimming, I knew this was going to be a work-out in the 20-25 they were calling for.
Needless to say, it was. But we balanced the boat out pretty well with a 135 and single reefed Main, played the left side of the course all the way out to "2B," and got to the weather mark well in advance of anyone else. This was after making a bit of a hash of the start: we went off at the 1 minute gun and had to come back and restart.
Things got a bit interesting on the reach down to #8...the J105 we had passed going the opposite direction - they were very late to the line, having come down from BYCA - rounded the weather mark and set their asym. They were absolutely flying behind us, reeling us in like mad, in perfect 105 conditions, when a big squall-associated puff came in for Rodeo Time.

I hope that was an old chute, just about ready for the dumpster. It certainly is now!
The forecast for the evening was pretty accurate: Key Bridge wind data ranges from 17 to 27, with a peak gust of 31.1 knots around 1905 hrs, which is pretty much when the photos above were taken.
I think we took the bullet for the race. That would be nifty for three blokes--one who'd never been on the boat, and one who is on the boat once in a while, but not often-- to go out on a nukin' night, sail 3-up and grab a First for the owner, that works for me even if it's just a Wednesday night race.
NPSA, like most casual clubs, is sometimes a little late with the PHRF results, so we may not know for awhile, but it was a terrific first race as far as I'm concerned! Thanks to Mark Taylor and Dudley and Kenny and Dottie for going out, setting a hook set and letting us play!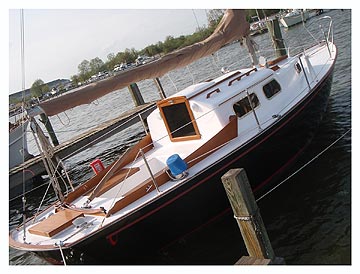 Skip Wallace's tartan 27 "Jaz" after his 2010 refit...looking absolutely bristol. Nice job, Skip!
It's neat to see a boat like this get transformed into a work of art. Not that the boat was ever in bad shape, but Skip really brought it back to showroom.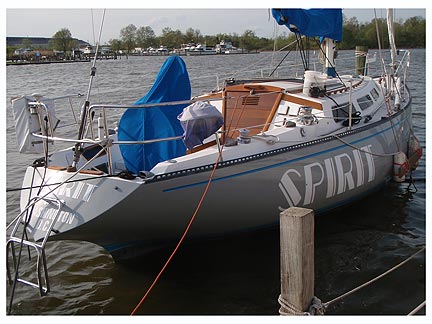 Another find at Young's is an old IOR warhorse Catalina 38.
These things have more tumblehome than a pre-war speedboat and their design looks like it has more to do with Gary Mull than Sparkman and Stephens.
It's cool to see a boat like "Spirit" at the dock, looking well-kept and happy while so many of the old IOR boats are languishing in some forgotten corner of a run-down boatyard.
All-in-all another great night at NPSA and Young's, especially.
4.19.11....Weta Than You Think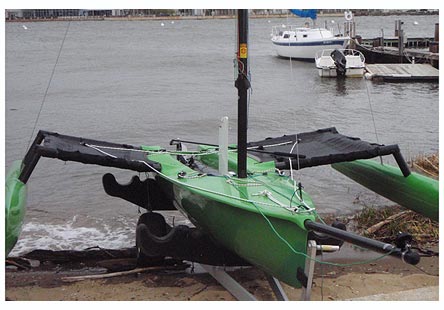 Every time I hear the name of the little trimarans, known and marketed as the Weta, I can't help but think of Tim Zimmerman's often hilarious and always entertaining website, formerly known as the Wetass Chronicles, which he has saved and archived and can be found here.
As it turns out, the Weta is probably the embodiment of what Tim Zimmerman (who is also the author of the fabulous book on multihull racing, The Race) might possibly have named as the poster boat for his old site: the boats are fast and fun and, yeah, no doubt, very wet.
But we never got to sail one in Annapolis a couple of weekends ago...the weather was too raunchy and the water too cold for anyone who might have had the misfortune to dump one of the little beasts in a 35 knot blast.
So, we watched to see how fast Jon Brit from Nor'Banks Sailing could rig one (quite fast with his assistant lending hand) and how simple the overall process is (quite simple, actually) and the only thing left to do after the sails went up in a very windy SSA parking lot was: sail one.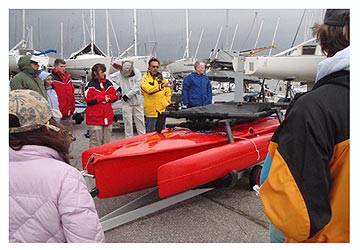 But the iPhones of the world were showing an ugly squall on its way in from Thomas Point and they decided the prudent thing would be to wait to sail another day. I had no problem with that, frankly.
But when the Opti kids went sailing by, a few minutes after the decision had been made....well, that sort of didn't help.
Didn't help much at all. (check out the waves beaking on the riprap, background)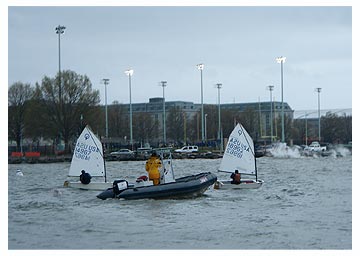 Go Opti kids!
Bottom line is: the boats look like they are a blast to sail and there is a movement to get a One Design fleet going at SSA, or anywhere else that's feasible on the Ches Bay.
If I were not building the midget sportboat, this is a boat I'd take a look at and then a second look and there probably wouldn't be any need for a third look. Jon Brit at Nor'Banks can hook you up. (link above)
4.04.11.......Get Movin' / Get off the Grass!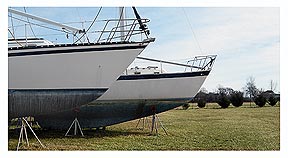 Hot chah, it's April and I hope you have less to do to get your boat in the water than I have.
The i550 build is plodding along, but some warm days over the course of the last month or so have sure helped.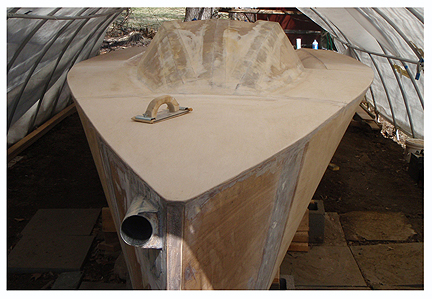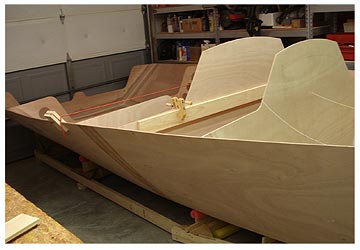 Over the winter, another i550 build has shown up on the Bay. Tim K. down in The Roads, has started his and he's making great progress (above, right) . At the rate he's going, he'll beat me!
As of today, my boat is almost completely closed up (above, left), all the decking is on and the last section of the cockpit sole is just about ready to go on.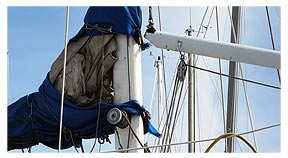 Anyway, if all you have to do is slap some bottom paint on, be happy. Something tells me this guy is going to have to do a little more than that. (photo: G.F.Cerrone)
________________________
3.01.11....... Above the Bridge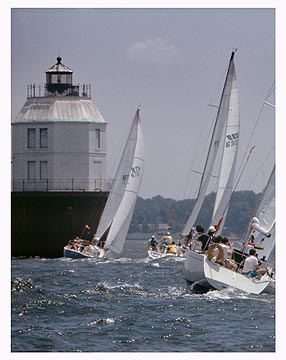 No one contributes more to this site than Tom Price of MRSA, and he sent us this about a new race on the Upper Bay:
"On the weekend of May 21-22, the new and improved GIYS/ SCC race (which replaces the nearly moribund Love Point, Swan Point Race) will start off Annapolis and finish near the Magothy entrance.
A great party at the Gibson Island Boathouse is planned, after the Saturday race, and on Sunday, MRSA will have their Spring series on the river, counting as two more high point scores! (three races in a weekend, all counting!)"
This is a cool idea and let's face it, how often do you get a chance to transit the waters beneath the William Preston Lane, Jr. Memorial Bridge in a sailboat race?
Put this one on your calendar. We hope to see you out there! And thanks to Tom for the heads-up.
(Photo, left, from the late 80's, when there were a lot of cruising boats involved in bay races)
AND, below the Bridge (and maybe above it, also, depending on how the wind blows):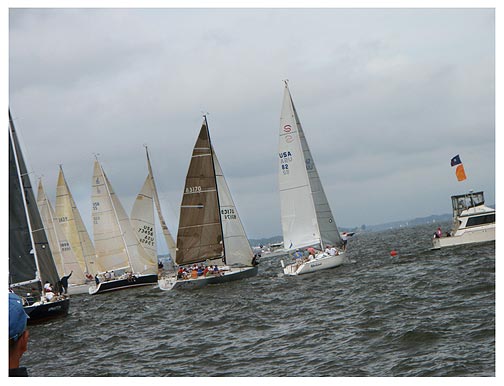 OK, we like this one, too. The weekend before the race above, the Annapolis Yacht Club is hosting the first ever Coast Guard Foundation Cup.
This one starts off Annapolis on Saturday, May 14th and it's an overnight distance race! The NOR is publlished (here) and it's interesting in its lack of course info.
Reportedly, the RC is waiting for a time closer to Race Day (and the forecast) to determine the direction in which to send folks off!
Quote from the "final" NOR: "This will be a distance race. Courses for the race will be as shown in the AYC Event Sailing Instructions and will be designed to provide 24 - 30 hours of racing."
Wooo-HOOO!
Clearly someone is thinking creatively with regard to breathing some new life into a bay racing sked that has become a little too predictable.
These two are a great start and we are psyched to see them on the schedule. Now it's up to all of us to show up!
3.01.11.....Clean yer Bilges, Baby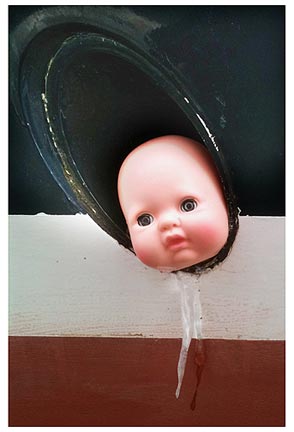 Here's a clever item that came to our attention recently!
They are called "Bilge Babies," and, supposedly, they are to be inserted in your thru-hulls during the winter to keep things from freezing up, while, simultaneously, slowly leaching a non-corrosive solvent into the nether-regions down there to "clean things up, de-odorize it, and generally make things a lot sweeter in the bilge."
We have no idea how they work, but we keep hearing good things about them.
Here is the link. Keep pressing, sometimes it takes a while to get through to the folks who are marketing these amazing devices.
Keep pressing.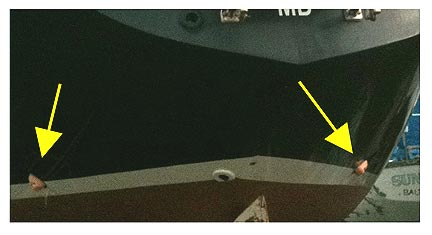 (photos: courtesy Terry Boram)
2.17.11....Gov Cup Changes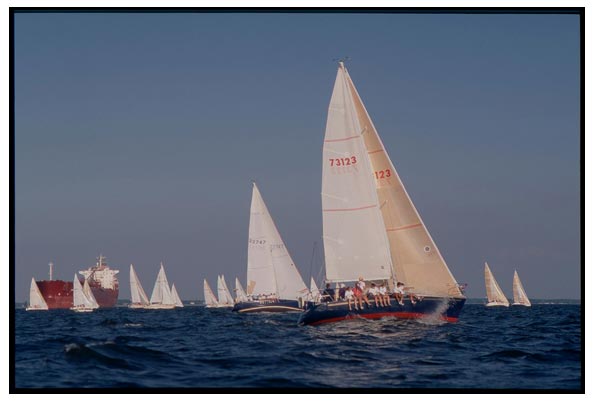 In repsonse to the missive from SMCM's President about how the college lost a few bucks last year and how they were in process of analyzing the viability of future races, a bunch of concerned folks met to come up with some ideas on how to resurrect this early August classic.
We think the ideas that came out of the meeting are terrific. You can see them in Terry Boram's Examiner article here, or go to the SMCM website and read about them here.
Here's a shot (left) of a PHRF start (looks like "B") about 20 years ago.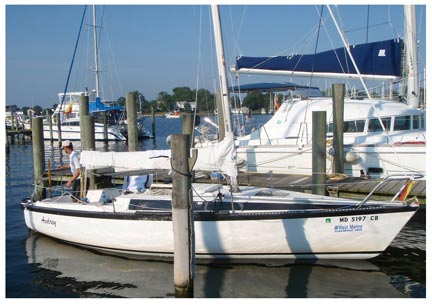 We hope the new ideas restore some interest in doing this race.
We certainly will be going. This year I am throwing judgement and comfort out the window and going on Trevor Harney's Merit 25, "Audrey." I like small boats and knowing Trevor, we will never go into "coast" mode, it'll be full-on pedal to the metal all the way.
If you've got a Merit or a J24 (with a PHRF rating) or a Kirby 25 or a Tanzer 25, think about battling it out with us next August.
Otherwise, line up your ride for the event in the next few months and help breathe some new life into The Gov Cup.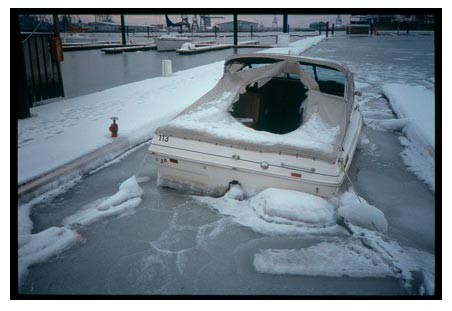 And if you go, and get stuck at the mouth of the St. Mary's River at 8 a.m., with no breeze and a foul current, remember: things could be worse.
________________
2.3.11....Mythology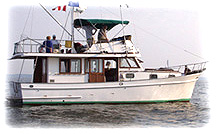 A Fifth of "Myth" is now available!
If you are interested in buying into the Myth, contact me (above) or NPSA. "Myth" is a great boat and can usually be seen off Old Road Bay every Wednesday night from late April through late September. A one-fifth share is now up for grabs and the benefits of partial ownership are terrific.
_________________________________
1.25.11......What is This Guy Thinking?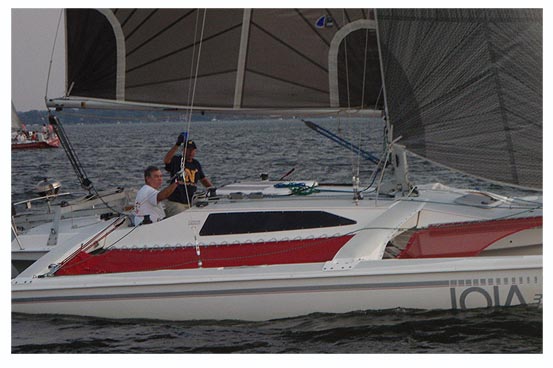 Russ Wesdyk (dark shirt and hat, at left, on his Corsair F27) is trying to get a new multihull OD class established on the Bay.
He is testing the waters about the boat Sailing World named their 2010 Dinghy of the Year, the Weta.
The Weta looks like a very cool little multi, and at a price point well below 15K, it should definitely interest some of those people who have been looking at other racing options besides their aging, slow, cruising boats that bore the crap out of their kids and virtually never get used for cruising.
So this could be a neat addition to racing on the bay...we hope people contact Russ and check out the potential for this fleet....we think it could be a winner. You can get ahold of Russ is at: wesdykl AT hotmail DOT com
And while we are on the sportboat topic, here are some 2010 regatta numbers that examine the trend toward quick little fast boaties:
This is a direct quote from SA's Alan Block, who follows these kinds of things....
"Miami: Dead
KW: Down more than 50% in three years (mostly small boats)
Larchmont NOOD: Gone
Houston NOOD: Gone
Marblehead NOOD (lots of small boats): Holding steady
CRW (lots of sportboats): Up 90% in five years
HPDO (all high perf): From nothing to 150 boats in four years
SA ISAF: Nothing to 80 boats in two years.
ILYA Bay Week: 70 to 150 boats, three years
Youngstown levels: Healthy and strong, mostly small boats
WIRW: Healthy and strong, mostly small boats
BBR: Healthy and strong, mostly small boats
Bacardi Sailing Week: One Class to five in three years - all small boats"
Of course, I do have my own agenda, here on nbayracing.com, as the small boat build goes forward (below):
"Small boats around buoys, big boats around islands:" a backyard built i550, in Decmenber, and a brand new one, ready to sail, at the Portland Boat Show, recently.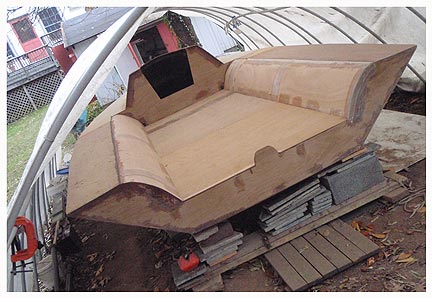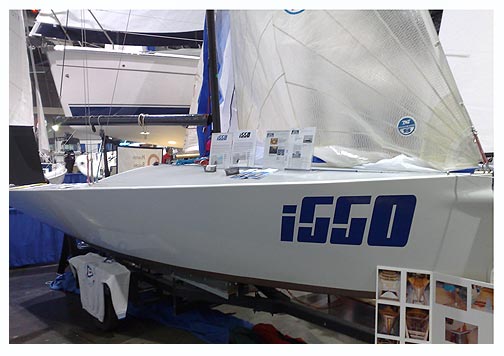 ____________________
1.25.11.....18 FOOTERS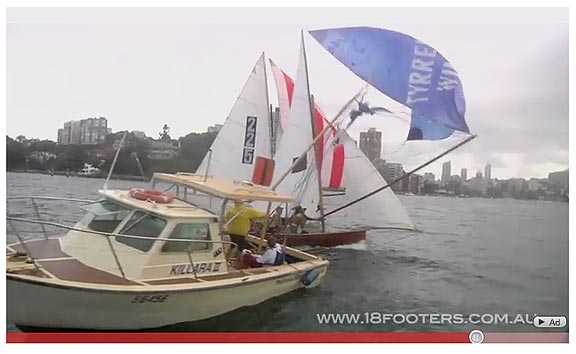 January, here at latitude 39.4 is a great time to live vicariously through Aussie websites, and one our favorites is the 18 Footers site.
They have tons of video and some interesting stuff to read. One is the history of the 18 footer in Oz. What's even more amazing is watching these things in action (yes, they still race them). We think our log canoes are tricky, check out the lengths of the prods on these boats. Watch the video to the end, as there's some excellent carnage involving an RC boat after 4:00 min.. Hilarious! And Bob Killick is, by far, the best sailing commentator on the planet.
12.12.10...Gov Cup in Serious Jep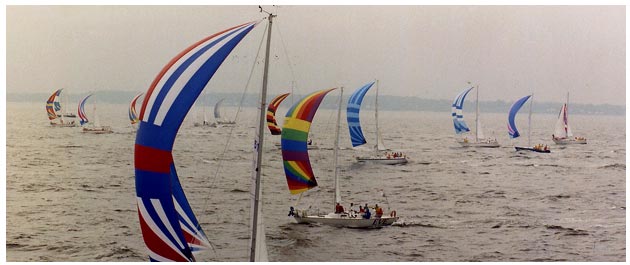 Looks like St. Mary's College of Maryland took a bit of a beating last summer from the Gov's Cup. To the tune of $18,000. So the college is thinking of axing it, after 2011.
This thread on SA did a decent job of getting the word out and maybe a great turnout next summer will breathe some new life into the event.
I'd hate to see this race disappear even though I haven't done it in awhile (scheduling and health issues...I usually had a ride lined up but have had to bail WAY too often).
(photo from Terry Reese and I am not sure from where it came, maybe the Raley family archive?)
I'm pretty clueless as to why it would take 72 grand to put on a race like this, but I don't think it would take a rocket scientist to knock 20 grand off this event's expenses. For one thing, cut out the dinner and just sell some barbequed grilled stuff at the event for a reasonable price. And at a better profit margin.
Anyway...give some thought to doing the Gov's Cup next summer, especially if you haven't done it in awhile. I know it can be a huge excercise in frustration, but the pain relief after finishing can be a blast and every now and then conditions for the trip down the bay can be dynamite!
-----------------------
12.8.10....nbayracing has been dormant for awhile but: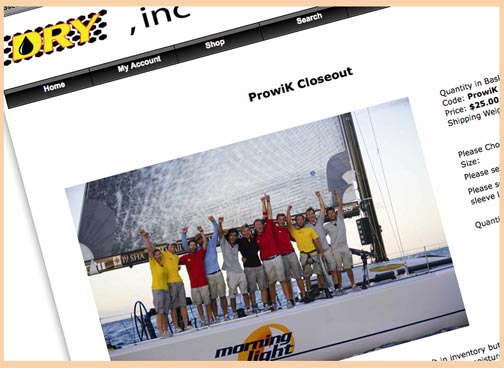 Great deal for Holiday Gifts:
Dry, inc is having a blow-out sale on ProwiK shirts...25 bux a pop. Go on line and order a bunch before they disappear....these shirts will no longer be produced and anyone who's ever worn one should be bummed. Anyone who doesn't own one is deprived. Or depraved.
Order a few or a bunch while you can!