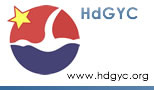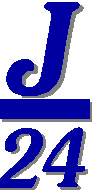 LINKS above to: wind forecasts......baltimore city yacht assoc....ches bay yacht racing assoc....weather...thomas pt.....DNR tides....HdG results...j24classOrg
(page2) EMAIL CONTACT: webwolf@nbayracing.com
nbayracing.com 2006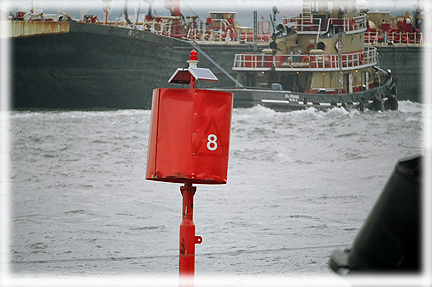 Link here to NBAYRACING 2005 pages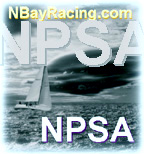 Link to NPSA's website

link to NPSA 2004 stuff
With Penwood 12 rounded, two non-spin boats head back to finish at "Myth.
Naptown NOOD....3 days of decent wind off the Severn. No lie.
I was beginning to think it wasn't possible, considering the DriftFests of the last few years. Factor in a big gradient breeze from the top half of the compass rose, and you know you're in for at least a day of slatting around and pulling the ground tackle out of mothballs. Yet, amazingly, the breeze never relented. Apparently the VOR boats found it soft on Saturday, up there above the bridge, but we never saw less than 6-8 all day, that day, and we saw a lot more on Friday and Sunday.
A report said that Conawingo had the gates full open all week long, which translates into 90,000 gallons per second flushing out the Bay. That undoubtedly accounted for the firehose that was blasting south all day long for the entire 3 days. We were definitely underestimating how fierce the southward set was, as in the first race, day one, we hit 2 of the first 3 racing marks and decided to retire with a DNF. Getting swept into marks is not fast.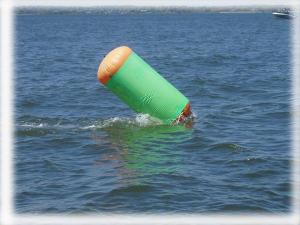 Believe it or not, "Bruce," the shark from "Jaws" is not attached, below the waterline. For a while, there was a 12-16 inch rooster tail off this puppy, so in this picture it's really in resting mode.
But it was a terrific event and a great time...hey, 3 days in a row on the water, with bright sunshine and a full cooler in April? Geddoutta here.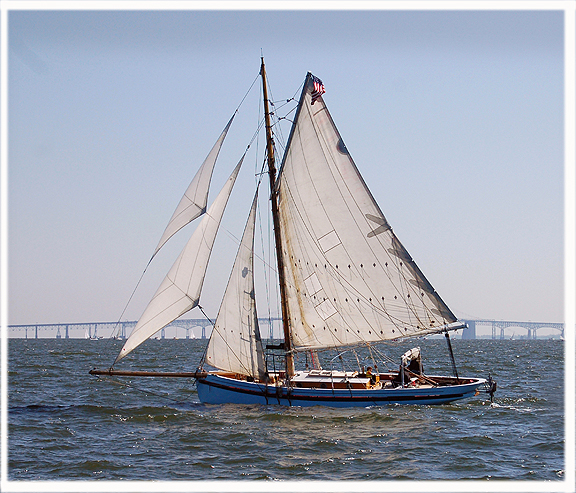 A gaff-rigged cutter romps in the morning breeze off Greenbury Point. Someone let me know if this is a Lyle Hess design and what the boat is.
Naptown NOOD continued....Please let up on the 105's dept?
but...how can you, when these guys go begging for it? We saw this 105 on her way in Saturday afternoon. Something about this is just...so wrong.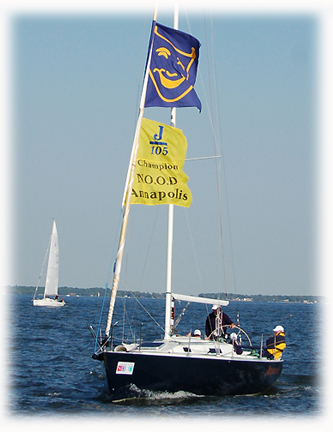 Not hugely into restraint and humility, I reckon.
And don't let anyone tell you a 105 will not do 12 kn in 10kns of breeze. Here's photographic evidence.
Naptown NOOD continued...and dont start in on the 99's
This C&C 99 must've been in a world of pain when it wrapped its chute around the bow of the RC when finishing a race on Day 2. Imagine having 85-90 boats full of ramped up sailors circling while you try to gracefully remove a few dozen square yards of Airx from the RC's anchor roller. What fun!
oh, but by the grace of god...
Naptown NOOD continued...
let there be no doubt. The guys that get the boat to the event deserve the red hats. Here Charlie Rouse, Doug Thomas and our resident rigger for the event, Jim "Who-saved-our-butts by performing emergency repairs underway on the way down," get the lurid Mt. Gay caplets for putting in the extra time and effort, in an official "Giving of the Gifts" ceremony aboad J35 Scot-free. Thanks guys.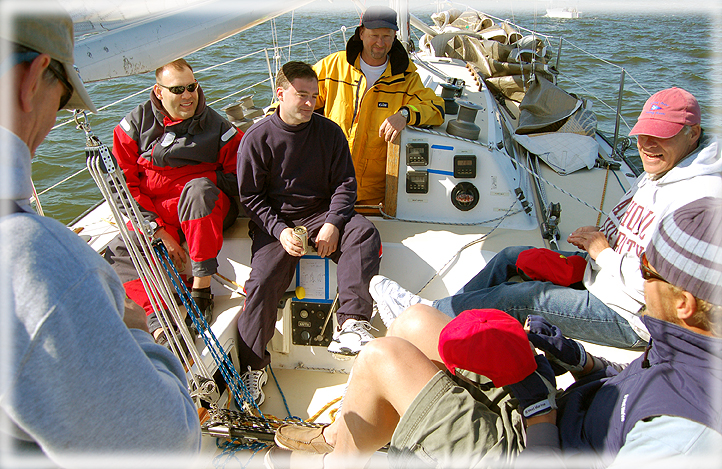 ________________________________________________________________________________
Lonely Guy...
I must be the only sailor west of the Ohio who did not get within 10 miles of the VOR boats while they were in Balto/Annap. Pathetic. I really wanted to, but life conspired to not let me. I got lots of pix and stories from everyone I know and some I really dont know at all.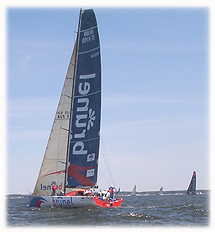 A rare glimpse of Brunel actually on the water. (Photo credit: someone I know but cant remember who, great, thanks)

And the one above, from Garry Cerrone...apparently the tug operator on his way out the Brewerton wanted a better view of the VOR scene and ordered the crew "down in front!"
_________________________________________________________________________________
4/27/06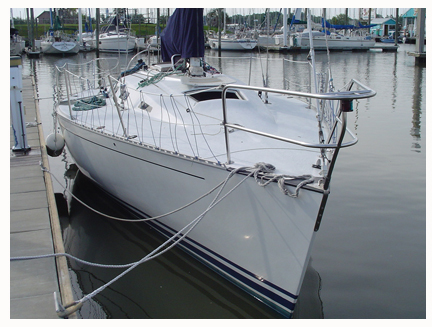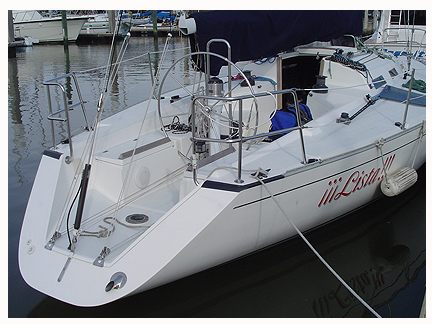 Unsubstantiated Rumors Dept.
Word has it from Galveston Bay this gleaming Schock 35 is on it's way to the Patapsco, to "replace" (bad word choice...you can't really "replace" any boat...too many memories, too many good times, etc.) another Schock 35 shown on this page recently. If this rumor were true, the new owner would look something like this: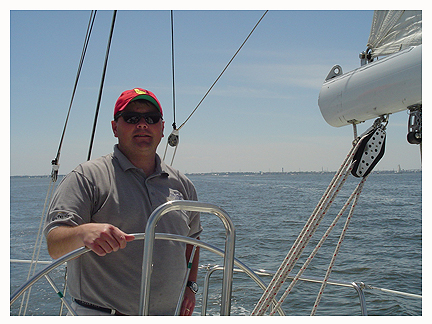 Big congrats to Paul & crew after the early season incident at Oak Harbor a few weeks ago.
____________________________________________________________________________________
4/21/06
MOB BET!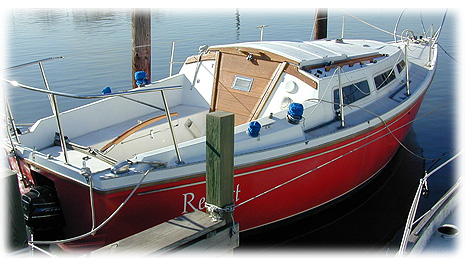 On the left is a Catalina27. Could you climb aboard one, if you fell overboard and the boat were left unattended, under sail? I'm betting I can.
Sometime when the water temps tweak up into the 70's, I'll "fall" overboard and grab a trailing line, pull myself back to the boat and try to make it on board.
$50 says I can. If Iose, the proceeds go to the Leukemia & Lymphoma Soc. If I can't do it, same thing, L&L Soc. wins the money, only someone in Oregon donates it. This is going to be on video, so make sure your media players are up to speed. We'll put the video up front & center, but it might be a good idea to turn the sound down around the kids or at work. I tend to cuss a lot when I'm frustrated and bruised and pissed off at myself.
_______________________________________________________________________________________
4/19/06
MOB...ya BETTER!
I dont mean to be a pain in the ass, but when's the last time you performed an MOB drill? Probably more recently than we have, but the point is: it's late April...make an effort to have you and your crew do an MOB drill before early May. Someone's life may depend on it. You can alway use a genoa bag filled with PFD's if the water is too cold.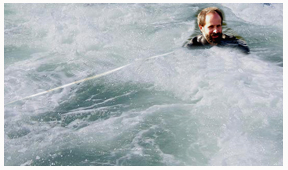 Did I just hear someone say, "cut the rope?"
____________________________________________________________________________
4/17/06
MASSIVE PROPS!!! to WJZ TV13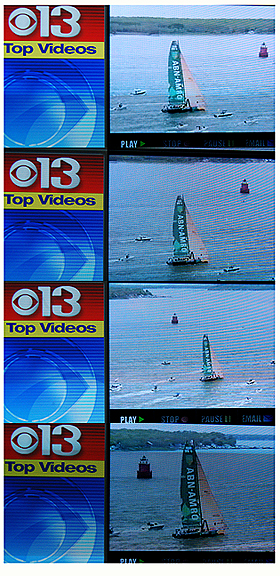 No one in our local news media seemed to give much of a hoot about sailboat racing until WJZ TV stepped up to the plate today.
They covered about 6 continuous hours of the VOR finish (minus a couple of timeouts for helo refuelling) with on-line LIVE video streaming at WJZ.com. Outstanding! It was so super that I actually advised people who were watching it from the water to go home and fire up their broadband connections.
Capt. Mike in the helicopter did yeoman's duty (and was actually overheard saying from the cockpit, after six hours of flying, narrating and shooting the finish) "I can't wat to get out of this helicopter." No one could blame him and there are folks from Balto to Bangkok thanking him for being on-station so long. The word got out on Sailing Anarchy that the video was streaming live and participating in the watching and on-line commentary were people in Dublin and Holland and Thailand. It truly is a global village when local media step up and take the initiative to cover, what is, let's face it, a pretty obscure sport with the dedication and professionalism WJZ exhibited. The Sailing Anarchy thread, on the VOR's heading up the bay, had almost 10,000 hits
Hat's off to JZ and I think it's safe to say they've won over a few new viewers. Watch JZ news and support their advertizers! I know I'm going to.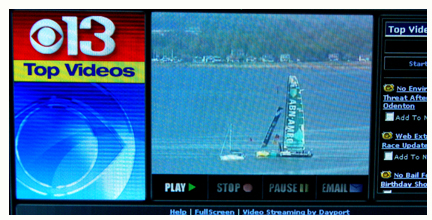 AMRO 1 rounds some familiar NPSA race marks.
all images taken from LIVE WJZ streaming videocasts on 4/17/06.
____________________________________________________________________________________
4/10/06
SWEET SOLE MUSIC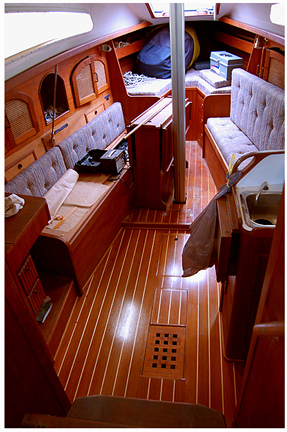 Good bud and "Dire Wolf" first mate, Garry Cerrone, just wrapped up this T&Holly sole on an Aloha 30. Pretty sweet, huh? What a slick interior on this little performance cruiser, open and bright and nicely appointed.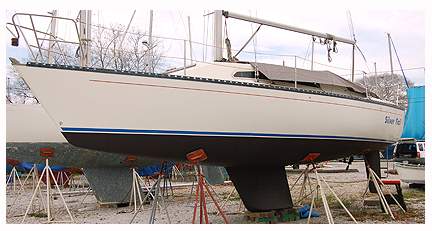 Garry does some excellent work. You can reach him at: gcerrone@gcdesigngroup.com

Falling off a yatchett in the boatyard is another way to get Garry's attention!

_______________________________________________________________________________________
april 7, 2006
oh, OUCH!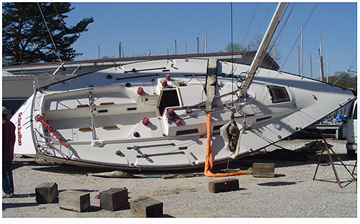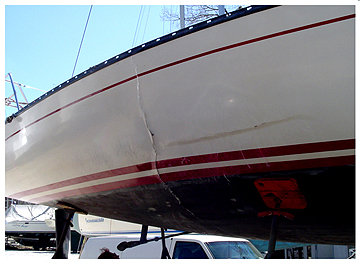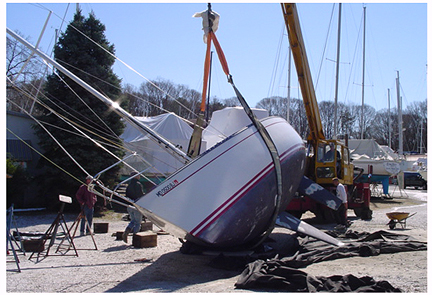 Go back and look at the wind data for Monday April 3rd, around 1900 hrs., Key Bridge and Thomas Pt.. I think the peak gust might have been 28 kn. So, you might ask, why is this perfectly good Schock 35, "Schockaroo," lying on it's beam in the boatyard the next morning? Good question.
This is damn shame. The owner had the boat in great shape, with lots of improvements including a brand new class legal fin keel and some strengthening at the stem after a run-in with some wanker in an Evelyn a couple seasons back. Even had a new #1 Ullman on the way! And just before the season starts, too.
This is just bad. This is just so wrong. The boat is a total loss.
_________________________________________________________________________________________
NEW FEATURE DEPT.
WHAT THE HELL WERE THEY THINKING?
Look, I've done as much dumb stuff as anyone, while messing around on the water. I freely admit that. So, I really should be a bit more generous. But there are some things about which you just can't stay quiet. Some things are so stupid, so offensive, that they deserve to be brought to America's collective attention. So, in that vane, we bring you our first installment of WHAT THE HELL WERE THEY THINKING? Oh, and I apologize, in advance, if your boat shows up here one day.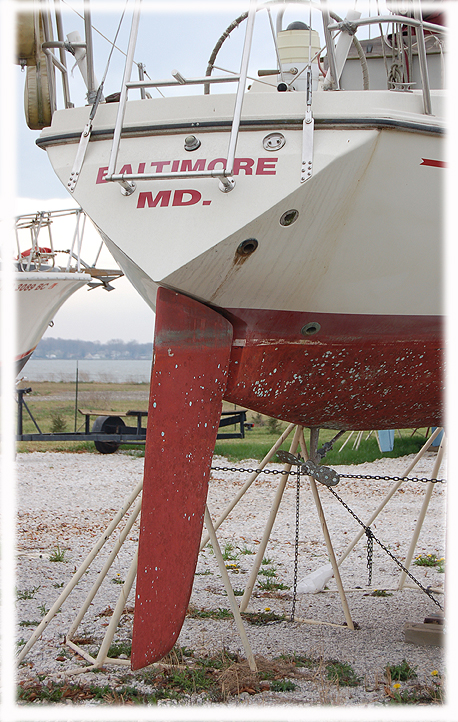 Some truely ungodly crap came out of the IOR days, but this one takes the cake. I like the way the rust from a mild steel connector is dripping down to accentuate what is far and away the most hideous stern treatment ever designed. I haven't taken the time to research who came up with this abomination, maybe someone will write in. Then, we can contact them and ask, "What the HELL were you thinking?"
CONTRIBUTE! (material, not money). Take a shot of some maritime abortion, email it to me and if it's decent and gets posted,I'll send you a groovy nbayracing.com T-shirt.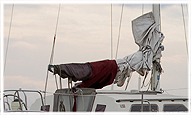 Let me know if I'm piling on here, but this is the same boat's main. Purely coincidental, I am sure.
________________________________________________________________________________
april 1, 2006...
Christo Wraps in Edgemere for the VOR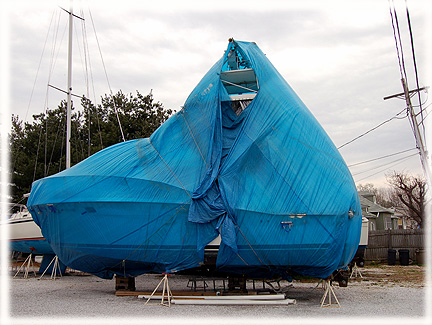 The artist Christo, or more accurately, the artists Christo and Jeanne-Claude (Christo always refers to his projects as collaborations with his wife) was invited to commission a new work somewhere along the Pataspco as a part of the area's welcome to the VOR boats.
For those of you from another planet, Christo is an internationally known artist, famous for grand scale envrionmental artworks, such as surrounding Florida islands and wrapping the Reichstag.
For the Baltimore VOR project, Christo (and Jeanne-Claude) choose to wrap a large sportfisher in traditional blue tarp. Christo, speaking from his sumptuous NY studio, said, "Of course, we wanted to stick to a nautical theme, using traditional colors and materials. This large sportfishing boat is, in itself, a statement on the coming world energy crisis and how some recreational activities that frivolously waste limited fossil fuel resources, further hastens the coming of this impending crisis. We thought it was an appropriate counterpoint to the beauty of sailing, which, in comparison, uses almost no fossil fuel resources and also contributes to the overall beauty of our planet,especially with those wonderful Big-Pretty sails, which I believe they use when the wind is behind them...I'm not much of a sailor, as you can imagine."
We at nbayracing are totally on-board with Christo's powerboat critique!
Rock on, Christo!!
_____________________________________________________________________________
say BUB BYE...
My friend and fellow Bay Boyz syndicate racer, Terry Reese, took this shot of his just sold Evelyn 32-2 leaving town for warmer climes. The boat is being raced where there are pink hotels and the views are a lot nicer, down near South Beach.
Having "Jammin'" leave makes "DIre Wolf" the only actively campaigned E 32-2 north of Solomons. It also means the fierce competition that once existed in a PHRF A2 between these two lite air speedsters is a thing of the past. (Okay, we only raced a few times, at Screwpile and it was a battle for 8th place, but...)
The crew of "Dire Wolf" sends a hearty ADIOUS amigo! to "Jammin'" and we hope she finds a lot of lite air and flat water down there off Biscayne Blvd.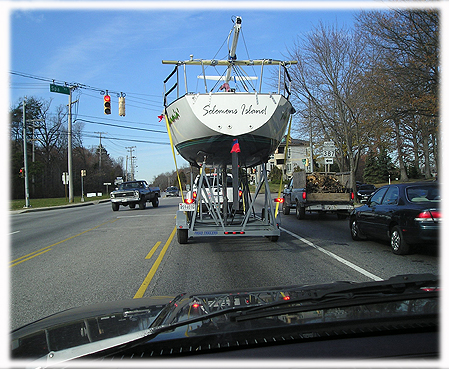 _____________________________________________________________________________________________
HEYcheer up...there's a ton of neat stuff coming up for we who sail in the Upper Bay...try to stay optimistic! Yeah, the weather's been crappy, but it's starting to come around.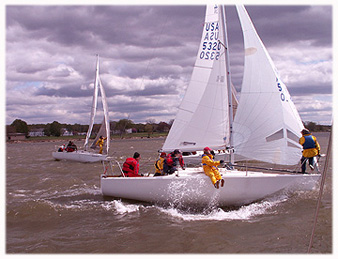 J24 Thursday nites start at HdG later this month.
(photo: HdG RC folks)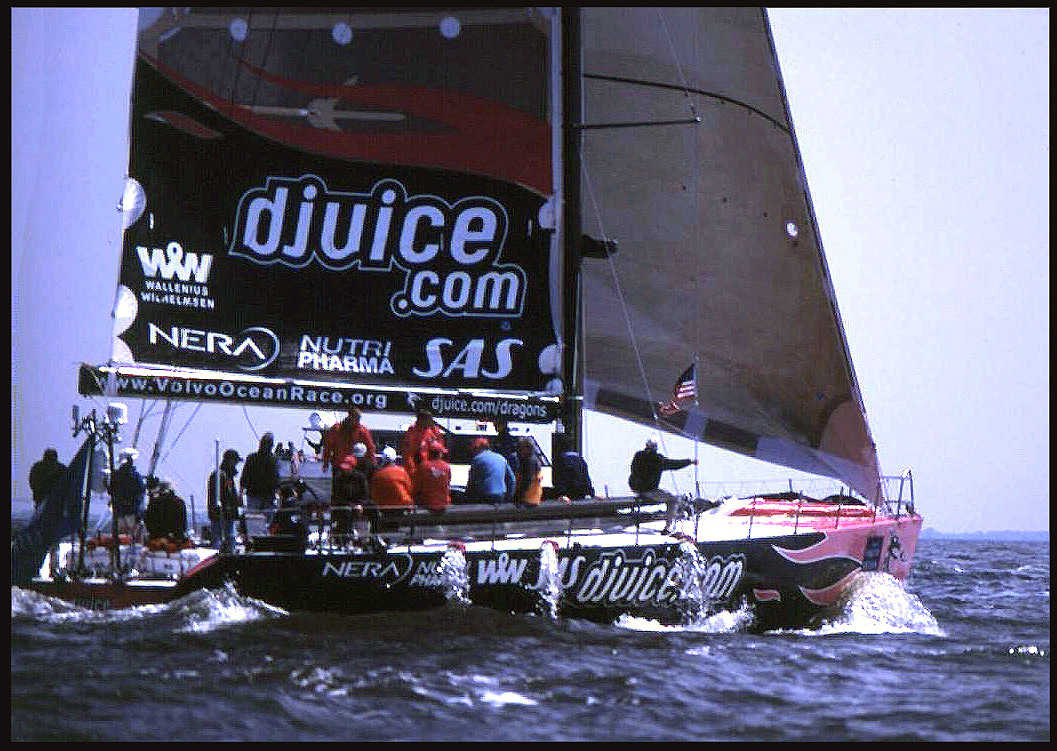 VORs come up and finish at Baltimore Light around April 16 to April 18. Here's a nifty .pdf file that pretty much summarizes all the VOR stuff you might be interested in. File courtesy of Mr.Squirrel, and the Sailing Anarchy Forum! (thanks Squirrel)
(photo from 2002 VOR. Djuice Dragon off Bodkin Pt.,blowing a little ballast...photo webwolf)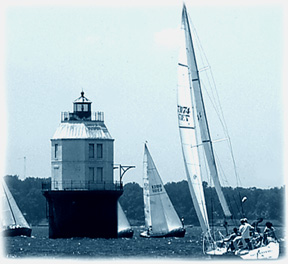 canters finish up here, but going the other direction in mid April. Be there.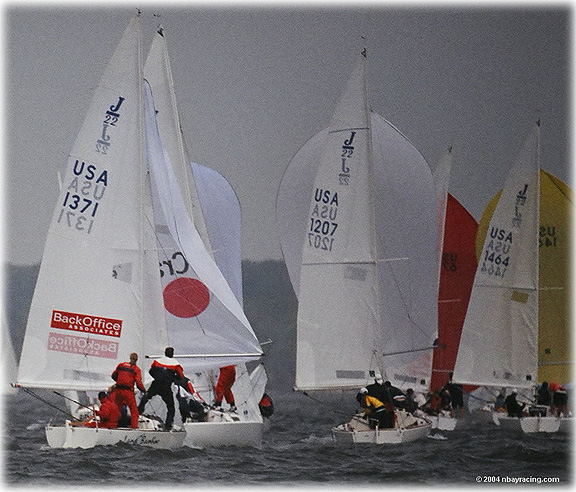 Naptown NOOD regatta at the end of the month. It isn't April yet and over 100 boats have signed up. Competing in the Annapolis NOOD is a great way to start the season. If you have a one-design boat and you aren't bringing it down you have a serious, serious lapse of judgement going on.
(photo: J22 Fleet, NOOD '04. click for a look at the entries so far)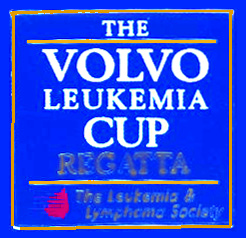 The always fun Wine Tasting and General Sailing Chat-em-up at the Museum of Industry with Gary Jobson and stuff. April 6 th! Eat, drink, see old buds and contribute to a great cause. Here's a link.
______________________________________________________________________________________________
where we sail (at)...
This is a shot of Old Road Bay and the lower Craighill Angle range light. (It's a good to keep this structure on the starboard beam when entering Old Road Bay). If you race at NPSA the days are starting to dwindle as far as getting your ride prepped. Undoubtedly, I'll see you at the boatyard in the next few weeks!
A seascape you learn to love!
______________________________________________________________________________
3/30/06
IS THIS REALLY...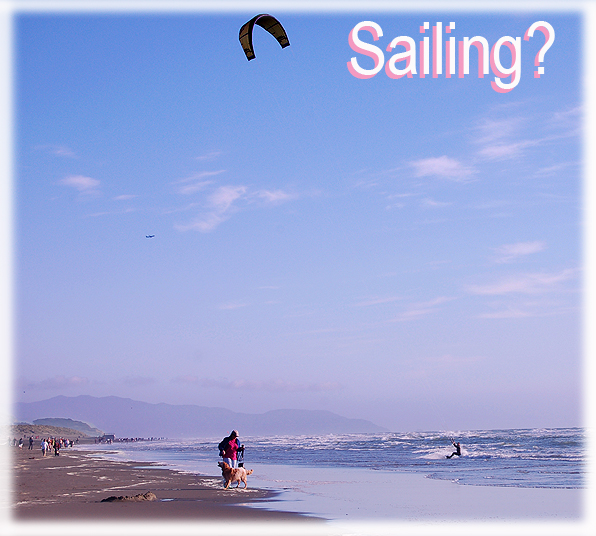 who cares...it looks like a blast! This is out at the end of Fulton Street., where Sunset runs into the sea (San Franscisco). This was in mid-March. It was not warm and to tell you the truth, as much fun as these peeps were having, I couldn't see wading into 52 degree water even in a wet suit. Oh, and the wet suit also has a whole lot of weight strapped to it, I'm assuming to make sure the Kite Sailors come down on the beach instead of Twin Peaks.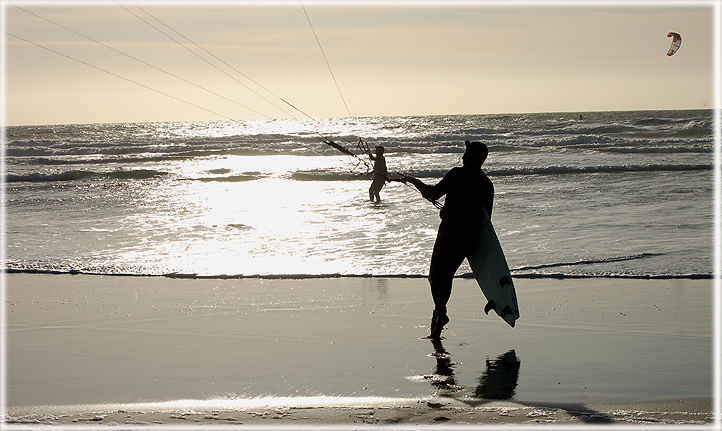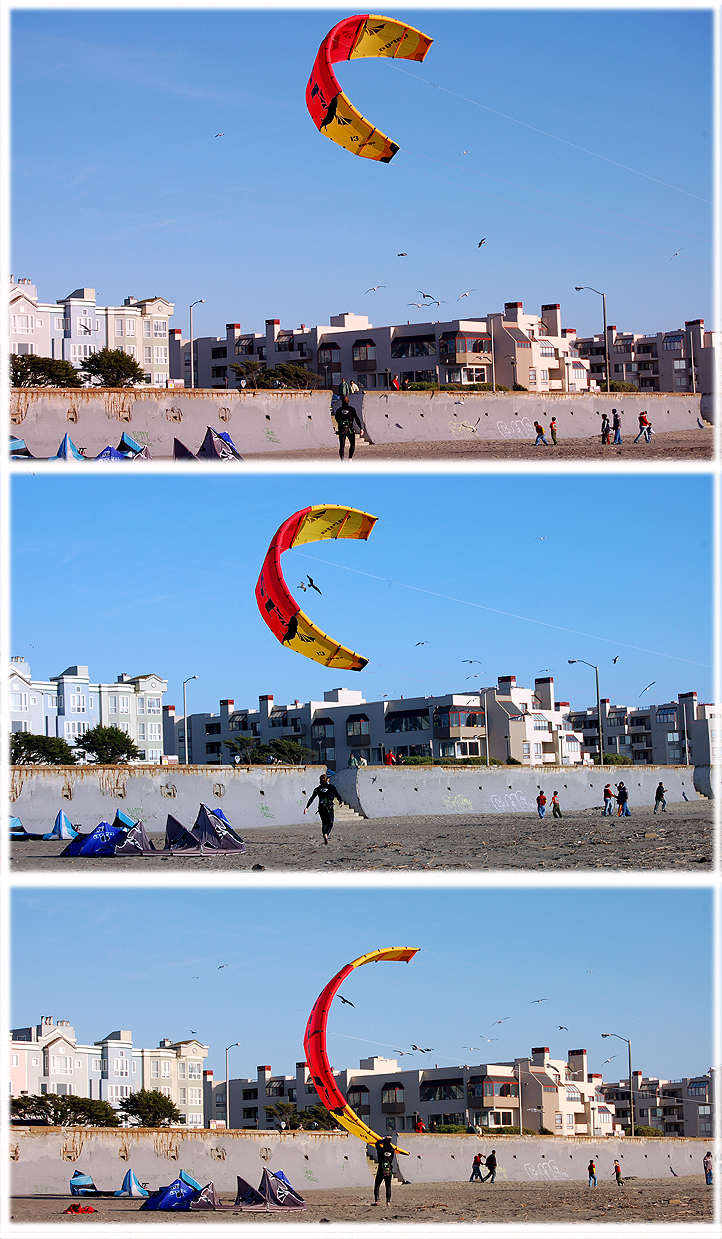 seems simple enough...
here's the hardware...I wanted to chat it up with some of these dudes (and dudettes) but they were having so much fun I figured, heck, just shut up and watch.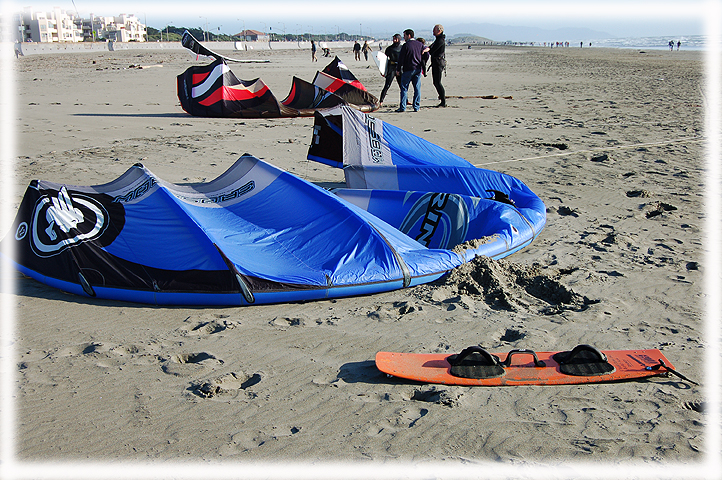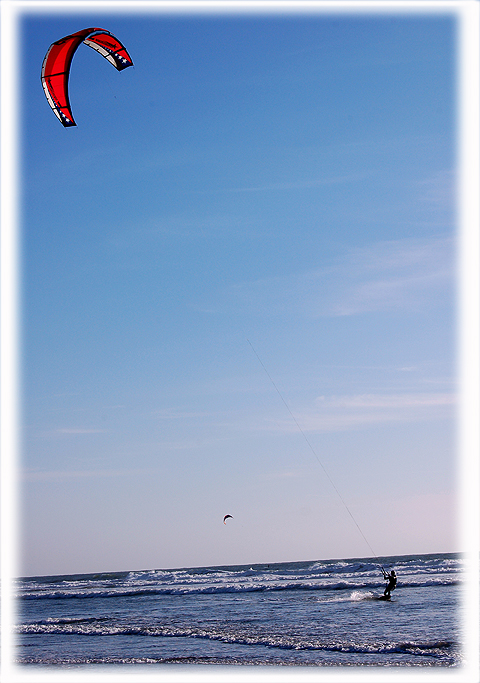 So, you get out of the office, get home, grab your kit and stroll down to the beach for a half hour of kite-boarding before dinner. I could hack that.
Remind me, again, why we live in east coast megalopolis?
huh?
________________________________________________________________________________________________________________________________
3/1/06
DRIFT FEST
in Saint Pedro...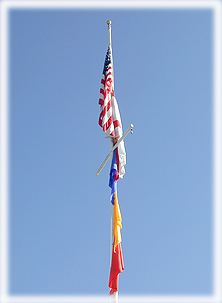 Whattaya do if someone throws a regatta and the wind doesn't show up?
The Bay Boyz syndicate did indeed go to Florida to race in the WL24 fleet. Our chartered boat wasn't a speed demon, but it was adequate. What wasn't adequate was the breeze on Tampa Millpond...we got a lame 2 races in over the course of three days.
Nonetheless, the Bay Boyz lived up to our reputations by using the down time to checkout the local chicks and catch some rays.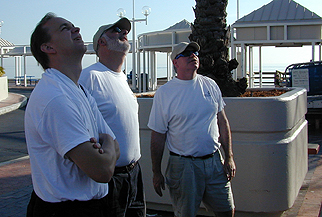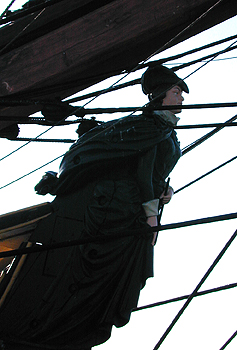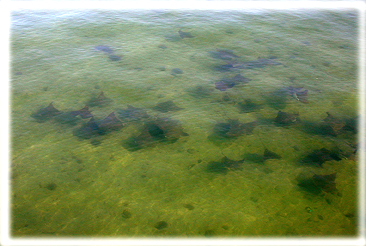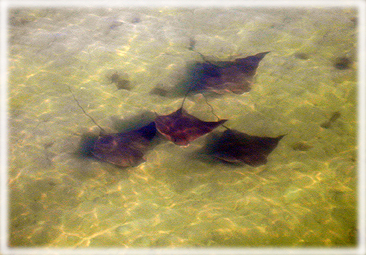 pretty exciting stuff.
There was stuff to fix in the downtime between zephyrs, too...that 2-4 kt breeze really puts a strain on gear.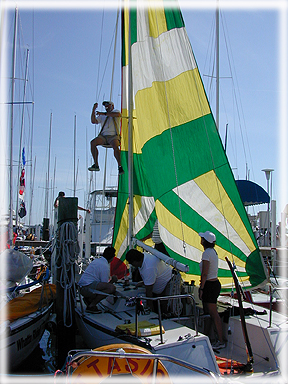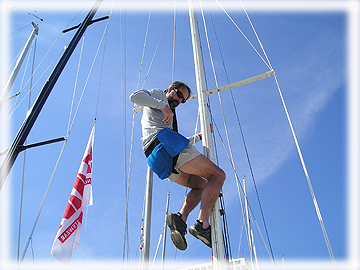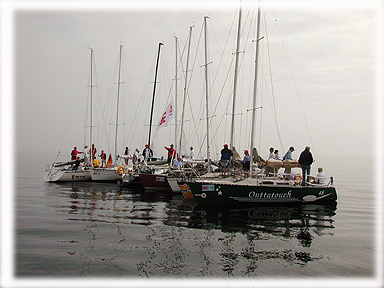 The Wavelength sailors party down while waiting for a breeze...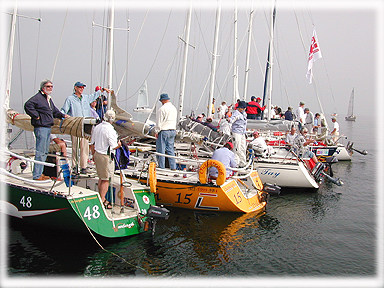 Let's face it, how bad can four days on the water in 70-80 degree temps be...in February?
St Pete didn't deliver with the racing too well this year, but it's still great to be there and big props to St. Pete YC who always does one hell of a job in the hospitality department.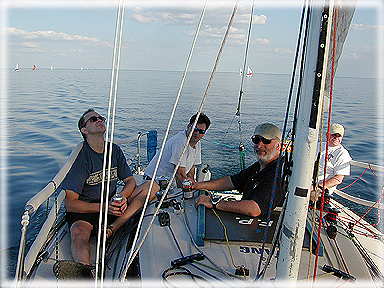 I can't speak for the whole crew, but I'd go back in a heartbeat!
Solomons J29 "Rhumb Punch" heads out for practice Thursday with the HMS Bounty tied off St. Pete pier.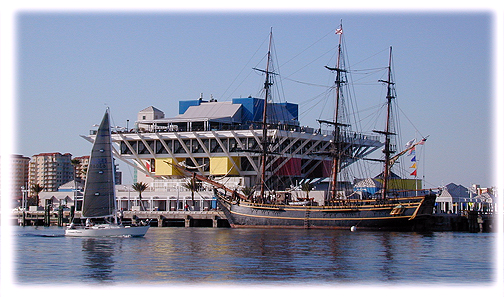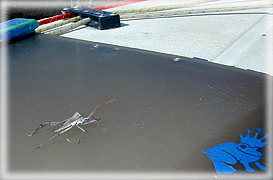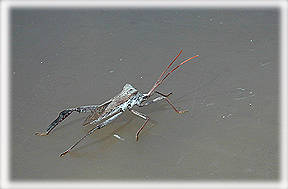 Speaking of crew, this guy joined us for a few tacks. They've got some bigass bugs in the south and it's probably best to get the heck back north by early April.
This guy was about the size of a sailing glove...drank two of our beers before heading off toward the Hooters on W. Gandy Blvd.
btw, we came in 5th out of 13 boats.
----------------------------------------------------------------------------------------------------------------------------
1/17/06
FIVE MEN...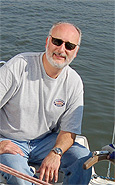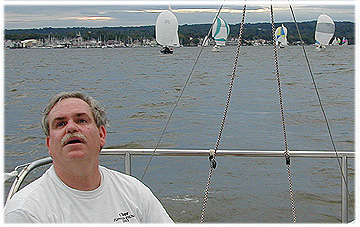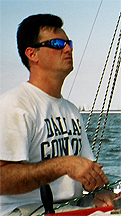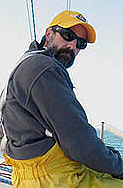 ONE NAME: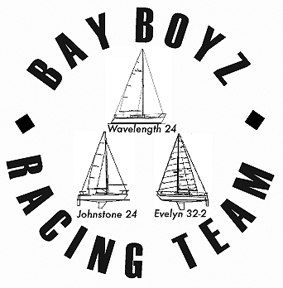 ONE DESTINATION...

ONE RIDE: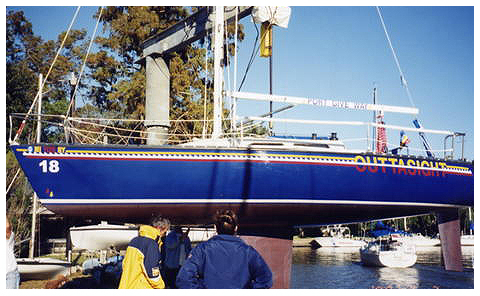 BE THERE: FEB 17-19
The Bay Boyz syndicate, a team made up of sailors from as far north as Havre de Grace and as far south as Solomons, will travel down to Tampa Bay to compete in the St Pete NOOD regatta's Wavelength 24 fleet, which for all intents and purposes will be holding their "Winter Nationals" such as they exist. We expect some serious competition, with Tom Schock reportedly jetting in from California and Sam Vasquez coming up from his performance at KWRW, where he is (currently) serving up a huge can of Whoop-Ass to the insanely competitive PHRF 7 fleet.
Stay tuned.
__________________________________________________________________________________________________________________________________
1/12/06
WHY IS THIS MAN SMILING???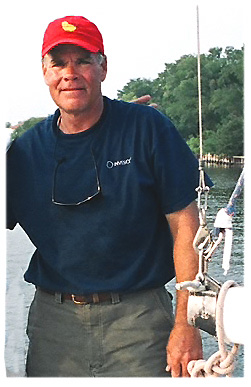 Most likely, not because he's been elected, recently, to the position of Commodore, for NPSA.
What could be a more thankless, aggravating and occassionally excruciating position when it comes to club sailing?
Nonetheless, knowing Charlie, he'll approach the job with grace and good humor and he'll do a bang-up job and the club will be all the better for having him as a steward over the next 2 years!
Congratulations, Charlie!
And we hope your new responsibilities won't prevent you from making a little trip down to Solomons in mid-July!
(left, Charlie Rouse at Screwpile, 2004 and navigating on the way down, bottom)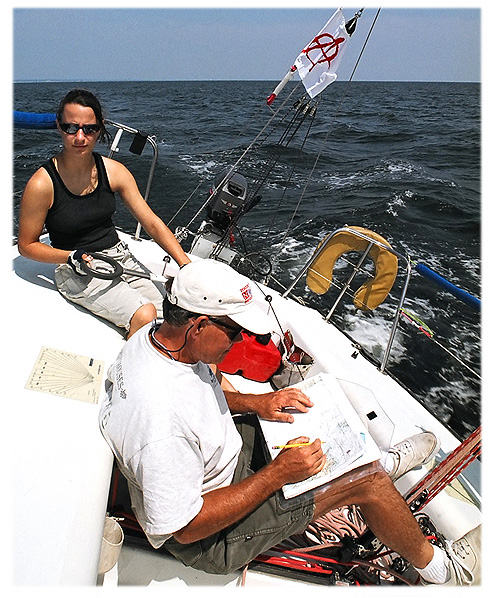 ______________________________________________________________________________________________
Dec 21 05
THAT'S COLD!!!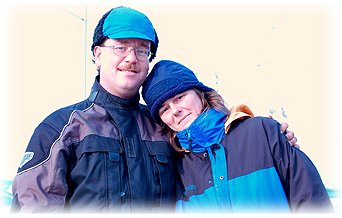 I was down at the boatyard this past weekend and I bumped into Charles and Kelly Ester as they were provisioning their Coronado 25 for a long, and in my opinion, somewhat courageous, slog down the ICW to Florida. Anyone who's ever cruised a small sailing vessel in winter knows that it's not exactly the most comfortable experience one can subject oneself to. Charles said they have three different heaters on board.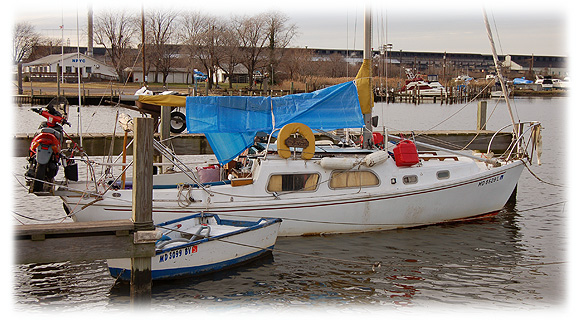 almost ready to go, Charles and Kelly's Coronado 25 sits down on her lines in anticipation.
One could probably question the prudence of setting forth in such a small vessel, down the East coast in December, as those nasty Low's begin setting up for their winter migrations up the coast. But in all honesty, I'd do it if I were a little younger and a little less buried in day-to-day issues and responsibilities. With no deadlines and schedules to meet, Charles and Kelly should be able to pick their departure days and have a safe voyage. They have internet access via a cell-phone modem and that'll certainly be a huge advantage on chosing weather windows.
Oh, and for anyone who says "what are these newbies thinking?" Kelly got her 25 ton master's license back in June. Congrats on that and best of luck to both of you! I may be sitting in a warm place, but I'm in front of a computer while you all are out there lving it!
Charles and Kelly said they will be sending pix and stuff up for us Northpointers, later on.
BON VOYAGE CHARLES & KELLY!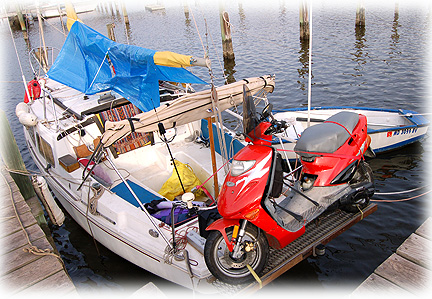 ground transport for wherever they need it...pretty cool on a 25 foor boat, eh?
_________________________________________________________________________________
11/12/05
FROST BITE ME!
Ahhhh...frostbiting...
strong winds, freezing fingers, drysuits, sealskinz and seaboots, thermos's of irish coffee, right? Well, maybe, but most likely not in mid-November. Here's us out in shorts and tee shirts at the DISC Frostbite Regatta. There wasn't much air, but hey, it's November and we're racing and no one is hypothermic.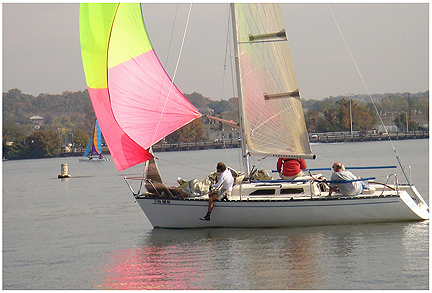 Think we've had enough lite air this season?
Photos from Richard Knabb, DISC race committee.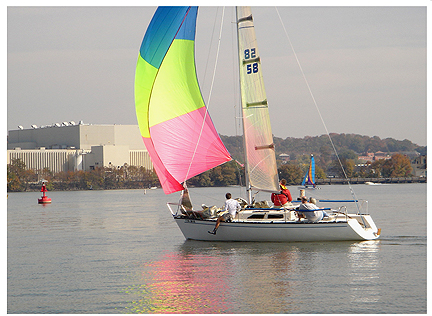 CONTACT: nbayracing.com at: webwolf@nbayracing.com
and remember: always be nice to your crew.