Latest update: 3-21-13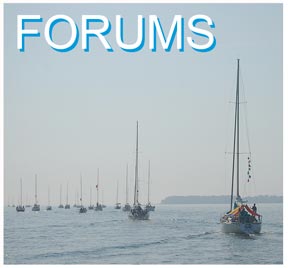 NEED TO TALK TO OTHER OWNERS ABOUT THE BOATS? There is now a forum.
---
3.21.13.......Block Island - Call for Evelyns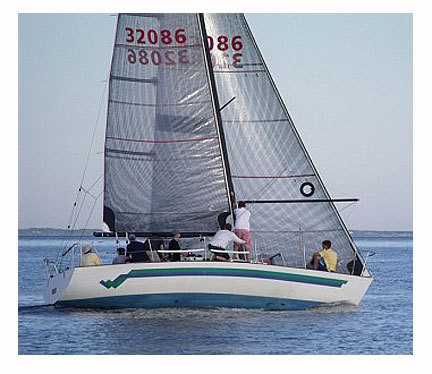 vs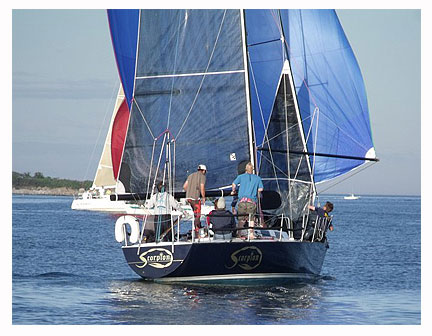 vs.....
As of today, it looks like three E32-2s are signed up for Block Island Race Week. This year is the 25th Anniversary of the event, and it is shaping up to be a big event. If you have a trailer, or if you happen to live in New England, and you need to kill some time in June, think about registering and do it soon! "Scorpian," "XLR8" and "Night Fury" have already served notice that they will be there....
Will you? (pix from Brad Porter)
---
6.29.10.....Make me a sandwich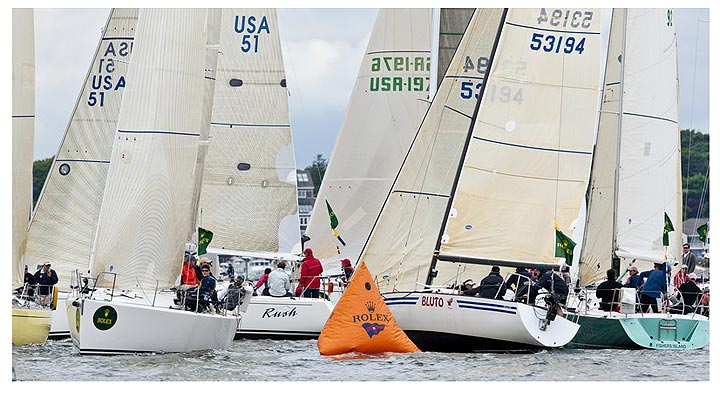 Shot sent to us from the Bluto Bunch, taken at NYYC Regatta at Newport's "Round the Island Race."
Bluto reports: "Restart after being called over early (mistaken identity of course). Should have done the port tack start in the first place. Plenty of room!"
"Bluto took first in the NYYC round the island race and the NYYC 156th annual regatta racing IRC.
Now we have a new group of critics complaining about our IRC rating.
Which was already adjusted this year from 1.008 to 1.011, with no changes to Bluto since the last rating cert? So we are now PHRF and IRC rule beaters!!!! The 32's are just a lot of fun to sail. We will be racing again in The NYYC regattas July 17-24th.
10.25.09...Packed Up
Bill Berges sent us this shot of "Bluto," all packed up, with her little sister, for the trip from Bristol R.I. to Florida. A lot of us wish we were in her shoes, or this case, her jackstands. Bill and Ben plan to take "Bluto" to Key Wasted for Race Week. Enrollment is a little bit off this year (go fig) and I know Peter S. Craig would love for you to bring your ride down for the event. It is not too late.
Think about it.
7.24.09.......Screwpile '09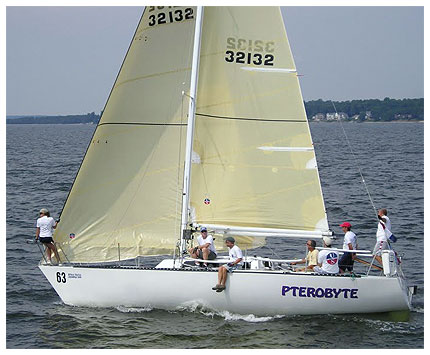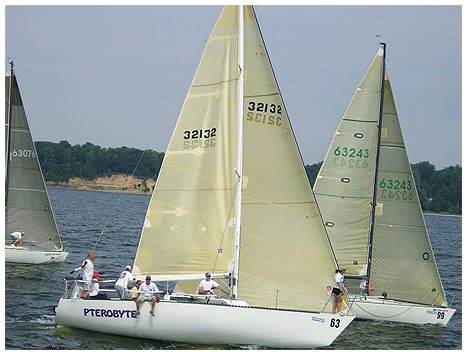 Hull number 1, Jim Baldwin's "Pterobyte" seen racing at Maryland's premiere mixed fleet regatta, Screwpile Lighthouse Challenge. (photos by Joydot)
Jim and crew had their work cut out for them in the PHRF A3 fleet, with a lot of Olsons and Frers and the always dangerous MORC killer, "Remedy" in their class. And huge congrats for their finishing in the top half of their fleet on their first attempt at Screwpile. Screwpile is a "Bring Your A-Game Only" event. (see front page 7.26.09 story).
Major props to Jim and crew for coming up from Deltaville to do the event. Like an idiot I didn't get a chance to catch up with Jim, even though I stumbled around the dock one evening, post-race, trying to find "Pterobyte," and missed his phone call at the party because the band was too loud. Anyway, that's my excuse.
WHAT'S YOURS FOR NOT DOING SCREWPILE?
7.06.09.............The Gossip from Block I. 2009
We got up to the Mystic - Noank area around 5 am after driving all night from Harrisburg PA. My friend (and J24 owner) Tom was driving and since he grew up in those parts and worked at a couple local lofts back in the 80's, he gave me an impromptu tour of all the old haunts, like the shed where the original Formula boats were built (or the grounds, maybe...it was, afterall, 5:00 am) and the old Sobstad loft and the Speed Shapes loft, none of which I remember too well in my sleep-deprivation psychosis.
We ate at Kitchen Little, though. That I DO remember that ...it was egg-zackly what the doctor ordered for a couple of travel-weary, half-starved guys who's next assignment was to deliver a J120 over to Block. I lost all those photos in more sleep-deprived psychosis later that evening by accidently deleting them....did I mention I was suffering mightily from sleep-deprived psychosis?
The next day, Sunday, was a practice day that we sorely needed, but the gale warning was up and we were blocked in by a larger boat that wasn't going out. So, no practice for you.
Monday was honkin,' but not exactly nukin,' so they sent us Round The Island. I was on an Omega 36 (Ron Holland design, circa 1984) in PHRF 3, so I wouldn't be seeing much of the 2 Evelyn 32-2s, but we did ride out through the cut that leads out of Great Salt Pond with "Bluto." It was the first time I'd seen her in person since the truck took her out of Young's Boatyard, in Baltimore, a couple of years ago and I was impressed. The carbo rig and PBO rigging did not disappoint.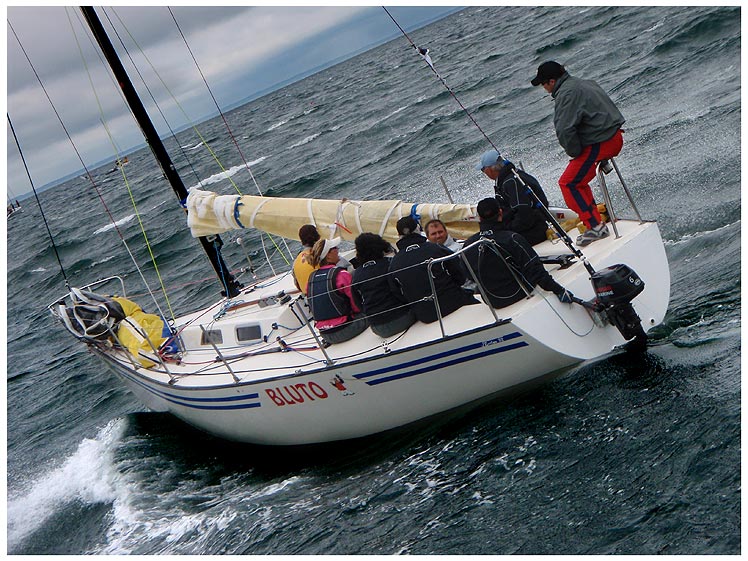 (left, "Bluto" motoring out to the start of the Round The Island Race, BIRW 2009. All photos: TFord/nbayracing.com)
I didn't get a glimpse of "XLR8" but here's a funny thing. Bringing in the J120 on Saturday (it was foggy as hell) Tom & I noticed an Evelyn swinging on a mooring. He said, there's an Evelyn 25....or, maybe I did (I needed a nap, bad). We had a brief discussion as to whether it was a 25 or a 32....I can't remember what we decided. Then, later in the week, convinced that the boat was a 25, I took these shots because I was incredulous that you could actually get 9 people on a 25. Of course, brain dead that I am (admittedly) I totally spaced on the fact that it was "XLR8," and not an E 25. Talk about stupid (did I mention it was foggy as all hell?)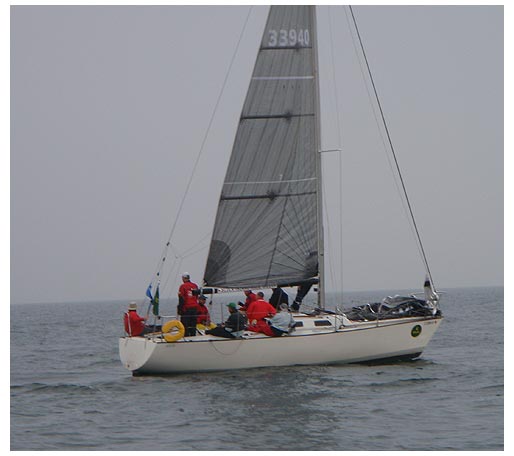 (left, it was actually a lot foggier than it looks)
To make a short story long, both "Bluto" and "XLR8" acheived podium finishes in the Round The Island Race...."XLR8" took the bullet in PHRF 1, and "Bluto" took a third in IRC35. I heard "XLR8" was observed looking like a rocket ship, and Bill Berges emailed me that "Bluto" topped out at something like 16.9 kn out on the ocean side of the island (I should go back and re-read the email...I'll make some edits if the figure is wrong, but it seems entirely possible and it was pretty gnarly off the east side beaches).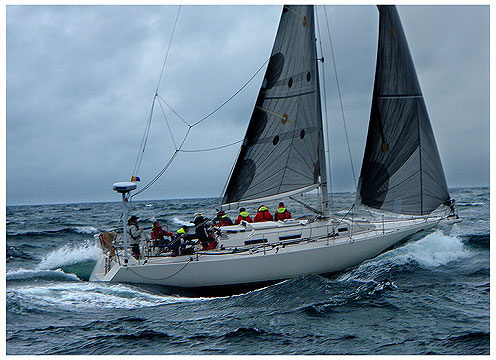 (left, boisterous condits on the Atlantic side of Block for the RTI Race)
Heading out of the narrow inlet the next day, I saw one of the 36.7's, "Whirlwind,"on their way to the race course. I knew Steve K. was going to be on "Whirlwind," so I hailed the boat. I had never met Steve, but he had emailed me recently that he owned Bob E's most famous one-off, the Custom IOR 41 "Evelution," and that he was going to be at Block on the 36.7.
To say that his boat has a storied past is an understatement. After exchanging pleasantries across the water, Steve and I ran into each other at the tent, later that evening, and he and I chatted for awhile.
Well, actually, he mostly kept me in stitches with stories about the boat. I should let him write it up, it's too rich for this bear of little brain to remember, especially after a bunch of Mt. Gay and Tonics. I also met John Fries after all these years, in person, and he introduced me to Bob E. himself. I sort of wish I'd been more sober, but what the hell, it was Block Island Race Week and I wasn't there to practice some bizarre set of rituals involving self-denial.
Plus, we had a designated driver.
I also got a chance to walk (stumble) over to the dock where "Bluto" was berthed and saw all the vast improvements Ben Hall and Bill Berges have done to her. Pretty cool. Definitely better living through chemistry...in this case carbon fiber. It does look like they kept that same grotty old horseshoe, though. That thing has at least 4 name changes on it...which is good, because it's part of the renaming ritual (keep one thing with the boat's old name on board).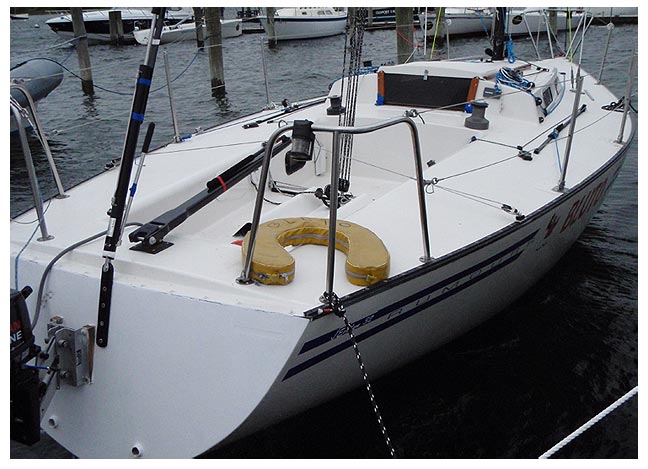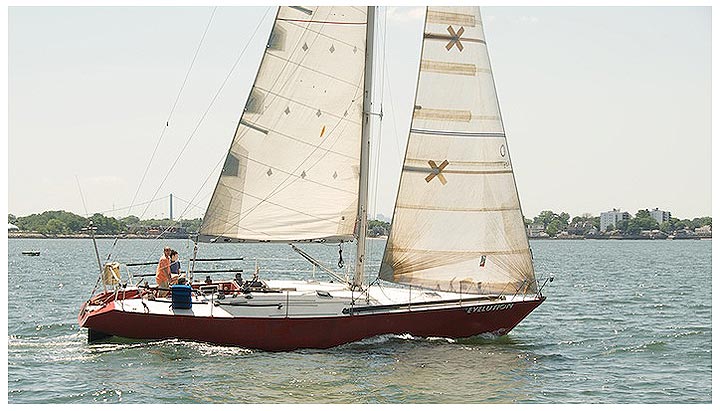 (left, Steve K.'s IOR 41 "Evelution" off City Island, NY., recently. Photo: Roy Smith)
So, bottom line, congrats to "XLR8" who took an impressive 1st Place Overall in PHRF 1, and to "Bluto" who took grabbed a 3rd Overall in IRC35. Interesting to see how the E 32-2 did in IRC! Very tough fleet with the super-turbo'ed Express 37 "Lora Ann" in their class and the non-turbo'ed (or slightly less turbo'ed) Express 37 "Troubador," too. All-in-all, I'd say it was an impressive display of the Evelyns at BIRW 2009.
Block Island was pretty amazing. I had certainly raced in limited visibility before, but nothing like what we had at Block, especially on the last day, Friday. Major props to you New Englanders who are used to that stuff.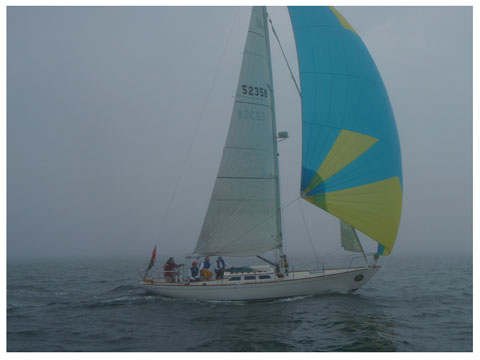 (left, we tanked in the last race on the Omega and lost a spot on the podium, due to the atmospheric close-out that shut visibility down to approx. 100 yards....life is hard!!!)
Coulda been contenders....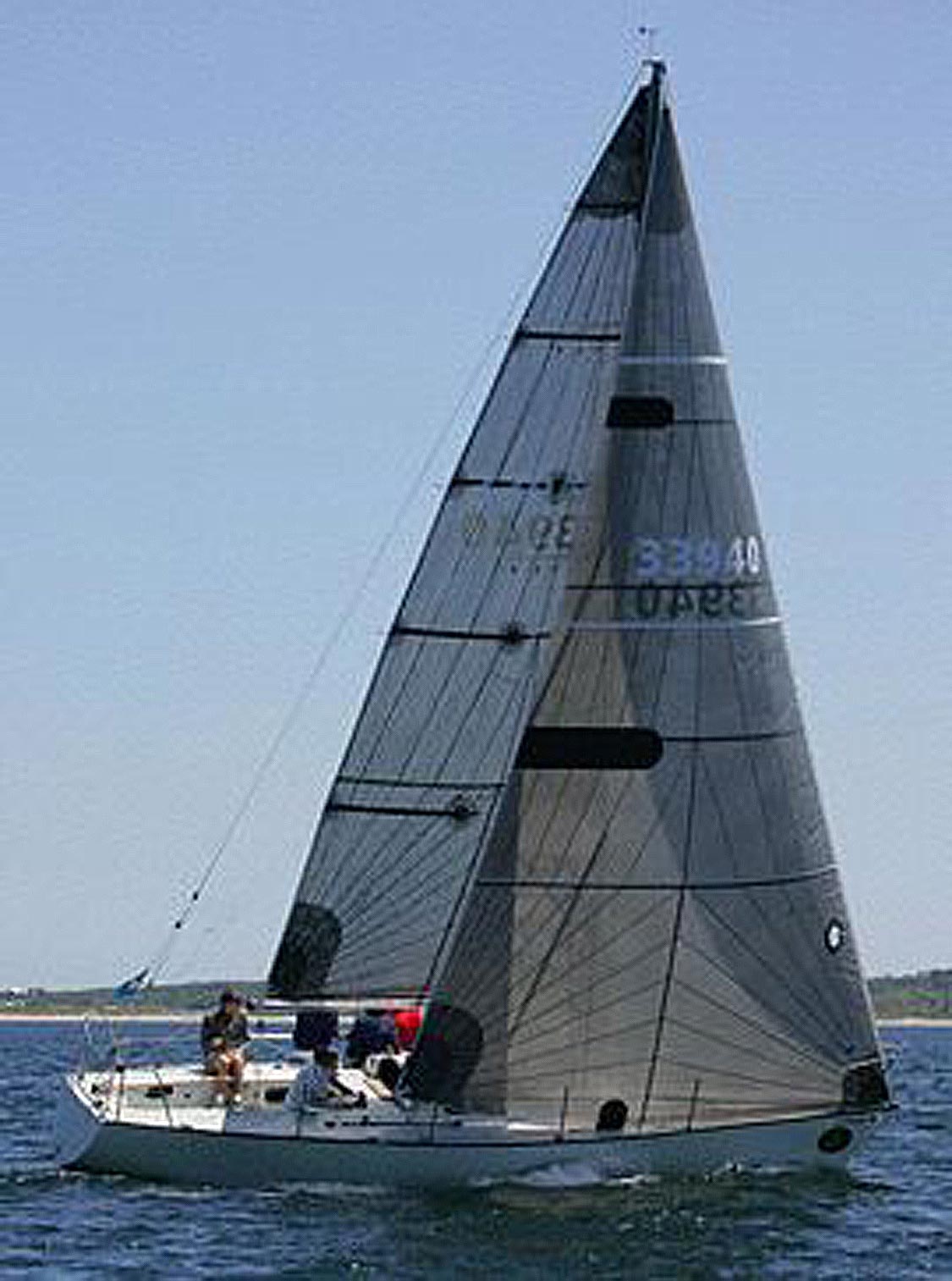 vs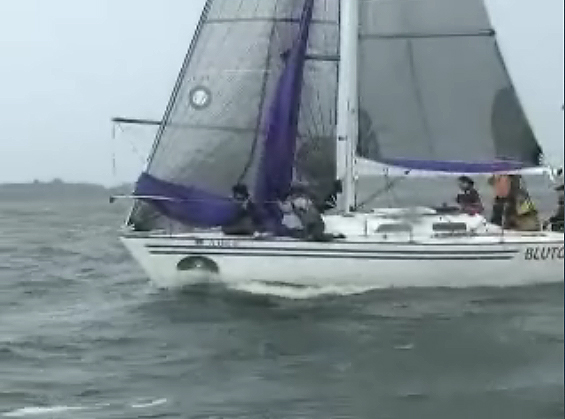 In what coulda/shoulda/woulda been an epic showdown of two of the most (recently) renowned E 32-2's, the former "Remedy" (recently acquired by Brad Porter and renamed "XLR8") and "Bluto" (the former "Direwolf") will both be racing in less than 3 weeks at BIRW 2009....BUT...apparently not against each other!
"Bluto" will be racing IRC and "XLR8" will be racing PHRF, so even if they are on the same circle, they will not be scored against one another. Too bad....both of these hulls have acheived podium positions at KWRW and it would've been cool to see who the big dog is between the two boats, but it looks like that ain't gonna happen, at least not this year at BIRW.
It will be interesting to see how "Bluto" does in IRC, though.
Nbayracing will be at BIRW and we'll try to catch up to both boats (on land, not on the race course)
June 5, 09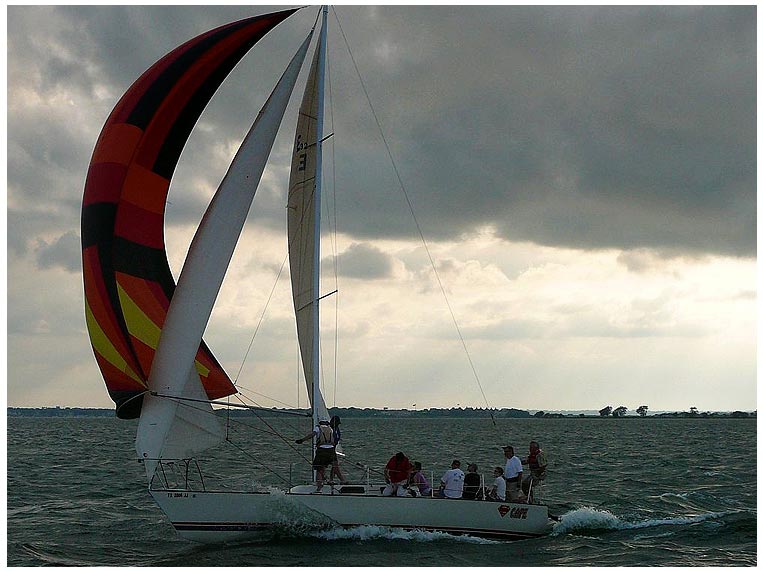 Another shot from Randall C. Gilbert...this time Superman's Cape burning up the lake a couple of nights ago, doing 10 knots and, seemingly, in perfect control.
Great shot, thanks Randy! (and whomever took the foto)
May Day 05.01.09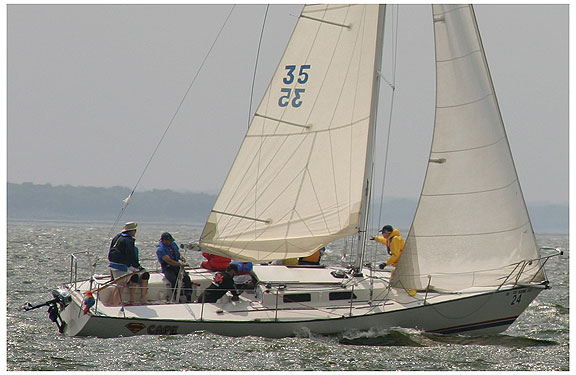 Shot sent to us from Randy Gilbert of how his "S Cape" handles a 25-35 knot breeze on an inland lake in Texas. Randys say, "New lake speed record. 15.7 kts!" This was actually taken in mid-April, middle 50's to low 60's when the sun came out.
Looks hot!
April 2009 .....items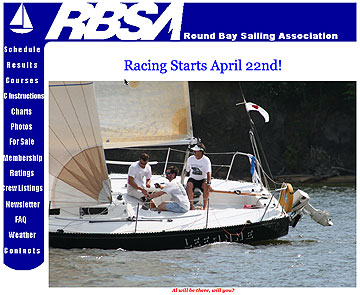 (left) Al Passori gets top billing with Round Bay's season-opening shot on their webpage. Ahhhhhh.....Shorts and T-shirts....I rememebr those. Vaguely.
Rumor has it a certain N.E. boat will be getting a carbon rig this spring and racing IRC at Block. Win a free trip for you and 9 of your crew on a Farr40 next year to Key West Race Week by guessing which boat it is.*
Check out the Forum to see which boats got some serious TLC over the winter.
------------------ that is all ----------------- (for now)
*offer valid to undocumented aliens only. Undocumented aliens must be of Costa Rican heritage and must be at least 95 years old. Undocumented ailens must own or have access to a 1950 Buick Roadmaster in working condition. Roadmaster must be equipted with a 322 cubic inch Nailhead straight 8.
_______________________________________________________________________________________________
BUMMER - according to the SCRATCH SHEET at KWRW this year, THERE ARE ZERO E 32-2s registered for 2009
_______________________________________________________________________________________________
RECENT CORRESPONDENCE...(website contact: webwolf@nbayracing.com)
Another hull in Sag Harbor, NY
we got a cryptic note about "White Lightning" at Breakwater YC...anyone with info, feel free to chime in.
Another hull in Barbados!....ah...well....actually, that's Antigua and Barbuda...
This turned up on Yachtworld recently: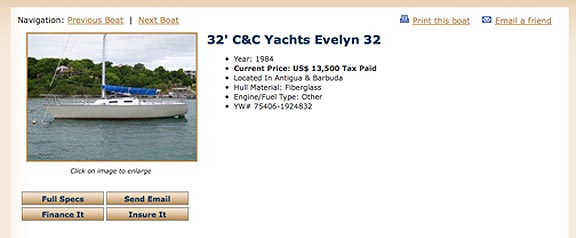 -----------------------------------------------------------------------------------------------------------------------------------------------------
August 08
New in NOLA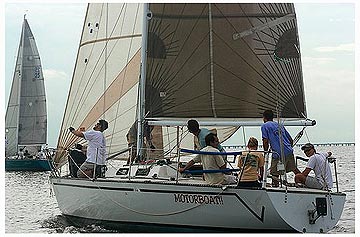 Matt Skaer bought E 32-2 "Frigate" and has brought her to New Orleans and renamed her "Motorboat," where she gets to compete against E 32-2 "Phaedra," on Lake P. He wrote us:
"The interior is being stripped of the vinyl liner and repainted white. The floor will be repainted gray with non skid. All interior lighting has been ripped out and I am in the process of installing battery powered LED lights. Lots of equipment is in the process of being re-bed, so the boat is slowly but surely leaking less and less. We did a "round the lake" fun race in New Orleans Saturday night, and were right up with the other 32, and a Hobie 33. The learning curve has been steep, but now that we have broken/replaced plenty of older stuff and people are learning what line does what, the boat is getting faster."


Which brings us to the subject of interiors...usually not a huge priority on the average E 32-2 owner's maintenance list, but if you've got advice or ideas, take a shot and send it. We'll start a new page of INTERIORS. In the meantime, I like what Al Passori did to "LEEANNE" to get an instant cooler-holder, I mean, the nav station isn't really optimal as originally designed....pretty nice if you stay on starboard tack for most races!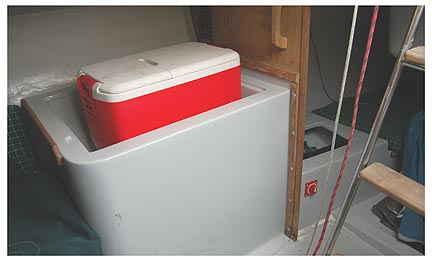 _________________________________________________________________________
So 80's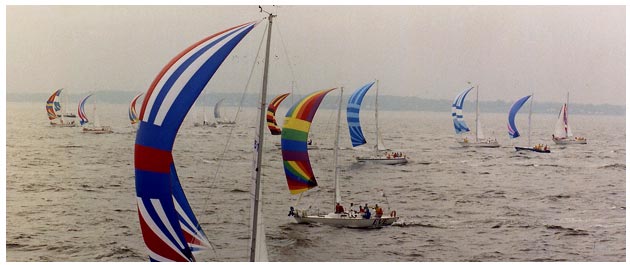 The previous owner of hull #54, Terry Reese, sent us this vintage shot of the start of the 1989 Governor's Cup, off of Thomas Point on the Chesapeake Bay.
That's "Eve" with the gayly colored chute, now almost 20 years later, rescued and owned by Jim Dale in Ontario, renamed "Eve of Destruction."
Cool shot and thanks to Terry!
__________________________________________________
Another one hits the Bay!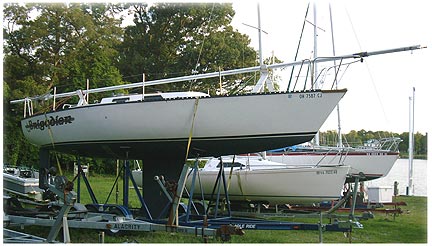 Hull number 1 has been moved to Deltaville Va by the new owner, Jim Baldwin, and the boat will be renamed "Pterobyte."
We're hoping other Evelyn owners will show up at Screwpile next year to flesh out what could be a very slick Levels class, with 6 or 7 Olsons and a smattering of Hobie 33's....a 12-15 boat levels class would be very cool.
______________________________________________________________________________
NYYC action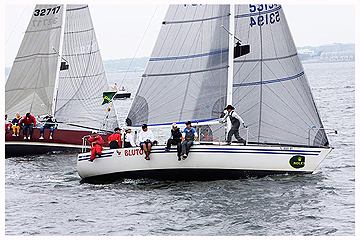 You can check out some Evelyns racing action at NYYC's Race Week at Newport by going to Tucker Thompson's video archive at http://www.t2p.tv/
"Bluto" and "Bloody Hell" get some decent coverage, as does Evelyn 42 "Hooligan" on the days beginning with Thursday 7/24.
If you haven't already done so, you'll have to register, but the low-rez stuff is free and, if you are totally addicted, the broadband coverage is worth the subscription, especially when the season is over and you are at a desk for long intervals, needing a fix.
Bluto took first place at NYYC's Race Week in PHRF2....Bloody Hell took 4th. Congrats to Bluto once again!

------------------------------------------------------------------------------------------------------------------------------------------------------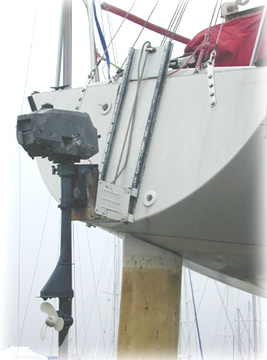 7.1.08....A couple of new owners want recommendations on what size O/B, what length shaft, and any recommendations you can make on how to hang the beast off the transom....we are suspecting someone is dumping a diesel and converting to O/B.
send any recommendations to: webwolf@nbayracing.com or use the list that someone developed (sorry...can't remember who came up with it)

__________________________________________________________________
MAY 2008...ANOTHER EAST COAST BOAT.
Adam Walsh and John Donnelly bought "Blue Dog" and are moving the boat to Newport R.I....they need advice on single point lifts. "Blue Dog" used to live in Cleveland OH.
-------------------------------------------------------------------------------------------------------------------------
April 28, 2008.......NEW YORK YACHT CLUB RACE WEEK at NEWPORT - JULY 19-27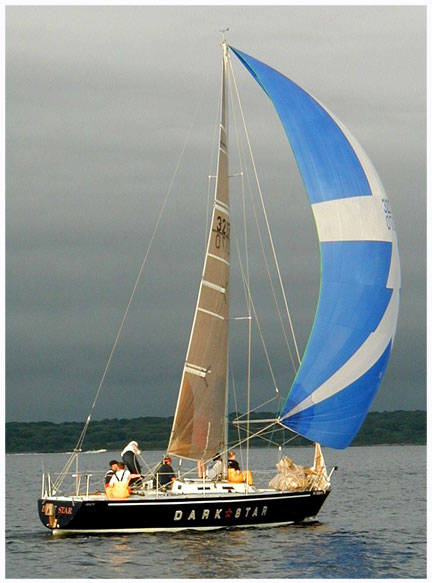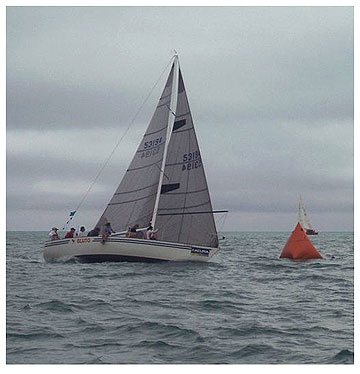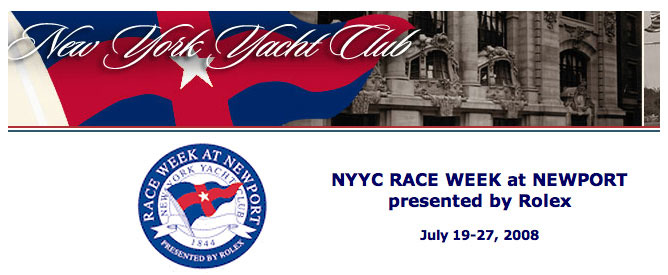 We got this in our email box over the weekend...could this set-up an interesting scenario for the 16 or so Evelyn 32-2 that live between New Jersey and Marblehead...what are YOU doing in July?
Read on:
"I guess we'll be seeing "Bluto" at NYYC Race Week in July on
Narragansett Bay. This means that Ben and Nan Hall will be racing
against their original 32-2 "Dark Star."
I hope some of the Long Island Sound 32's will make the trip to join
us. If half of the boats between New Jersey and LIS would show up we'd
have a starting line with seven 32's. That would rival Cleveland
turnouts."
David Lodge
"Dark Star" 32170

-------------------
Thanks to David for sending in the note and we hope this tempts a few more 32-2's to show up in Newport.
_____________________________________________________________________________
April 21, 2008
BLUTO takes it's class at CRW (photos from SailingK8)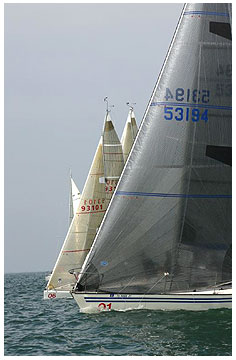 Following on the heels of it's 2nd place finish at KWRW, Bill Berges'es "Bluto" took the bullet at Charleston Race Week last weekend.
Congrats to Bill and crew!
By day 3, "Bluto" was racing head to head with Chesapeake Bay perrential High Point winner (and frequent KWRW champ) "L'Outrage," skippered by Bruce Gardner. Both boats finished well out of the money in the final race on Sunday and the "throw-outs" gave "Bluto" the bullet by 4 points over the Beneteau 10M.
Bill writes: crew consisted of, "Bob Evelyn, Ben Hall, Nan Hall, Liz Hall(daughter), Ray Rapino, Bill Berges and Charleston local Dan Steadly.
Charleston was a great time, mid 70ies, 8-15 knots and very competitive.
Would like to see other 32's at these events. Bluto will be at the
NYYC race week in Newport July 24-27, and is in route to Bristol, RI for the summer series. We won't be at BI race week this year. Please let me know if there are any plans for a big showing of 32's at any events?"
Maybe this page should incorporate a schedule of events, where people can let the other owners know which races they'll be attending. It's usually a lot of fun racing against other E 32-2 owners (we'll gracefully decline from talking about one instance that didn't turn out that way)

(left, "Bluto" noses out with Bert Carp's Donovan 27 "Remedy" to weather)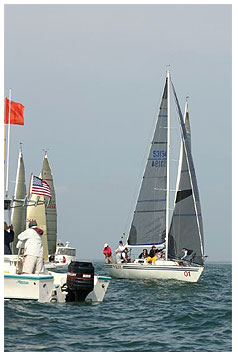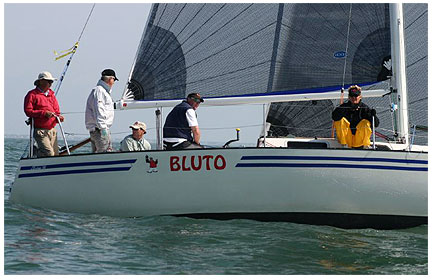 -------------------------------------------
Whale, Ho!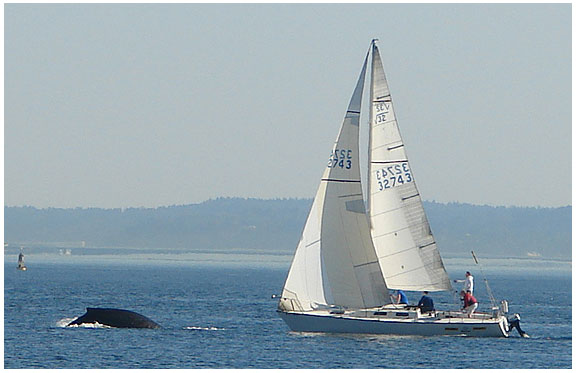 Here's a shot of Doug Mackey's "Rock Lobster" on April 12th. The blob ahead of the boat "isn't a rock...it's a "Rock Lobster"-threatening whale! All good clean fun out off Bainbridge Island, WA. Thanks to Doug for sending us the great shot.
---------------------------------------------------------------------------------------------------------------------------
"FIGHT CLUB" is for sale. Contact Pat at: patrickfjeffrey@hotmail.com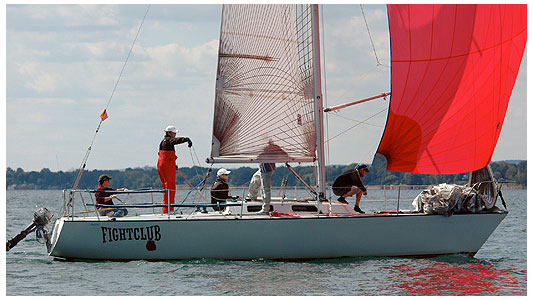 -----------------------------------------------------------------------------------------------------------------------------
March 2008....from Dan Witucki owner of "Rush" regarding E 32-2 WEIGHT
Bent on KISS was asking about RUSH's weight for IRC.
We got weighed in at a heafty 5740 pounds empty on certified scales. Don't know why it weighed so heavy, she's pretty dry and we've lightened it up quite a bit ( halyards, backstay, headstay, wiring, etc.)
Rush is still doing a lot of racing up in Michigan, but would like to make it to Cleveland if they start having "The Nationals" there again. We're pretty busy in the summer since we do both Mackinaw races, up both sides of the state, and we do all of our deliveries by water ( 5 days to get to Chicago). We've had pretty good luck with
the Chicago- Mac finishing 3rd twice in 2004 and 2007. In the Port Huron to Mac we finished 2nd in 2004 and 2006. We also were named "Boat of the Year" by the Lake Huron Yachting Association for 2007.
January 27, 2008
Racing in Texas...while we, up here, chill. Photos from sent from Randy Gilbert of "S Cape" fame (co-owned with Marshall McKenzie)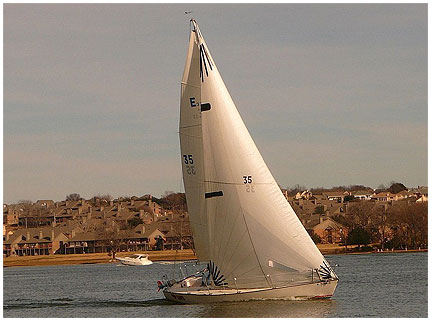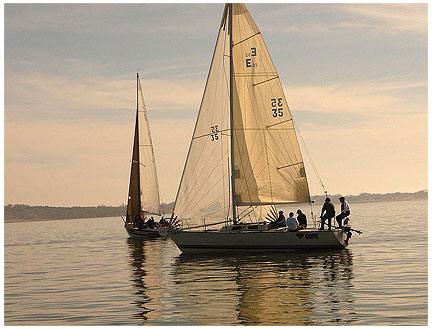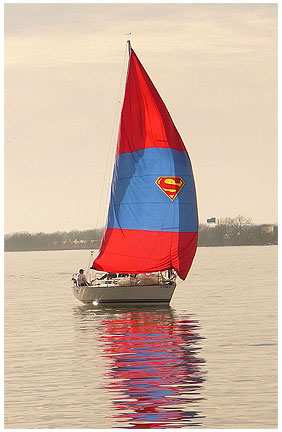 What is it about southern sailors needing to torment we schmucks up here freezing our butts off, while they sail in January?
Randy (who's a great guy and who put up the original E 32-2 website from which this site was inspired) races on Lake Ray Hubbard on the east side of Dallas, TX.
Gotta love that chute!!!
_________________________________________________________________________________________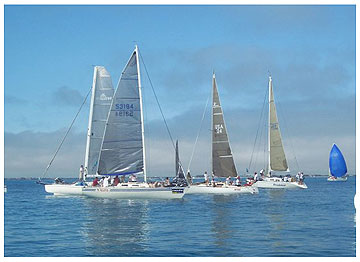 2/5/08
E 32-2 "BLUTO" at KWRW '08
(photos courtesy Craig at Fort Walton YC)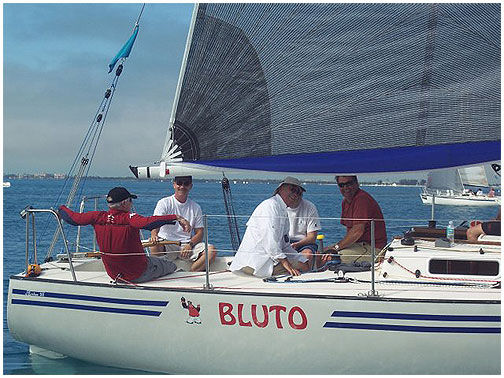 We've been following (okay, stalking) the successes of the old nbayracing ride, Evelyn 32-2 hull #26, now recommisioned as "Bluto."
New owner Bill Berges racked up a second a couple weeks ago at Key West Race Week, in challenging conditions. We got this in the mail a few days later from Bill:
"Bluto finished KWRW 2nd in PHRF 3. The crew included Bob Evelyn and Ben & Nan Hall. I sailed with Ben on his 32 "Dark Star" in 1983. Meet Bob in 1984 and took delivery of hull #1 Evelyn 42 "Stainless" in 1985.
Bob, Ben and Nan where all part of the crew
winning many races including our class in the 1986 Newport to Bermuda race.
This reunion on a 32 at KWRW was special. "Bluto" will be at Charleston Race Week April 17-20, hope to see other Evelyn 32's there.

Regards,
Bill Berges
--------------------
A few more pix from KWRW '08...thanks to Craig at FWYC. See blurb below about Craig's E 32-2 connection.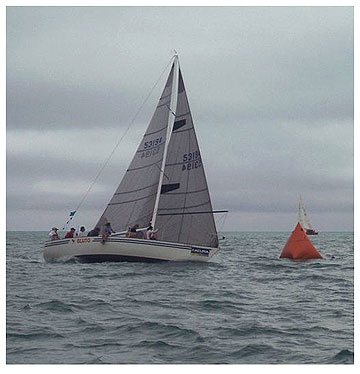 -------------------------------------------------------------------------------------------------------------------------------------------
a KWRW connection...
Craig at Fort Walton Yacht Club sent us the shots above from KWRW. He also sent us a bit of history about one of the boats sailing down along Florida's Gulf Coast.
----------------
"My father traded his Columbia 9.6, that we raced extensively, for the Evelyn 32 "Champaign," owned by Charles Payne (Mobile AL) in the late 80's. He renamed the boat "Outrageous" and raced it extensively in the local Bay, Fort Walton, and periodically along the Gulf Coast (GYA).
Great boat as I abused the privileges of the boat throughout my high school years. After I wrecked it one year throwing a kegger with 20 high schoolers, he had the boat painted electric blue (I later would run his 16 foot chase boat into a committtee boat and he had that painted the same electric blue to cover the repair work).
The boat was sunk during Hurricanne Erin, and Neil Macmillian purchased it from the insurance company. Neil owned a boat yard and put a lot of time into the boat. During the sinking, the hull split open from the rudder post to, I believe, the engine strut (Yanmar one banger diesel). It was pretty sad. My dad's brand new laminate racing jibs went out through the crack.
The boat made the front page of the Tampa Tribune as my best friend and I were photographed climbing around the boat, in about three feet of water, where she washed ashore and sank. Neil modified the boat by cutting out the transom making an open transom 32, a toe rail to toe rail main traveller (taken from Simba, a J34, another victim of Erin), and larger self tailing winches (again, these taken from Simba).
Great boat. Miss it as I learned a lot of keel boat (PHRF) racing on that puppy!"
---------------------------------------------------------
We tried to find the shot of "Joe" that showed her mods, particularly the open tranny. I think it existed on Randy Gilbert's old site and I have a message into Randy to see if he still has the photo.
________________________________________________________________________________
Mike Lebov sent us this shot...an interesting E 32-2 keel mod: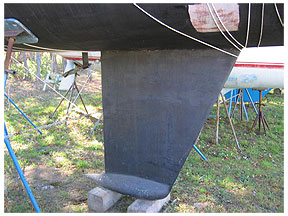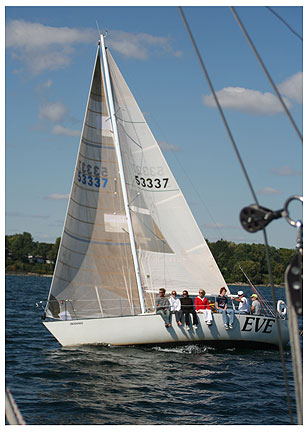 TURKEY TIME... Mike Dale sent this shot of "Eve of Destruction" (formerly "Eve," see below) at his club's Turkey Regatta. Mike and company sailed the boat to a third in his class (winning a turkey) and Evelyn fans should also know that Edward Thompson's E 32-2 "Wild Thing" took first!
------------------------------------------------------------------------------------------------------------

WHAT'S IT WEIGH?

FROM BENT VOETMANN, "K.I.S.S.": Fellow sailors, hauled out our Evelyn 32-2 "K.I.S.S." yesterday. Took the opportunity to have it weighed as we are racing IRC next year. Under IRC the weight of the boat is with standing, running rigging and cushions ONLY; that it is, nothing else."K.I.S.S." came out at just a few pounds under 5000. I understand that RUSH is also IRC rated, and wondering what the weight was.

Cheers, Bent

(to Bent: I'll update the name change on the map & owner's list soon!)
-------------------------------------------------------------------------------------------------------------------------------
NATS, SINGLE-POINT LIFT & BULKHEAD REDO...from Jeff Mackay, "WIZARD"
After reading through the different articles I have a couple of thoughts or comments:
- If someone is trying to organize an Evelyn Nationals for 2008 please let us know. The guys in Cleveland held a "National Championship" for a couple of years. It was a great time and great competition. The last year that I know of - - Bloody Hell came from the East Coast and spanked us pretty good. It won't make much difference to us whether we tow the boat to Cleveland or further.
- Single point lifting; We lift our boat from a single point but it isn't practical for dry sail as suggested on your WEB site. I built a beam which fits inside the boat. It attaches to two keel bolt in the front. These two bolts are attached to a pivot point on the front of the beam to allow for even loading. Since the balance point of the boat is aft of the keel, the beam extend back under the cockpit and attaches to the fiberglass channel which is attached to the floor (hull) under the cockpit. The lifting point is about 3 or 4 inches ahead of the companionway hatch when the hatch is in the closed position. I finally drilled a hole in the cabin top to allow
the lifting strap to extend through. Securing the lifting strap with lines to the front and sides of the boat as shown on your WEB site didn't work well enough to make me comfortable. Lifting through the hole works great. A 3 Ton hoist is fine.
- We replaced our bulkheads a couple of years ago. The information came from the West System information which was noted in the article regarding "Dire Wolf". This is a great guide. My only comment is that the G-10 material worked very well. It is so strong that some of the material can be removed by adding holes to save weight. You need carbide to cut it but it can be finished off with a router bit to round off
the edges. The biggest advantage to these new bulkheads is that they extend down to attach to the floor stringer. Keep those bottom tabs as large as possible. They will take most of the load. Make sure the floor stringers aren't rotten before you attach to them!

________________________________________________________________________________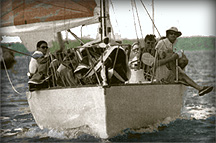 CLIFFHANGER (now LEEANNE) from Annapolis Race Week.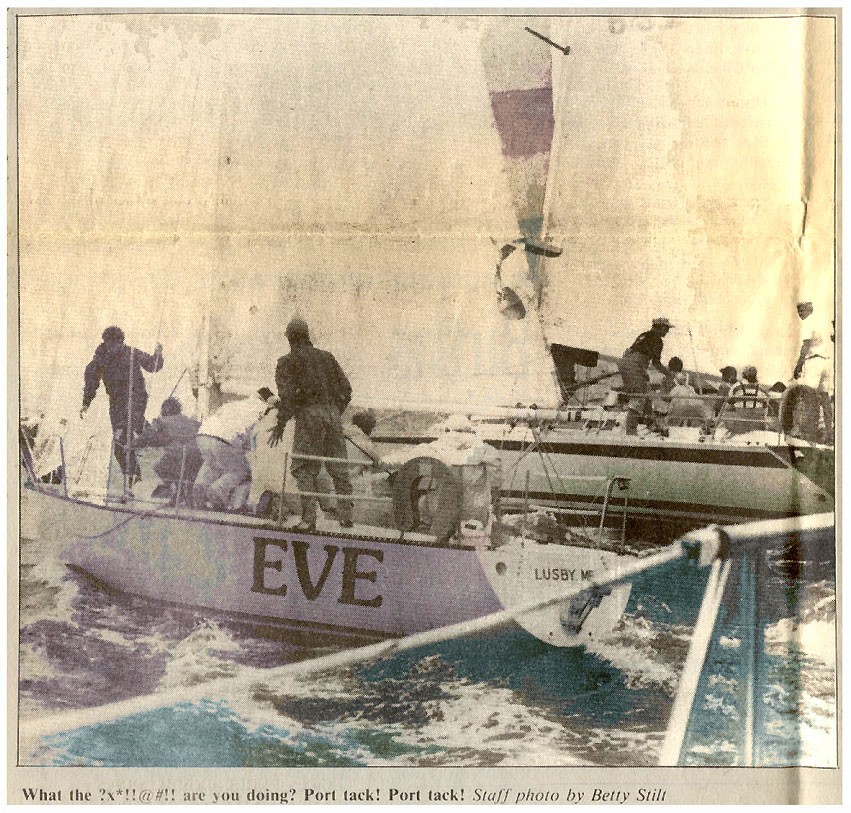 EVE's Governor's Cup Race, August 1989
___________________________________________________________________________________________
THE OLD E 32-2 MOLDS? a sad tale from "Remedy"s owner, via the P.O. of "Jammin:'"
"As for the molds, it's pretty sad what happened. They were "out back" in a local gravel pit, the 42, 32, & 25. The 25 mold actually had a boat in it and a deck. They went unclaimed for a number of years and the gravel pit owner crushed them. This was before I knew how good the boats really were, I kick myself over it now..... It would be really cool to build one & make it to the correct weight and keep it strong."
Which begs the question, what would a brand new Evelyn 32-3 boast? Open tranny, carbon inner skin, fully encompassing bulheads (forget the jockstraps), carbon spar, VARA rudder, diesel & saildrive, slimmer chord foil with a bulb???.............................the mind reels.
Hey, for 1982, I think Bob pretty well nailed it.
Stay tuned for some vintage news clips from various E 32-2 victories over the past 25 years...
------------------------------------------------------------------------
SPEAKING OF NAILING IT:
I don't know of any new owners who are doing better and having more fun than Al Passori with hull #6, "LEEANNE." At one point recently, AL had won 4 straight races including a singlehanded race. Hearty Congrats go out to Al!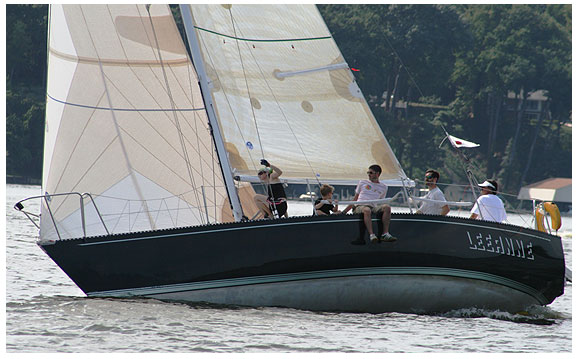 If you've kicked a little butt in the E 32-2 this summer, send us a note and/or some clips!
---------------------------------------------------------------------------------------
NEW: A RESPONSE TO "WIGGLE ROOM" by Russ Horn,"Jammin'" Biscayne Bay. "I recently hauled the boat out and put it on the trailer. While the boat was in the slings every time the operator moved the lift I noted the keel flexing (read more)
NEW: ANOTHER E 32-2 found in southern florida..."Dutch Treat" races with BBYRA
NEW: Question regarding single-point lifting: " Does anyone have any suggestions on rigging lifting point for launching the boat via a hoist? I have heard it can be done and think that a lifting strap down to the rear keel bolts will work but wonder about the where the boat will balance." Suggestions? read more here
Jason Swan, owner of "Flatline" sent us this note: "Looking for a
source for new port lights (aka windows)? I replaced mine last year with the exact match. www.beckson.com/fixedsp.html The inside trim piece has to be trimmed down since the deck is so thin, besides that it was an easy replacement. John Fries on Remedy made his replacements out of Lexan and bolted the Lexan right onto the cabin top. The Beckson Ports look a little cleaner."
Two stories about E 32-2's on the index page , "Direwolf's Ascension" & "Weapon of Choice"


NATIONALS: there has been some discussion of a 2008 Nationals Event...stay tuned.

CONGRATS to Mike Perry and the Bloody Hell crew for finishing 3rd in the tough PHRF 1 class at Block Island Race Week 2007.
EVELYN LIST: Ed Thompson, who owns WILD THING, has got an email list of owners resurrected. Contact him if you'd like to be added (see contact info below on current owners list)



WIGGLE ROOM.....QUESTION: posed by a new owner: When your boat is in the slings and you grab the keel by the trailing edge and try to wiggle it, beam to beam, how much play is acceptable. The previous owner of "Accomplice" says anything more than 2 inches is time to reinforce the keel sump. Responses will be added here. email: webwolf@nbayracing.com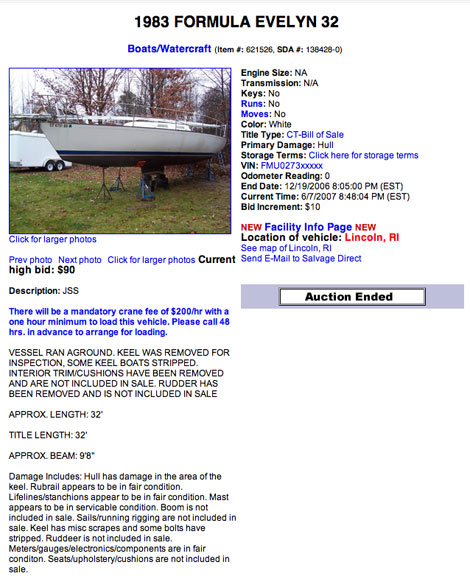 Aaron Pincus, owner of "Cheap Trick,"sent us a heads-up on this one...it is the former "Good Sons."
Yer basic ninety dollar Evelyn 32-2...
it's a shame.



EVELYN 32-2 rig dimensions from Mauri Pro Sailing: (http://mauriprosailing.com/techinfo/boatspecs/boatspecs.htm) I=38, J=12.7, P=33, E=12

NEEDED: USED NUMBER 3

NEEDED: SOURCE FOR NEW PORTLIGHTS (aka windows)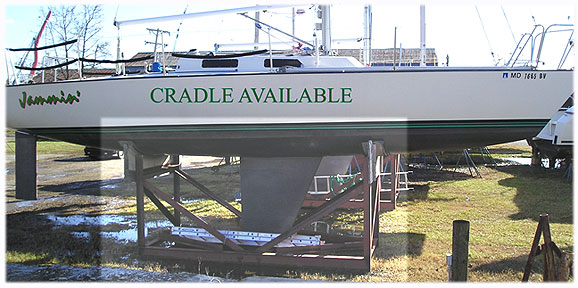 perfectly good cradle for Evelyn 32-2 available...email treese@jamminracing.com

National DISTRIBUTION OF THE BOATS (AS OF AUGUST 2008)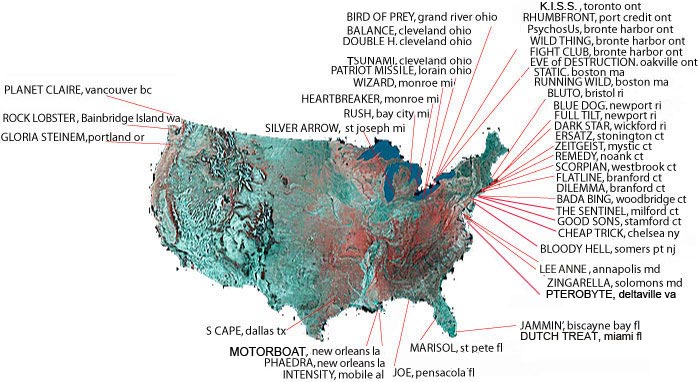 OWNERS LIST: New Owners Map:
* 99 = Hull number unknown.
IF you know of an Evelyn 32-2 that is NOT on this list, let us know, please. email: webwolf@nbayracing.com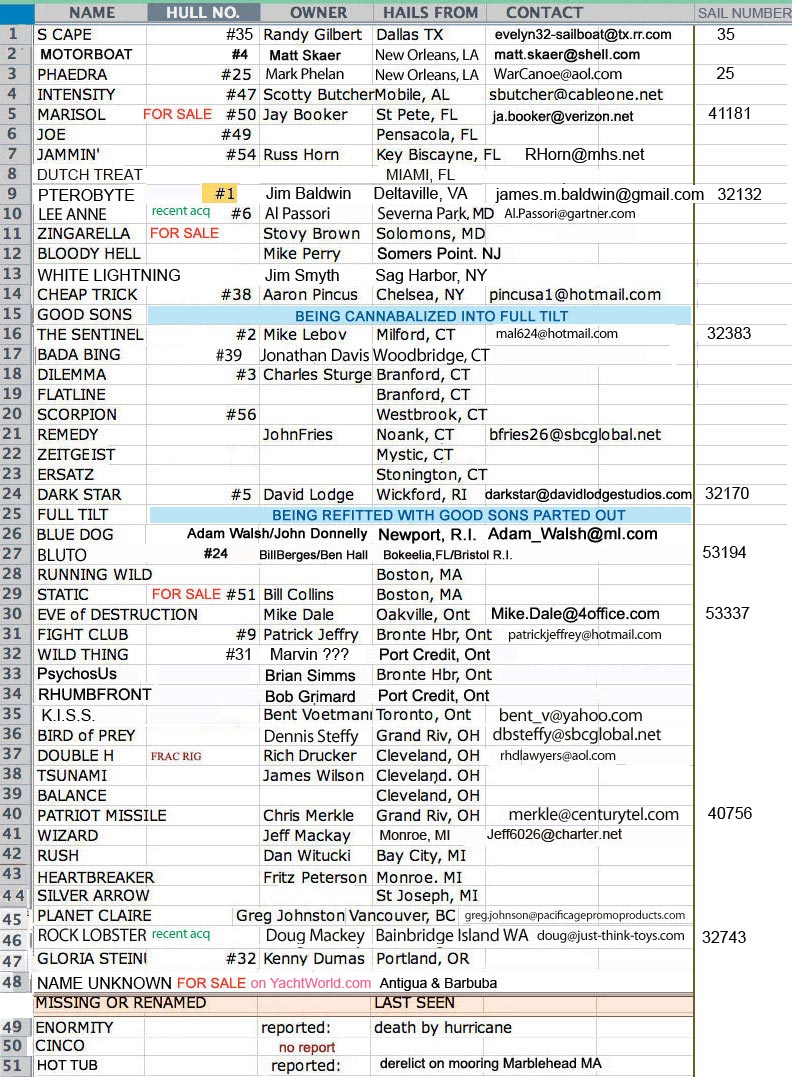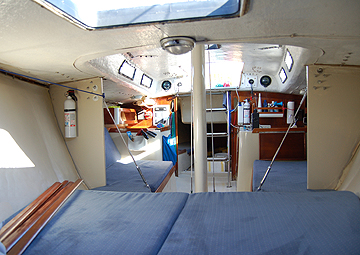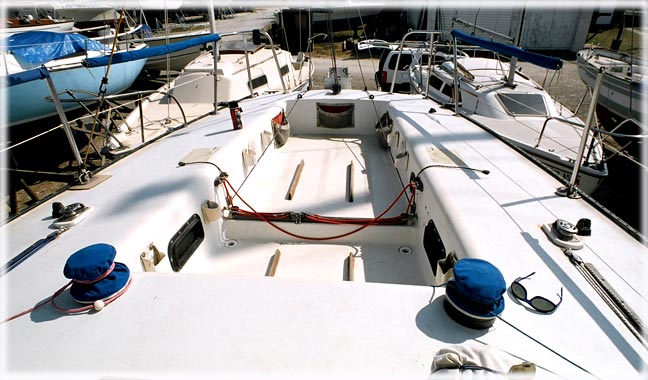 Articles & Upgrades:


Getting it done...some E 32-2 success stories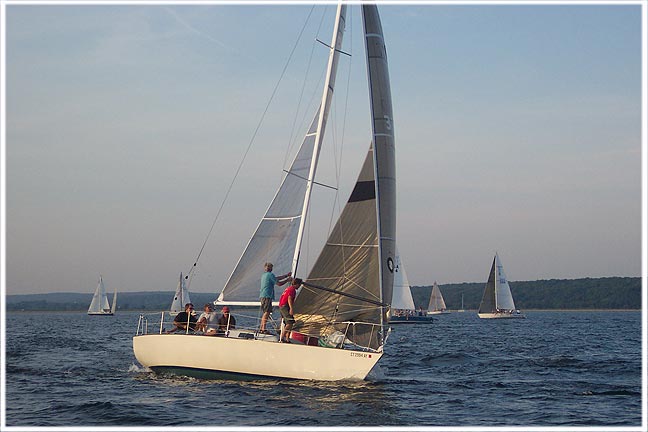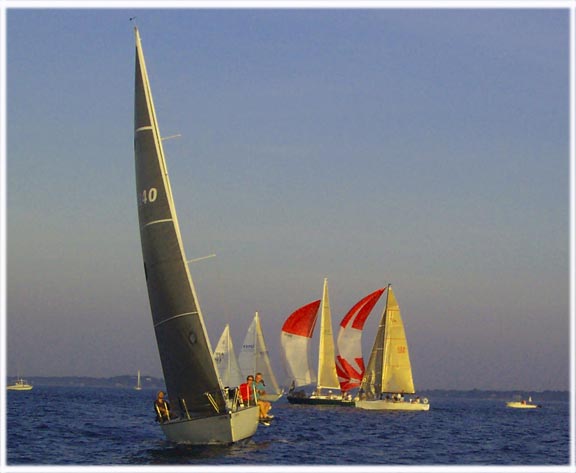 John Fries' "REMEDY" took first place in PHRF 5 at Key West in 2005 (& Evelyn 32-2 "Bloody Hell" was 2nd!). Here's a little bit about "Remedy" ....read on



Chuck Coyer used to own "ACCOMPLICE" (now "Blutof"). Chuck chimes in occassionally with tips on the boat on racing forums. Here are a couple gleaned from a Sailing Anarchy thread.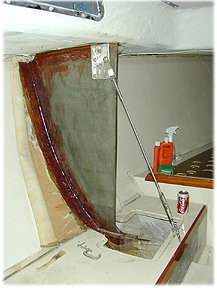 BULKHEAD REPLACEMENT: click for how-to article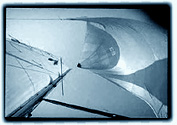 "Rush" rolls...another reason for a loose footed main....