PAGE 2 - 2007 NBAYRACING.COM
7/9/07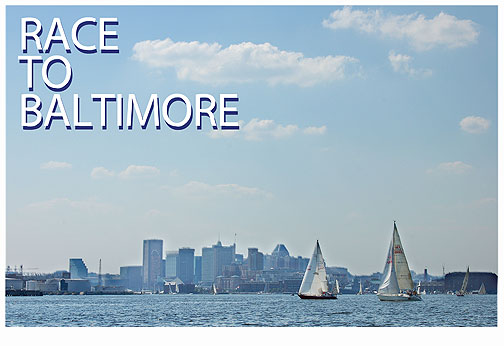 …finding holes in
all the wrong places.

Man, what is it about these races to Baltimore? More often than not, they have a way of turning into ordeals. "Harbor Cup" in late October is famous for serving up brutal conditions in an otherwise superb time of the year to go sailing. July's "Race to Baltimore" is a notorious sweat-fest, not necessarily unusual for these parts, but a distance race in very light air is a lot more punishing than a few sausages around W/L marks.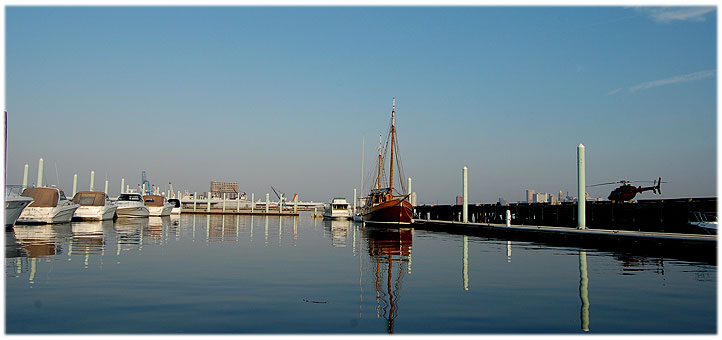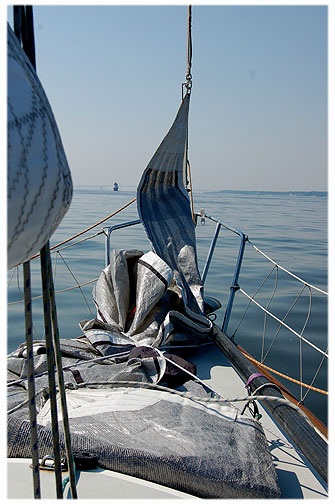 It sure didn't look too promising leaving BMC's Clinton Street facility at 0730 hrs and it didn't look a whole lot better at the mouth of the Patapsco. No biggie, sit tight until the AP comes down when the seabreeze kicks in around noon…there's plenty of hot air on shore inducing enough convection to get a start off, right?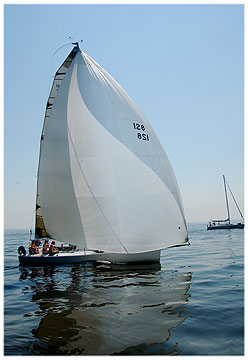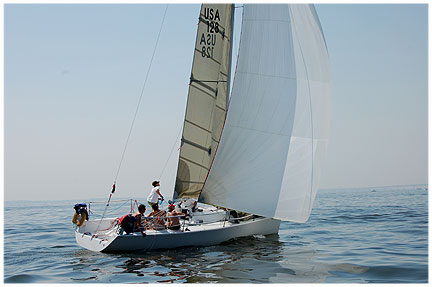 Just to give the RC a proper nudge, the lads on the Hendo 30, "Hendonism" popped a chute a did a loop or two around the prestart area, just to convince folks there was enough air to give it a go. Nbayracing.com likes it when someone takes charge and demonstrates sailing in light air, in order to up the ante for a starting sequence.
But then, hell, you actually have to RACE, once the gun goes off, and with the July 4th holiday in full gear, one could only anticipate every pig-like powerboat south of Havre de Grace finding its way down to the Baltimore Approaches and churning up the requisite blender of motorboater slop, always a blast in 2-6 kn of breeze.
Chutes went up, once folks could clear their air after starting, and the slog up to the turning mark was just a sloe-moe drag race, with, to our eyes, the aim of staying near the rhumbline and keeping the kite as full as can be expected with the AW changing every 1.074 seconds.
We felt okay about where we were…until we got to where we suddenly felt a lot less okay. A big clue would've been seeing "L'Outrage" dousing their chute to get a jib up a few hundred yards on our starboard side, just after leaving Bodkin Creek abeam. Seems the diddly-squat seabreeze began fighting with a gradient breeze that was fully established in the river. These two breezes were pretty much diametrically opposed to one another, so when we saw "Dolce" sailing back down toward the BayBridge, instead of chuckling and thinking "what the hell are they doing?" we should have been a bit more on-guard. Turns out "Dolce" had missed a mark and was intentionally sailing back to round it properly. Which, in retrospect, makes us look even worse because we ended up UNINTENTIONALLY sailing back toward the bridge, about two minutes later. There wasn't much we could do about it. With zero breeze, an unresponsive helm and a foul current, you're pretty much gonna head back to the bridge...Karma can be a real bitch, sometimes!
After a grueling 15 minute oooch to a windline you could've hit, first off, with a 2-iron, we finally rejoined the race and fought it out with the two closest boats in our class for the 12 mile beat into the Inner Harbor. It was a total crap shoot as to where the puffs were and where the holes were and we found some holes and a heck of a lot of current and lost our sistership in the haze in front of us….big Props to Dylan Stewart and his "Miss Trixie" crew for reeling in a half-mile lead we had on them and leaving us in the dust by going left, where we had clearly identified a lack of breeze. There was also a discernable lack of current, in Dylan's part of the world, and lack of current was the better choice in our own little personal 2-boat battle.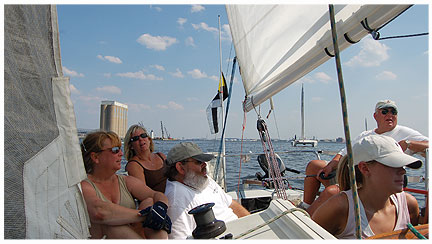 Left: J27 "Thin Float" nears the finish in the Inner Harbor ahead of a multi...always a good feeling when the leadmine you're on is in front of a two-huller after 22 miles!
Overall, it's always somewhat amazing how even in a flukey, light air crap shoot the cream always rises! These are some of the boats that won their class...no big surprises here:
"L'Outrage" PHRF A3..."USA 999" (John White) PHRF A2...."Red Streaker" PHRF B
All results can be found here.
So, yeah, a mid-day distance race in July on the Upper Ches. is gonna be brutal. But it beats mowing the lawn and grocery shopping. By a long shot.
Uh....see you at Screwpile?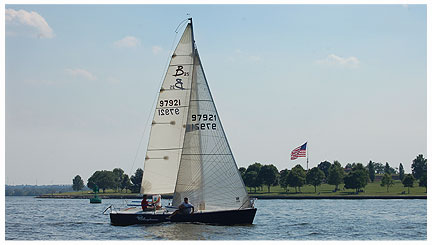 Left: Ian Craig's B25 "Mayhem" off Ft. Mac. They had come from 500 yards behind to eat our lunch, then cough it all up in the last half mile to the finish...it was that kind of day. Big Props to Ian for a great race.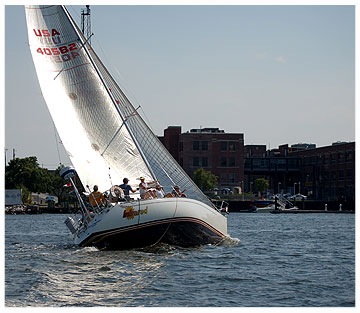 Left: Bob Sopka's "Infrared" finds a big puff a few yards off the finish line at Tide Point.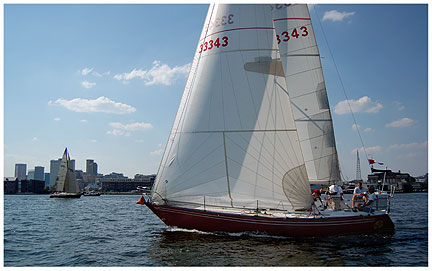 Left: Robert Simonsen's Peterson 34 "Better Times" gets ready to finish in a decent puff.
_______________________________________________________________________________________
6/29/07
NOTE TO NPSA'ers (and RCRA folks, too) .....The Commodore had by-pass surgery Tuesday and he's doing fine. Some crew from Kaizen and Scot-free went by to see him yesterday at St. Joseph's Hospital to wish him well.
Here are the race results FROM JUNE 27.
_________________________________________________________________________
6/29/07
BAD DAY? I'd venture to say 99% percent of the people who look at this page are amateurs who sail two or three days a week, if they're lucky. They're unpaid and rarely get a chance to actually practice. So, seeing stuff like this can make you feel better about the screw-ups that invariably happen in a weeknite beercan event or a weekend regatta. I mean, these guys receive a paycheck and still things go fubar on them...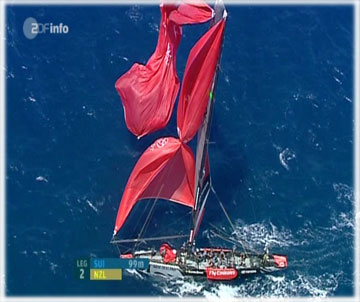 Image capture from 2DFinfo TV.
Then there's this, below, from someone's 12 Step program.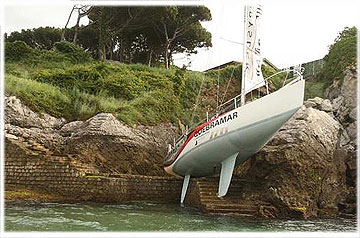 See? Everyone makes mistakes now & then, so go feel better about yourself and have a great weekend on the water!
_______________________________________________________________________________
6/15/07....ONE DESIGN 101 dept.
MAKING FLIPPY FLOPPY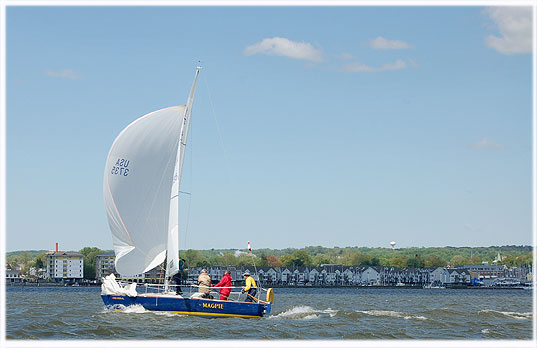 With enough races under their belts, now's a good time to take a look around at some different local club's PHRF racing results, to make some general inferences and some comments.
As you look at the results, it becomes pretty obvious that top PHRF boats totally dominate their fleets, and often sweep a series with all bullets. Losing PHRF boats usually stay well in the back and rarely rack up a top three finish. We don't want to suggest that there are not notable exceptions and we stake no claim that the meager statistical data shown here is in any way conclusive...we also definitely cherry-picked this stuff. But: we'd bet dollars to doughnuts that this trend is consistent through most of the local PHRF racing clubs for the length of the season.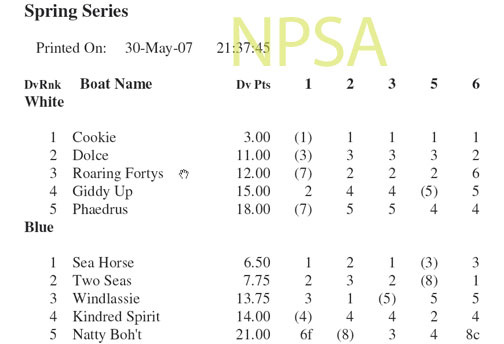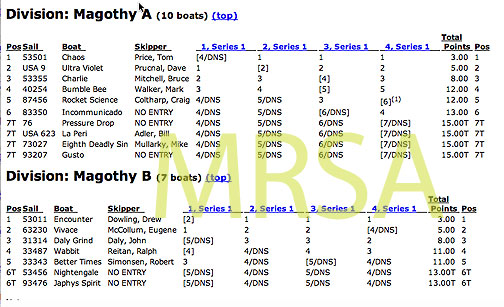 If you take a look at all three of these club results, you'll notice a few things (besides the fact that there are a helluva lot of DNC's in most Spring series):
- boats in top standings stay there
- boats in the bottom stay there
- there is very little "mixing" (e.g., bottom boats finishing any race in the money)

Now, we'll offer a synopsis of a local ONE DESIGN FLEET, the J24 fleet that races on Thursday evenings up in Havre de Grace, eight races have been scored, there are 12 boats in this series::
- 5 different boats have scored a 1st in 8 races.
- 8 different boats have scored 1st, 2nd, or 3rd.
- In a fleet of 12 boats, 10 have top third finishes (4th or better)
- All 6 boats in the top half of the standings have scored a 5th or worse
- 4 of the 6 top half of the fleet have scored a 6th or worse.
So, what does this say? To us, it indicates the worst thing about PHRF and the best thing about OD racing.
Such as: in PHRF, if you are any good and your boat has a good rating, you are probably going to kick ass. Even if you mess up, your rating wll probably bail you out of a truly hideous score.
If you are good in OD you better sail that way because with each mistake you'll slip down a notch in the scoring. And your rating will not bail you out. That's why you'll see the top boats occassionally scoring a 6 or 7or worse in One Design...no matter how good you are, once in a while you'll miss a shift or go off OCS and that'll cost you dearly.
For beginning racers, it says to us: skip handicap racing. You'll never know for sure what it is that's holding you back: boatspeed? can't point? tactics? rating? sailhandling? In One Design it's abundantly clear, immediately, what the issue is.
Okay. Rant over. Back to your season. Whatever it is, good luck!
_______________________________________________________________________________
6/05/07 steal dept.
I don't know what's happened in 2 years but this J24 was in pretty good shape (as least cosmetically) when I took this picture in Oct 2004 up in HdG. Current bid on eBay is just $2,000...it could be a great Wed. nite boat and the beginning of a One Design fleet at the mouth of the Patapsco if anyone is interested.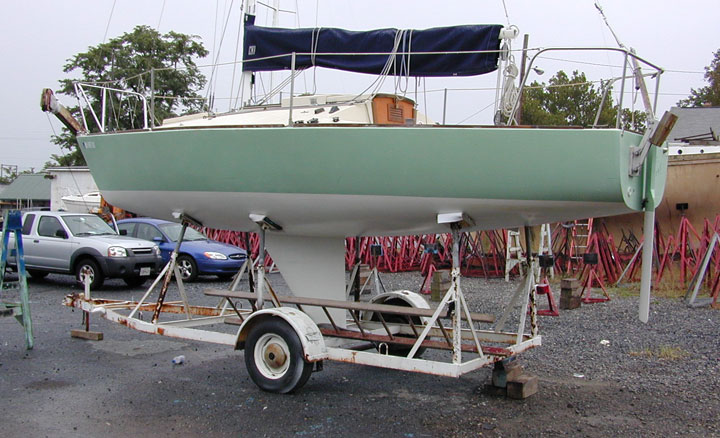 _____________________________________________________________________________________
6/4/07 Annapolis to Newport
The Annapolis-Newport race was fun to follow on the Tracker provided by AYC Regatta Management and iBoatTrack.com/CORUM. Especially after it became evident that the remnants of Tropical Storm Barry, roaring up the East Coast at 20-25 kn, were going to catch up with the bottom half of the fleet. Take a look at the difference in 24 hrs, and all the boats than either headed back up into the Bay, high-tailed it for the Delaware Bay or took the East River thru Hell's Gate into Greenwich CT. It looks like some other boats turned off their transponders before they got home, too.
Nbayracing.com communicated with one participant who's team decided to can-it just as they passed over the Bridge-Tunnel. They were second place in their class at the time, but decided to do the prudent thing and bail after they heard the forecast for 35-40, possibly 45-50.
Gotta respect that.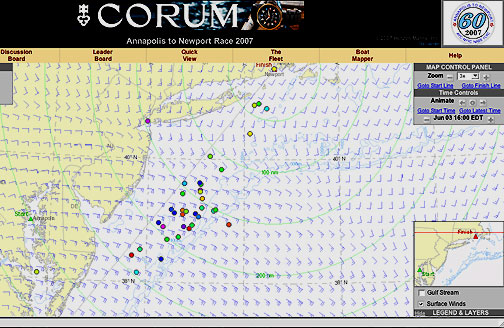 SUNDAY 4 PM EDT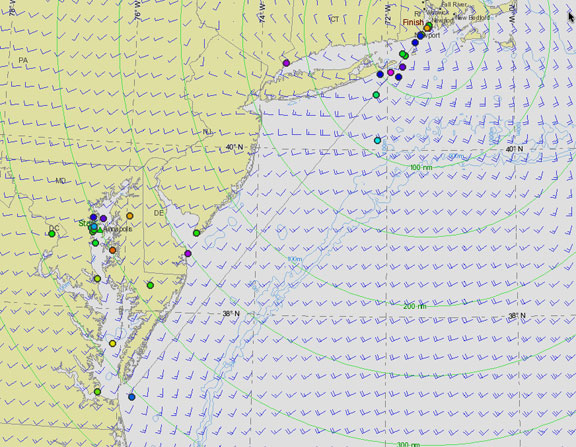 MONDAY 4 PM
_____________________________________________________________________________________________
6/4/07 Adios Amigo Dept.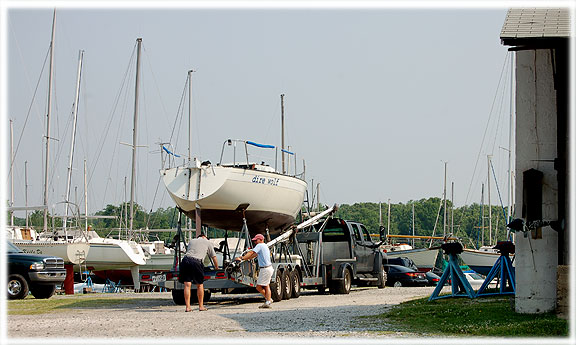 The last look at Direwolf before she got shipped off to Florida a couple of weeks ago.
Thanks to all crew and friends who sailed on her...we had some great times!
______________________________________________________________________________
5/23/07 TV Dept.
DONT FORGET: THE AC IS ON VERSUS (Channel 2 - Comcast) Live at 8:30 a.m. and rebroadcast at 6:30 pm, I believe. CHECK THE SCHED HERE
_______________________________________________________________________
5/21/07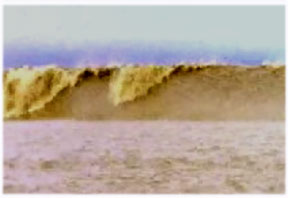 Once in a while we complain about current, like when it's really light and we underestimate a layline (several times) because the set is so bad and people on the boat start saying "you can't sail there from here," or else you pick up an X-flag because you got swept over. So it's fairly common to complain about the current. Like in the early spring when Conawingo has 48 gates open and the entire state of Pennsylvania drains thru between Thomas and Bloody Point. You could find yourself complaining then, too, I guess.
My advice: be quiet and watch this video. !!!!POROROCA!!!!
now THAT'S current (it's a Tidal Bore)
___________________________________________________________________________
5/18/07
GEAR HEAD
Nbayracing.com used to chuckle at the street riders in our neighborhood, riding by in those lurid spandex cycling get-ups. I mean, do they really need all that plastic and graphics to go fast?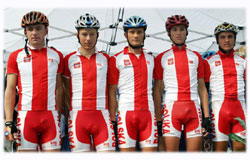 But then we got to thinking how important decent sailing gear is to being happy under race conditions and decided that, depending on the season and venue, good protection is crucial to one's fun-factor.
Case in point would be a couple of weeks ago at Pink Moon. In some pretty big puffs, both myself and crewmember Cheapshacht found ourselves (at 2 different times) off the boat, neck deep in the Susquehanna, hanging on to stantions, etc., in some big round-ups. I had water in my mouth, so I am assuming my head may have been submerged, but can't remember, it all happened so fast.
Once aboard, after both of us laughed our asses off over the gymnastics, we checked our respective statuses for being available to compete further: no injuries, and, more surprising, virtually no wet clothes under our outter layers!
Both Cheap and I were wearing bibs and lightweight gasketted dinghy spray tops. I had maybe 2 ounces of water in my sea boots...other than that I was completely dry. I think Cheap's feet were wet, but I believe that was the extent of his moisture problems, too.
SO: if you dont own one, plunk down 1.25 Boat Units for a decent spray top. It's by far the best piece of sailing gear I own.
APS has stuff on deep discount from time to time (see link above)
_____________________________________________________________________________
5/16/07
it's Still Tough Being Willie.
This just in from NZ.....FWIW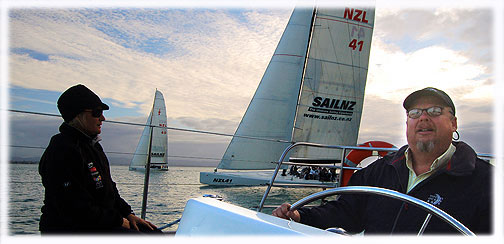 WHITE SPARS WITH KIWI CONTENDERS

AUCKLAND 5/15/07

Willie White shook out a reef and blasted by Americas Cup Contenders NZ 40 & NZ 41 (retired) Tuesday night.

Skippers and crews from both New Zealand boats were schocked and amazed as White's Lotus 15 ("Floating Dining Hall") rocketed by them at incredible speed.

Troy Dinglemeyer, one eyed bowman aboard NZ 40, was quoted as saying "He came out of nowhere, there was simply nothing we could do. Never have I seen something that big move so fast." To date, it's unsure if he was talking about White's boat or Willie himself.

Rumors have it that the Intrepid Yachtsman is being courted by a certain swiss syndicate and could be called to bring his nautical skills to Valencia at a moment's notice.

When asked about contending for the Americas Cup White was quoted as saying, "Any cup you can drink beer or mix a cocktail in would be welcomed in his home port of Baltimore, Maryland."

Both Skippers from the Kiwi boats refused comment.
--------------------------------------------------------------------------------------------------------------------------
5/15/07

LEMONADE.That's exactly what race officials Katie Zeglis, Jean Klutz and Linda Ambrose made from the lemons served up by Mother Nature this past weekend in Annapolis.
The event was the Hospice Regattas National Championship and the challenge was to juggle 23 teams, in town from as far away as San Diego and Santa Barbara, on 12 borrowed J105's.
And...do it in conditions that ranged from ultra-lite to just short of nukin'. The amazing thing is: they did it phenomenally well and somehow, as far as I could see, everyone involved left smiling. READ MORE...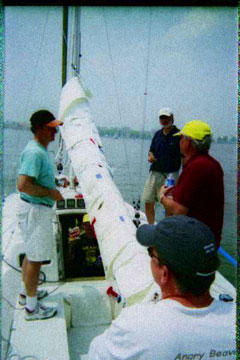 (left) Team Havre de Grace debriefs after taking a bullet, Day 1. They failed to follow through in the Championship series, though, finishing a not-too-shabby-but-slightly-disappointing 7th, out of 23 boats.
Congrats to the Out-of-Town teams from Niagara County, NY (FIRST PLACE), Oswego County, NY (SECOND PLACE) and Hartwell Lake, SC (THIRD PLACE) for solving the mystery off Greenbury Point!
Photos courtesy the nifty (and likably cheesey) disposable cameras the NHRA people were giving out, gratis.
_______________________________________________________________________
5/07/07
We at nbayracing.com pity the fool who races a J24 and didn't bother to show up, at Havre de Grace this past weekend, for HdGYC's Pink Moon Regatta. You, sir, are a fool and we pity you.
So there.
HdG does an outstanding job with this regatta with great race management in a very cool venue, putting on a helluva cookout after racing on Saturday. You, sir, are an idiot for not bringing your J24 to this event.
And we pity you.
You missed a big breeze and fun racing and a cold keg and grilled chicken and burgers and sausage with onions and peppers, and racing your brains out and then chowing down right next to the water with tons of great food and beers and friendly racers.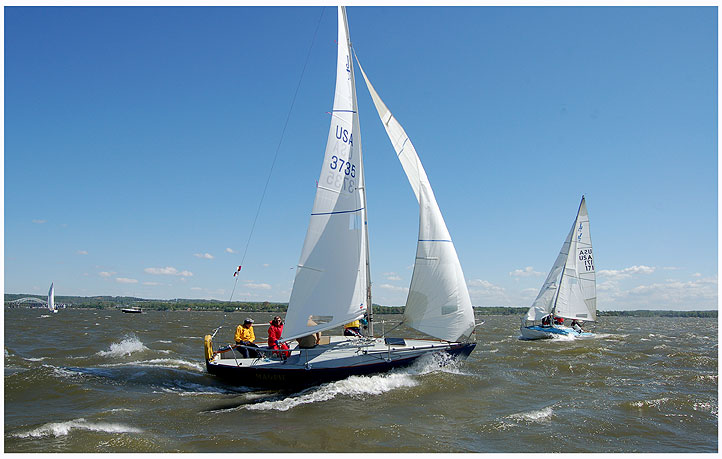 Tim Winger and Chris Crockett blast reach in prestart mode, in the big breeze at Pink Moon 2007.
Paul Van Ravenswaay and his crew aboard the J/24 "Millenium Falcon" won the overall regatta.
We got some good swimming-alongside-the-boat practice in, on #4201, finishing race 2 on Sunday. The RC got 8 races in and we were done by 1:45 Sunday.
You missed it.
Too bad.
We pity you.
______________________________________________________________________________
05/06/07
Still Tough to be Willie...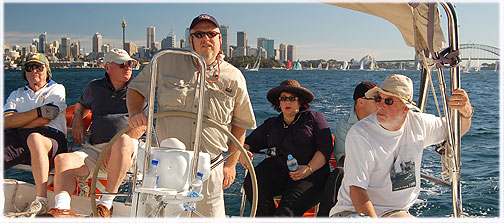 Willie turns up in Sydney, once again, behind a wheel...
Shirley, it sucks to be Willie.
________________________________________________________________________________
4/30/07 ....NOOD ANNAP MOMENTS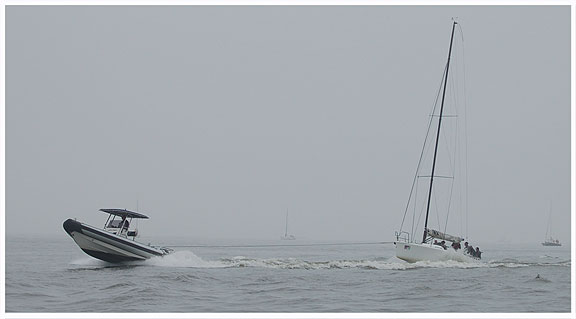 A bit of the old quick in & out. Seems like every slick prgram nowadays has a Protector. These have solved the problem of getting back to the tent while the drinks are still free. Gotta hand it to them for that.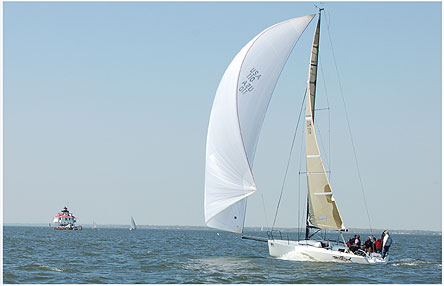 An M32 gettin' it on the way out, too, no assistance needed, thanks. "Bad Fish" roared by us (motoring, at 7 kn) in morning puffs to 16.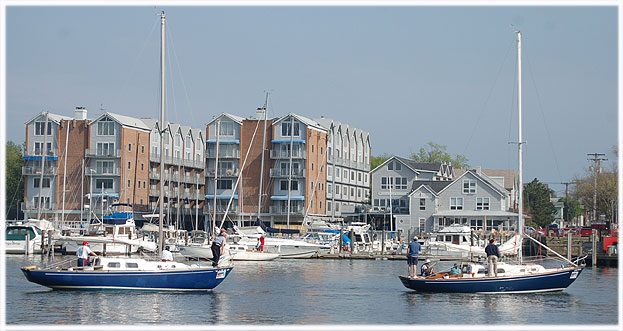 On the other side of the spectrum, it was nice to see some overhang, too.
The A30's had a strong showing with nine boats in the fleet...not bad for a 40+ year old cruising design.
ANNAP NOOD STUFF....LINK TO the COTB's 105 video.
LINK TO CHEAPSHACHT cupfishing in America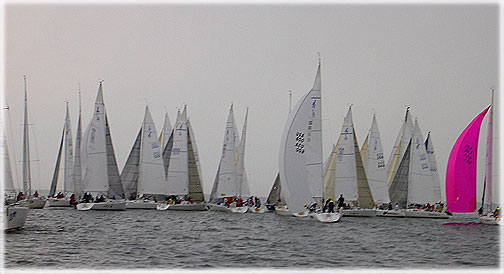 Somewhere in the middle there's a downhill mark...
(Photo: Lori Pierelli)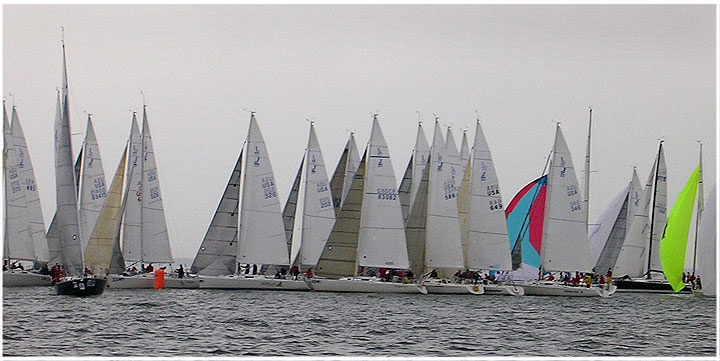 Definitely some inappropriate touching going on.
(Photo: Lori Pierelli)
This year's Annapolis NOOD was sort of an exercise in frustration (at least for the Bloody Point Brigade) and it got pretty ugly on Saturday, as the 45 boat J105 fleet converged, en masse, on the downhill mark in a race that was eventually scored for them (but not the 36.7, J35 or C&C fleets...they all died in a TLE heartbreaker). I know we on "Scot-free," wisely positioned on the outside of this fustercluck, learned a few new swear words as the 105 boys & girls exchanged "advice" on how to escape this large-marge of mess. What part of "RETRACT YOUR POLE" do you not understand?
But as a saving grace, Sunday dawned glorious and windy and each circuit finally got a chance to race in exemplary conditions. Even before the happy ending, everyone seemed to be having an excellent time and a significant contribution was made to Bermuda's export balance, at least in terms of the adult beverage market. Our favorite easport liquor shoppe had virtually zero ginger beer on the shelves as of 1800 hrs Friday evening.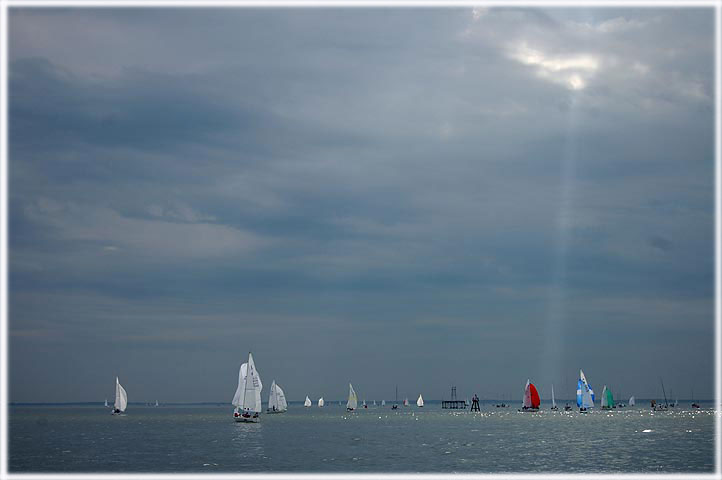 This finger of light might have been Nature's way of saying "go back to bed" on Saturday morning. It was a brutal day for the RC's with the southerly and westly and northerly all fighting to be top dog and the easterly sticking a nose in the fray, too.
Big props for AYC's RC folks, who got dealt a crappy hand and did the best they could. The irony was, both Friday and Saturday had NOAA weather issueing Small Craft Advisories....
No wind in April is weird, but it does happen. At least Mother Nate Cha gave us a blast for a going away party.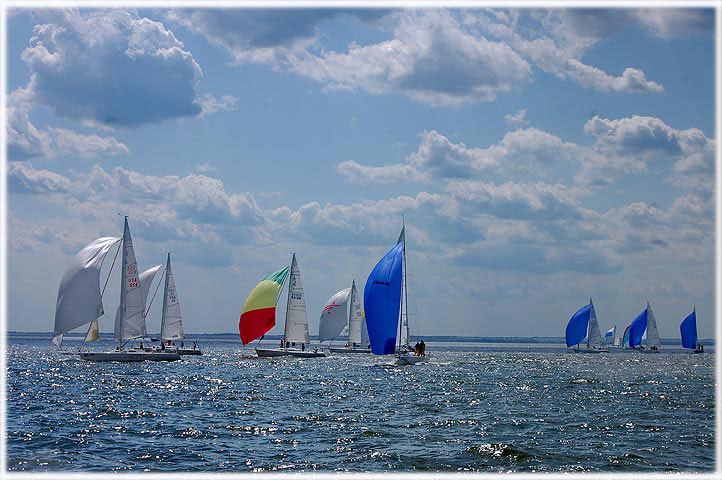 A few more pix coming up soon.
_________________________________________________________________________
4/26/07
Congrats to "Cookie," "Sea Horse," and "Hey Red," who took bullets in their classes last nite in NPSA's home opener.
____________________________________________________________________
4/26/07
Hard Bein' Willie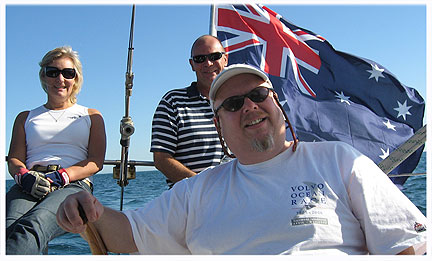 Our intrepid correspondent, Willie White, has posted, in the past, from places like East Yakistan and some tiny island somewhere on the Gulf of Thailand, always with some pithy comments about the local yachting scene.
Yesterday Willie checked in from Sandringham YC in Melbourne, where he did a little cruise on the S&S 34 "Lionheart," the boat upon which teenager Jesse Martin did a circumnav back in the late 90's..
Tough to be Willie...
_________________________________________________________________
4/something/07.......I dont even know what day it is or much care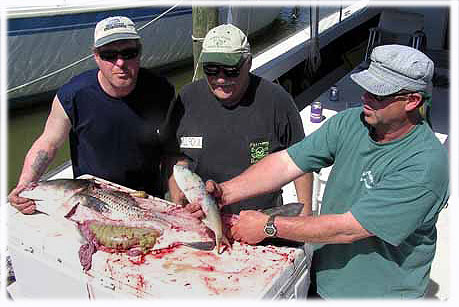 Our man Searoom sent us this shot...check out the size of the menhaden this 38" striper had in its guts. The Cap'n (center) and the Lads caught this beast in the Patapsco vicinities, so think of the mayhem going on under your keel tonite if you make the first Wednesday nite race of the season.
Speaking of mayhem, this Friday starts the 2007 Annapolis NOOD regatta and it looks like it's going to be a doozie. 45 boats in the J105 class alone, with a lot of talent coming in from out-of-town, including the Southern Circuit winner "Convexity." So, our local guys and girls better be on their game and represent!
We'll follow up with a NOOD wrap-up later and then there's PINK MOON up in HDG and then nbayracing.com will be on the National Hospice Regatta in mid-May, raced on 105's out of Annapolis.
I'm most def gonna need a vacation.
------------------------------------------------------------------------------------------------------------
4/18/07
Few things suck more than being an M.O.B.
You're off the boat, waiting for a bunch of goofs to get their acts together and get their butts back to you before you either freeze to death, drown or get nailed by some idiot sailing his SeaRay by the buttons.
So, the enterprizing crew aboard "Incommunicado" had a brainstorm during a particularly poignant moment off Patriot Point in Charelston Harbor last week: The Dark & Floaty!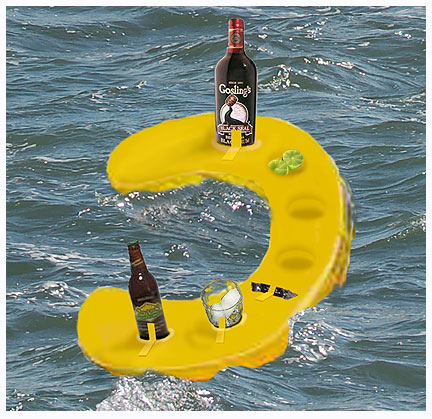 How cool is that?
You grab the horseshoe, rip the cello off the glass of cubes, undo the velcrox straps and pour yourself a strong one while the dolts who got you in this position struggle with shrimped chutes and non-starting engines.
Forty minutes later, they find you with a huge smile on your face, happily playing in the foam and feeling no pain. No, none at all.
Coming soon to a marine store near you!
________________________________________________________________________________________
4/17/07

RACING IN BUBBA-LAND?

.....Hardly!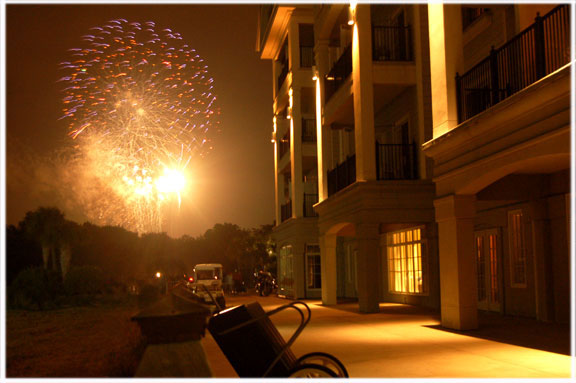 Charleston Race Week offers an early season event in a terrific town with great facilities and decent racing! READ ON
_______________________________________________________________________________

PARALLEL UNI:
We at nbayracing.com have spent a LOT of time racing both on and against local boats "Direwolf" and "Scot-free" and also, to some extent, "Minor Threat," and we've also had our clocks cleaned by "Invincble."
Imagine, then, our horror at Charleston Harbor Marina where all four of these boats were berthed within 30 yards of one another….strange.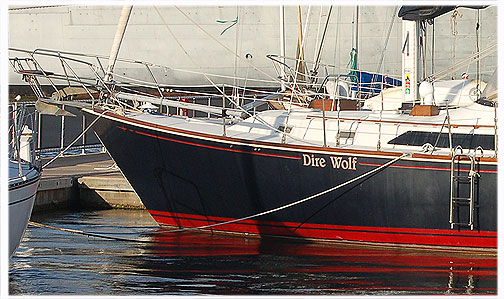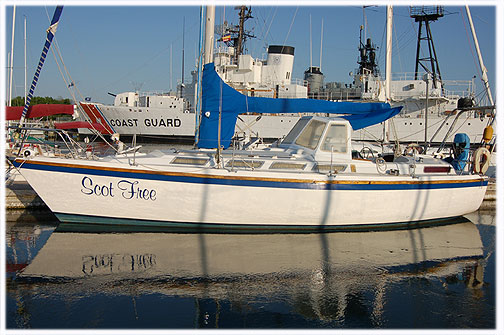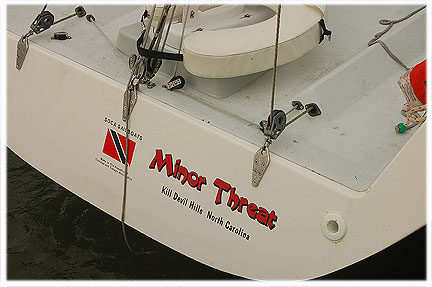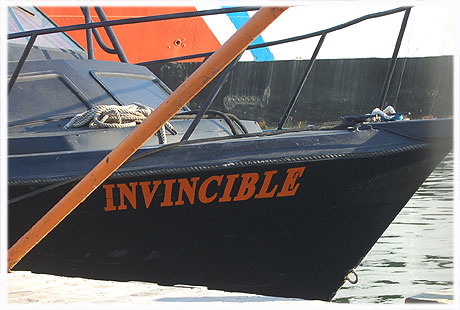 ---------------------------------------------------------------------------------------------------------------
1/26/07 more kwrw

MoneyNumber$ it doesn't get much closer than this in big boat handicap racing. Another nice sequence from foe-tog Terry Reese of a tight rounding at the weather mark in race 3...Jim Swartz's Swan 601 "Moneypenny" has an inside overlap on Dan Meyer's Carroll Marine 60, "Numbers." That's bad news for Dan, as he owes time to the Swan. I like the way both crews look calm in this light stuff, but you know the tension was thick! "Moneypenny" beat "Numbers" in this race, but "Numbers" won the IRC 1 series, one point ahead of Edgar Cato's "Hissar." Both boats, first and second place, hail from Newport, R.I. so maybe a little rivalry there?
____________________________________________________________________________
1/25/07 KEY WEST RACE WEEK DEPT.
I ....don't..... THINK..... so.
1/24/07
(photo: Jammin' Terry Reese)
Our raving reporter in Key West, "Jammin'" (of chicken fame) also sent a butt-load of great shots from the action at Key West. Thanks to him for this little sequence that says "don't even think about going in there" as nicely as can be stated without a sound track...In this case J105 "Jabberwocky" gets the door slammed on her by "Rock & Roll." Looks like a third row seat for "Jabberwocky."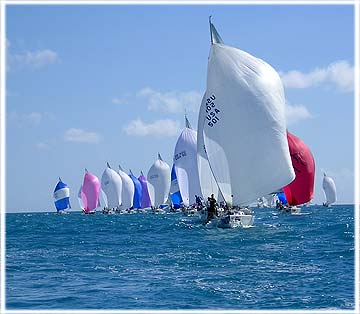 105 fleet charging downhill looking sharp...everyone seems to be in lockstep, e.g., a little bit of induced windward heal to project that A-sail's shoulder out. "Masquerade" from S.F., California won the 9 race, no toss-out series.
(photo: Jammin' Terry Reese)

And "Gumption" looking a bit less sharp...they did finish 5th though, overall, in the 33 boat 105 fleet.
(photo: Jammin' Terry Reese)
(sorta lame to put the shots of this rounding up when I didn't even go and just sat in front of a screen all week while there guys were racing? yes it is...but consider it payback for all the times a 105 blunders into a start box, I guess)
----------------------------------------------------------------------------------------------------------------------
rolexOCRmiami
for anyone who cares, and racing sailors should, the Olympic Classes Regatta is going on now in Miami. You can find decent coverage here (when their site isn't glitchin') and see Gary Jobson's take on the event here.
-----------------------------------------------------------------------------------------------------
1/23/07
MY FRIEND WENT TO KEY WEST AND ALL I GOT WAS THIS CHICKEN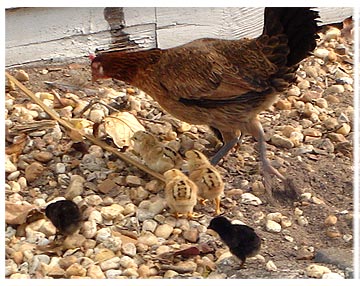 Anyone who's ever gone down to Key West knows that the whole island is overrun with fowl...so instead of hot pix of the Melges 32 racers blasting off waves, I get this stupid mother hen shot from my bud "Jammin'."
But: when it comes to the big news out of Key West this year, it ain't about the Reichel/Pugh 81's of this world or the IRC 1 fleet or the Melges 32's, it's about a small boat that came up LARGE.
Annapolis Performance Yachts (APY) partners, Jeff Hodor and Doug Bullock put together a syndicate, with the boat's new owner, and campaigned an Esse 850. No big news there. Esse 850's are a popular Swiss-made one design in Europe and have certainly carved out a reputation over there as able performers. (photo: "Jammin'")
APY is now a U.S. Esse 850 importer. So, the syndicate took a boat down to KWRW 2007, hoping to be competitive. No biggie there, either.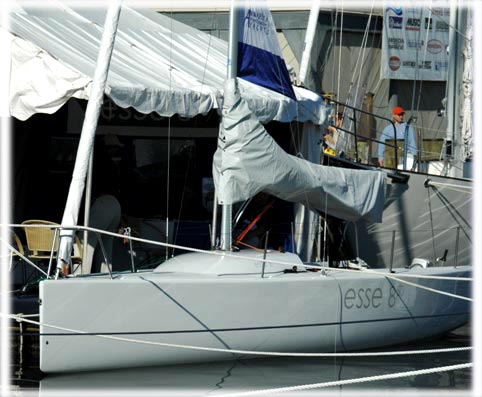 The big deal is: after day 4 they were in third place! An even bigger deal is: They had never raced the boat with a spinnaker up. And: they finished one place ahead of Bruce Gardner's longtime Key West dominator, "L'Outrage" in the 9 race series (one toss-out).
The idea of going to Key West to campaign a boat against what really amounts to the cream of the crop in U.S. sailing (in practically every fleet) WITHOUT ever having raced the boat with a chute is outrageous! Finishing 4th overall, with a very close race for third on the last day (the heaviest air day of the event this year), is nothing short of amazing.
FWIW, nbayracing.com has been chasing "L'Outrage's" transom around the Bay for about the last 5-6 years, since we joined the PHRF A fleet, and we are hugely impressed with the APY syndicate beating the Beneteau FC10 this year with hardly any practice and virtually no spinnaker experience and with a thrown-together crew.
The Esse 850 won this year's "Sailing World Boat of the Year Award" and for once it looks like Sailing World got it right! Huge congrats to the APY syndicate and to Jeff and Doug. You can contact APY at 1-800-450-7104 or click here for their website. (Photo: Jeff Hodor)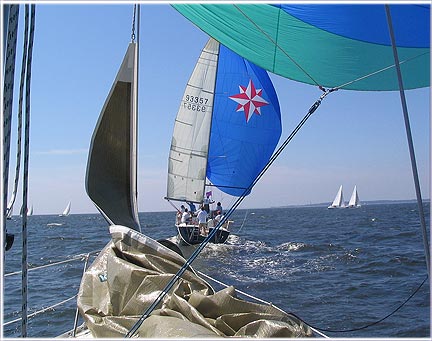 (APY partner Jeff Hodor's Jeanneau 35 "Warrior" in front of my ride, "Incommunicado," at last year's Screwpile.Photo: webwolf)
BTW, Jeff knows I want an Esse 850. But, there ain't no such thing as Santy Claus, baby...nope.
-----------------------------------------------------------------------------------------------------------------------
1/10/07
BIG TROUBLE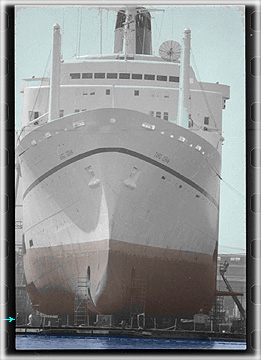 I don't know what it is about big ships getting bashed around and making a hash of things, but I find pictures of this stuff fascinating.
Perhaps it's because when trouble happens on such a large scale, it makes us feel better about the bone-head moves we've all made, from time to time, on our own teenie (by comparison) vessels.
Check out this link to the collection of "cargo disasters" the firm Countryman and McDaniel has compiled over the years.
The pages load rather slowly and you may have to wait to scroll down and see all the images. Broadband is a definite must!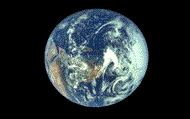 link to Countryman & McDaniel's page.
(Props to Sailing Anarchy Forum where I saw this stuff, too)
___________________________________________________________________________________
1/2/07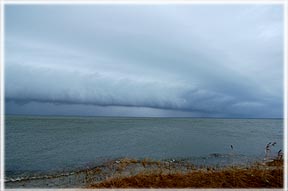 nbayracing.com woke up to the new year with this wall cloud that stretched from Janes Island to Deal. We hope this isn't an omen for next season! Have a great 2007 and we'll see you on the Bay.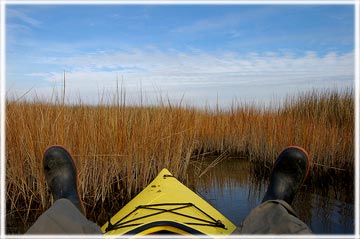 We didnt go to the Hangover Bowl in Annapolis, but we did get a little paddlesport time on the water, down on Mine Creek in Somerset County. We're hoping that this is the last calm we find this year.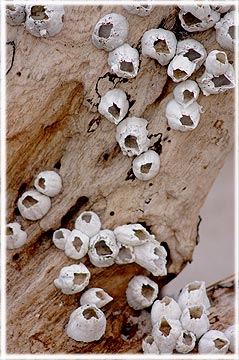 BTW, check out AYC's SI's for their 2007 Hangover Bowl here.
We also hope this year's barnies are a little tamer. These guys are pretty much what we found on Dire Wolf's bottom after a month left unattended. Not fast!
---------------------------------------------------------------------------------------------------------------------------------------------------------------------------
12/19/06....Evelyn 32-2 dept.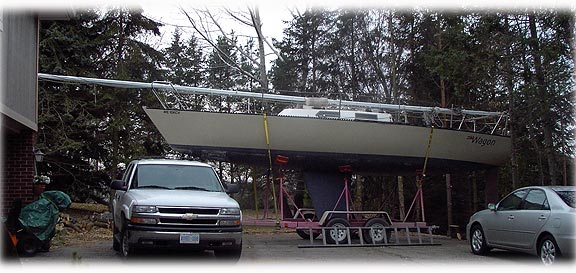 (photo: permission b. voetmann)
This is from a new Evelyn 32-2 owner in the Toronto area, Bent Voetmann.
Looks like he arranged for an early Xmas present. How Santa got it under the tree and lodged sideways at the end of the driveway is another story!
Congrats to him as the new owner of "The Wagon" which, from all reports, is stiff and fast and is observably one of the more highly modified E 32-2's around. Take a look at the modified tranny, which nbayracing thinks is decidedly cool.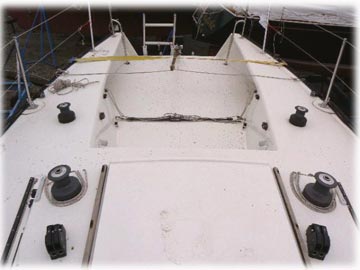 Also, the boat's "J" has been shortened considerably with the headstay moved aft from the stem a bunch.
We wish Bent a lot of success with the boat and he should have good company...he says the addition of "The Wagon" to Toronto's environs brings the total number of E 32-2's in that area to six (which, btw, is not yet reflected on the new E 32-2 Owner's Location Map we did up earlier this month...it will be subject to frequent revision).
If Bent's boathandling skills are anything like his trailor handling skills, he ought to clean up on the race course! In a few weeks, nbayracing.com will have a new Unofficially Unofficial Owners List with contact info where it has been made available from owners around the country.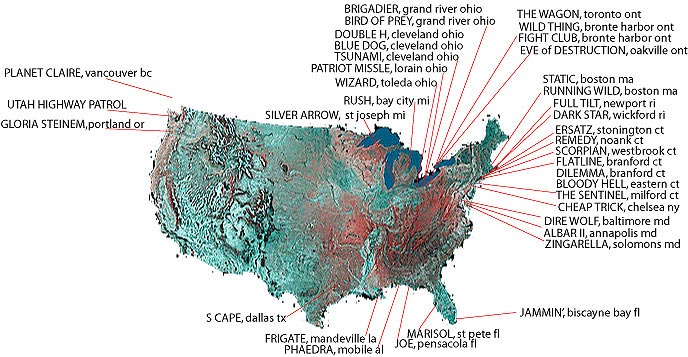 _____________________________________________________________________________________
12/17/06...from the okay, we were wrong dept.

John White and crew with a decent lead over a PHRF A1 boat approaching the finish of this year's Harbor Cup
Major props to the purple boat and big congrats on last season!
Always ones to admit it when we are wrong, here are few words of rebuttal to the story below, titled "PHRF RANT"
The hugley respected sailors and boatbuilders at bc boatworks, inc. wrote us back a well-reasoned, compelling explanation of why the Purple Boat does so well in PHRF A3, and I think it would be hard not to agree with their rationale.
I've excerpted the best comments from the lengthy correspondence:
"I can't agree with your comment regarding a zero chance of winning... if other boats worked as hard at winning they would certainly have a chance. The fact is they don't prepare or compete on a level with John. Is he to be attacked for optimizing the boat to be at the top of his rating band? Just like one-design, if a boat can get bow out on the competition they control the race and these guys are just too good to make many mistakes."

John and company are certainly excellent sailors, the short list of accomplishments
I'm aware of are:
-Nominated as Rolex Yachtsman of the year
-Won MORC Internationals twice
-Won McMillan Cup,
-J/30 North American champion 1998
-Won CBYRA High Point 1994/ PHRF B
-Won CBYRA High Point 1995/ MORC
-Won CBYRA High Point 1998/ J/30
-Won CBYRA High Point 1999/ J/30
-Won CBYRA High Point 2001/ J/30
-Won CBYRA High Point 2002/ J/30
-Won CBYRA High Point 2004/ PHRF A1
-Won CBYRA High Point 2005/ PHRF A2
-Won CBYRA High Point 2006/ PHRF A3 (unofficial)
Thats 9 HP Championships in 5 different classes/boats not including the new A3split. I'm sure this list is not complete either.
I've raced against him in MORC and I can tell you he has a very sharp, analytical mind who knows how to optimize both rating and performance. He sails regularly with a very loyal and dedicated crew who are all extremely talented.
I don't believe the purple boat has a gift rating, simply that John and crew are that much better than their competition.
I can't agree with your comment regarding a zero chance of winning... if other boats worked as hard at winning they would certainly have a chance. The fact is they don't prepare or compete on a level with John. Is he to be attacked for optimizing the boat to be at the top of his rating band? Just like one-design, if a boat can get bow out on the competition they control the race and these guys are just too good to make many mistakes.
If you were to propose a rating change, what would it be? Assume for a moment the boat rated 6 sec./mi. faster. John would still have won those three races. While this doesn't directly support my point that the rating is fair, I'm sure you would agree that excellent sailing is always going to make far more impact in the results/finish times than a questionable rating.
And yes, they are an extremely nice group. I think we need programs like his
to give the rest of us something to aspire to.
95% of the programs out there are simply not as dedicated or gifted. The gift comes from being dedicated."

I think this pretty much closes the book on the A3 season and frankly, rather than hope for any sort of a rating adjustment, maybe our time would be better spent hoping for better boatspeed and sailhandling next season with our OWN PROGRAMS.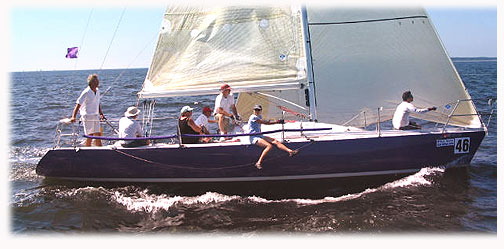 999 in Screwpile '06's race for the beach.
Thanks to bc boatworks for taking nbayracing.com to school!
-------------------------------------------------------------------------------------------------------------------------------------------
12/15/06
yet another stupid PHRF RANT (see story above after reading this!)

Last July I posted what I thought was a fairy innocuous comment about a boat we raced against at Screwpile, implying that perhaps it had a PHRF rating that was maybe-just-ever-so-slightly-a-teeny-bit-of-a -gift.
Within one week I had 3 emails from people I dont know, calling me all sorts of names (some of which I deserve, but for different reasons) about this comment. NBAYRACING isn't about pissing people off, so I removed the comment from the page and life went on.
Nonetheless, I still have a itch in my Camets about this subject. I was thinking about well-attended regattas, the big ones on The Bay, and how a significant number of racers go to a lot of expense and energy to compete when, in all reality, they have absolutley ZEE-ROW chance of winning.
WHY do they have zero chance? They have a good boats, they have decent sails and adequate crew and a valid PHRF cert and even a blind pig finds an acorn once in a while, right?
WRONG.
Let's take PHRF A3 for example. Let's examine a boat's finishes for 2 events: SCREWPILE and AYC FALL SERIES. Over the course of these 2 events, wind strengths and currents varied quite a bit, i.e., no one boat dominated because its design is favored in, let's say, less than 10 kn TWS or more than 15. Conditions were variable enough to benefit practically every competitior, even the Frers and Omega 36's of the world.
I'm going to cut to the chase and wait for the flames: when a boat finishes 1-1-1-1-1-1 and 1-1-1-1-1-1-1-1, respectively, for each event, I begin to, well, er....ummm...question their rating?
Then, examine some finishes by the same boat in 2 or 3 distance races this summer: First in Sail for Sight (by 23 mins and change over 2nd place finisher). First in Governor's Cup (by almost 9 minutes over 2nd place), First in Harbor Cup (by 11:40 over 2nd place finisher). Hmmmm...gee, I dunno.
Well, maybe they're just really good sailors!
Yes, they are. No doubt about it. And I'm told by everyone that the skipper is a really, really nice guy (I never met him). BUT: I've raced against really good sailors and know what? It is extremely rare that someone, no matter how good they are, runs the table event after event after event. It practically NEVER happens in One Design.
So, any doubt why PHRF events are getting smaller and fleets like Etchells, J22 and even Beneteau 36.7s are growing?
An alert and vigilance PHRF board would go a long way toward making handicap racing fun.
--end of rant ---- send comments to: webwolf@nbayracing.com
__________________________________________________________________________
12/14/06
STALE for awhile...BUT WE ARE BACK!!!
Okay. Things got a little stale here for awhile, but we're back. All kinds of malicious gossip and inuendo due up in a few days or weeks. A frank PHRF rant (like the world needs another). Some thank-yous. Some other observations.
___________________________________________________________________________________
4/5/07
No One.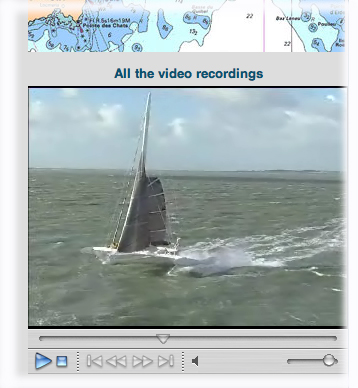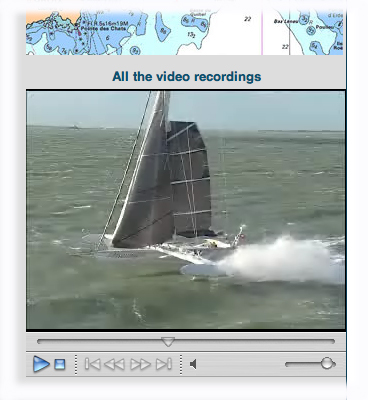 DOES THE BIG MULTIS QUITE LIKE THE FRENCH. YOU OWE IT TO YOURSELF TO TAKE A MINUTE OR TWO TO WATCH THE VIDEO OF HYDROPTERE HERE:
______________________________________________________________________________
4/4/07
NO

(big, gushy, props for Quantum!)
My boat came with an almost-exclusively Quantum inventory that the previous owner had purchased. They were in great shape when I bought the boat, so I hadn't had much contact with the Quantum loft except to get price quotes from them, until two of the batons in my Q main gave it up a couple seasons ago. I went into the Annapolis loft with the 2 destroyed sticks (that were, just as likely, caused by crew abuse as anything else) and figured Q would use them as length indicators and come up with a new pair and hit me for 20 bux a piece…which would've been fine with me. I just wanted to get my main back up to speed and it was early April…I knew they'd be busy and, plus, I didn't need the batons immediately.
So the guy takes my mangled batons and says, "Oh yeah, we had a problem with these, wait a minute." He disappears for about 5 minutes and I'm thinking, oh great, he got a phone call about someone's Farr 40 genoa and probably forgot about my meager baton problem.
Instead, he reemerges with a bundle of 4 new batons and says "Here ya go." I said, somewhat droop jawed, "What do I owe you?" and he says, "Nothing, it's on us."
I was already a fan of Quantum sails because of the racing inventory I had on the boat, but this was a first in terms of service.
Cut to yesterday, when we had Dave Flynn from Q Annapolis on board to check out the new #1 Q had just built for Ed Tracey's "Incommunicado." Turns out, we had never really "met," but Dave was the guy who swapped out my batons 2 years ago.
Dave spent a couple hours with us yesterday getting "Incommunicado" set right, and he was top flite at this. Hey, he's a pro and one would expect that from the loft. But the excellent thing about Dave was: he constantly pointed out tips and advice during the whole process. I've been on different boats with different guys from different lofts, and sometimes it's almost as if they have the knowledge, but they refuse to share it. It's either too much work or beneath them, somehow, to stoop to the level telling the non-cognoscenti what is so completely obvious to a real "pro."
Complete opposite with Dave. He's the kind of person who does his job very well and makes those who are less knowledgeable comfortable with getting an education. That's a rare thing these days.
But then again, that's Quantum.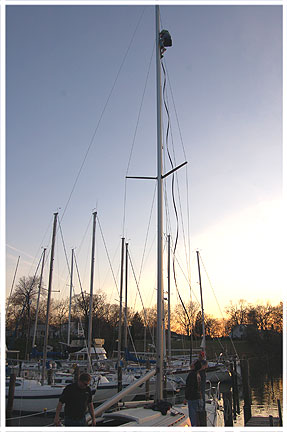 New luff track for a new luff...and a trip down the ditch.
_______________________________________________________________________________
4/2/07
VITAL SIGNS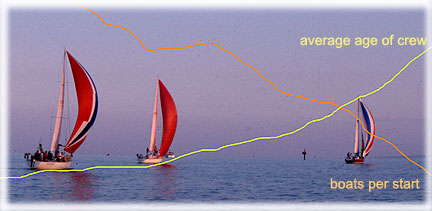 Are we in need of resuscitation?
You only have to look at the race rosters of clubs like Glenmore, NPSA and RCRA to get a realistic picture on the pressures of PHRF racing. Clubs that have historically seen 30 to 35 boats on the line for a weeknight start are now seeing 15-25, sometimes less. Plot that data on a graph along with the median age of the average owner and crew and you'll see two lines going in divergent directions…the first going down precipitously and the second going up gradually, but steadily.
This is not a healthy picture for performance sailing.
The factors behind the numbers are myriad and complex, but in a nutshell, an entire culture has changed, both in general and specifically in regard to sailing.
If you are from my generation, we wanted to be on the water to relax and zone out from the pressures of college, young adulthood, and work. We were fine just taking a weekend to cruise just about anywhere, wherever the wind would take us. Speed was not a priority.
Racing was much more laid back. Racing was done on cruising boats that had things like plates and silverware in the galley.
Nowadays, it's hard to find a younger adult who wants to coast along at 5 mph on a 92 degree day with the end of the day's reward being crammed in a small berth with the whine of mosquitos all night long. (still sounds great to me, but….)
In terms of racing, today's younger sailors want to race on a boat that can climb out of its own bow wave, downwind. They don't care about stoves and lockers and quarter berths. They wouldn't want to trade their Jettas and Acuras for a 1979 Chrysler LeBaron, so why would we assume they'd want to race on a four ton leadmine from the same vintage?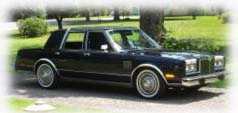 One racing area that has remained fairly stable and even shown remarkable growth in some locations is One Design. A trend that seemingly goes against the conventional wisdom is the Annapolis Etchells fleet, in which case a 30+ year old design has been adopted as one of the most popular and competitive local One Design fleets. But in terms of small sportboats, look at the growth of the Melges 24 fleets, regionally. St Pete NOOD had an amazing 45 boats signed up this past February.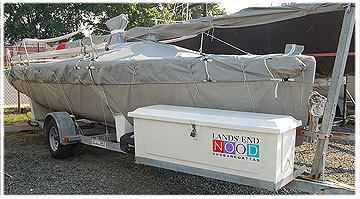 an HdG Melges24, buttoned up and ready to hit the road.
So, if the two things that clearly seem to be working are: OD racing and sportboats...then, what would a new, local (e.g., Baltimore area) One Design Fleet look like, if we could pull all the strings and make it happen?
I think it would look a lot like a Viper 640 fleet. The Viper 640 is, by all accounts, a blast to sail. It's big enough for weeknight club racing and small enough to trailer to weekend out of town regattas. One problem with the Viper 640 though, is that cheaper, used boats are very, very hard to find, due to the original builder making a hash of marketing the design, despite the incredible amount of ink the boat got when it was introduced (Sailing World BOTY in 1997). The boat has a new builder but the all-up cost for a brand new boat is not going to be too friendly to a lot of folks.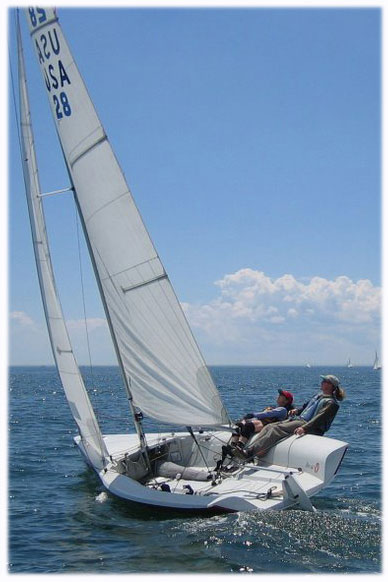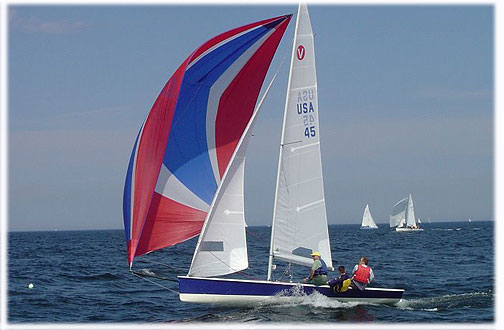 Of course, there are a ton of used J24's around, but one of the criteria mentioned above is "exciting." Don't get me wrong, J24 OD racing is a blast, I do it every Thursday night. But I don't think it's the way of the future. Again we are talking about enlisting 16-30 year olds.
So, what is the way of the future?
Anyone with a clue, feel free to email us at: webwolf@nbayracing.com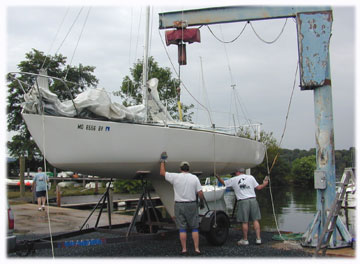 a yard with a hoist is an absolute must for any small keelboat OD fleet. A better scenario is 2 or 3 yards with hoists.
---------------------------------------------------------------------------------------------------------------------------------------------------------------------
4/1/07
IT'S APRIL.....CLEAN UP YOUR ACT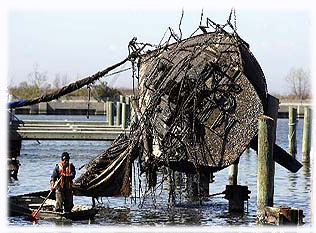 Not an April Fool's joke, but a recent reclamation from the bottom, after Hurricane Katrina. One wonders what else has to be down there, when something this big resurfaces after almost 20 months. Photographer unknown.

_______________________________________________________________________________________
3/21/07
ELECTRO DETECTO
You just nailed the start, or at least you think you did, but the X flag has gone up. The post-start VHF hail is garbled...did they call your bow number? You're not sure whether to turn back and restart, or gamble that the start you've just won isn't going to turn into a nasty penalty.
Sound familiar? We've all been there. If it wasn't the situation described above, it was another one whereby you had no idea whether to turn back and get hosed or keep on trucking and.........get hosed.
Well, the smart folks at ISAF have been thinking about all this and have issued a report on Electronic Detection of OCS.

This report was pointed out on Sailing Anarchy, today. Pretty cool. I'd love to see this technology filter down to smaller regattas and it seems fairly do-able, once the cost issues become managable, like most electronic gadgets have become over the years.
If you missed it, you can download the .pdf from ISAF at: http://www.sailing.org/raceofficials/RMSC_NEWS_Issue_2_FEB_07.pdf
see? those dues aren't going for nothing after all!
____________________________________________________________________________
3/19/07
MARCH BADNESS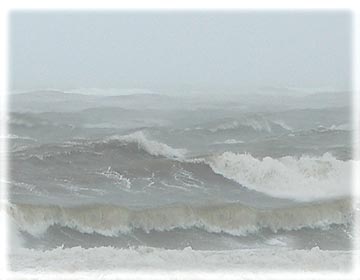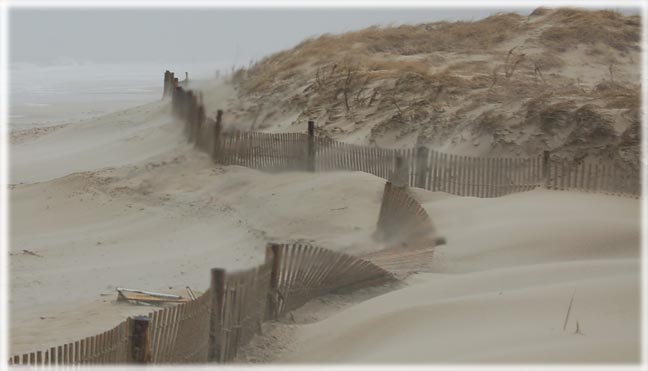 What could possibly suck as much as the month of March? You go down to the beach and it's 82 one day, 38 the next. The shots above are from Henlopen Point, where it was blowing 40 to 50 (mph) sustained last weekend. Horizontal sleet. And sand I was picking out of the corners of my eyelids for 2 days.
Nonetheless, the sight was amazing. Just glad I was ashore and not bringing a boat around Cape Henlopen at the time.
_________________________________________________________________________________
3/08/07
Big Thinkin'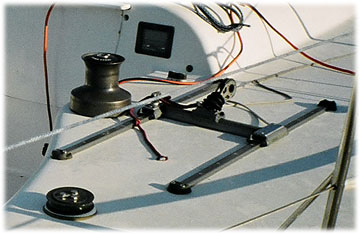 Just cataloging a bunch of crap I have to get done on the boat soon, in between CRW and Annap NOOD and Pink Moon and Hospice Cup, and realizing you don't get much boatyard work done when weekends are already filling up with race dates. But thinking about upgrades, I started digging through some old shots of stuff I think is pretty nifty.
This adjustable car H-track on ex-Annapolis PHRF-A boat "Invincible" was pretty cool. I wonder how they guys would have stacked up against the Purple boat last season. We sure saw a lot of their transom in the last few years.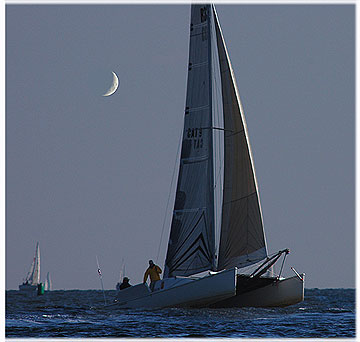 Also ran across some old shots of multis I had taken and then found some vids on Sailing Anarchy. This video of Geant crashing thu big seas is amazing. Now THAT'S an upgrade!
The video of the Hobie Tiger pitchpoling is just plain painful.
These videos and more are posted on a story by ex-Wetass, Tim Zimmerman on Sailing Anarchy's frontpage.
Two (or more) hulls to take care of....hmmmm...gotta think about that. I don't know if I'm cut out for the Dark Side.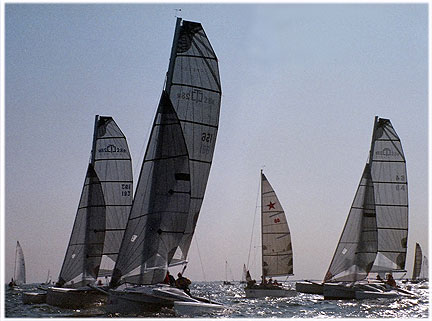 ___________________________________________________________________________________
3/7/07
DINKS GONE WILD!
http://youtube.com/watch?v=nDToL593cmU&...ted&search=
squander 6 minutes of your life and watch these guys lose it. Aerosmtih fans should get a kick outta this.

_____________________________________________________________________________________________
3/6/07
BIG LIFT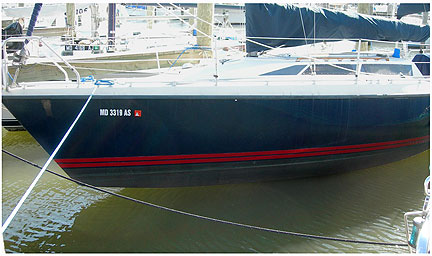 Gusts to 50 left boats in Back Creek sitting a little higher on their lines than usual. Carl Schaefer sent us this shot of "Cadence II" sitting up begging for Spring.
------------------------------------------------------------------------------------------------------------
3/5/07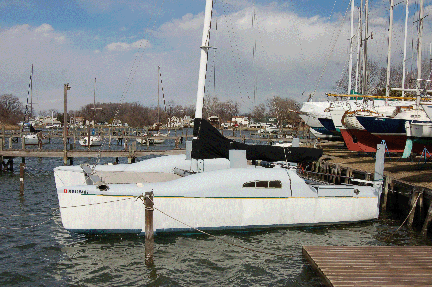 30+ kn blasts always make March a bit of a challenge for the earlybird doing yardwork at Young's
BTW, NPSA has a meeting this Wednesday March 7th...be there!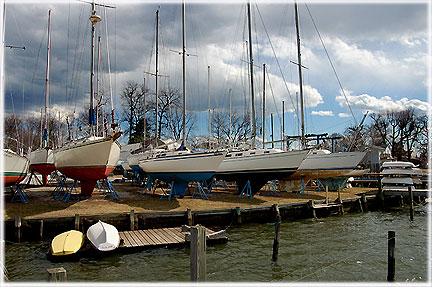 THINGS HEAT UP...sort of
I think Global Warming is a lot of hogwash, at least in terms of it being caused, exclusively, by humans. But that's a discussion we can have at some other time.
It was decidely warmer at the boatyard this past weekend, yet there were fairly few peeps around working on boats, which was fine with me as it frees up available resources like parking and AC power, etc. Maybe all those people who were home watching NCAA basketball have less to do on their yatchets, but I have tons.
Dire Wolf, looking sharp below, left, has developed an annoying crack in a monsterously underbuilt thwart, below dex, and we're going to beef that puppy up with 2 3/4's inch sections of Coosa-composite and a few layers of glass roving and epoxy. That oughta make Dire Wolf one of the most beefy Evelyn 32-2's around, considering the massive glass reinforcement jobs Bobby Muller and Chuck Coyer did to her a few years before I bought her in 2001.
I just hope it isn't 2008 before it gets warm enough for the glass work to cure. COME ON GLOBAL WARMING!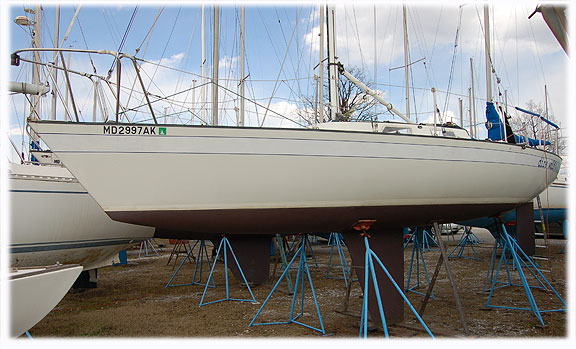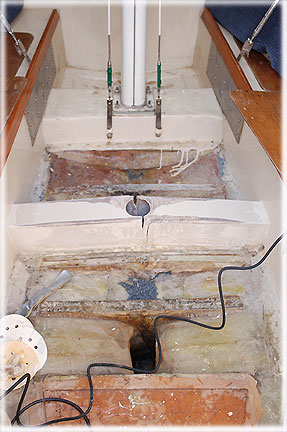 -----------------------------------------------------------------------------------------------
3/2/07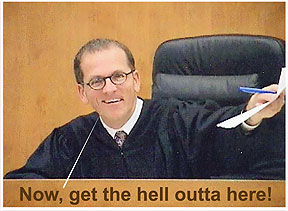 Who Rules?
Over the winter a friend of mine was involved in a nasty crap-fight over a rules violation.
In essence, a boat in their One Design fleet had a Category 3 sailor on board for some of their High-Point races, and their Fleet By-Laws specifically exclude Cat 3 sailors from being eligible to crew in those events.
Unfortunately, no one filed a protest with the sponsoring YC's Protest Committee for any of the races where there was a violation. That's because they didn't know of the crew member's Category 3 status until well after the time limit for filing a Protest had expired.
So, they then ran into a bit of a problem.
They could not, in good conscience, offer the Fleet High Point Award to a boat that was in violation, yet they had no jurisdiction to prevent CBYRA from doing so!
Was this a simple you-snooze-you-lose situation? Meaning: if someone didn't file a protest before the time limit expired (Rule 61.3), then shouldn't the Fleet just accept the race scores, as they were determined by the sponsoring YC, and move on? Yeah, fine, but then again, it was a FLEET RULE that was violated, not one of the RRS. And if a One Design Fleet cannot enforce it's own rules, then what's the point of having fleet authority over a class of sailboats?
AND, as mentioned above, the violation was not even identified until a significant amount of time had passed, e.g., long after racing had ended.
This was a bit of a conundrum, and CBYRA was asked to adjudicate the predicament.
Last month they ruled that the Fleet didn't have a case, due to time limits for a protest having expired (indeed, no protest was ever filed).
BUT: they did go so far as to say that they would attempt to change the scoring so that a fleet's bylaws will trump CBYRA rules for High-Point scoring ONLY.
"CBYRA is currently in the process of adding an appeals process for infractions to class rules that extend beyond the time limit of a normal regatta protest committee. The appeals will only affect CBYRA High-Point scoring, not the individual regatta results."
If CBYRA goes ahead and implements this new appeals process, ideally, there may never be a situation like this again, a situation that compromises a fleet's own by laws because the regional body doesn't have the proper rules in place to allow a fleet to enforce it's own by laws.
See? Sometimes a bright light emerges from a huge pile of crap…it's just the suffering while you wade thru the pile that makes sailboat racing a bit of a drag from time to time.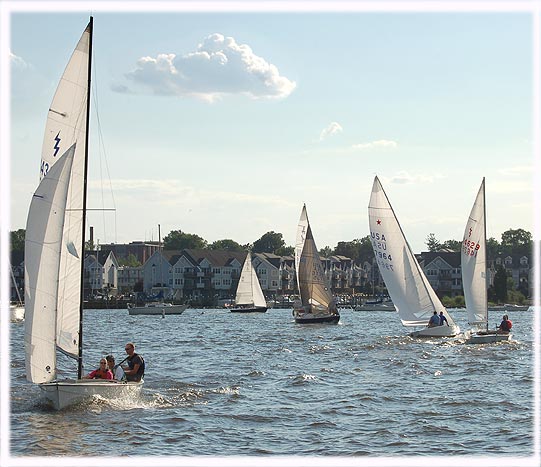 _________________________________________________________________
2/17/07
EURObrash vs AMERitrash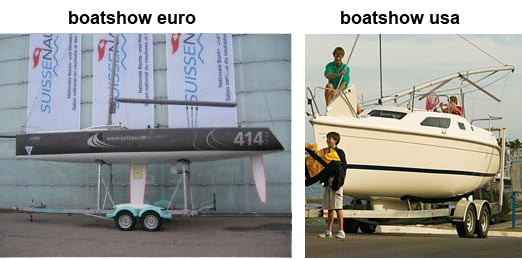 There were some pics posted recently (on a major sailing internet site) spotlighting some of the new designs being trotted out at the Berne Boatshow (Berne, Switzerland). Boats like the Onyx and the Blu 30 and Esse 850 and a new launch from YSA....talk about pure sex!
I don't want to make too much of this, but these boats being hawked, at a show in a city 350 miles from the nearest sea, sort of make you wonder about the state of the sport here in the USA. At the Annapolis Sailboat Show, you might see Farr's new launch and, thanks to Annapolis Performance Yachts, the Esse, but let's face it: boatshows in America are more or less about whitebread cruisers like the Hunter 25 above.
I'm not sure what this says about the American market but I sorta have to go with the notion that we are in about the same shape the American auto maker was in the early '70's...fixiated on designs that are boring and behind the times. These Euro entries might be the Toyota Celica's and BMW 535i's that snatch our national attention spans away from the slugs we still stamp the American label on.
I sure hope so.
__________________________________________________________________________________
HANG TOUGH, hombres...
I don't know about you, but I'm starting to hit the wall. It's one thing not to go to KWRW, but now missing St.Pete NOOD has really pushed me to the wall. Plus, dodging massive sheets of ice flinging from the big rigs on I-95 has me pretty spooked. Cripes, let this freakin' arctic lockdown end soon...we all have WORK TO DO AT THE YARD, g.d. it....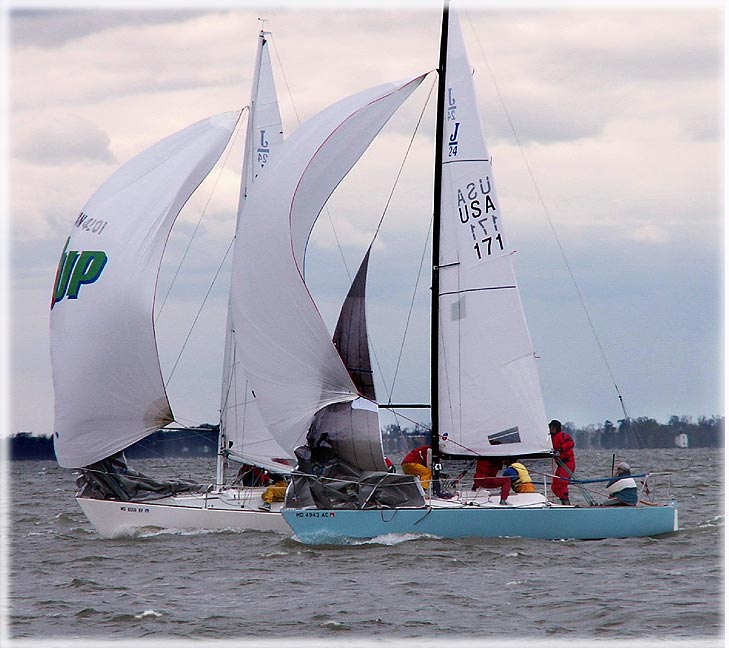 Thank god for early spring events like HdG's PINK MOON regatta. Bruce from HdG's RC boat took this shot of us on Tom Schwartz's 7Up boat, drag racing Chris Crocker's "Crocadero" in April two years ago.
come on April...
BELOW: PHOTO FROM TODAY'S Sailing World St. Pete NOOD webapge (left)...slight contrast from 2006 condits (right)
_____________________________________________________________________________
2/09/07

SPINSHEET has the first part of their High Point Award coverage (handicap fleets) so grab a copy! This is a nice feature this year...they always do a great job.
first things first.....we had the "Purple Reign" headline up a solid month before SpinSheet used it for their High Point Awards feature in their Feb 2007 issue. No big deal, I'm just sayin'...
Second: nice shot of "Incommunicado" on page 60. Way to go Ed on High Point Region 2, PHRFA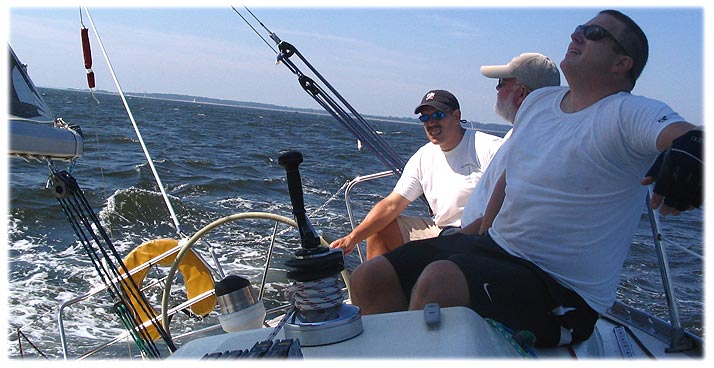 High Point Winner, Region 2, PHRF A, Ed Tracey, "Incommunicado" at the helm, Screwpile '07
Third: glad to see "Problem Child" took the bullet for PHRF B!
You can pick up a copy of Spinsheet here
________________________________________________________________________________________
1/31/07 more KWRW
This seems to be a legitimate way for us to get thru January...keep posting more of Terry's shots from KW. We like this one of Rod Jabin's "RAMROD" and then the sequence that shows their hoist. Even the Farr 40 guys have miscues occassionally, although this one only cost the guys from Annapolis about half a BL.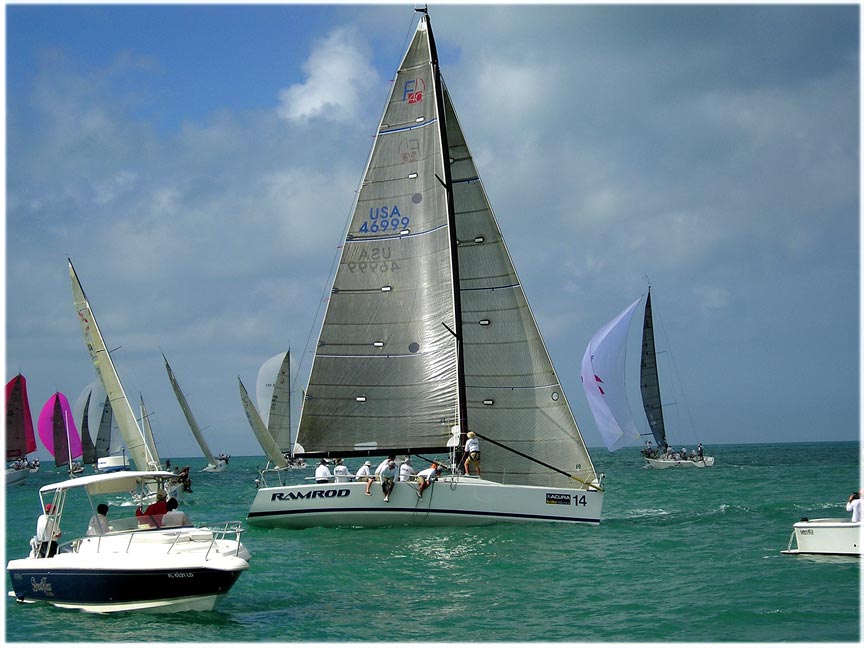 _________________________________________________________________________________________________________________________________________________
1/30/07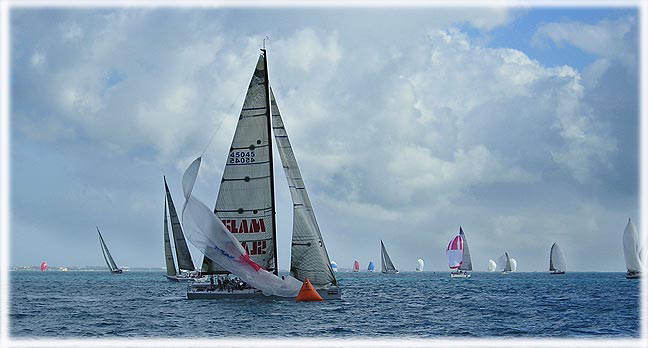 Another great shot from KWRW from Terry Reese. We always thought the sound of Airx hitting a drop mark was more like a SLAP, but I guess we were wrong.
Actually, Michael Brennan's new R/P 45 missed the mark by a magrin that was SLIM, but the boat must've still been in the learning curve mode, finishing a disappointing 7th in the 8 boat IRC 2 Fleet.
With the talent on board this boat, though, we doubt it'll be an underdog for long.
-----------------------------------------------------------------------------------------------------------------------
1/28/07 Sailing in January Dept.

KEEPIN' UP WITH THE JONESIN'
(Below, Carl Schaefer at the helm of the ETAP 30, "Cadence")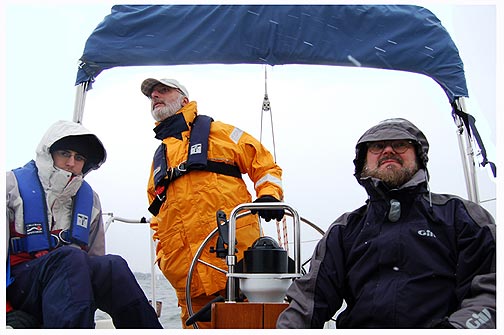 You know you gotta be "jonesing" pretty bad to agree to go on a shakedown cruise with an owner who has recently acquired a new boat...
...at the end of January
...and it's snowing.
Nonetheless,the five of us dragged our butts down to Bobby Muller's on Sunday to bend on a main & furling jib for a brief but exhilarating jog up to Spa Creek and back.
While we were the only cruising boat out, it was nice to see we weren't the only crazies...the Annapolis InterClub frostbiters were out, and that certainly made us feel a little less like complete psychos.

Plus, if you are going to be out on the water in January around latitude 39, you might as well be on a boat that can stand up to North Sea conditions. We didn't have anything like that on Sunday (winds W 8-12, puffs to 14) but the boat, an ETAP 30, felt particularly forgiving especially in light of the water temperature (39 degrees).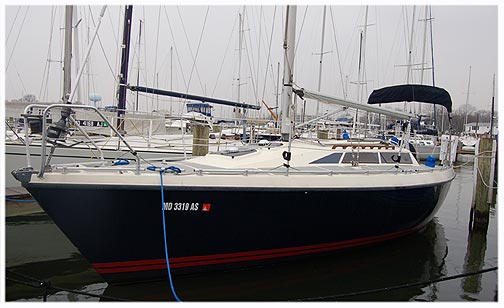 Boats in the C/R mode are, by definition, compromises, and the ETAP 30 undoubtedly falls a bit more on the cruiser side, unless you're either ocean racing or doing buoys in gusty venues, like SF Bay. It may struggle, a bit, on our bay, but it's still a cool ride and the interior layout is as well done as any boat in the 30-32 foot range I've ever seen.
Built in Belgium, there are only a few of these on this side of the pond. The boat does reflect certain euro-stying aspects, such as this unusual toe-rail treatment, which is aesthetically pleasing and functional as all hell, but decidely NOT fun to hike hard on!

So, yeah. Sailing in January...What huge gains have been made in winter protection since I started winter sailing back in 1991. Back then, we'd pile on layers and layers of cotton and wool and still freeze our asses off, while looking like the Michllin Man and manuevering around the boat like stuffed bears.

Nowadays, you can easily go lighter and more flexible and stay warm as toast. The mode yesterday was: longsleeve turtle neck spandex base layer; one layer of polypro bottom and tops; light weight cotton jeans over the polypro long johns; a fleece top; bibs, and a Gill Dinghy spray top with gaskets drawn tight. For hand protection I gave up my Goretex drawstring gloves and instead, stuffed some army surplus wool gloves into extra-large dishwashing gloves and I was stoked about the functionality and warmth. Basically, you can perform operations with the damn things on! For foot warmth I just put on some plastic socks and then some thick wool sox and stuffed those into my rubber sea boots.
I'm a complete, absolute freakin' wimp when it comes to cold weather and I was absolutely 100% comfortable all day yesterday in 38 degree air and 12-14 of the highest puffs. It's all about preparation in January...preparation AND PLASTIC CLOTHING. Cotton is your abject enemy in January.
So, yeah...I'm ready to go back out again, as soon as possible with a thermos of coffee and a bottle of Jameson to take the edge off. Strap me in, bubba.


The ETAP duck...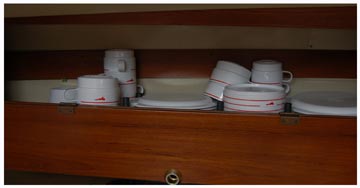 and the OEM place settings for 8. How cool is that?
_________________________________________________________________________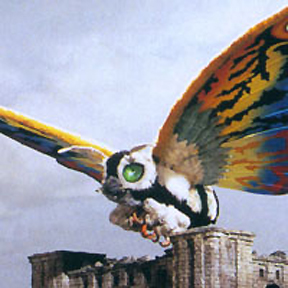 MOTH RAHS!!!
If you haven't seen this video on YouTube yet, take a few minutes and check it out. Very creative camera positioning, especially for the launching sequence. Tell me these thing are not cool:
Turn up the volume if you're a Chemical Brothers fan...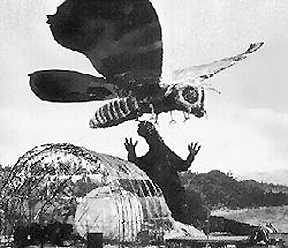 LINK TO NBAYRACING.COM 2006 STUFF HERE!