old but SLICK RIDES...
I have fairly specific tastes in what I consider to be a neat boat these days. The concept of a cruiser/racer no longer interests me much. With that in mind, here are some flat out cool boats that I would love to own if I didn't have the Evelyn 32-2 and had unlimited resources, unlimited time, unlimited life span, etc.
I have never been able to figure out why collegiate sailing doesn't switch to something like this Bongo instead of the relatively lame club racers like the 420. Doesn't this look like a blast? The boat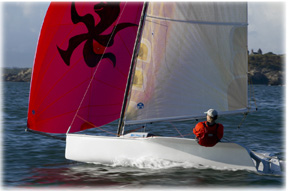 is called Bongo "The Sportboat for One." I talked to the guy behind the concept, Paul Cronin, for a while at the Annapolis Boat Show and as far as I'm concerned, there's NOTHIN not to like about the program. Check out this little speedster at Paul's site: www.sailabongo.com
Anyone wants to start a One D fleet in the area, I'm all in!
Photo by Onne Van der Wal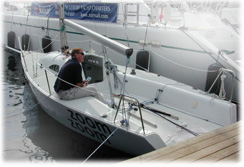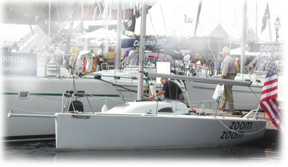 BLUSAIL 24
Apparently some folks are springing for new, resissued J/24's, but it's a mystery to me why. Oh, sure, there's the phenomenally strong Class and 1-D racing, but for 10 grand less I'd opt for a Blusail and see if any fleets get built, have a blast racing PHRF in the meantime. This boat was shot at the '03 Annapolis Show. I want one. Now.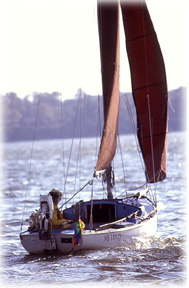 Along the lines of a daysailer that requires a little less athleticism, here's a boat called Mythos I shot over off Rock Creek one Wednesday night (I think). I don't know what the boat is or who owns it but I'm a sucker for tanbark sails and a sprit. I could live with this.
Easily.
While waiting for the Governor's Cup to begin back in '97 or '98 I shot this bright-finished wooden sloop. I can't remember the name of these boats,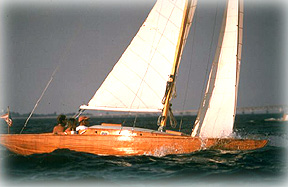 though I talked to a guy out in Berkeley one night who owned and raced one in their Friday night races. I think it's a Norwegian design? maybe a Cunard or some sort of Bird boat? I should remember but don't...please feel free to set me straight.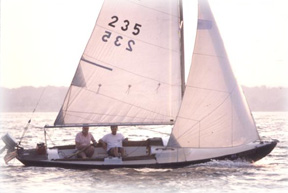 Here's another great little classic....think it's either a Bluenose or a Stuart Knockabout. Again, feel free to set the record straight. Whatever it is, I love the darn thing.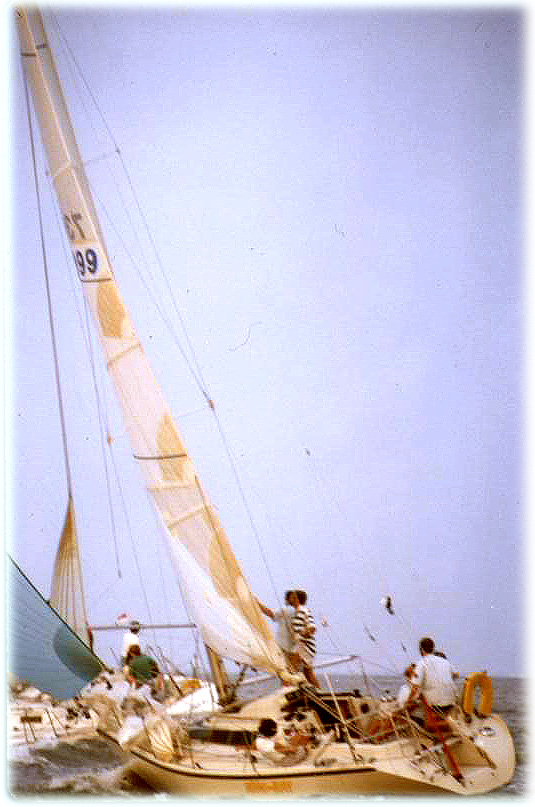 Okay...it's 80's...it's IOR...I don't care.
Dehler Optima 101.
Cool boat.
End of discussion.
As far as powerboats are concerned I could easily live in a world that doesn't have them...but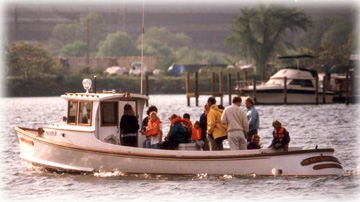 the "John Gregory," named after the designer and builder, is a beautiful little Hooper Island Draketail with a cockpit even a Mumm sailor would envy.
Speaking of powerboats, you can't go wrong with a 13-6 Boston Whaler....great boat.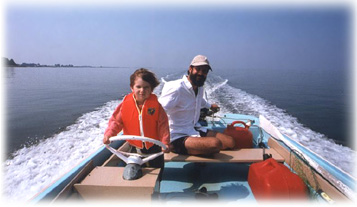 So many boats, such little time.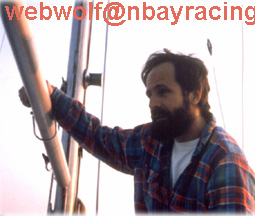 so says the Webwolf...
comments? feedback? contact: webwolf@nbayracing.com